Content type lets you define the structure or blueprint of a page or a section of your web or mobile property.
For instance, if you want to post news articles on your site, you will have to first create a content type by adding "title," "date," "body," "author," and "location" fields to it. You (or content managers) can then add data to these fields to the actual news article.
Additional Resource: In order to add more fields, refer to the documentation on Fields. To define the behavior of these fields, you can specify its properties.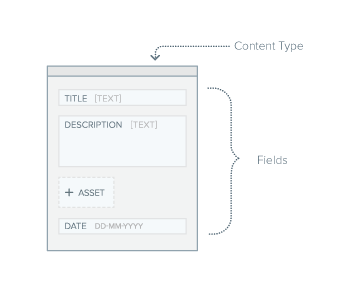 So, here, the structure of the news article page that you create is a content type, and the actual news article created by entering data in the fields of the content type is called an entry.
The entries created using a content type are similar in nature. So, the "News" content type will let you create news articles. However, it cannot be used to create a home page, primarily because a home page has a different structure (for example, banner, quick links, testimonials, and so on). For creating a home page, you will have to create a different content type. Accordingly, you need to create different content types for all different components of your website, such as 'Home', 'Contact Us', 'Products', and 'About Us'.
In essence, creating a content type is like creating a mold or cast that lets you create several objects (entries) of the same nature and pattern.
Content types, however, should be created after you model your content appropriately.