Contentstack Pulse
The latest on product enhancements, roadmap and FAQs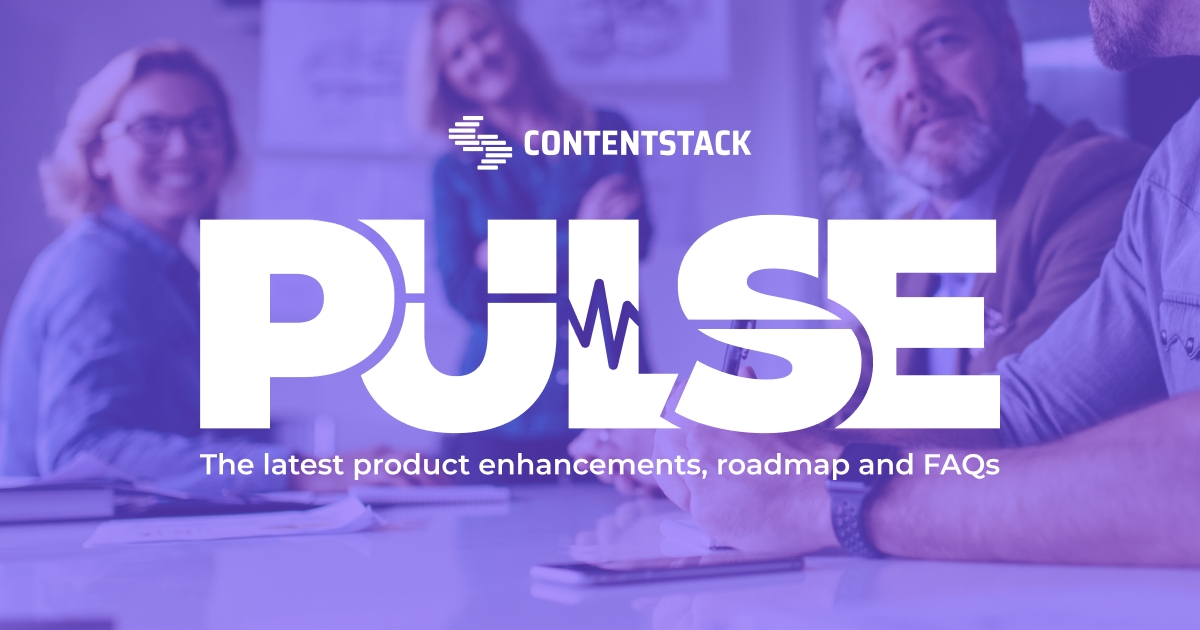 Quarterly performance metrics
We work hard to keep you up and running 24/7/365
A look back at Q2 and a look ahead to Q3
What's new
The latest updates and enhancements to our cutting-edge products
For businesses and brands today, it's all about meeting the customer where they are in their digital buying journey, wherever that may be. The secret to doing that is through a composable digital experience architecture and platform, and that's exactly what we provide here at Contentstack, equipping business users and developers alike to move at the speed their imagination.

Nishant Patel, CTO at Contentstack
What's coming
Check out our latest roadmap updates for each product
Sep 05, 2023
Benefits of Live Preview: Now with GraphQL support
Learn more about our dynamic Live Preview feature, now with GraphQL support! A game-changer in headless CMS, Live Preview provides real-time omnichannel visualization of how content will appear on the final user interface, enhancing the content creation and editing experience.
Aug 01, 2023
Summer platform recap: What's new and what's coming for Contentstack
Time certainly does fly and it's exciting to share our summer updates! First off, have you heard the news? Contentstack's Headless CMS has been recognized as a leader for 2023 by IDC MarketScape.
Jul 10, 2023
Simplify Your Composable Stack: Connect Contentstack's CMS to Cloud Tools and Platforms with Clicks, Not Code
The digital landscape is rapidly evolving, and businesses must adapt to stay ahead. One key aspect of this composable transformation is the shift toward cloud-based infrastructure.
What are people asking? (FAQ)
Here's a few of the most common questions we get. If you can't find your answer, don't hesitate to contact us.
Contentstack is the industry's only fully automated composable digital experience platform, powered by the #1 headless CMS. We empower marketers and developers to deliver composable digital experiences at the speed of their imagination.
What are Contentstack's customer benefits?
Enhanced customer experience

Deliver tailored content across all channels, from websites to mobile apps, to e-commerce

Increased performance & speed

Experience improved market agility and time-to-market

Greater team efficiency

Align efforts and collaborate across teams and departments

Increased roi & reduce tco

Optimize digital initiative investments and streamline operational costs

Accelerated time-to-value

Shorten development cycles and accelerate innovation
How does a headless CMS differ from a traditional CMS?
A traditional CMS combines content management and content presentation in one system and often relies on pre-built templates and themes to deliver content to users. A headless CMS separates content management from content presentation, allowing developers to build custom applications and experiences using APIs and web services.
What types of content can be managed with a headless CMS?
A headless CMS can manage any type of content, including text, images, videos, audio and structured data. It can also support multiple content formats and delivery channels.
What other products does Contentstack offer?
Automation Hub is a no-code visual workflow builder that helps eliminate the technical headaches involved with integrating a CMS into your composable architecture. It enables developers and business users to create and maintain complex, multi-step processes through custom triggered actions that can execute in the background—all with clicks, not code.
Built seamlessly into our Composable DXP ecosystem, Automation Hub can leverage its access and knowledge of Contentstack's core platform functionality to easily plug and play with other tools in your composable tech stack, helping teams integrate faster, streamline workflows and eliminate costly middleware.
What is Contentstack Launch?
Contentstack Launch is the ideal front-end hosting solution for your business, providing developers with a roadmap to success. As the only MACH-compliant platform on the market, Contentstack goes beyond any other offering by streamlining workflows, optimizing development operations, and improving business outcomes all through clicks not code. By reducing wait-states and eliminating friction between back-end code and front-end user experiences, Contentstack Launch has everything developers need to take their projects to the next level.
What is a composable DXP?
A composable DXP describes when a DXP is assembled from a series of best-of-breed solutions. These solutions work together via APIs to deliver content and digital experiences to customers in a more agile and flexible way than a single, integrated and monolithic platform.
Contentstack provides a seamless experience for businesses looking to "go composable" by offering an out-of-the-box Composable DXP solution. Contentstack's solution includes the ability to customize and rapidly update digital experiences, with zero coding knowledge required. Additionally, users can deploy, manage and maintain their digital products with ease by leveraging pre-built content blocks and templates. Furthermore, the open platform promotes easy integration with other tools used in modern business applications.
What is composable architecture?
Composable architecture is a modern software development approach that enables businesses to create and manage digital experiences through the assembly of software components, apps and services. This approach allows organizations to quickly assemble, customize and update their digital projects in an agile manner while keeping up with ever-changing business needs. By combining specialized components into comprehensive applications, various types of digital products and experiences can be built without having to rewrite code or integrate multiple systems.