Unique ID
The Unique ID (UID) property represents a unique alphanumeric string that is associated with a field. The system identifies each field with its UID.
By default, the UID of each field is the same as the display name of the field. While you can change the UID as per your requirements, you cannot set the UID of two fields as the same.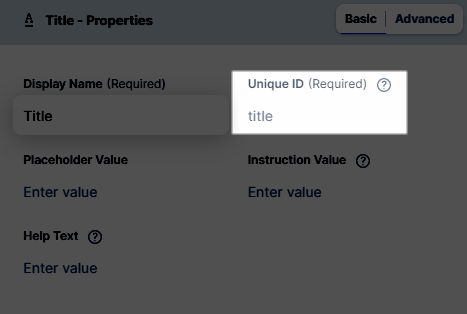 Warning: If you change the UID after an entry has been saved under a content type, the data for this field will be lost and you will have to enter it again. Also, there are certain restrictions when providing a user-defined UID. These restrictions are covered in the Restricted keywords for UIDs section.
Was this article helpful?
More articles in "Field Properties"
Limit for Multiple Choices
Image Dimension Validation
Config Parameter (for Custom Fields only)
Select Extension/App (for Custom Field only)