Choice Data Type
The Choice Data Type property of the Select field lets you specify the format for the Add Choice property.
Under this property, you have the following options:
Text: Allows you to add only text in the choices list
Number: Allows you to add only integers in the choices list
Warning: If you change the data type after entering the choices, the values added as choices may be lost.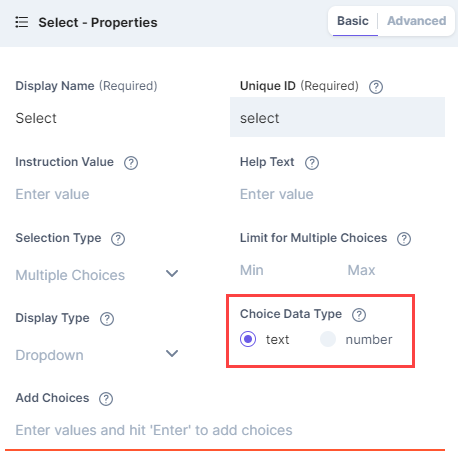 Additional Resources: If you want to set this property to the Select field when creating your content type via an API request, refer to the JSON payload of the Select field and the Field parameters section.

Changing an existing field property may result in loss of data. To avoid such, check out our Content Type Change Management guide before you go ahead.

Was this article helpful?
More articles in "Field Properties"
Limit for Multiple Choices
Image Dimension Validation
Config Parameter (for Custom Fields only)
Select Extension/App (for Custom Field only)