By now, it should be no surprise to every enterprise business that:
Your market is crowded and
That means customer experience is your key differentiator among competitors — not your products, not your services, and not even the prices at which you sell them.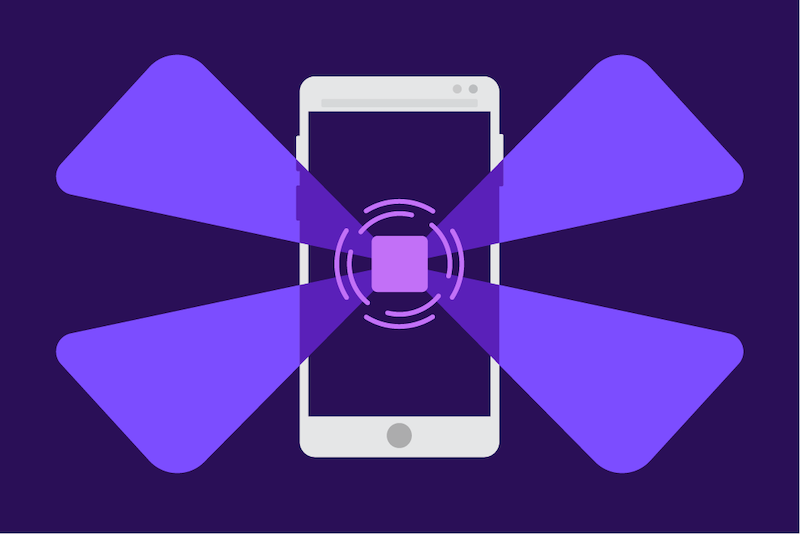 In fact, Forrester found that the return on a great customer experience is well worth the investment. For some big-box retailers, they determined that even a single-point increase on their CX Index score could generate almost $250 million more in revenue.
The good news is that you probably already have all the content you need to drive these kinds of great customer experiences.
What you need now is to develop is a content experience management strategy that engages your consumers from their first click through their latest purchase.
Here's what you need to know about what content experience means for enterprise marketing departments, why it's so important to the future of your business, and a starter strategy that you can customize to get your very own content experience management program up and running.
What Is Content Experience Management?
Content marketing — the process of creating and distributing relevant, valuable pieces of content for a specific audience — focuses on how consumers engage with each piece of content and iterating on the most successful elements.
And while content experience management is a close relative to content marketing, it's a more modern and holistic approach to the content businesses create.
Content experience is the sum of the interactions a consumer has with all of your content elements as they make their way toward a final purchasing decision.
Content experience management means looking at your entire content program on the whole so you can prioritize how, when, and to whom you deliver each piece of content to provide the most value and make the most positive impact. The goal of content experience management is to deliver an experience that is seamless and creates an engaged relationship that goes well beyond a random, one-off interaction fueled by an internet search or social media link — all powered by content.
Why is Content Experience Management Important?
Never was Steve Jobs' statement that "People don't know what they want until you show it to them." more relevant than the modern age in which consumers are what Google calls "research-obsessed."
And who can blame them when Google itself, as well as other major search engines and even social media sites, have made it so that any answer they want is just a search away?
Consumers aren't searching for your specific brand and they probably aren't even searching for the specific products or services you sell. They're searching for an answer to their question or a solution to their problem, increasingly using phrases like "best," "reviews," "top," "similar," and "ideas."
And if their role is to search, your role as a brand is to provide the content they're looking for — on the channel and in a format that makes the most sense for that consumer at that moment.
This is why content is more central to the experience than ever before.
The fact is, no matter what industry you're in, today we're all in the business of creating content.
And not just any content (we're practically drowning in digital content, after all) but relevant content, helpful content, and content that the consumer can actually act on to solve their problem — content that creates an experience that you can manage to your benefit.
Why Now is the Time to Try Content Experience Management
While COVID-19 didn't single-handedly create the demand for flawless digital content experiences, it certainly did accelerate consumer expectations and quickly establish a new norm when it comes to online shopping and virtual brand interactions.
In 2020 — the first year the pandemic impacted most of the world — U.S. consumers spent over $211 billion online in the second quarter alone. That's a whopping 31.8% increase quarter-over-quarter. And in the last quarter of 2020, ecommerce accounted for 16% of all U.S. sales, up from 11.8% in the first quarter of the same year.
More than just a passing trend, the researchers at J.P. Morgan who compiled this data think these new digital shopping habits are here to stay.
And this development doesn't stop at the B2C threshold.
According to McKinsey, B2B purchasing is also going digital for good.
How do they know? Because of the dramatic shift in the way B2B buyers are completing even their largest business transactions.
Today, the majority of B2B decision-makers are willing to make new business purchases in excess of $50,000 via remote digital and even self-service means.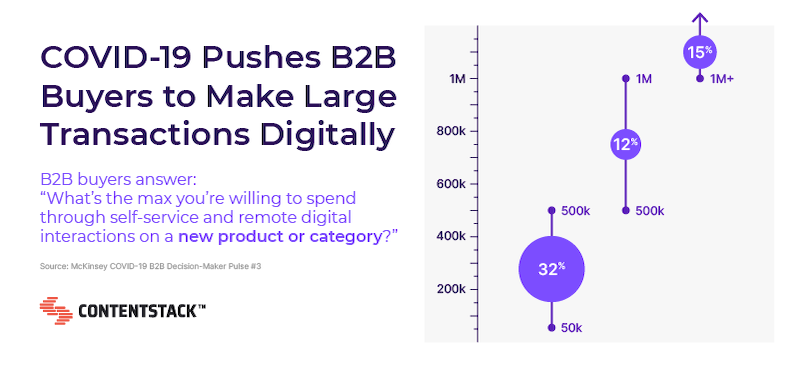 In a world where plenty of online retailers and service providers are savvy enough to provide a content marketing experience that caters to what they know consumers like, those same consumers are starting to expect all brands to deliver these kinds of valuable encounters — in their personal and in their professional lives.
Like we mentioned earlier, in a world of unlimited options, customer experience is a key competitive differentiator. That's why right now is the time for you to choose whether you want to spend your time pumping out content that gains one-off clicks or if you're ready to invest in content-fueled experiences that engage consumers throughout their purchasing journey.
How to Build a Content Experience Management Strategy
Think of content experience management as a logical evolution in your content marketing program.
If you're already writing content for specific buyer personas in specific stages of the buying journey, you're off to a great start. But now, as you dive into content experience management, it's time to go one step further by thinking about how all of the content you're creating can be strung together to achieve a singular goal — taking the consumer from their first click through their ultimate purchase.
How can you deliver content in the perfect order, with the perfect context, and using the perfect format to create a personalized content experience that drives a perfect customer experience?
The answer is in following these steps — of course supplementing and subtracting wherever it makes sense for your organization — to build a cohesive content experience strategy.
Audit, Organize, and Label Content
Content is obviously the most important asset of a strong content experience management strategy. The good news is that many marketing organizations already have plenty of content — it's just not organized in a way that makes it usable.
The first step in making your content useful when it comes to creating content experiences is centralizing your assets so that you can audit what you have.
During the audit phase, the most important thing is to determine where each content asset can be used in the buyer's journey and for which consumer type it's the best match. To do so, it may be helpful to label which personas and stages of the consumer journey to which each piece of content speaks.
To really maximize the usability of your content, you might want to look into a content management system (CMS) with features that enable content to be accurately labeled and, eventually, personalized and reused.
In order to accurately label content and serve it to consumers based on this label, it has to exist in its own module within your CMS. Headless CMSs are built for managing decoupled content, which is content that exists in highly-specific modules that exist separately from the publishing process.
Since these modules can be labeled, they can also be searched, located, optimized, and delivered according to what's needed for the content experience at hand.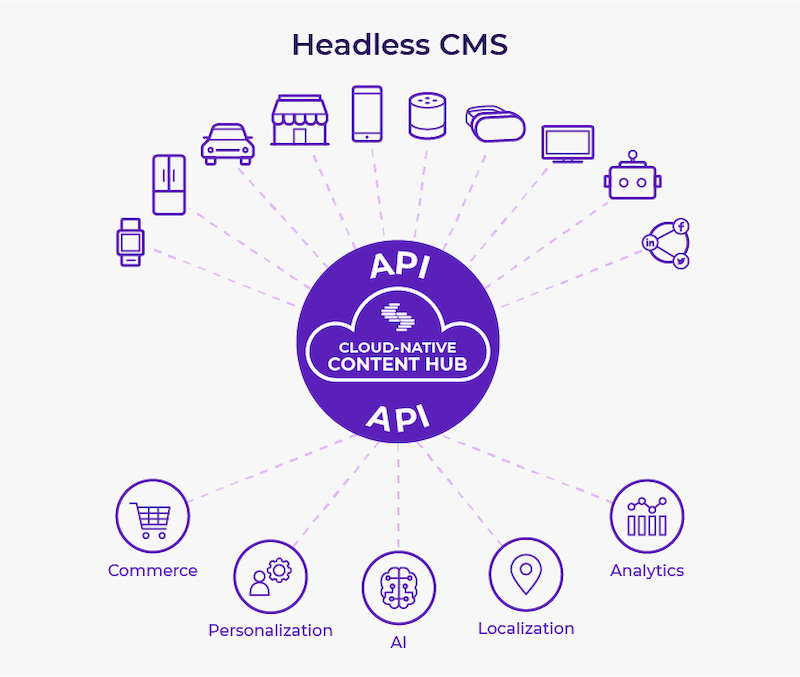 A well-organized content labeling system will also come in handy again shortly when it comes time to add the personalization that really makes a content experience management program tick.
Develop a Plan for Filling in Your Content Gaps
With your existing content inventoried against your buyer journey, it should be relatively easy to see where there are gaps in your content supply.
Seeing the gaps is the easy part — managing the work that goes into getting them filled will take more work.
To expedite this process so that you can get to developing well-rounded content experiences that span the entire customer journey, be sure to take your time in this step putting parameters around any new content that needs to be developed, such as:

A detailed brief outlining what the content should cover
Who's responsible for each stage in developing the needed content — from creation to getting it uploaded (and correctly labeled!) in your CMS
How long it should it take to create the content
Access to any resources that will help keep the grammar, voice, etc. consistent with existing content
(See our free guide Content Lifecycle Management for the Modern Enterprise to learn even more about this process.)
Layer in Personalization to Create Context
Once you have all the necessary content to meet consumer needs in all the moments of their journey, it's time to layer in the personalization that turns your content marketing assets into true content experiences.
This is where headless CMS again rears its head (or, lack thereof).
Most modern headless CMS solutions operate as content hubs that integrate with various tools that help marketers achieve tasks that would be way too time-intensive to complete on their own.
One of these tasks is personalization. You can use a headless CMS to integrate personalization platforms like Optimizely or Evergage along with a best-in-class customer relationship management platform, a translation service, an A/B testing application, an analytics tool, and whatever other systems you want in your customized personalization suite.
While striving to provide relevant marketing assets isn't exactly a revolutionary idea, a business that's able to deliver personalized and valuable content experiences at scale is.
If you're interested in customizing your personalization solution instead of going with a pre-built platform, check out our guide to building a personalization engine into your headless CMS.
Build Out the Omnichannel Distribution Workflow
To bring your content experience management strategy to life, the final step is planning how you'll serve valuable content that meets customer needs wherever they are consuming it.
This is a two-part process. The first part is all in the planning. You'll want to take your time considering all the touchpoints where your consumers may want to interact. Once you've got these outlined, you'll be in a good place to guide the content experience everywhere your consumers want to interact with your business.
The second part of delivering omnichannel content experiences is having content management technology that can keep up. Headless CMS — which will be a key driver in content experience management if you haven't noticed — enables businesses to cover all their bases when it comes to delivering content across channels.
That's because not only can modular content be optimized for the consumer, so can the format be optimized for the channel. The decoupled nature of headless CMS means developers and designers can create the best display for every single platform — from smartwatches to mobile apps, connected home devices, jumbotrons, and more — while marketers simultaneously create, optimize, personalized, and publish content to those platforms.
Omnichannel distribution is the perfect cap on a content experience management strategy that gets all your dutifully-planned and carefully-created content out into the minds and hearts of key consumers.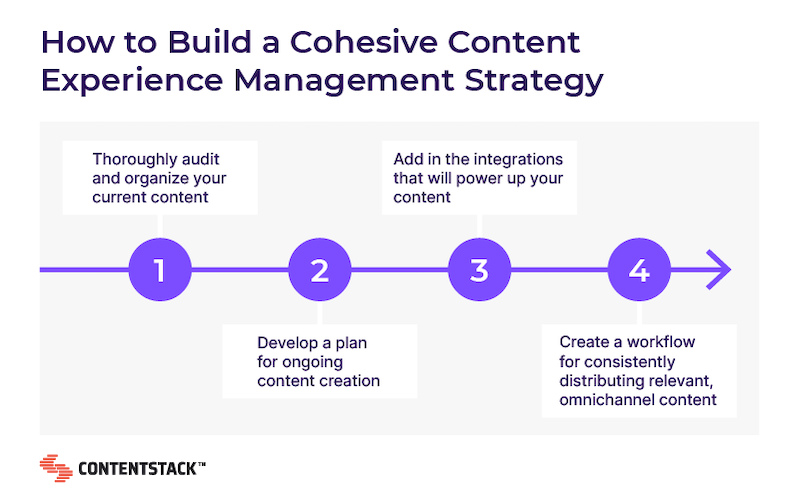 How Will Content Experience Management Set Your Brand Apart?
Providing great customer experiences is a competitive advantage as well as a key profit driver in the post-COVID, digital-first world in which we live and our businesses operate.
And it is content that lives at the center of these great customer experiences.
With a customized content experience management strategy, you'll be able to use all the content you're already creating to power experiences that set your business apart and turn casual content consumers into loyal, revenue-generating customers.
But you don't have to take our word for it — return on experience is tangible when you know how to measure it. Make your case for upgrading your content marketing program by learning how to measure the return on your content experience management efforts with this free guide: Going Beyond ROI with Return on Experience.