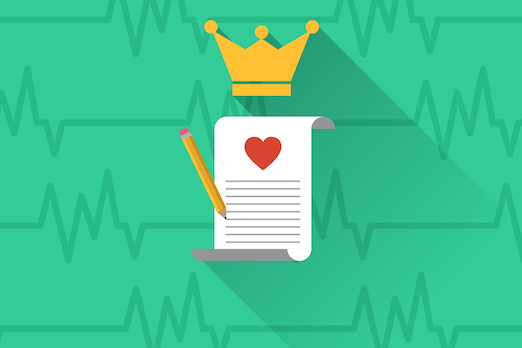 It's true that enterprise content marketing is evolving.
Today, it's happening on a scale that's larger and more competitive than ever before thanks to advances in omnichannel technology and adoption. However, quality content that delivers a relevant and consistent experience is still where enterprise marketers will win when it comes to core competencies like social media marketing, search engine optimization, public relations, pay-per-click advertising, and inbound marketing.
Content does still reign supreme in the age of omnichannel marketing. Here's everything you need to know about new consumer expectations and how to scale to meet them without sacrificing on the quality and consistency that your audience has come to trust.
The Modern Omnichannel Content Marketing Strategy
Your content marketing strategy outlines why and how you create, publish, and manage useful content across your organization.
A modern content marketing strategy is omnichannel, meaning it aims to create a seamless experience by providing optimized content across channels (in store, on social media, via mobile app, etc.) at every point in the consumer's journey. This is important when 90 percent of multiple-device owners switch between an average of three devices to complete a task.
However modern and "different" this omnichannel-focused content marketing strategy may seem, it continues to put content at the heart of the experience. Why? Let's find out.
Why Content Is (Still) the Heart of the Omnichannel Experience
Content is the "connective tissue" that ties marketing together.
It's the center of the hub from which all your social media messaging, blog topics, SEO efforts, and myriad other marketing campaigns originate.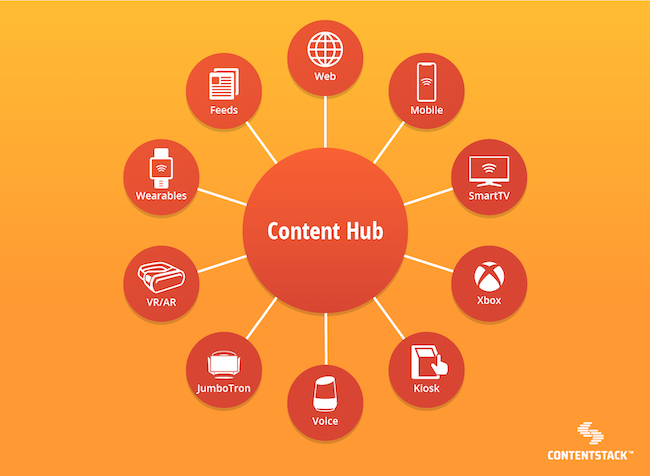 Content is the messenger that's always available to meet a consumer, wherever they may be, to answer their questions and make their interactions effortless. It's vital to be able to serve such consistent, valuable messaging in an omnichannel environment where consumers are exposed to marketing—including from your competitors—when they're walking past smart billboards on their way to work, scrolling through their favorite social media app over lunch, and unwinding in front of a video streaming service at the end of the day.
Boost Core Marketing Competencies with Even More Valuable Content
Content is at the heart of the experience that attracts leads, educates consumers, and generates revenue. Just think about it. Most of your major marketing initiatives center around content. Imagine how much more effective and efficient the following campaigns could be if the content that powered them was both consistent yet optimized for the specific experience.
Social Media Marketing
Social media is a marketplace in which you get to vie for eyes and educate interested audiences about your company and its products or services. And, if it's a marketplace, then the content is the currency that you use to "buy" engaged followers, website visitors, and hopefully even conversions and retention.
Search Engine Optimization
Gone are the days when nonsensical keyword-stuffed content and illegible, hidden text would help your ranking on a search engine result page. Instead, search engines now reward engaging, consistent content. Even Google, the king of SEO, says providing high-quality content is "the single most important thing to do."
A bonus is that organic traffic from SEO tends to be longer lasting and more relevant, and therefore more likely to boost your bottom line.
Public Relations
PR folks are responsible for keeping track of the latest and most important developments in your industry. Packaging your content in a way that makes audiences sit up and take notice is their thing. Provide consistent and relevant content and watch them shine.
Pay-Per-Click Advertising
Over 70 percent of web users say they're frustrated by irrelevant content. Unfortunately for them, the 2017 Meaningful Brands Study found that 60 percent of brand content is still poor quality, fails to deliver on its promise, and is of little value overall. In other words, it's irrelevant junk.
With PPC, the click itself isn't the win. It's what the consumer does after that that matters. If you oversell and underdeliver on valuable content, expect to watch on-site analytics plummet despite continuing to pay a premium per click.
Inbound Marketing
Inbound marketing is an affordable and straightforward strategy that encourages the use of relevant content to attract, engage, and convert your ideal audience.
HubSpot, whose revenue exceeded $144 million in Q1 of 2019, is an excellent example of the power of content in inbound marketing.
The whole process starts with content—and lots of it. Hubspot publishes loads of targeted, optimized content in the form of blogs, webinars, free tools, and more. Once a consumer follows this content to one of HubSpot's digital platforms, the engagement continues thanks to smart content recommendations and automated chatbot conversations. Even if the consumer ends up bouncing without signing up for any services, HubSpot manages to stay top of mind through consistent email marketing, retargeted advertising, and more.
Are you Interested in getting better results from these and other key elements of your content marketing strategy? Next up are three fresh ways to level-up your content to provide a powerful omnichannel content marketing experience.
3 Tactics to Build Content-Driven Experiences into Your Omnichannel Content Marketing Strategy
Sure, consumers have tons of access to information, but they have less time than ever to take advantage of it. They're hoping you can simplify their lives by providing consistently engaging and valuable experiences. So now's your chance to build loyalty and repeat business with these three tricks for creating content experiences that keep them coming back for more.
1. Gain a Deep Understanding of Consumers and Leads
It probably comes as no surprise that to create experiences consumers crave, you have to get to know what kind of content they desire and value.
Luckily, over 60 percent of American consumers and nearly half of those in the U.K. agree that they'd willingly give up personal data if it meant more personalized messaging from brands. This is your invitation to gather the knowledge you need to create the kind of content to which consumers flock.
There are various methods enterprise marketers can use to gather knowledge about leads and repeat customers, such as:
Uncover consumer desires by digging into their workflow and other behaviors when they interact with your website, mobile app, and other digital platforms
Use built-in social media analytics and a social listening program to find out what consumers like and dislike and the trends that intrigue them
Identify trends and search volumes based on parameters, such as location, with keyword research tools like Google Trends
Only ask for the information you want via trust-building lead-capture landing pages and forms
2. Develop Content with Context
When it comes to developing content-powered experiences that consumers value, it's the context that's king.
Remember when we said modern consumers were over generic marketing content? Well, they're proving it by rewarding brands that provide content with context. In a study of 1,500 U.S. consumers, 78 percent said they were more likely to make a purchase when the brand offered relevant content, half would pay more for a product if they received a personalized experience, and 64 percent would recommend a brand that delivered relevant content.
Relevance in marketing isn't exactly revolutionary, but a brand that's able to deliver it consistently at scale is.
Instead of significantly ramping up your marketing department—and simultaneously ramping down your bottom line—all you have to do is switch up one of the tools you're already using: Your content management system (CMS).
A headless CMS empowers marketers to assemble content dynamically so personalization can take place at the modular level. Better yet, a headless CMS that offers turn-key personalization integrations (more on exactly what that means here) enables marketers to plug in best-in-class marketing apps so customized content can be delivered consistently and at a scale.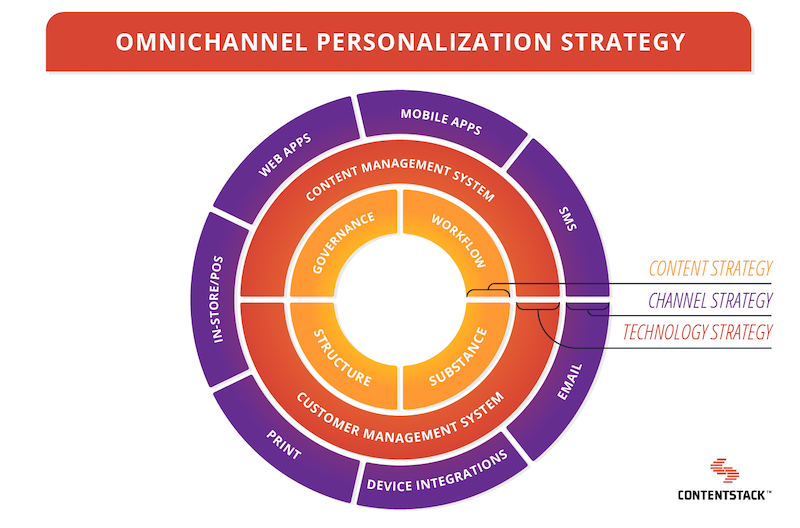 3. Deliver Content Experiences Across Every Consumer Touchpoint
Creating a referral-worth experience is all about anticipating omnichannel consumers' needs then serving content that meets those needs in the context of the channel. When you consider all your consumer touchpoints, you'll be able to guide the experience anywhere consumers interact.
Take for example Nike, who reimagines brick-and-mortar retail spaces as opportunities to create relationships and offer "immersive experiences"—all while actively encouraging visitors to continue to interact with digital channels like their NikeiD customization station and Nike+ mobile app.
Nike knows it's not about buckling down on one channel. It's about using content to create experiences across touchpoints. Which is wise, considering nearly half of shoppers who engage with a retailer across 10 or more channels purchase from them at least once a week.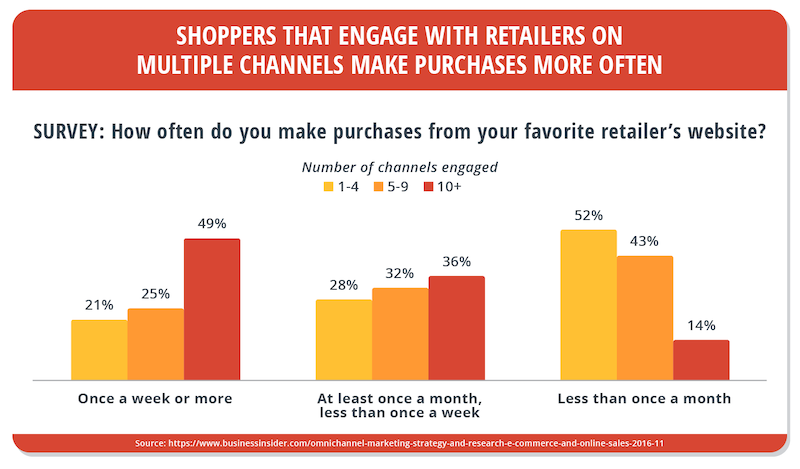 Unfortunately, when it comes to omnichannel capabilities, the content management system you're using to serve up content could be keeping you from optimizing content to reach consumers on their ideal channels. A majority of enterprise organizations are still using traditional CMS platforms, which were built to deliver content to a single channel—the web. Yet, as we know, consumers want to experience content on the go on their watches, mobile apps, connected home devices, and even jumbotrons at the big game!
To cover all your bases when it comes to delivering content-driven experiences, adopt a headless CMS that empowers you to distribute, optimize, and even personalize content on all relevant touchpoints.
Are you interested in learning more about using headless CMS to put content at the heart of your omnichannel content marketing strategy? Great, because we'd love to teach you! Start with Contentstack's thorough guide to all things headless CMS, then try out our ROI calculator to find out how we could save your company thousands of dollars every year, and finally go ahead and sign up for a free trial to create your proof of concept—no obligation required.