How to Create Modern Content Experiences
Marketing departments have become the first point of contact and communication for businesses everywhere. More than ever before, that contact and communication is digital-first. And what is it that powers digital experiences? Content.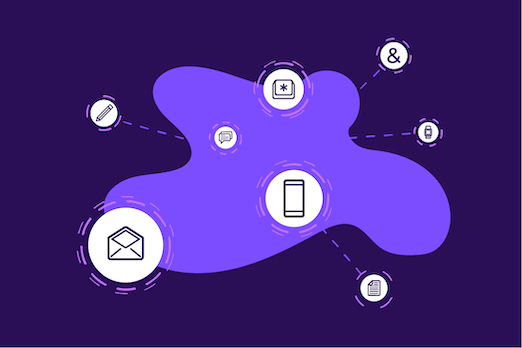 According to Forrester's brand-new report,"Now Tech: Digital Experience Platforms, Q2 2021," "Content is the soul of experience. If emotion is key to building your brand, then creating emotional connections starts with the right content—and an understanding of how it performs."
Creating and using content to build a moving consumer experience has never been more important. Read on to learn how to provide effective customer experiences that will keep your organization relevant and competitive.
What Is Content Experience?
Content experience is best explained through the more familiar concept of content marketing as a whole. Content marketing is the process of creating and distributing valuable pieces of content for a specific audience. And, it also usually includes measuring how consumers engage with each of those pieces of content to iterate on the most successful themes.

Then there's content experience, which is the sum of all those interactions that consumers have with your content assets. Interactions that ideally lead them to complete one or more transactions with your business. Essentially, content marketing is what you do and the content experience is what you create for customers. Businesses need to develop a holistic viewpoint of all the assets they're creating and understand what's really making an impact and where improvements can be made.
Why It's Important to Prioritize Content Experience
While the 2021 predictions from top content marketing experts are diverse, many agree on a few key elements: Marketing is going to become an important line item and marketing roles are going to expand. As Forrester puts it in their aforementioned report, "Increasingly, marketing must orchestrate brand experiences across a wide swath of channels, both inbound and outbound." Marketing is how businesses are going to meet consumers across all corners of the digital realm.
Affordable mobile digital devices and widespread internet access mean consumers are interacting with brand content at even the most unexpected times. Today, it's the norm for us to look up a few product reviews on our smartwatches while standing in a store aisle, use our smartphones to chat with customer service while waiting for an appointment to start, and even order out-of-stock items to our homes from in-store digital kiosks.
Have you carefully crafted a content experience that's fresh, relevant, and always ready to move the needle?
If not, here are actionable ways to do so.

Tactics to Improve The Content Experience
Ready to strengthen the content experience? Keep consumers coming back for more with these tactics.
Structure Content to Boost Readability
One of the easiest ways to make the content experience engaging is to make your content easy and fun to digest! It all starts with structure.
Make content scannable with short sentences and paragraphs. Use lots of headers, subheaders, and lists to break up content. Implement white space to make large expanses of text easier on the eyes. And to make your content more shareable as well accessible for different types of readers, use graphics and/or videos to further illustrate or summarize your content.

Upgrade Content Design
With the content itself in readable condition, it's time to make sure the platforms on which you're serving it—your own business apps, websites, and more—are helping it shine. The biggest issue companies run into here is preparing for mobile readers.
Today, more unique visitors come from mobile sources than from desktop ones. On top of that, Google has found that mobile visitors are 5x more likely to leave a website where the content experience hasn't been mobile-optimized. In fact, Google even shows mobile-optimized sites before unoptimized ones! To find out how your content experience holds up for mobile users, try Google's Mobile-Friendly Test platform.
Use Data to Offer Personalization
Gartner defines personalization as "a process that creates a relevant, individualized interaction between two parties designed to enhance the experience of the recipient." Personalized content marketing experiences are more effective than their non-personalized counterparts, can cut customer acquisition costs, may boost conversion rates, and of course deliver on growing consumer demand to provide relevant messaging. The challenge is that good personalization requires lots and lots of data about individuals—their purchases, their behaviors, their demographics, and more.
It's just like Forrester's "Now Tech: Digital Experience Platforms, Q2 2021" report says:
"Data is the fuel that drives experience relevance. Driven by continued investment in areas like social listening and marketing mix modeling and the recent spike in platform providers adding customer data platforms, data remains the fuel for tying context to content delivery and commerce outcomes."
And collecting, condensing, and taking action on that data at scale requires a little outside help from a personalization system. And when you take it step by step, they aren't as hard to build as you may think. This article (complete with an infographic) can help you pull it off.

Weave in Opportunities to Take Action
A piece of content that doesn't give the consumer a chance to take action doesn't contribute to the content experience. Instead, make sure every content asset moves the consumer through your carefully crafted content experience and toward a transaction. You can do this by adding a call to action, or CTA, to every content element.
A CTA doesn't always have to be a neon button screaming "Buy Now!" While some content lends itself to that, more often CTAs are naturally interwoven links to other pieces of content or gentle encouragements to download a (typically free) asset that'll help them learn more about the topic at hand.
This leads us to another important detail to consider when it comes to CTAs — make sure they're relevant. A CTA should align with the topic of the content in which it lives and it should also line up with where the consumer is in their journey. So if your piece of content is intended for experienced marketers, don't include a CTA to a short beginner's guide at the end of a 5,000-word deep dive into broken link building.
Experiment With Different Content Types
Once you've implemented the tactics above to maximize the content experiences you already have, consider branching out into new types of content to reach different audiences.
Here are just a few interesting content types you can try:
A online course on a topic relevant to your ideal customers
A knowledge center of how-to resources
A targeted email series that's set apart from your standard marketing emails
An instructional video series
A podcast where you interview experts in your industry
The Content Experience Platform
While the tactics above might seem like a lot to manage at once, they are what it takes to compete in a world where content experience is everything. This is exactly why the content experience platform (CXP) has become a tool of utmost importance for large, modern marketing departments.
In early 2021, Aragon Research released its report "The Rise of Content Experience Platforms—And Why Your Website And Digital Experiences Will Never Be the Same." It defines CXP as the "next-generation offering to address the age-old enterprise need to create and deliver dynamic experiences to users on any device."
Put simply, a CXP is the central nervous system for the content experience. It's the single source where content is created, managed, and distributed across channels. In addition, it's also the hub for every tool that informs the content experience—the analytics apps, the personalization platforms, the localization software, and more.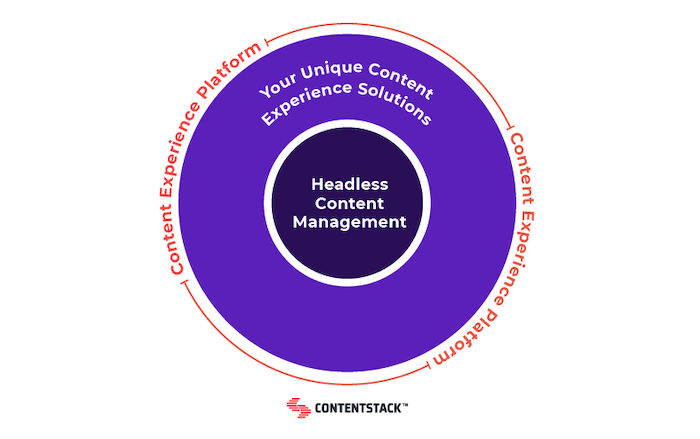 Bringing together all the people, processes, and tech that create a powerful CXP all starts with choosing the right foundation. To build an efficient yet effective CXP, begin with a modern, MACH-based headless CMS.
"MACH" is a newly-coined term for modern technology that is:

Microservices-based
API-first
Cloud-native
Headless
A MACH headless CMS is the ideal foundation for an omnichannel content experience because, at its core, headless CMS separates content creation and management from content formatting and distribution. Application programming interface (API) technology enables the front-end display layer to communicate with the back-end content repository without intertwining their functionality.

Thanks to this modular architecture, marketing teams are able to create content once, reformat it, and republish it across various platforms, devices, and channels. In addition, this flexibility means marketers can plug in microservices such as best-in-class solutions to upgrade the content experience—no expensive, slow development process needed.
Keep Learning About Content Experience
Ultimately, your CXP (and the headless CMS upon which you build it) will be the control center from which you will turn content into content experiences and those experiences into revenue.
To learn more about how to choose the right headless CMS, check out our guide: How to Choose an Enterprise CMS That's Right for Your Firm.
To learn more about the content experience and CXP itself, check out Beyond Content "Management": Introducing the Content Experience Platform.
And to dive deeper into the concept of MACH and what it means when it comes to marketing tech, read Leaning Away from Legacy Tools: Modernize Your Tech Stack with MACH
---
Related Articles
Here are other CMS articles we think you'll find useful.