Back to Blogs
How to Build a Personalization Engine Into Your Website Marketing Plan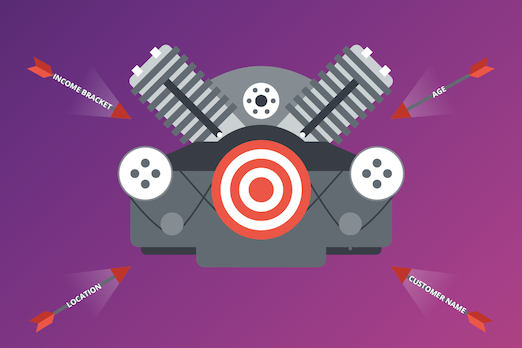 You know that warm and fuzzy feeling you get when you receive a thoughtful gift that was created or customized with you in mind? That's the result of personalization—and marketers who can apply it can make their target audience feel that same good feeling. As it turns out, that feeling is in high demand by consumers.
In a survey of 8,000 consumers from around the globe, Accenture found that the vast majority (91%, in fact) are more likely to shop with brands that provide personalized offers and recommendations. Econsultancy and Google discovered that 90% of leading marketers say personalization significantly contributes to profitability, and 89% of U.S. marketers confirm that personalization increases revenue.
The impact of personalization certainly makes it worth the effort—so here's how to get it working automatically and at scale in your business.
What is a Personalization Engine?
To get a little more technical than the warm and fuzzies, Gartner defines personalization as a process that "creates a relevant, individualized interaction between two parties designed to enhance the experience of the recipient."
A personalization engine helps businesses create these experiences at scale by automatically gathering and applying context about each consumer to deliver tailored content, offers, suggestions, and other interactions via the perfect digital channel.
As is pointed out in our blog, "Locking down loyalty, revving up revenue, and catapulting conversions," the experiences that personalization engines provide are powerful and profitable for businesses.
If you have concerns that using a personalization engine may cross the line into being invasive, you don't have to be as long as you keep your strategy truthful and transparent. Make sure consumers know they still have control over their data and don't invade any digital spaces that might be considered off-limits.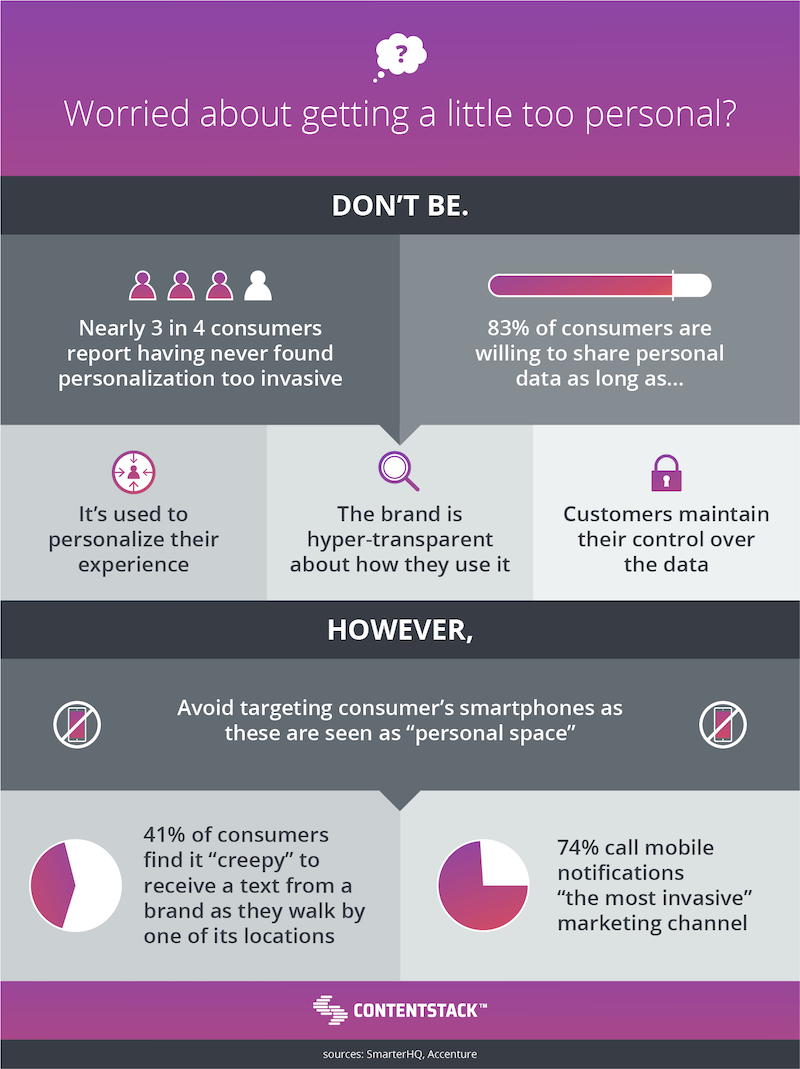 5 Steps to Building a Personalization Engine Into Your Headless CMS of Choice
Armed with all the knowledge you need about what a personalization engine is and why you need one, here's everything else you need to know about getting it built into your marketing workflow.
1. Define and Gather Your Tools
Just like with any project, you'll want to identify and gather all the appropriate tools in one place before you start building a personalization engine into your marketing stack.
That means it's time to identify the personalization tools you intend to use themselves as well as the best website platform for managing your marketing content—into which you'll integrate those personalization tools.
There are numerous personalization tools, such as Monetate, which is a popular personalization tool for ecommerce; Optimizely is an enterprise-level personalization system; and Evergage, which is a more affordable cloud-based personalization tool.
The most important part of this step is ensuring that your content management system supports website personalization. A headless CMS is an excellent solution for personalization. It allows you to collaborate on, manage, and publish marketing content just like a traditional CMS. However, underneath the hood, the structured content is separate from the layer of programming and design, so you can integrate directly with content and deliver the content to any personalization tool you want to use.
Take, for example, Contentstack, a headless CMS that works as a content hub and is specifically built for these kinds of integrations. Need to implement tools to create a personalization engine? Contentstack simplifies integrating best-in-class customer relationship management (CRM) platforms, translation services, AI tools, A/B testing applications, analytics parsing, and plenty more.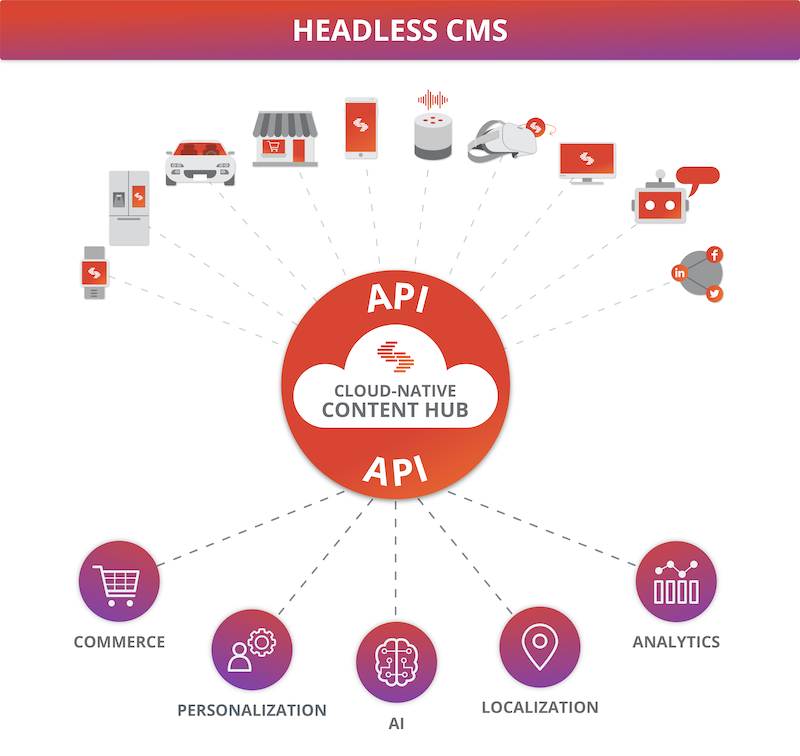 2. Implement Behavior Tracking
The ability to track user behavior on your website and other digital properties is critical when it comes to constructing a personalization engine. After all, how can you create content that's unique to the consumer if you don't know anything about that consumer? Whatever you end up using to track behavior—a built-in feature or stand-alone software—it's vital that it reliably records activities such as the user journey, clicks, purchases, etc.
3. Set Up Metadata
Metadata provides information about the content of a digital item. For example, metadata for an image may include its name, its size, its color, the creation date, and more.

Metadata matters because it gives digital items identifiers to use for locating the related content. When a content personalization tool goes to source relevant content for a specific consumer, it will choose what to display based on the metadata attached to that content.
So, if a personalization engine knows a specific consumer recently adopted a cat based on the content they've been reading and the products they've been purchasing, it searches for metadata that includes the word "cat" when it's pulling together content to display to that person.
Metadata is another reason we're proponents of building your personalization engine within a headless CMS. Storing metadata is typically included in a content management system platform as it makes content easy to find and repurpose for various applications—this reusability being one of the core tenets of headless technology.
4. Write Your Rules
Just like creativity blooms under healthy constraints, personalization engines become more powerful when you give them rules by which to operate. Rules, or conditions, are basically "If, then" statements that help a personalization engine determine which content would be the most relevant in a specific instance. A rule may look something like: "If the user is an executive in marketing or sales, then display a call to action that invites them to schedule a free demo."
In this example, Optimizely contains a rule that instructs the personalization engine to display the following content if the visitor's IP address indicates they work in the travel industry: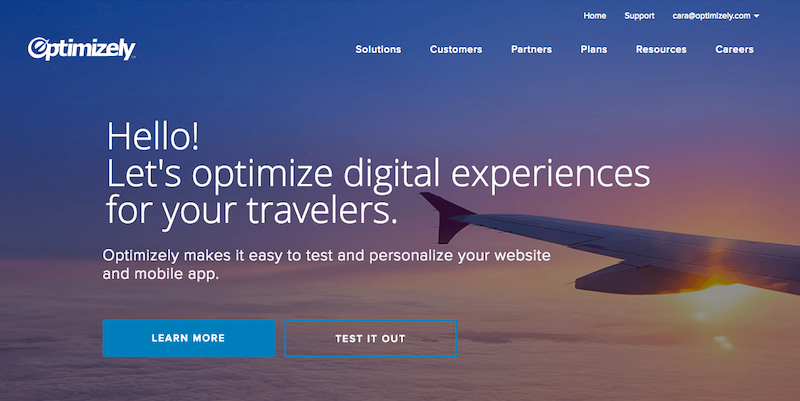 5. Create Your Content!
Now for the important part—creating the content that consumers will see! This final step amounts to writing content that targets each of your ideal personas and then carefully labeling it so that your personalization engine can find and display it when that persona lands on one of your owned digital channels.
Thanks again to implementing a headless CMS that appears in the first step, this kind of high-value content only has to be created once, and then you can identify and distribute the content where and when it's most relevant. Identifying specific text ensures consistent content and reduces time-wasting re-writes for marketing staff, all while making your channel diversity stronger than ever.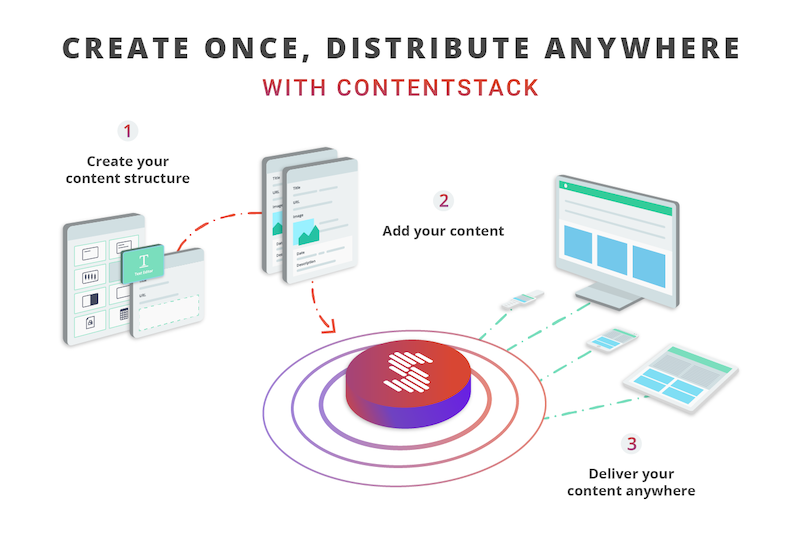 The process of building a personalization engine into your content management workflow can be a lot to take on—especially if it requires you first to adopt a headless CMS that can handle the load!
If your outdated technology is holding you back, start here with our 5 Steps to Stay out of Technical Debt by Selecting the Right CMS. And if you still aren't sure which headless CMS is the right CMS for your personalization efforts, be sure to read about all the personalization-powering integrations you can get your hands on when you choose Contentstack.
Finally, you don't have to make this big website decision unseen—get in touch to schedule a demo or take Contentstack for a free test drive today!