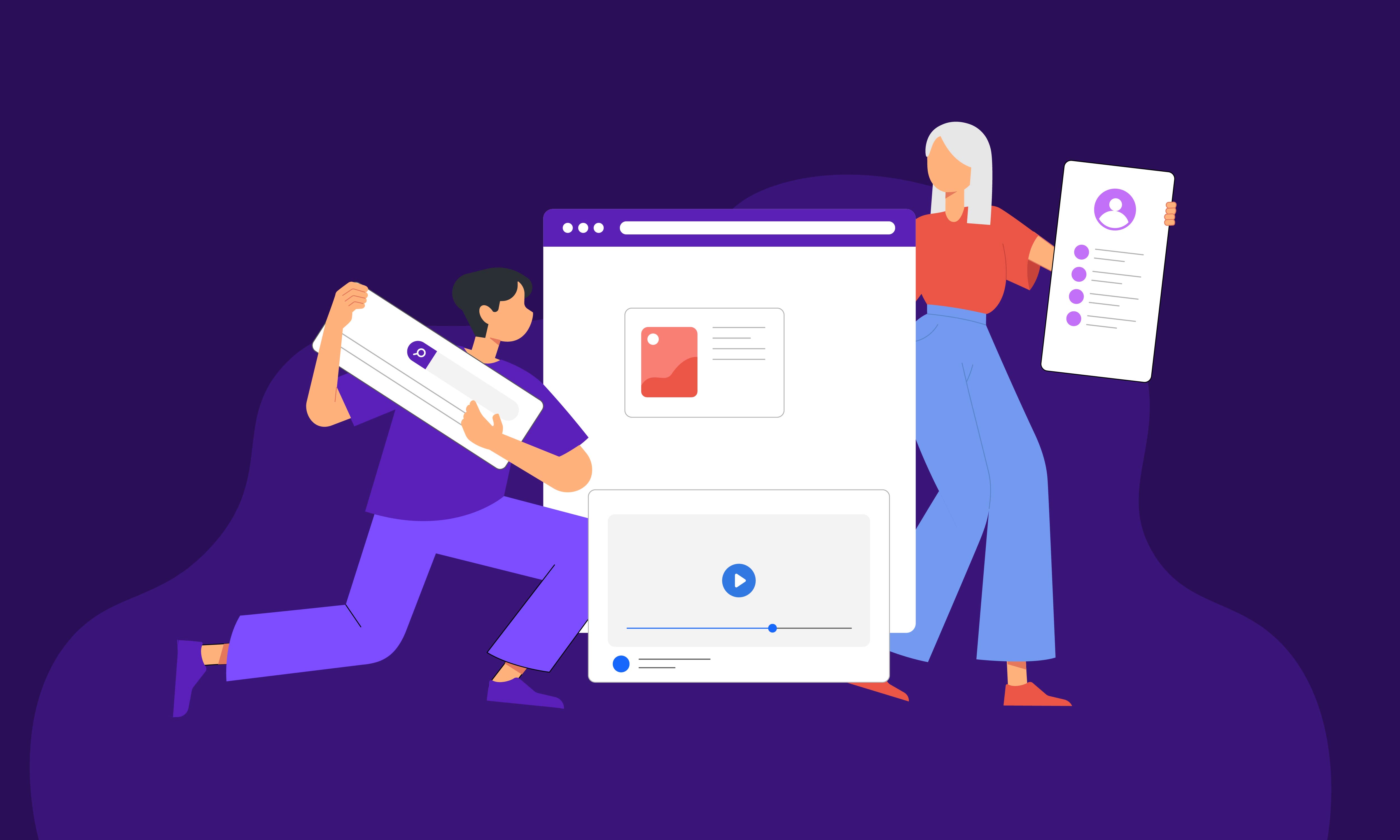 As more companies pursue the best approach to create better digital experiences, content experience platforms are on the rise.
Today's consumer expects the research and purchasing journey to be seamless between devices, channels and content. They expect to be recognized and have their loyalty rewarded. Using artificial intelligence, content experience platforms (CXPs) deliver an omnichannel experience, taking customers to next-level interaction. A CXP focuses on the individual user, tracking the unique journey through web, mobile and other forms of customer experience. So now we have a new acronym to add to the multiple-choice as listed by CMSWire: WCM, WEM, CMS, DXP, agile CMS and CSPs. CXP replaces older approaches such as traditional CMS and connects audience interaction across devices and rich content.
Businesses can't afford to stand still. They need a CXP that rises to the challenge and recognizes that no two customers are the same.
What is a Content Experience Platform?
The CXP is the latest in content management technology: a CMS, but taken to the next level. A content experience platform has speed at its heart and allows companies to create personalized experiences that are designed to retain and engage customers — across multiple channels. In its listing of Top 20 Most Compelling Examples of Personalization Forbes cites Grammarly in the number one position:
Grammarly, an app that helps catch grammar mistakes and improve writing, sends weekly reports to users on how their writing has improved. The reports include how many words the user wrote that week, how many mistakes they made and mistakes they made frequently. The report also highlights potential areas for improvement, which helps customers better use the product and improve their communication.
A CXP is a centralized tool that organizes assets based on tagging, segmenting, categorizing, individuals, audiences or use cases. When content is organized effectively, personalization can provide custom experiences for audiences. Content can be created and distributed with the aim of capturing leads and driving users to a defined call to action.
What Types of Content Can Be Managed With a CXP?
Video
Audio
Images
Articles
E-books & white papers
Infographics
News feeds
Interactive content (e.g., quizzes, surveys, polls, calculators)
Chatbots
E-commerce product recommendations
Websites or blogs
How Is a CXP Different From a CMS?
To answer this question we need to take a look at the various types of content management systems that exist today.
First, we have the traditional CMS, a low-barrier solution for simple websites. These monoliths deliver editorial content, reporting, customer data, security and administration. The basic CMS provides the software that is the foundation for digital identity, strategy and engagement. However, setting up a traditional in-house CMS, such as Adobe Experience Manager, OpenText TeamSite, Drupal or SDL Tridion, is time-consuming and costly, and these systems can limit creativity by being restrictive and slow.
Headless CMS is a different approach using microservices — single-service applications — that you can add, remove or rearrange in a composable ecosystem. This frees you to choose best-of-breed applications that suit your business instead of being limited to solutions prepackaged by a vendor. The headless CMS uses application programming interfaces (APIs) to distribute content to anywhere and everywhere you need it, such as your website, mobile app, email marketing or customer relationship management system. Headless CMSes are easy to use for both IT and business users and streamline content operations to enforce consistency while remaining agile — hence the coining of the term agile CMS or agile headless CMS. This allows companies to connect with customers at scale and respond quickly to market opportunities.
The latest technology in the evolution of content management systems is the content experience platform (CXP), not to be confused with a digital experience platform (DXP) — which, according to Gartner, is "an integrated set of core technologies that support the composition, management, delivery and optimization of contextualized digital experiences."
Aragon Research defines the content experience platform as the "next-generation offering to address the age-old enterprise need to create and deliver dynamic experiences to users on any device" — including content experiences — in a multichannel world." The key difference with other CMSes lies in the "content experience," and this is where it widens the scope and introduces new possibilities. A CXP must by nature be omnichannel and must be quick, flexible and able to adapt to new channels quickly. It must sync with touchless, voice-driven and extended reality experiences. It must be possible to integrate it with any tools and technologies to empower analytics, personalization and localization. And it must be easy to use for both content creators and end users so the process of creating content is seamless right from the first idea, through testing and on to publishing. In summary, it offers much more to make composable much easier.
What Can a CXP Do?
With any kind of technological development it pays to be at the forefront — always surprising the customer and inviting them to engage, convert and remain loyal. Getting ahead of the competition is vital and with a CXP the world is limitless. Anything can be built, published, delivered and distributed. Based on the principles of MACH (Microservices-based, API-first, Cloud-native SaaS, Headless), the CXP is a diverse and ever-changing ecosystem that allows innovation and integration. Creativity can flourish without limits. Take the example of Gatorade:
Gatorade Tracks Users' Sweat
Gatorade's Gx platform tests and analyzes how high-level athletes sweat to deliver personalized sports fuel recommendations. Users apply the Gx Sweat Patch before a workout, then scan it afterward to get their unique sweat profile, including how much fluid and sodium was lost and how quickly compared to other athletes. That information creates personalized recommendations for sports refueling to reach their optimal performance and nutrition.
A CXP enables you to:
Self publish within minutes
Build personalized experiences fast
Integrate with third-party content platforms, such as RSS, YouTube and more
Personalize content into campaign destinations
Deliver real-time, dynamic personalization
Leverage the power of AI to predict content recommendations
Drive and capture leads seamlessly
Integrate with marketing automation platforms such as Eloqua, Marketo, Pardot and Hubspot
Connect customer behavior with content performance
Get insights that show what content drives the most sales
How to Choose a CXP
Now we know a CXP is vital to the success of creating content and retaining customer engagement and loyalty — but how to go about choosing the right one? The important elements to consider are:
Integration with legacy software: Does the CXP integrate well with all the marketing, sales or design software your business is using? And can it push content out to your social media channels?
Scalability: How much content does your business produce and can the CXP meet the needs of your content creators, marketing and sales departments?
Customer support: Does the CXP have a good rating on review websites such as Trust Radius and G2? Is there good collaborative support during integration and continued support for your admins? (i.e., solution-focused vs. vendor finger-pointing)
Cost comparison: Does the CXP charge on a monthly or yearly basis, and are the number of licenses restricted? Costs can vary enormously so it is worth researching and comparing vendors.
Take the Next Step Today
Ready to level up your omnichannel marketing? Schedule a free, two-week trial of Contentstack platform and see why top brands are choosing our content experience platform.