Introducing Marketplace, Developer Hub, and Automation Hub
Contentstack is excited to announce three new powerful add-ons that will revolutionize the way you work with your favorite digital experience platform. Marketplace lets you install read-to-use apps; Developer Hub enables you to build apps, and Automation Hub lets you connect apps and automate workflows.
Let's learn more about these add-ons.
Marketplace – Explore and Integrate Apps
The new Contentstack Marketplace serves as a one-stop shop for all of your integration requirements. It's where you'll find pre-built apps, starters, tutorials, and everything you'll need to create a fully customized digital experience stack.
Marketplace allows you to quickly and easily link apps and other services to make them work for you. You'll find all the resources you need to assist you with every step of the development process right here. You can search and install pre-built extensions, use high-quality applications, and create connectors to meet your special needs.
Explore our Marketplace, read Marketplace platform guides, or view app installation guides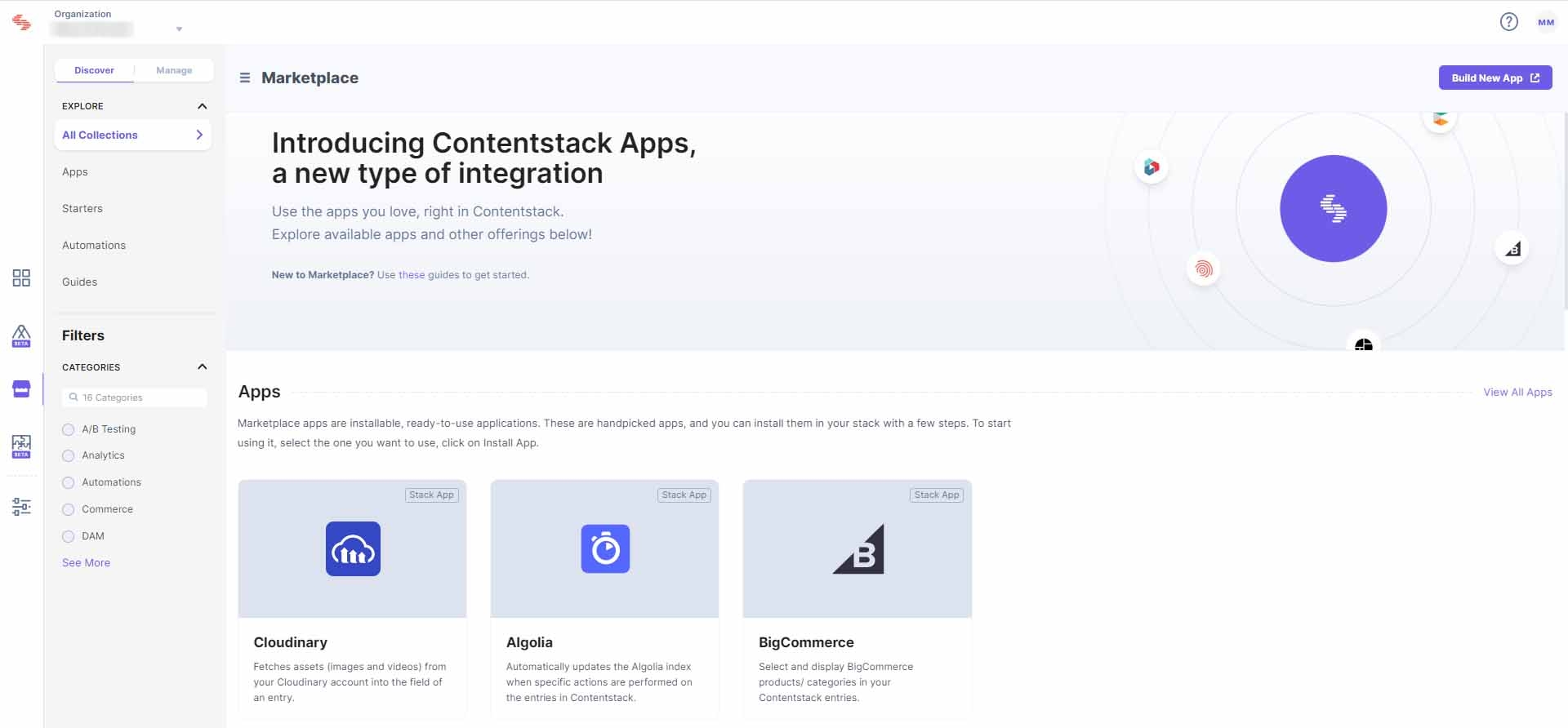 Note: Marketplace is available to all Contentstack users.
Developer Hub – Build and Publish Your Apps
Developer Hub allows you to create apps (for Marketplace) that extend Contentstack's fundamental functionality and use them in your organizations or stacks. These apps can be extensions or integration solutions (packaged as apps), and they can have any UI location of choice. You can choose how these apps are to be rendered: as a field, sidebar widget, dashboard widget, RTE plugin, or other location.
Check out our comprehensive guide to help you get started with building apps in Developer Hub. We have also included tutorials for sample apps that can get you up to speed immediately.
The following screen appears when you create a new app in Developer Hub. Set up the details in the sections displayed in the secondary left nav and you are good to go: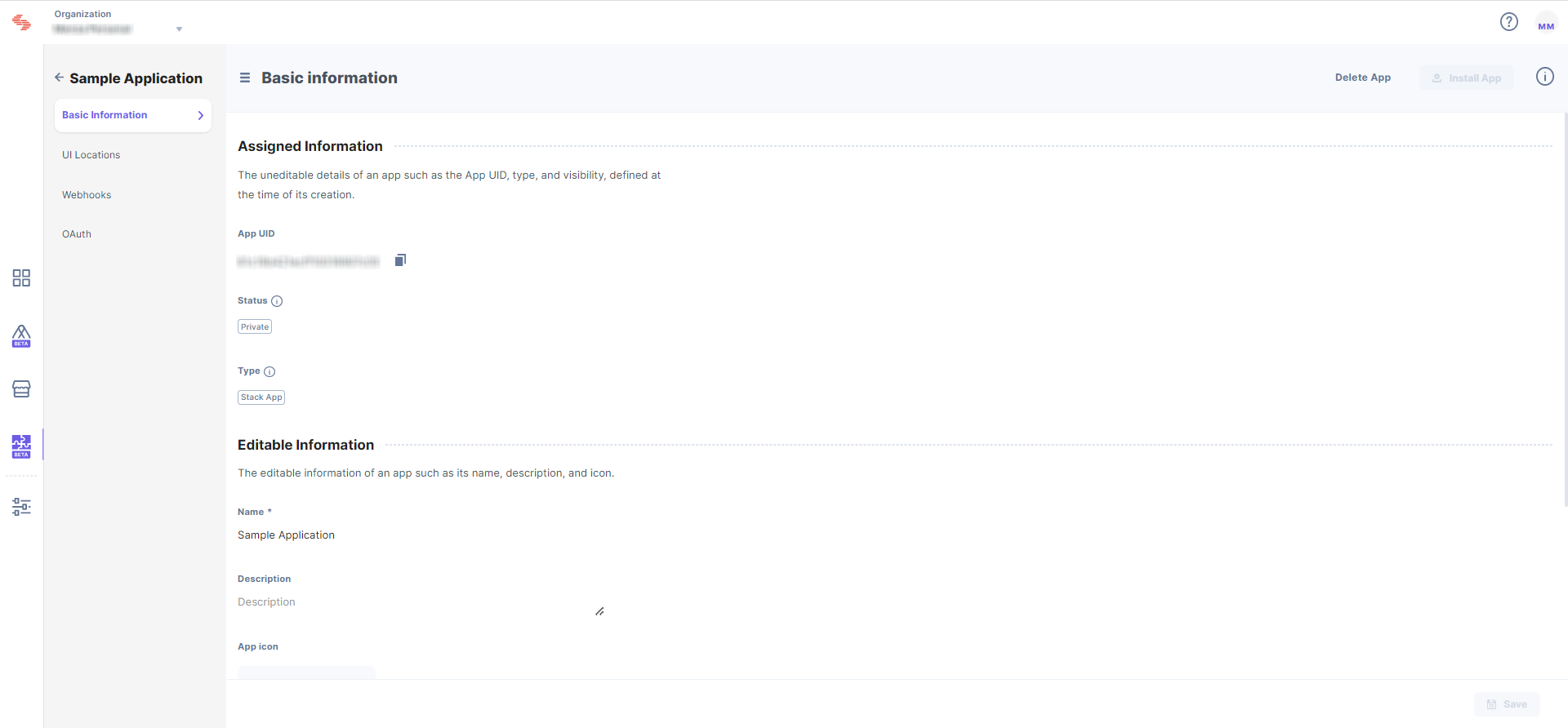 Note: Developer Hub is in Beta and is a plan-based feature. Please contact our Support team to request access.
Automation Hub – Connect Your Apps
Automation Hub is a workflow builder that uses triggers and actions to help you automate repeatable tasks within Contentstack and third-party apps, with no need for code.
You can create multiple automations that cater to your specific business requirements and group them together in a specific project. Read more about Contentstack Automation Hub and Automation Connectors.
Here's an example of an Automation that sends a slack message to a specified channel whenever a user creates a new entry. The image on the left shows how to set up the trigger event, and the image on the right shows how to set up the corresponding action.

Note: Automation Hub is a plan-based feature. By default, each organization will be enrolled in the Explorer Plan, which is included at no cost and allows up to 200 executions per month.
How Can You Access the New Features
To access the Marketplace, Developer Hub [Beta], and Automation Hub, log in to your Contentstack account and check out your main left navigation menu. You should see the following icons on your screen.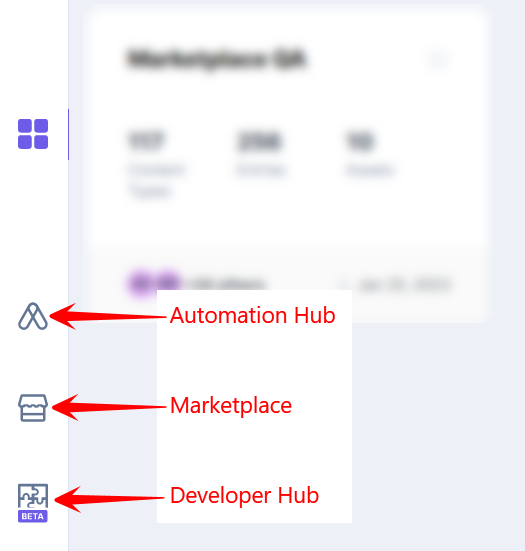 If you do not see these features in your Organization, kindly contact our Support Team.
Was this article helpful?