Back to Blogs
How to Choose the Best Headless CMS for Your Company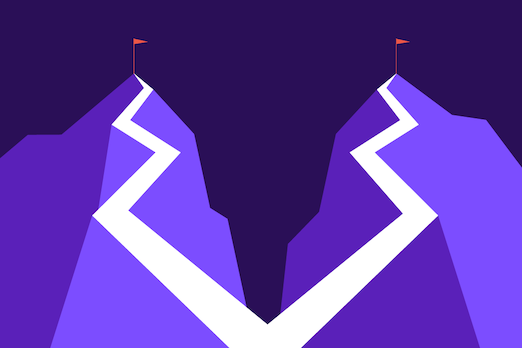 No matter your industry or organization size, this guide will help you choose a powerful content management system to create the digital experiences your workers need and consumers demand.
Keep reading to learn:
Why headless is the best solution when it comes to content management systems
Why a headless CMS is a critical tool for businesses of all types
The best headless CMSs for a variety of company types
What is a Headless CMS?
A content management system (CMS) is software that serves as the central hub for marketing content that engages your consumers, supports your business goals, and ultimately drives revenue. Content management systems do this by giving businesses the tools they need to create, publish, and otherwise manage content for their consumers on their company websites, applications, and other digital channels and devices. And today, when these consumers are interacting with your business on a growing number of devices, you need a CMS built to keep up. This is why headless is best.
A headless CMS is built on a modular architecture that decouples content creation, management, and publishing from how it's displayed. This enables marketing teams to push new content and IT teams to make new tech updates without relying on the other for help or worrying about breaking anything.
Application programming interface (API) technology enables content modules to be quickly optimized and published on websites, apps, smart billboards, end-cap kiosks, chatbot knowledge bases, and every other cutting-edge consumer channel that comes to fruition.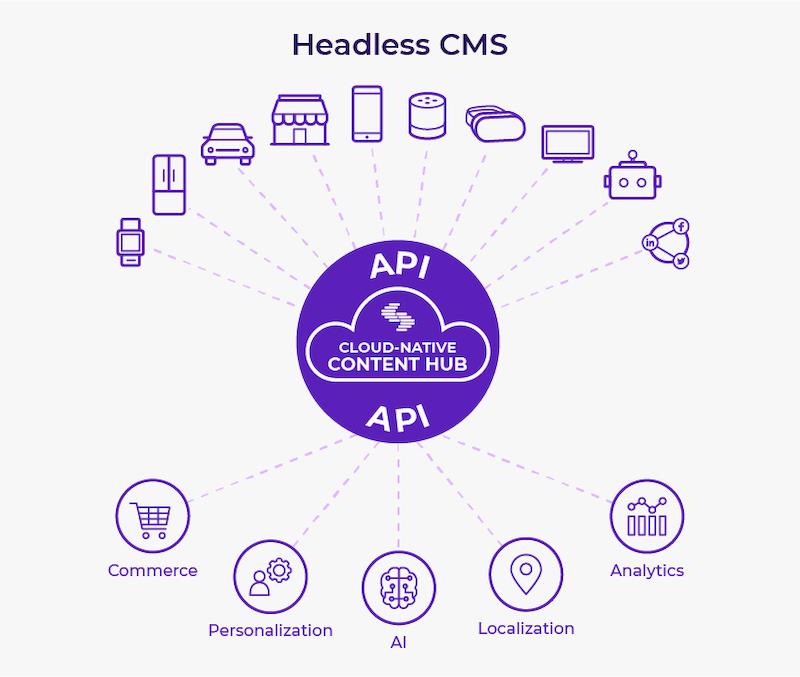 Headless CMS is part of the MACH family of technology. MACH tech is built on four core principles: It employs lean "microservices" to deliver specific functionality, relies on "APIs" for infinite flexibility, is delivered via the "cloud" for affordability and scalability, and is "headless" so that it can operate flawlessly in any framework. Together, MACH technology features empower companies of every size and type to keep up with consumer trends — the most important of which we'll discuss next.
Why Is Having a Headless CMS Important for Every Type of Company?
Have you felt like you're busier than ever before? If you have, you're not alone. Over a third of respondents in the National Retail Federation's Consumer View Winter 2020 report said they have less free time today than they did just five years ago.
And what do they want to spend their dwindling free time doing? It sure isn't shopping around. Just over 80% of consumers say a convenient shopping experience is more critical today than five years ago.
The COVID-19 pandemic has forced many people to do as much of their shopping as possible from the safety of their own homes; it's a safe bet that number has grown since the National Retail Federation's research was compiled — and will remain high for years to come.

No matter what type of company you serve, meeting consumers on the channels they want to shop with the personalized products and services they want to buy is key to capitalizing on convenience.
How to Choose the Best Headless CMS for Your Business Type
For businesses that want to stay relevant throughout every modern consumer trend, a headless CMS is the only solution for content management across endless channels and devices. That's why you need to know how to choose the right one. Let's explore the type of headless CMS that various businesses should look for when shopping for the right content management system to power their experience machine.
Tech Startups
Whether your company is a team of one or made up of a small handful of people, startups in the technology space have specific needs. Small businesses piloted primarily by technology-savvy leaders — or at least have a laser focus on technology while developing their product or service — should look for a stripped-down headless CMS.
The simplest version of a headless CMS is built without any typical business features that enable marketers to create and publish content without interacting with code. These types of headless CMS can be harder to track down, and you might find yourself wanting to upgrade once you grow your team. However, most tech-focused startups will benefit from the integrability and affordability of a stripped-down CMS while they're still building out that proof of concept and market viability.
Bloggers and Other Small Businesses
On the other end of the spectrum are the non-technical small or single-person businesses, such as personal travel, food, fitness, and different types of blogs. If you are — or you're working with — one of these types of companies, you want a headless CMS with all the business-focused features you can get, so you never have to interact with code.
While this type of headless CMS cost more out of the gate, one of the best things about going headless is that you'll only have to do it once. The cloud-based, API-powered modular architecture is built from the ground up to scale as much as your business needs.
Nonprofit Businesses
Like small businesses, nonprofits need a headless CMS with marketer-friendly features and a user-friendly interface to grow their audience. They also need the flexibility to scale up (and down!) as their busy seasons and levels of support ebb and flow.
But unlike small businesses, nonprofits need a headless CMS that serves a higher number and a wider variety of users — all in a cost-efficient way. To meet these unique needs, nonprofit companies are best off looking for a headless CMS platform that markets explicitly to them. That or reaching out to newer or smaller headless CMS providers to see if they can customize a package to meet both their needs and budget.
Manufacturing Companies
Manufacturing companies that turn raw materials into finished goods have particular needs for their content management systems. Namely, they need a system that can connect with and create applicable business intelligence from a wide variety of tools — including CAD software, supply chain management platforms, complex accounting systems, partner and distributor portals, and more.
A manufacturer should look for the essential features in their headless CMS, such as interoperability, artificial intelligence for automation, and the appropriate level of support to get their integrations and business transformation up and running.
New Direct-to-Consumer Brands
With their focus on delivering personalized marketing and consistent customer experiences across every channel, direct-to-consumer (D2C) brands are a perfect match for the features that headless CMS offers.
While newer D2C brands will undoubtedly need these capabilities as they grow, while they're still working on cutting through the noise, they should focus on making sure they've got their number-one feature locked down: The product. That means managing everything that goes into providing your product to consumers, from the product's data to product information distribution, inventory, and performance analytics.
If that's where you are, prioritize finding the product information management (PIM) and a digital asset management (DAM) platform that works for you before selecting a more lightweight but still feature-rich headless CMS to create flawless consumer experiences.
Medium-Sized Businesses
Medium-sized businesses are in a unique position. While they can typically benefit from the same headless CMS features as large businesses, they may be intimidated by an enterprise-focused tool that comes with extras like cutting-edge usability, turnkey integrations, manageable workflows, and white-glove service.
The best feature a medium-sized business can have in this case is to identify their most important features right now and what they will need from their headless CMS in the future. A cloud-based SaaS solution's flexibility is well-poised to grow with a medium-sized business without breaking the bank.
The Best Headless CMS for Enterprise, Large Retail, and FinServ Businesses: Contentstack
In this case, the best feature a medium-sized business can have is to identify their most important features right now and what they will need from their headless CMS in the future. A cloud-based SaaS solution's flexibility is well-poised to grow with a medium-sized business without breaking the bank.
In the words of Contentstack CMO and former co-founder of the integration-as-a-service provider Built.io Matthew Baier, " … integration is a superpower that enterprises are beginning to unlock."
Contentstack's headless CMS was built from the ground up to provide turnkey sales and marketing integrations. These integrations enable the most complex organizations — whether they be modern FinServ leaders, retailers, or others — to provide the individualized experiences that are key to closing sales and blowing competitors out of the water.
Contentstack helped the mortgage finance industry leader Ellie Mae cut their developer tickets almost in half so they could get back to the revenue-generating projects that mattered!
And speaking of integrations, Contentstack's partnership with commercetools enables large retailers to rapidly launch and grow all-inclusive ecommerce platforms that support the end-to-end consumer experience. This focus on ecommerce features and the flexibility, scalability, and up-time that result from Contentstack's MACH architecture — is especially significant right now. By the summer of 2020, ecommerce sales had grown 55% year over year, and shoppers spent an additional $107 billion online — mainly in response to the COVID-19 pandemic.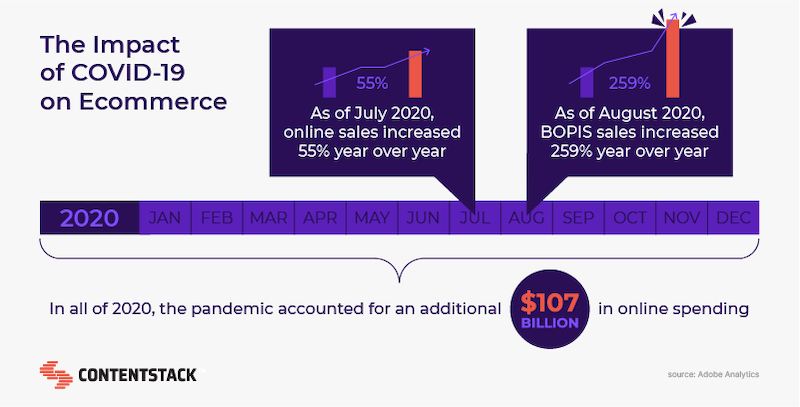 The digital experiences that Contentstack enables its enterprise business users to create and consumers to enjoy are only going to become more critical as more of our daily interactions go digital.
Large retailers, FinServ organizations, and other enterprise businesses can either go big and choose Contentstack — or they can go home.
Which Will be The Best Headless CMS for Your Company?
Going headless or making the switch from an outdated content management system to a new one will likely be a big project, but when you choose the right headless CMS platform, you can be sure it'll be time and money well spent.
To learn even more about the ins and outs of headless CMS, download our free and easy to read brief, "Traditional vs. Headless CMS — Never Settle."
For even more tips on what to look for in a headless CMS, check out this "Headless CMS Buyer's Guide."
And if you want to see what a real, enterprise-ready headless CMS looks like from the
inside
, you can take a
no-obligation test drive of Contentstack
or get
a guided demo
.