To take your business global, you have to make sure the customer experience stays local. In other words, in order for your business to build a scalable, global content operation, you need a strong localization strategy.
In order to reap the benefits associated with localization (which we'll describe in detail later), organizations must develop a localization strategy that starts with best practices and ends with incorporating cutting-edge technology into your content stack to pull off flawless localization across any sub-brand or country.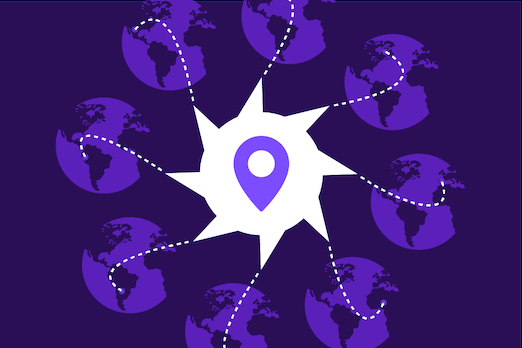 By the end of this guide, you will be well-versed in the nuances of localization, the benefits that make a great localization strategy a must-have for large brands, and exactly what steps and tech it takes to create such a strategy within your own organization.
What Is Localization?
A simple definition of localization is that it is the process of making something (content, in this case) local. Although it does encompass translation, localization is much more than that.
Translation is changing words from one language to another. But localization goes beyond just converting written language to account for syntax, phrasing, graphics, colors, layouts, and more. This comprehensive approach is designed to ensure the content aligns with the very specific audience with which a business is trying to connect.
For instance, an American company that's opening an office in China would need to at least translate their English resources into Mandarin, the most common dialect of Chinese. But with a smart localization strategy, they wouldn't just stop there. Localization would require the company to learn more about the specific region into which they were expanding so they could adopt the local dialect and tap into current events, common phrases, and other cultural nuances in the area.
Translation vs. Localization

| | | |
| --- | --- | --- |
| | Translation | Localization |
| Updates Content | | |
| Updates Graphics | | |
| Considers Context | | |
Why Is It Important to Have a Localization Strategy?
An effective localization strategy allows you to take a wholly unique approach to marketing—one that has plenty of business benefits.
Improve Organic Search Results in Every Foreign Market
A sometimes overlooked benefit of localization is that it can increase your chances of showing up when a consumer uses a search engine to research the product or service you offer. When your content is not only optimized for the local language but for the unique dialects, phrases, and even slang terms used in that location, it's more likely to match up with the search terms your target audience naturally uses.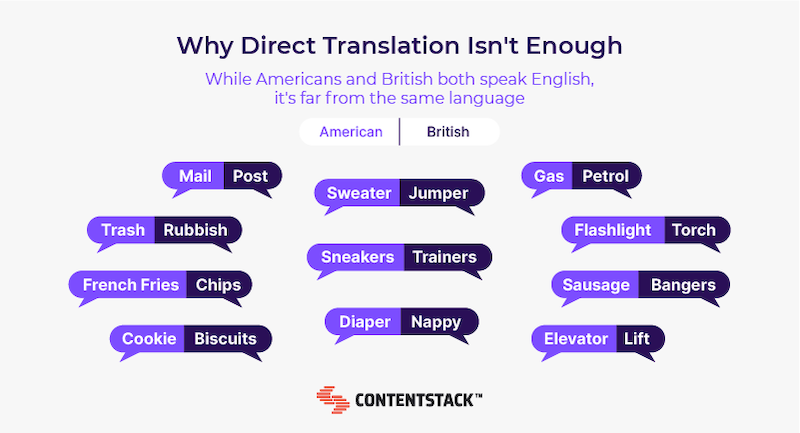 Make More Global Sales
The truth is that the majority of consumers prefer to shop in their own language. Which is, of course, no surprise. When was the last time you purchased something online from a brand you didn't recognize using a language you can't read? Most consumers aren't going to play a guessing game with your poorly translated or totally foreign content if there's another option in their local language.
Providing key information about your business and your offerings is a great way to tell consumers you care about their culture and experience, show them you want them to feel comfortable and knowledgeable about your brand, and it gives you a fighting chance to win them over with your carefully crafted marketing messaging.
Provide Better Customer Support, At Less Cost to You
In an age where more people are digital-savvy than ever before, the majority of consumers actually want to solve their customer service issues without speaking to an agent whenever possible. That means you could save your customer support agents time—and therefore save money—by simply making it easier for customers in every locale to find, read, and use the resources they need to help themselves answer common questions.
A 7-Step Localization Strategy for Building a Scalable Content Program
We'll be honest with you, getting a large-scale localization operation off the ground isn't a walk in the park. However, in today's global economy, it's one of the more effective, affordable, and achievable methods for outpacing competitors and delivering loyalty-earning experiences to consumers. That's why in this section, we've broken out every single important step in building the localization strategy that will help you support and accelerate your business growth.
1. Choose Locales to Target
As we mentioned, when done right, localization will require you to expend some time and resources. So, the first thing you should do is decide where it's best to use that time and those resources.
There are plenty of ways you can narrow down the locales you want to target as you take your first stab at building out a scalable content program. First up, think about any new markets your business is expanding into in the next few years. We also recommend checking out your sales and marketing data for areas that you've already moved into. Any that are underperforming? Those are a perfect target.
Keep the number of locales manageable the first time you work through this strategy. Ideally, the work you do now will help create a smoother process in the future, so remember you can always add new locations later as your business grows and changes.
2. Choose Which Platforms to Localize
How do the majority of consumers interact with your brand in each of the locales you've chosen to target? In France, most transactions may take place on a desktop while in Nigeria most of your users may be mobile-first. You'll want to compile this data so you can save a little time and money by focusing on the channels your consumers love most.
If you're growing into a new area, see which platforms your competitors are most active on to help narrow down the marketing channels you'll localize.
3. Define the Content, Graphics, and Products to Be Localized
After choosing your markets and platforms, it's time to take the final step in narrowing your focus: identifying the actual pieces of content that you will localize.
In this stage, your content team will be thinking about things like:
Do we need to change the language of our social ads?
Does the app color and layout need to be updated?
Will we have to rename products?
What about pricing?
This is a very important step in the process. If you haven't already, this is when you're going to want to spend plenty of time reviewing and organizing your content resources, as well as developing a system for upgrading key content pieces.
4. Conduct Market Research for Each Locale
This step may very well happen in conjunction with the one above, because even if you're certain that something needs to be localized you might not know exactly what changes need to be made.
This could mean hiring localization professionals to closely review the content elements you want to update. They can help ensure that your edits align not just with the regional language but with all the nuanced cultural markers that make your brand feel like a member of the community.
5. Identify Dependencies
One of the most time-consuming parts of building a scalable, global anything is working through the many, many dependencies. Marketing messaging that's reused across several social campaigns will need to be consistent in their localized improvements. Updating product descriptions or prices could require approvals from different teams. Whenever you make updates or changes, it's vital to think through the hurdles you'll have to clear as you go.
Dependencies are just a reality when it comes to refreshing processes and resources within your business. Right now, before you start laying down any due dates, you should really take some time to identify as many of these dependencies as possible so that the time it takes to work through them is accounted for in the next phase.
6. Set Up Owners, Milestones, Objectives, and a Timeline
Armed with a clear picture of the localization project before you, it's time to start setting goals for its completion. This includes assigning owners for each task, setting up milestones to mark exactly when you expect to have key tasks complete, defining the objectives each task should help you achieve, and developing an overarching timeline for your entire localization effort.
Taking these steps doesn't just provide motivation to move through the necessary tasks, it is also a great resource for those times when you have to provide progress reports for stakeholders.
7. Implement Flexible Content Management Technology
Finally, it's time to implement the technology that makes scalable, global-reaching content localization possible. It all starts with an upgrade to a headless content management system (CMS).
Headless CMS is a modern content management platform that's built with modular architecture. Its structure separates the backend (the "body") of the CMS, where content is created, from the content presentation layer (the "head"), where content is distributed. Application programming interface (API) technology creates a flexible framework in which all the elements of a CMS can work together despite being decoupled.
This means that best-of-breed tools—such as translation and localization solutions—can be integrated right into your headless CMS. This allows your content team to flawlessly build localized content campaigns at any point in the content creation workflow.
Thanks to its MACH architecture, headless CMS enables businesses to rapidly take advantage of cutting-edge strategies such as localization and scale content operations rapidly. MACH describes technology that employs Microservices, uses API connectivity, is Cloud-native, and whose platform is Headless.
Unlock Your Localization Strategy With the Right Headless CMS
To understand how achievable large-scale localization can be with an easy-to-use headless CMS, check out some of our other content:
And to learn even more about developing a localization strategy and building a scalable content program, read: