What is a DXP? Understanding digital experience platforms
In a recent "State of Marketing" report, Salesforce found that a whopping 84% of customers say the experience of interacting with a company is just as important to them as the products and services the company provides. And what's more is that the majority of these experiences are taking place on a slew of different platforms and devices. Over 70% of consumers report using multiple sources over the course of a transaction.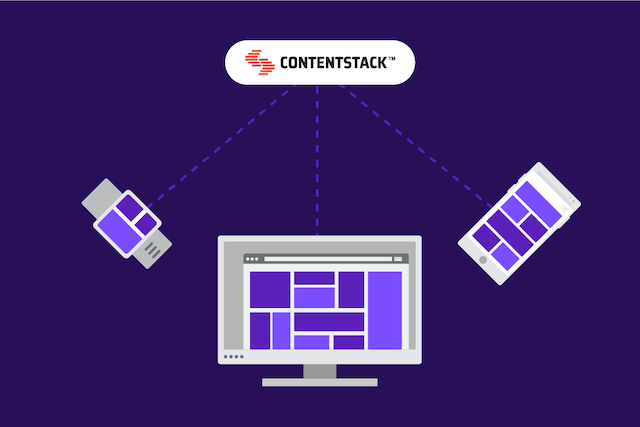 The implications for business are clear: Digital experiences are both the present and the future of marketing. That's why more and more organizations are moving to a composable digital experience platform (DXP) to create consistent content-driven experiences for consumers.
If your marketing department is looking for a way to create content experiences that convert, keep reading to learn:

What the term composable DXP means
How DXPs have grown and evolved over time
The benefits of using a DXP
How to build your own digital experience platform to deliver rich customer experiences
What is a digital experience platform?
Forrester's report, "Now Tech: Digital Experience Platforms, Q2 2021" defines a DXP as, "a platform that provides the architectural foundation and modular services for developers and practitioners to create, orchestrate, and optimize digital journeys at scale — to drive loyalty and new commerce outcomes across owned and third-party channels."

In practice, a digital experience platform is an integrated collection of technologies that brings together various capabilities (such as e-commerce, content management, personalization and localization, etc.) to deliver consistent omnichannel digital experiences.
Traditional legacy DXPs attempt to deliver all of these capabilities from a single, monolithic piece of software. Monolithic suites struggle to keep up with the quickly changing demands of today's digital consumers, and after-market add-ons and technical debt incurred to keep them running often lock organizations into outdated vendor relationships, hampering their ability to innovate or even compete.
That's why the future of great omnichannel digital experiences lies in modern DXP platforms built on MACH methodology.
MACH is an acronym that describes technology built upon four principles:
When all of these capabilities come together in a composable DXP solution, marketing departments can finally deliver the personalized omnichannel digital experiences that are only a dream for organizations locked in their monoliths.
In a world where omnichannel digital experiences abound as businesses race to go digital, it's no surprise that 60% of organizations will make composable business a strategic objective by the year 2023. And the same number will seek composability when shopping for new applications. Organizations that adopt a composable dxp approach are set to outpace their competitors.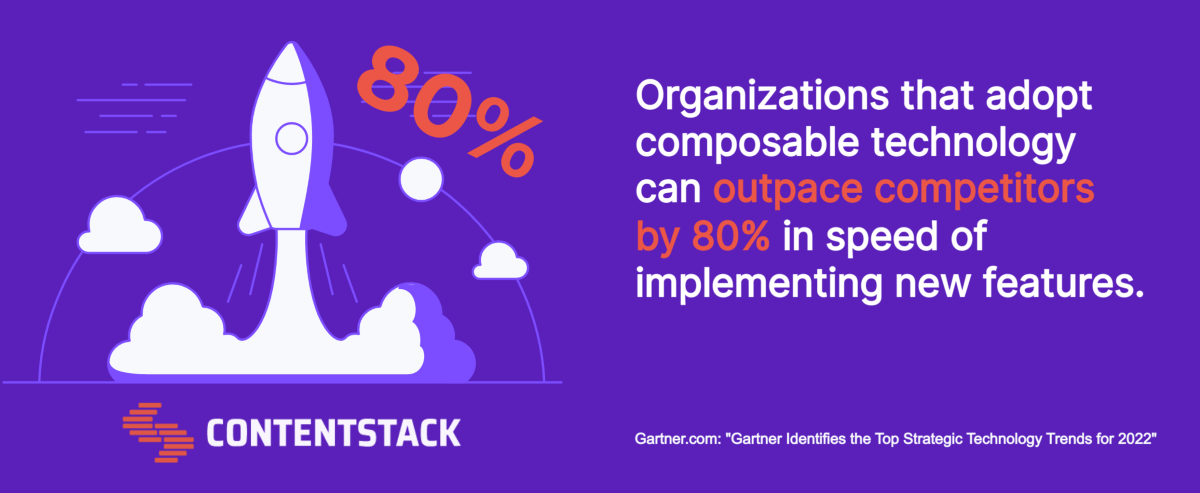 The evolution to composable digital experience platforms
As consumer expectations continue to rise, brands are under increasing pressure to adapt. A big part of this is meeting consumers on the channels they frequent and catering to an ever-growing list of devices. A personalized, hyper-convenient customer experience is also increasingly becoming an expectation, leading many brands to attempt to anticipate consumers' needs.
Enter today's composable digital experience platform, which seeks to address all of these needs. But to get to this place, DXPs had to evolve along with the concept of digital experiences themselves. Let's take a look at the evolution of the digital experience and the technology that powers it, from static websites with monolithic content management systems to composable DXPs that are already ready for tomorrow's marketing needs.
The traditional, monolithic CMS platform
Before there were DXPs of any kind, there were traditional, monolithic content management systems (CMSes). CMSes have been around for almost as long as there have been websites, offering a relatively user-friendly space in which to create content.
However, the original monolithic CMSs were (and still are) heavily restricted in terms of content responsiveness across various channels. This is because they intertwine content management with content delivery so content elements are permanently formatted for the devices and channels where they're published. These legacy CMS platforms made sense when marketing meant pushing publishing static content to static websites, it wasn't long before the digital experience evolved and technology changed along with it.
Web content management and web experience management platforms
The web content management (WCM) platform and its close cousin the web experience (or sometimes "engagement") management (WEM) platform developed as the web began to branch beyond static sites. Businesses needed a way to organize their growing content resources and efforts under a single roof.
WCM and WEM software were among the first to help facilitate complex, simultaneous content campaigns and data functionality for customer engagement and intra-organizational information sharing and collaboration. These tools also granted businesses deeper insight into customer behavior through user segmentation and AI-driven analytics, allowing more personalization than traditional, monolithic CMSes.
While WCM and WEM platforms offered significant improvements in audience management, they were still built with a single channel in mind (the web). As more consumers started using smart devices to access more digital channels, another development was needed to take advantage of all these new engagement opportunities.

The digital experience platform monolith
The first attempt to build a platform that would enable the delivery of relevant, omnichannel digital experiences started with traditional, monolithic software. Before the introduction of modern MACH-powered DXPs, the only option for IT teams was to bolt a bunch of disparate software together on top of their monolithic CMSes to try to deliver the digital experiences consumers demanded.
Unfortunately, today we're seeing how these entangled customizations create dependencies that are expensive to maintain and even more expensive to break down and replace with more innovative solutions.
The modern, composable digital experience platform built on MACH
Composable DXPs build on the capabilities of previous technologies to provide a centralized platform capable of creating fully integrated, seamless, personalized omnichannel marketing experiences. A composable digital experience platform built on a foundation of a headless CMS enables you to future-proof your tech stack and align it with your organizational strategy to develop an agile, innovative composable business.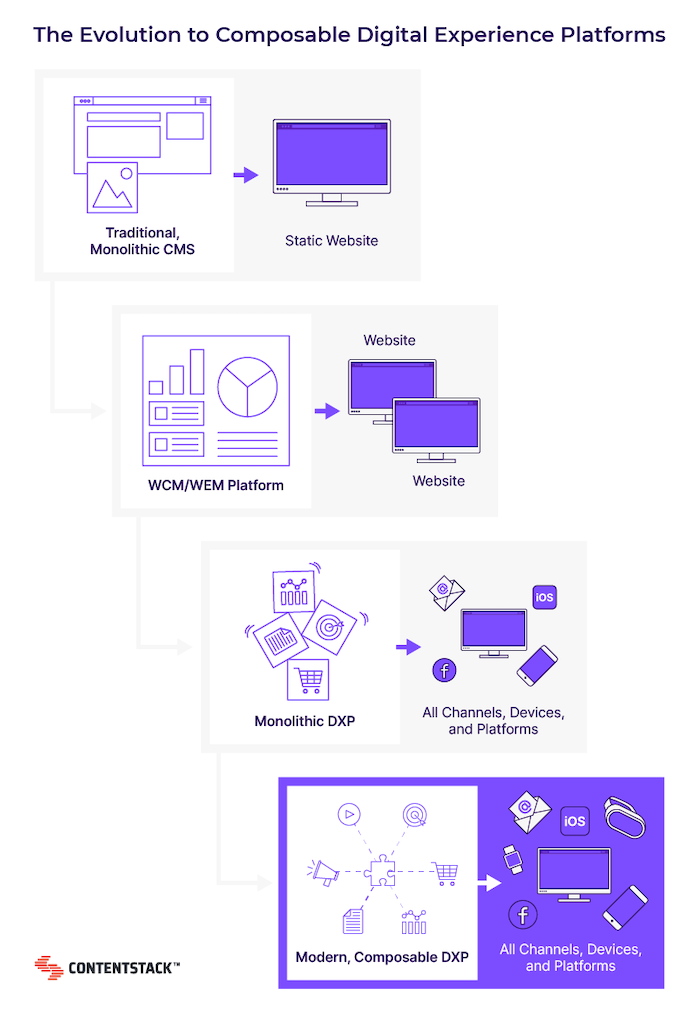 Benefits of a composable DXP
The core benefit of digital experience platforms is that they allow you to create rich, personalized and memorable digital content experiences that exceed your customers' expectations.
There are more specific benefits of DXPs as well.
Seamless integrations
Thanks to the APIs central to MACH technology, composable digital experience platforms offer enviable ease of integration, allowing you to combine the powers of all the various platforms, tools and microservices you use in your day-to-day business operations.
With the help of APIs, you can consolidate data from your CRM software with data from your e-commerce platform and use it to drive rich content experiences across all your channels, as well as derive data from those channels.

Omnichannel content deployment
With headless architecture that untangles the creation of content from the channels and devices where it's published, digital experience platforms enable you to seamlessly optimize and push marketing campaigns across multiple channels so you can maintain a responsive presence. That means you can be wherever your customers are— browsers, apps, tablets, IoT devices, kiosks, smartwatches, voice assistants, jumbotrons, vehicles and more.
Affordable scalability
Because your DXP uses microservices to create cloud-based digital experiences, you can enjoy more reliable up-time and performance within your tech stack. And you'll never have to worry about footing the bill for scaling servers up or down as consumer demands and business plans shift.

Heightened collaboration
As Forrester's "Now Tech: Digital Experience Platforms, Q2 2021" explains, "The clarity provided by COVID-19 on the importance of being able to quickly reconfigure key business concepts and bring new levels of emotion and engagement into omnichannel experiences has highlighted platforms and services that allow developers and practitioners to work in harmony."
A composable digital experience platform is a foremost tool for enabling flawless collaboration.
With a DXP, business users have the agility to deploy or update services and content on the fly without worrying that it will upset your infrastructure or result in unplanned downtime that developers then have to scramble to address. And because the front end and back end are decoupled in headless MACH technology, developers and designers have more flexibility to use each channel's format to its fullest without being held back by limitations of a back end.
Personalization capabilities
By integrating advanced analytics and other business intelligence microservices, modern DXPs enable marketing teams to create personalized messaging that's tailored to specific touchpoints. This personalization fosters customer loyalty and allows you to deliver the right messaging at the critical moment to drive a purchase.
Brand consistency
With a composable DXP, content assets are organized in editable modules that are easy to find and optimize as brand messaging evolves. This means marketing organizations can create and deliver content with a unified brand voice across all touchpoints. This is particularly useful for organizations working with remote teams.
Insight-driven business decisions
DXPs give businesses a smart platform where data from the content marketing department, customer support team, sales platform and more can be coordinated in real time using APIs. Combined with analytics microservices, this data can provide actionable consumer insights that will help you make the most informed business decisions possible.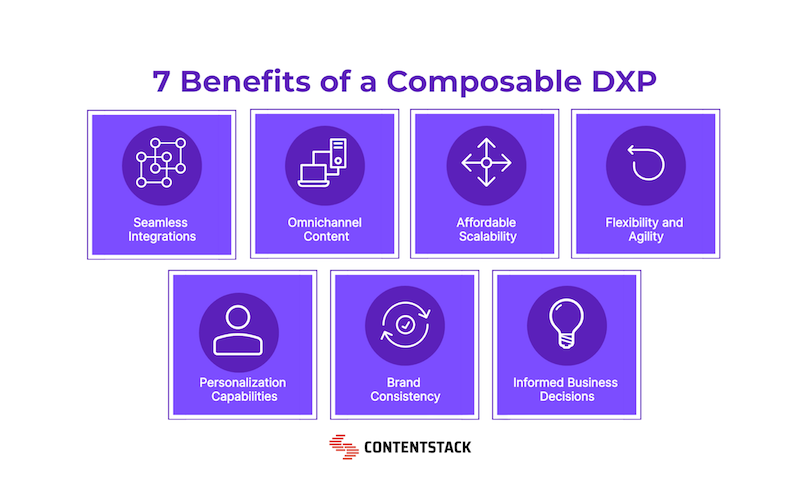 Core components of a composable DXP
An effective composable digital experience platform should deliver on three main capabilities: content management, personalization and delivery of content across channels.
Why does it all come back to content?
Because, as Forrester points out in their aforementioned report (and we've covered before, as well), "Content is the soul of experience. If emotion is key to building your brand, then creating emotional connections starts with the right content — and an understanding of how it performs."
It all boils down to creating content that makes an emotional connection and managing it, distributing it and personalizing it in a way that engages consumers. So it only makes sense that a headless CMS should be the core of your DXP.
DXPs built on headless CMS MACH technology, which features content-as-a-service (CaaS) architecture, offer the greatest flexibility and agility, making them best suited to the ever-changing digital marketing landscape.
Aside from ease of use and stellar content management functionality, the most important feature in a composable DXP is interoperability. This is because, in order to truly take advantage of all that DXPs have to offer, you need a DXP that can "play nice" with the other software in your marketing stack — whether that's your custom IT system, your preferred CRM software or any other third-party tool.
How to start building your own composable DXP
The first and most vital step on the road to implementing a composable DXP strategy is adopting a headless CMS. That's because a headless CMS makes the best foundation for any robust digital experience platform.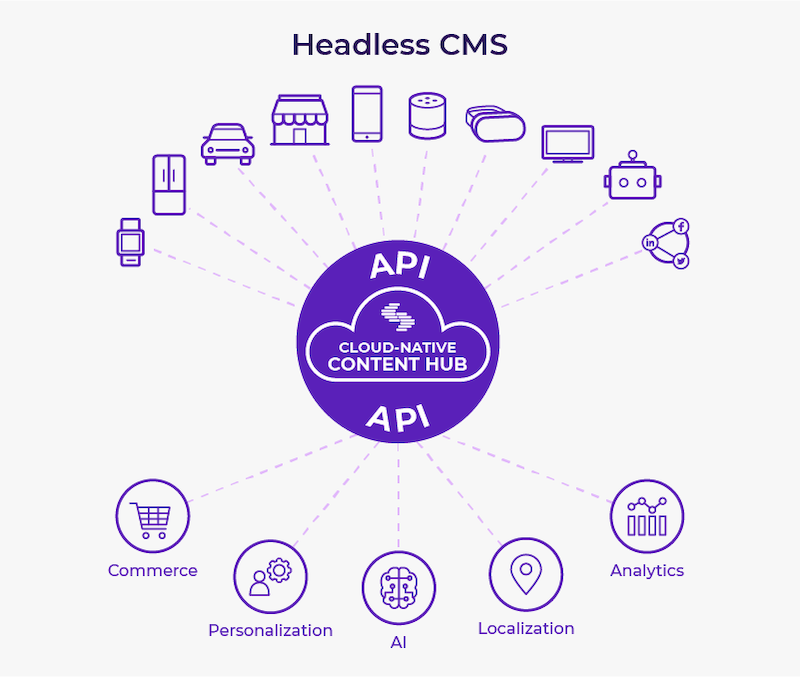 The headless CMS acts as a content provider, allowing you to request the right content for the right context. This context includes channel/device, customer profile and the user's past browsing behavior. For instance, if an individual engaged with image content more than video, this insight can be used to influence which content you deliver to that individual.
With your headless CMS in place, finish building your DXP by choosing MACH technologies to meet your business needs such as marketing automation, customer relationship management (CRM), digital asset management (DAM), product information management (PIM), an email targeting solution, recommendation engines and analytics.
Once you've integrated all of your services via API, you'll be able to deliver content based on your customer's interests and preferences to create unforgettable digital experiences. You'll also want to audit your existing content strategy and model your future content. This way, you'll be able to plan which kinds of content you'll need in the future.
More tips for boosting commerce outcomes with the right experience tools
Here are just a few more tips from Forrester's "Now Tech: Digital Experience Platforms, Q2 2021" report that you can implement to make sure you're choosing the best tools for your digital experience stack.
Align over content direction
With content making up such a central element of the consumer's digital experience, it's important to choose a content management vendor that shares your organization's vision for your content. That means making sure the vendor has the content capabilities to serve your company, whether they're a smaller vendor that specializes in your business model or a larger CMS solution with experience providing custom environments for a wide variety of industries.
Think in ecosystems
A DXP is only as good as the third-party integrations that extend its capabilities. So remember, you're not shopping for a finalized, all-in-one solution as much as you're looking to form relationships with vendors that either curate entire systems of services or make it easy for you to customize your platform with outside services. Ecosystems are the future of innovation. Start aligning yourself with vendors who share that mindset now.
Prioritize data standards
Data is the underlying fuel for creating business insights and automations that help your team make consistent, relevant and emotionally aware content experiences at any scale. Even if you aren't employing these capabilities today, the tools you choose to build your DXP must prioritize smart data management standards to ensure you can take full advantage of your data when the time comes.

Ready to adopt a composable DXP?
By upgrading to a MACH tech stack and implementing a composable digital experience platform, you're signaling to consumers (and competitors) that you take the omnichannel experience seriously and you're ready for whatever developments the future holds.
If you're looking for a headless CMS to power your DXP so your organization can finally...
Offer content-driven experiences that delight and surprise
Deliver consistent brand messaging across multiple channels
Offer each customer a personalized experience in real-time
Iterate as your needs change
… it's time to request a no-obligation demo of the original MACH headless CMS.
Get in touch today and join the digital revolution with a headless CMS and composable DXP that will improve the efficiency, flexibility and agility with which you create personalized omnichannel digital experiences.
Related Articles
Here are other CMS articles we think you'll find useful.