In 2020, Google processes 4.2 million search queries per minute. Two hundred emails are sent every minute. And the marketing technology landscape includes 8,000 different solutions.
Today, distractions come in all shapes and sizes and from every angle for the busy digital manager. This can make it extremely difficult to cut through the noise and focus on what truly has the potential to move the needle at your company.
Allow us to cut through the static and help you refocus your efforts and energy on what matters most: The content at the heart of your digital strategy, and how to manage it to make the most of current opportunities.

Why Content Should Be the Core of Your Digital Strategy
These are three main steps the majority of buyers will go through before they ultimately patronize your business. The awareness phase is when a consumer realizes the need for a solution to a problem that exists in the market. The consideration stage, when the same consumer starts researching options for solving their problem. And the decision process, when they finally land on the best solution.
And you know what powers each of them? The answer is "content."
From your marketing websites to your product and service descriptions, social media messaging, blogs, email marketing campaigns, how-to videos, customer-facing knowledge base, and beyond — content is the underlying element that powers each of your customers' experiences.
Content is the customer service that's always available to answer consumer questions accurately. Content is what helps your business rise to the top in the competitive world of search engine results. Content enables you to position yourself as an industry expert — and a resource your loyal customers can share with their friends and followers when they want to rave about their favorite brand.
Content is your consistent voice in an omnichannel environment where consumers are exposed to constant marketing, whether they're walking past a billboard, scrolling through social media, or watching their favorite video streaming service.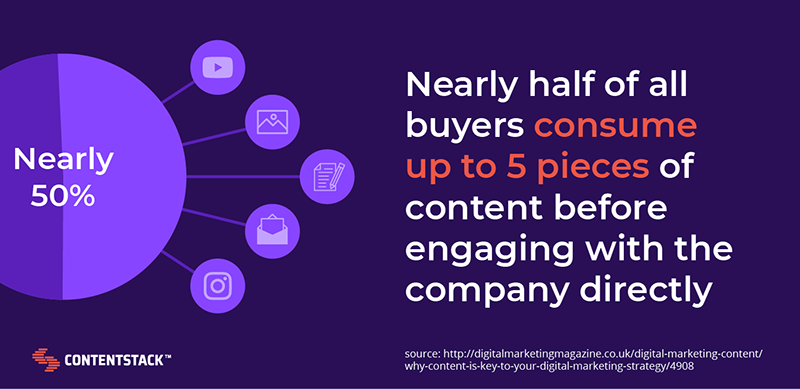 Take it from nearly 50% of eventual buyers who engage with 3-5 pieces of content before they even get in touch with a company about a purchase they're interested in making. Useful content should be at the heart of your digital strategy, which is why you really shouldn't skimp when it comes to managing it.
Can You Afford The Cost of Poor Content Management?
With great content comes the necessity for a great system to manage it in a way that makes the most of the opportunities it affords. What you can't afford are these significant losses that accompany poor content management practices.
Content Loss and Rework Wastes Big Time Salary Dollars
Data from the market intelligence firm IDC shows that organizations with over 1,000 workers spend $5 million every year, paying employees to duplicate content that has been mismanaged and lost.

But despite this expensive effort to create business content, 81% of office workers still report wasting too much of their time at work trying to process ineffective content that is either too long, poorly organized, inaccurate, unclear or all of the above.
There's no doubt you pour a lot of effort and resources into creating content. Unfortunately, this outpouring loses all return on investment if your content management process is too weak to ensure the content you're creating is valuable and accessible to various departments who need to locate, use, optimize, and even reuse content for a growing number of audiences and distribution channels.
A Lack of Content Management Costs Precious Productivity
Along with salary dollars, poorly-managed content costs worker's valuable time they could be spending on productive tasks instead. Knowledge workers spend an average of 2.5 hours of every workday searching for the business content they need.
Additionally, looking for hard-to-find resources, other content-related tasks that employees often waste productive hours include working through approval requests, managing draft versions, and sharing content resources with the right people throughout the organization.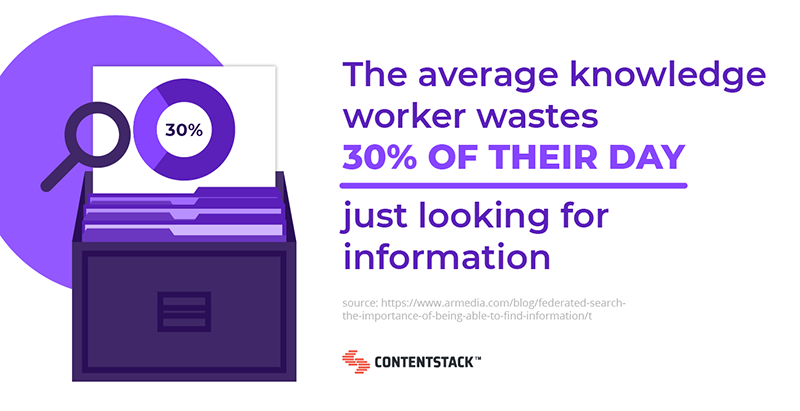 Badly-Managed Content Can't Cash In on Personalization
When it comes to developing customer experiences that convert, it's not just content but the context that's king. Today's consumers are, quite frankly, over generic content. A popular study found that 78% of consumers are more likely to purchase from a brand that serves them relevant content, 64% would recommend the brand that delivered this relevant content. Half would spend more on products and services if their brand experience were personalized!
The fact that consumers prefer highly-relevant content-driven experiences isn't all that surprising. Unfortunately, what's surprising today is finding a brand that can deliver the personalization level that consumers prefer.
If you're ready to be one of those rare brands, it's time to adopt a system for managing content that's easy to find, optimize, and publish to any channel, for any audience segment, and at any scale.
The Best System for Creating a Modern Your Content Management Process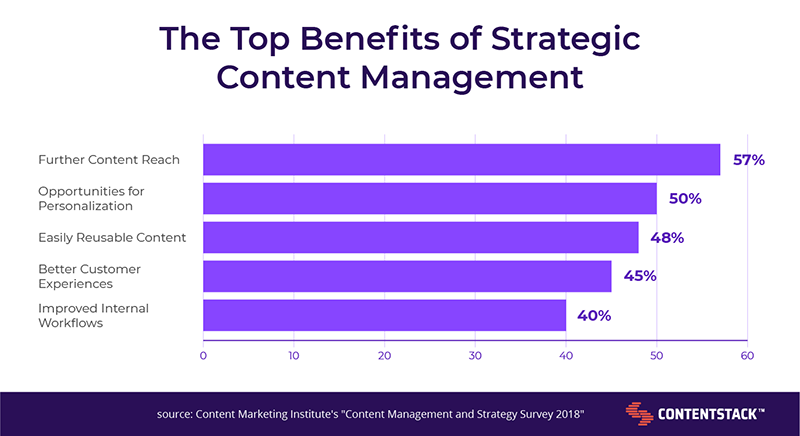 Developing an effective and efficient content management strategy is beneficial for businesses in a lot of ways. It can uplevel the reach of your content marketing efforts, support your personalization capabilities, and even improve the content-powered customer experiences that ultimately shape your bottom line.
To take advantage of these opportunities, you need a content management system (CMS) that empowers your team to leverage content like the valuable business asset that it is.
A headless CMS is a cutting-edge content management tool that should live at the heart of your digital strategy.

The "traditional," monolithic CMS (think WordPress) kept content and the formatting layer in one system. This coupling was an adequate solution in the days of static content for delivering content only to websites. However, today using a monolithic system requires you to recreate content manually each time you want to publish content for a new audience or channel. With a monolithic CMS, it's nearly impossible to personalize and distribute content at scale.
A modern, headless CMS (like Contentstack) stores its content and its formatting layer separately. This separation is critical in enabling marketing teams to create and optimize content assets. Simultaneously, designers and developers build out distribution for those assets, whether they're delivering it to a new website, email campaign, internal knowledge base, or anywhere else.
The application programming interface (API) technology that makes this modular functionality work also makes it easy to integrate tons of other critical business technologies to build an end-to-end digital strategy. A headless CMS works as a content hub to connect your customer relationship management platform, data management platform, AI-powered content optimization tools, ecommerce store(s), translation and localization services, and anything else you may need.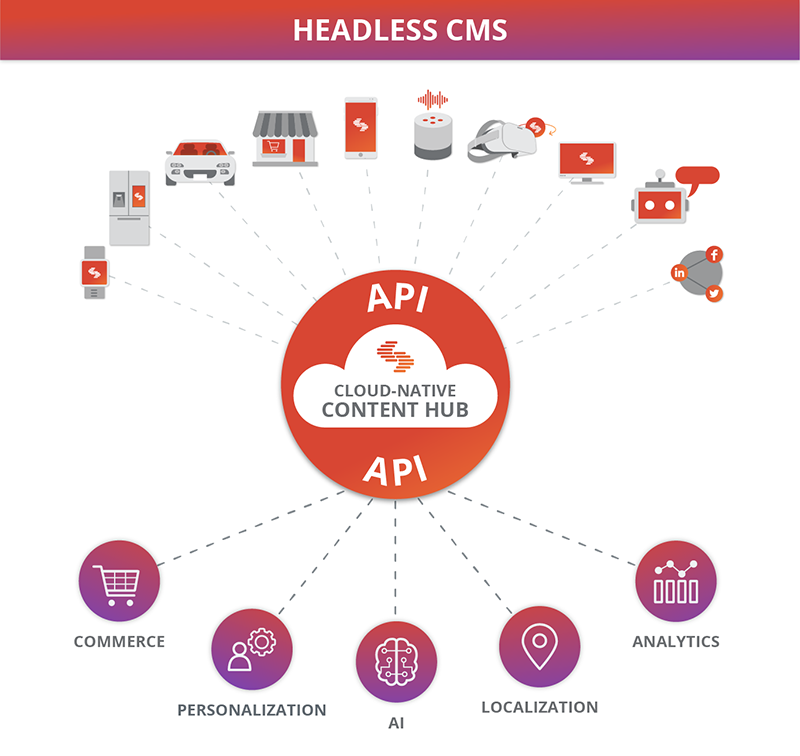 Today, content is the currency of business. Choosing a modern content management system to build a flexible and thoughtful digital strategy is key to generating more of that currency to spend on new customers.
If you're new to the concept of headless CMS, there's a lot more to learn. Enjoy free access to Forrester's webinar "Learn the True Value of a Headless CMS." This webinar explores why headless CMS architecture is critical in an omnichannel world and how its built-in content delivery and management features are ideal for busy marketers and developers.
And once you're ready to start shopping for a headless CMS for your organization, check out our guide "How to Choose a CMS," or get in touch with our team here at Contentstack to take our headless CMS on a free, no-obligation test run.