Back to Blogs
De-risking your transition to composable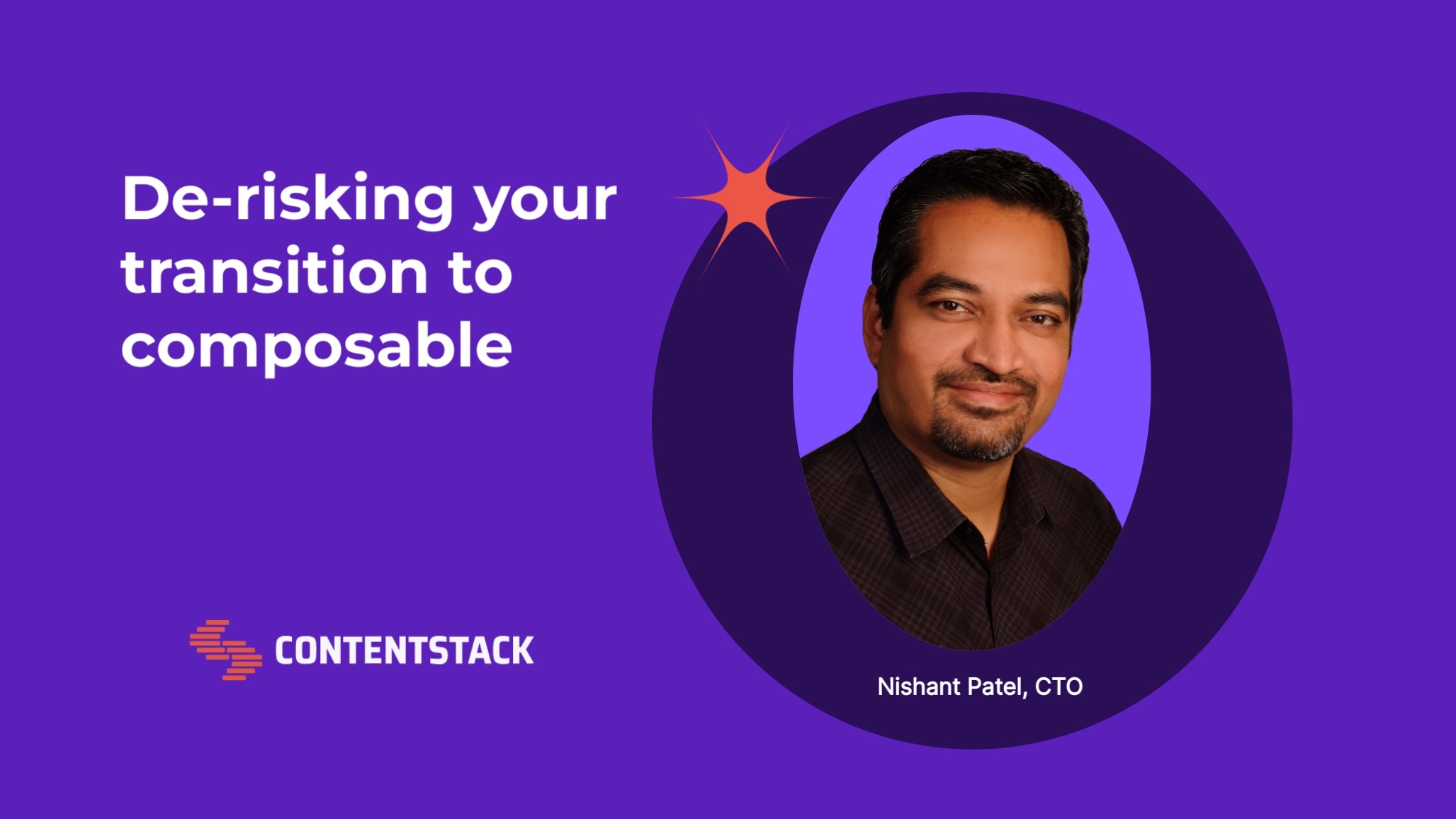 Everyone has a different journey to composable. Some companies adopt it quickly; some take several months. Some are eager; some are skeptical.
But nearly all are concerned about risk during the transition. That's not surprising — any good business leader considers all the risks at hand when making a big move.
Levi Strauss & Co certainly did, and they weren't shy about discussing it on our "People Changing Enterprises" podcast. I was a fan of the openness from Zach Crittendon, a software architect, as he broke down Levi's approach to transitioning from their monolith environment to a composable architecture.
Since risk is on everyone's minds, I wanted to share my perspective on how to minimize risk when making the move to composable.
Get everyone on board
Choosing to make the switch from monolith to composable doesn't happen overnight. It also can't be accomplished alone. You need a team. If critical stakeholders like finance and procurement are not on board at the start, it can cause problems and increase risk in the future.
Finance might question the higher upfront costs because the business is adopting several best-of-breed tools with built-in benefits like scalability and extensibility. Procurement is going to look at the different vendors to manage and balk.
Demonstrate the business case for why this move is important:
To finance: "The market is ever-changing and we need to pivot quickly when required. Our current environment doesn't allow us to do that. Composable is much less risk, time and cost than our current environment in the long run."

To procurement: "I know you want to consolidate vendors, but our current tools aren't working for the business. There's no solution in the composable world where we just buy everything as one." (If Contentstack is your composable partner, I would recommend telling them about Care Without Compromise™, the industry's only cross-vendor support program).
It's a slow process, but worth it. There's much less uncertainty and chance that risk might be incurred in the future from internal conflicts.
Make a plan and take it in phases
Once you have everyone on board, your next move to decrease risk is to make a plan. I recommend pacing the transition in phases so it's not so overwhelming or too fast.
I like how Zach said it: "I think the choice of the word 'composable' is really meaningful in the sense that it's like a musical composition. It's a series of notes and chords that come together into bars and movements. Eventually, you have an entire piece."
The terms "come together" and "eventually" are important in Zach's quote. Levi's didn't adopt composable all at once. In fact, they started with just four modules. Eventually, they were able to create cool content experiences that they had been dreaming about for a long time — but it wasn't what they started with. They started with a plan and phase one.
However, remember this: Plans change.
I love this quote from President Eisenhower surfaced by a previous "People Changing Enterprises" guest: "In preparing for battle I have always found that plans are useless, but planning is indispensable."
I wouldn't say having a roadmap for your transition to composable is useless, but I would advise you to be open to change as circumstances evolve. It's the act of planning for the future that will de-risk your transition most, rather than the plan itself.
Balance the present and the future
Consider the balance between the capabilities you need now and what you'll need down the road.
One of the benefits of composable architecture is the flexibility it provides. If you build something into your initial stack that you want to remove later, it is much easier than in a monolithic environment. Conversely, if you leave something out that you discover a need for, you can easily integrate that into your stack.
Balancing the present and the future also means you have a long-term vision of what you want to do but start with a very clear and provable business case. For Levi's, their first phase in the composable transition was proving Contentstack would excel with one use case: the homepage. While the homepage ran through the headless CMS, the rest of the website remained on the monolith.
It was like a small trial run: Once they proved the business case for composable, they moved on to phase two. They replaced their old environment and created a simple version of the website in a smaller market (for them, it was Eastern Europe). The third, and last, phase was taking the lessons learned from phases one and two to fully replace the entire website.
Trust your instincts
The term digital transformation – along with all the moving parts and plans it brings – can be intimidating. So, here's my biggest advice in this process: as a business leader at the head of the charge, trust your gut.
I got this advice from Dheeraj Pandey, founder and CEO of Nutanix and someone I respect, who said that gut feeling comes from experience. You may not have walked through a digital transformation project before, or it might have looked very different in the past. But experience forms the foundation of your gut instinct.
If something seems like a risk, consider it. Check with your colleagues and trust their gut instinct, too. Remember this transition to composable is a less risky approach than staying with your old tools and technologies.
Any good tech leader knows you'll never fully de-risk your transition to composable. But with a thorough approach, an understanding of where you want to go, and an experienced partner to offer expertise, you can pave a path to less risk and more flexibility for the future.