Back to Blogs
Choosing which mini digital transformation is right for you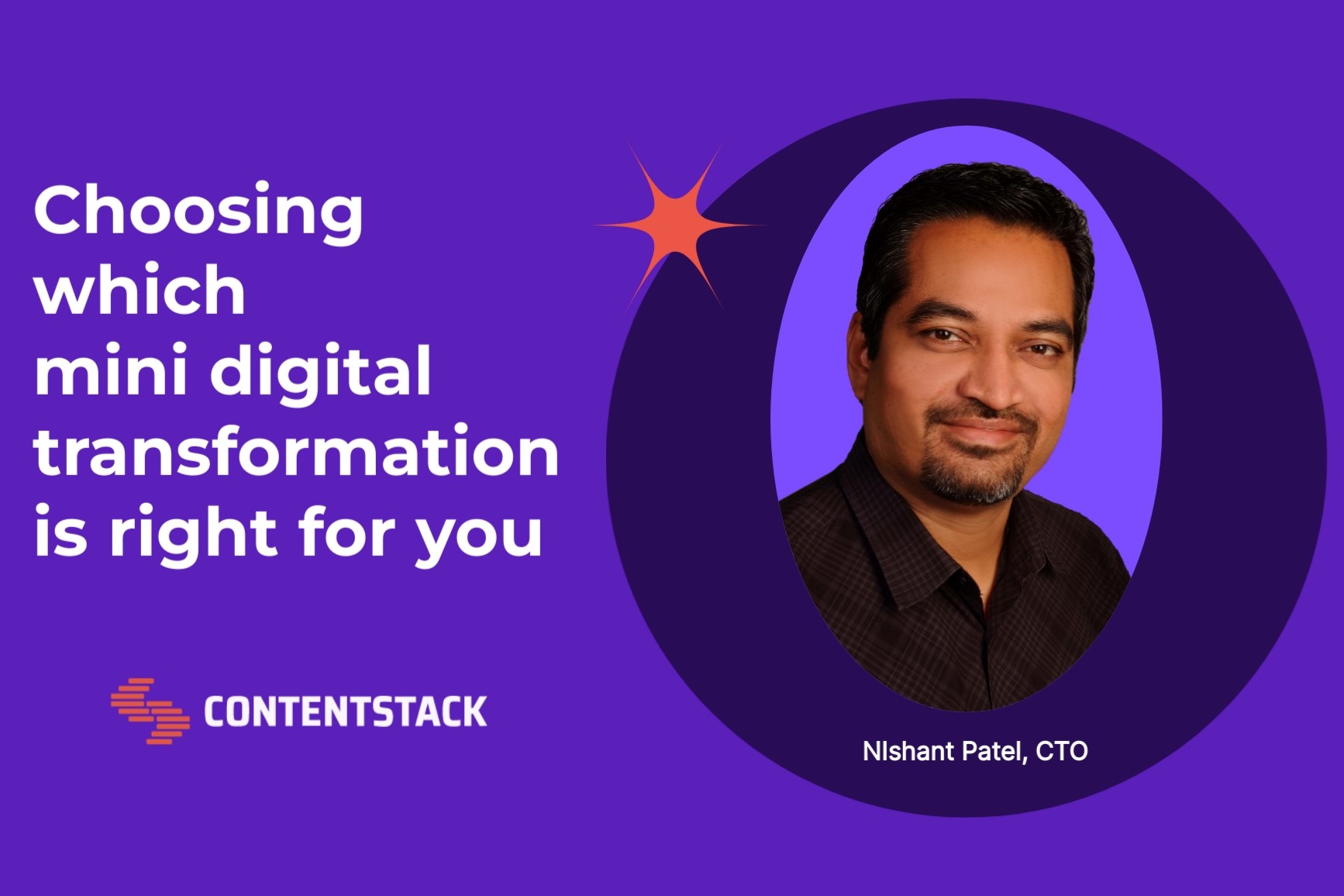 If you think about it, the concept of "mini" is very popular today. Mini donuts, mini candies, MINI Coopers…
Even "mini transformations."
On the newest People Changing Enterprises episode, Danielle Diliberti talked about taking on a mini transformation right before the pandemic as CTO at The St. James.
The St. James is an upscale health and wellness brand for athletes, including gyms. If you know the health and wellness space, you know most of the industry still runs on desktop-based, legacy systems. At this time, The St. James was like every other company in their space.
They yanked out the old, clunky desktops and on-premise servers, replacing them with cloud-based, interoperable technology.
Everyone thought she was crazy — they had only been in business for a year. Then, the pandemic hit, and that move allowed them to continue serving their customers and growing the business by spinning up new digital offerings that would have been impossible with their old technology.
Which got me thinking about mini transformations compared to the bigger beast we call "digital transformation."
What is a mini digital transformation?
Digital transformation can be daunting — it seems expensive, slow, and challenging. But its bite-sized counterpart is more digestible and can bring quick gains when it comes to internal buy-in and customer satisfaction.
Danielle Diliberti and The St. James team replaced any technology that wasn't cloud-native and API-first. It could be accomplished on a fairly short timescale and quickly improve their customers' experience.
That's not to say that a bigger digital transformation doesn't have its time and place — it definitely does. Just listen to what Bob Howland and the team did at Dawn Foods. Their transformation involved a complete switch from legacy systems to composable architecture. They moved from pen-and-paper methods to launching a product catalog from scratch, optimizing people processes, and evaluating strategic opportunities for their customers.
Within six months, Dawn Foods published six major releases and transitioned over 50% of their customers to online buyers. That's big.
The St. James's transformation gave them the speed and agility to meet their customers' needs like they never had before. It was smaller, but it was a win that eventually led to other wins.
If you've decided the "mini" route is right for you, here are a few guidelines that may help you choose a direction. The right one will…
Clearly deliver a great outcome
Risk is always present where change is required. However, your mini transformation should have a high probability of success. If it doesn't deliver what you promised, securing buy-in for future projects will be that much harder.
Moving from legacy to cloud-based systems was something Danielle knew would be a win. By that time, cloud technologies were not new and partners had a portfolio of experience in mitigating risk in that area. She knew that if she told stakeholders they were going to see ROI from moving to the cloud, she could deliver.
Even better, moving to the cloud increased the St. James's ability to better serve its customers. Customers no longer had to come into the facility or call for appointments at the spa or their restaurant; they just had to go online.
Create value for the wider business
Something else to consider: the mini transformation must impact internal stakeholders outside your team. Ask yourself: if we complete this project, will other departments also succeed? Will that success help overcome any resistance to change?
I was talking to a prospect the other day at a massive organization. At any time, about one hundred developers are working on their 1.6 million pages of content. A mini transformation on that stack would be noticed in a big way. For example, moving their landing pages to an API-first, cloud-based solution would shorten the time to publish for marketers and developers. Speed is an invaluable advantage, especially when it comes to 1.6 million assets.
When we develop Proof of Concept (POC) projects for customers, we often have one or two champions that are fully committed to the transformation. You always have the doubters; it's human nature. But when they see the results, they're sold on the value.
After they replaced their old systems, the team at St. James catapulted business productivity. They were now able to create content and launch new initiatives much quicker than ever before.
Serve as a stepping stone to the next mini
One last thing to think about when choosing a project is whether it will serve as a stepping stone to another mini. If the answer is yes, map out the best next step beforehand and the desired end objective. Think about what each mini should accomplish and how that helps achieve the end goal.
The more mini transformations you complete, the more confidence and knowledge you gain to solve the next problem. Look at areas where the organization is obviously struggling: think bottlenecks that affect customers. Search for alternative options and see if you can get rid of the bottleneck.
After Danielle's team replaced their desktop-based tech and went cloud-native, they were ready to adopt other microservices focusing on personalized content experiences. This made the business more efficient and customer-centric. For the first time, they could make digital coaching available online and recommend workouts based on the customer's previous preferences.
Danielle said in the podcast, "You can't fix everything at once. You have to think about the order of operations and what audiences you can serve, and build on that."
That's the beauty of the mini transformation. It can be accomplished quickly, internal stakeholders and customers can reap benefits sooner, and it provides a solid foundation to jump to the next project.
And then the question becomes: What can you accomplish next?