Back to Blogs
Composable vs. monolithic: Which is right for you?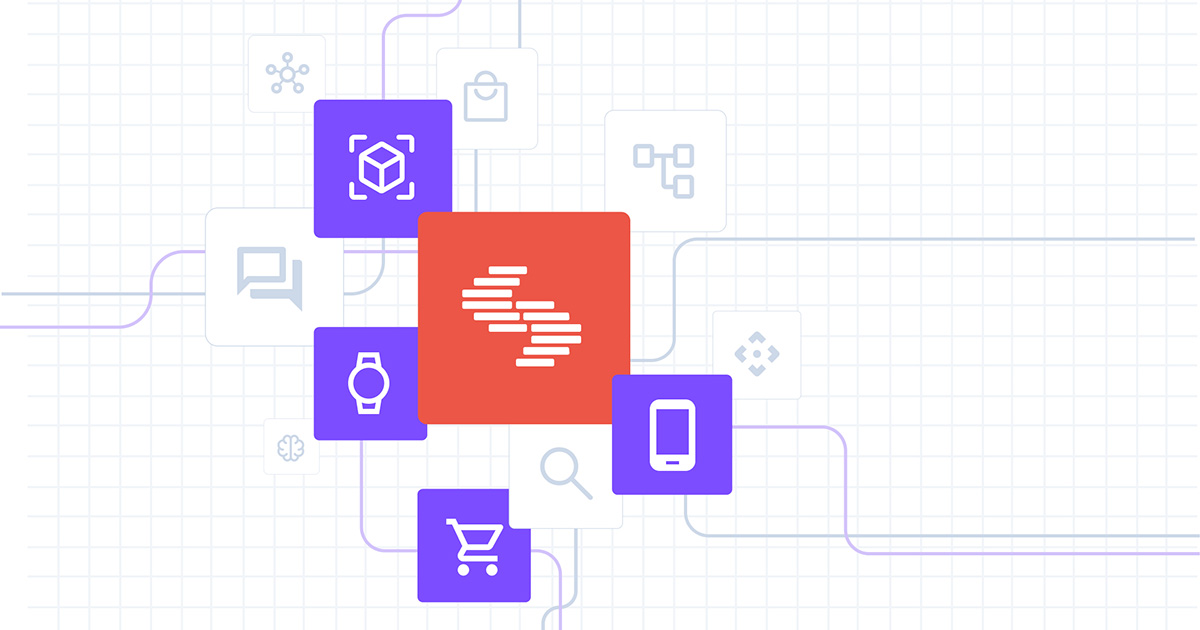 Businesses are trying to create better customer experiences, so composable digital experience platforms (DXPs) are becoming more popular. But what are they? How do they compare to monolithic platforms? And how do you choose the right one for your business? In this blog post, we will answer these questions and more.
What is a digital experience platform (DXP)?
Digital experience platforms (DXP) are purpose-built technology solutions for creating, managing, delivering and optimizing consistent digital experiences across different customer touchpoints. These tools offer businesses a valuable way to communicate with their users through content and obtain customer feedback through data collection.
Companies can utilize DXPs to create content tailored to websites, email campaigns, mobile apps, social media channels, e-commerce sites, IoT devices, digital signage systems and more. Beyond simply broadcasting content on each platform, DXPs also allow marketers to automate marketing activities and develop a unified digital experience that can take users toward their desired goals or objectives.
DXPs help companies understand what customers want and need. They can do this by looking at how customers act online on websites, social media, and other online places. Businesses can then use this information to reach out in new ways or to improve their relationships with existing customers. Ultimately, using a DXP helps organizations make more sales or conversions by providing a better user experience across multiple channels.
What is composable architecture?
Composable architecture is an innovative way of organizing and managing software development that separates front-end and back-end code. This technique enables teams to create, modify and launch content without relying on developers for coding. This method of organization helps speed up development and make it more efficient.
Composable architecture makes developing software easier while encouraging teamwork between different departments. For example, if you use a composable content management system, the marketing team can make changes and publish their work without waiting for developers to finish coding. This way, teams can post new content more quickly. Additionally, developers can focus on creating unique experiences and features instead of being bogged down with marketing tasks or fixes.
What is a monolithic DXP?
A monolithic DXP solution is an all-in-one platform that provides a suite of tools for managing content. These platforms are designed to enable users to store, manage and publish content quickly and easily. They typically offer features such as content editing options, user permissions and roles and media asset management.
Monolithic content management solution platforms can be rigid in terms of how they operate and may not be able to keep up with the ever-changing needs of a business. Additionally, they tend to take longer to customize than composable DXP systems.
What is a composable DXP?
The composable DXP concept is still relatively new and has become increasingly popular recently. A composable DXP is a platform that allows digital teams to assemble individual services or microservices into an experience that meets their specific needs. This innovative type of DXP is essentially an assembly of best-of-breed solutions to deliver content and digital experiences to customers in a much more agile, flexible and efficient way than a single monolithic platform.
As opposed to the traditional monolithic approach taken with DXPs, this microservices approach enables companies to cost-effectively customize their DXP according to their business needs. Furthermore, allowing for a greater level of scalability and interoperability allows faster time-to-market for new features or services, as well as improved customer satisfaction.
The composable approach gives organizations better control over their digital experiences and helps them stay ahead of their competition by enabling them to focus on innovation instead of maintenance. A composable solution makes it easier for businesses to move quickly while keeping up with the ever-changing technology landscape.
What to consider when comparing a composable and monolithic DXPs
Can the platform integrate with solutions your team currently uses?
Monolithic suites are large programs often made up of products obtained through acquisitions and then given a makeover in terms of branding and user experience to fit into the overarching process. Such products lack the open-source code needed to integrate them seamlessly with other solutions, which can limit their utility as part of a more comprehensive DXP solution. This technique makes it simple for internal integration, but external integration can be difficult or even impossible.
On the other hand, with a composable DXP, external integration is better facilitated due to its ability to connect with existing best-of-breed solutions more readily. As such, organizations have more control over how their digital experiences are created and tailored for their specific audiences. Furthermore, each individual component can be monitored separately from the rest of the system, allowing for greater visibility into performance and ease of scalability when needed. Ultimately, a composable DXP offers organizations greater flexibility and agility compared to monolithic platforms by providing enhanced external integrations and visibility into performance metrics on an individual basis.
How much time will it take to deploy the platform?
Deploying a new monolithic suite can require significant time and effort — sometimes months — and demands constant monitoring for unexpected changes or challenges during set-up.
Moreover, it's necessary to ensure that all employees acquire the required skills to work effectively in this new environment. Besides the technical implications of such large-scale transition projects, there are also social and psychological implications that business leaders should take into consideration. Companies must be aware that transition periods affect team dynamics and thus must create an atmosphere of collaboration that encourages employee engagement and satisfaction throughout the process.
On the other hand, a composable DXP approach allows companies to start quickly, taking advantage of the existing knowledge their staff already has. This strategy eliminates the need for extensive training since they can be up and running with a condensed feature set using workflows they're already familiar with.
How will we keep the platform up-to-date?
Companies can easily keep their composable DXPs up-to-date as the various vendors focus solely on perfecting their solutions. Additionally, organizations can frequently enhance open-source products with improved customizations and updates that won't depend on the vendor.
For monolithic suites, a single vendor provides updates and new features; however, some of these "nice-to-have" additions may take an extended amount of time to be implemented to the platform — if at all. Even minor bugs can be left without resolution until suite-wide updates are rolled out. Companies should be aware that they may not always get timely fixes for any issues they encounter while using DXPs with a single-source provider.
How secure are these platforms?
A composable architecture allows security updates and patching solutions to be implemented quickly for each component without hindering other systems. This expedited process allows for swift response times in case a breach or vulnerability is discovered.
However, if a security flaw is found in one component of an entire suite, it can likely extend to the whole system, thereby rendering the entire suite susceptible to exploitation. Consequently, organizations must take extra care when monitoring their suites for security flaws to ensure that all corners of their system are protected from malicious actors.
On the other hand, monolithic solutions can be patched as a single software package. Still, patches may need to happen when the system is not being used, causing extended exposure to vulnerabilities.
Conclusion
Composable DXPs offer more flexibility and agility compared to monolithic platforms. This means they can scale better, have new features and services faster and improve customer satisfaction. They also provide shorter deployment times, easier updates and enable responsive security updates. However, while they may be more flexible than a single-vendor platform, companies must still carefully monitor their systems for any potential security flaws or vulnerabilities that could put their entire suite at risk. Ultimately, businesses can make informed decisions about which type of system best meets their needs by understanding the differences between these two approaches to digital experience delivery and the pros and cons of each.
Learn more
Learn more about composable architecture in our guide, "The ultimate marketer's guide to composable DXPs."
Schedule a free demo to see how Contentstack's composable DXP can help your organization deliver the digital experiences your customers crave.
About Contentstack
The Contentstack team comprises highly skilled professionals specializing in product marketing, customer acquisition and retention, and digital marketing strategy. With extensive experience holding senior positions in notable technology companies across various sectors, they bring diverse backgrounds and deep industry knowledge to deliver impactful solutions.
Contentstack stands out in the headless composable DXP market with an impressive track record of 87 G2 user awards, six analyst recognitions, and three industry accolades, showcasing its robust market presence and user satisfaction.
Check out our case studies to see why industry-leading companies trust Contentstack.
Experience the power of Contentstack's award-winning platform by scheduling a demo, starting a free trial, or joining a small group demo today.
Follow Contentstack on Linkedin