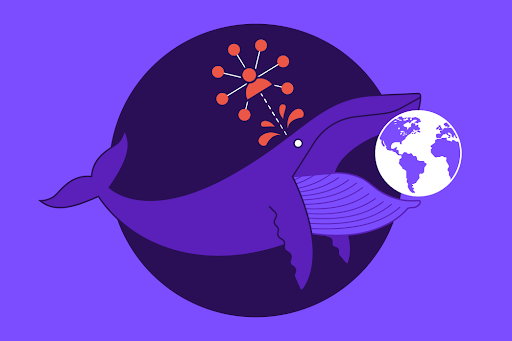 If all you know about omnichannel experiences is that other marketers won't shut up about them, then you've got a lot to learn — and we've got a lot to tell you.
So without further ado, here's why omnichannel is eating the world and what you can do to get a seat at the dinner table.
What's Omnichannel? Exploring the Term Marketers Just Can't Shut Up About
An omnichannel experience offers a seamless, personalized customer journey across channels and devices.
That may look like product information management (PIM) + content management system (CMS) integrations that keep your website up to date so consumers can make sure the product they researched online is available at their local store. Or, it could look like customer service software that allows your staff to smoothly continue a conversation carried over from Twitter.
Why Omnichannel? Diving Into the Reasons
It's no longer enough to simply spread disjointed messages across as many channels as possible and have the leads and sales come rolling in.
Marketing today must focus on omnichannel experiences that put the consumer at the center of every interaction in order to create meaningful (and valuable) relationships.
Now, let's explore more of the data behind why omnichannel is eating up every other marketing method in its path.
Omnichannel Shopping + Omnichannel Marketing Are Inextricably Intertwined
With the invention of hand-held, internet-connected devices came a natural development: shopping at all hours, on all channels, on all devices.
And that led to omnichannel marketing strategies that could reach every consumer across these channels and devices.
Many businesses today can't survive without offering omnichannel shopping opportunities, nor can they survive without omnichannel marketing.
Omnichannel Is Just What the Brick-And-Mortar Ordered
If physical stores are a key element of your business, don't count yourself out when it comes to omnichannel marketing.
Today's buyers want variety. Just because they can shop on digital channels doesn't mean they don't want to also shop in-store.
Home Depot is a great example.
In early 2020, at the same time the first wave of COVID-19 hit, Home Depot's online sales were up by 80% — and over 60% of all orders were picked up at a physical store.
Brick-and-mortar shopping is still as important for some consumers as it is for many businesses. By adopting marketing strategies that consider both physical and digital shopping channels, businesses can stay ahead of the omnichannel trend.
Personalized Omnichannel Will Push You Ahead of the Pack
According to Segment's report "The State of Personalization 2021," 60% of consumers say that they're likely to become repeat shoppers after enjoying a single personalized experience.
And as many marketers know, retention is extremely valuable. In fact, over 40% of an average ecommerce business' revenue is generated by just 8% of its customers — the repeat ones.
But while a whopping 90% of consumers feel positive about businesses that provide individualized experiences, only 20% say there are brands that do so successfully!
Why is this number so low?
Because most brands focus on personalized experiences that only work when a consumer takes a specific, linear path to purchase.
Companies that offer a personalized omnichannel experience will capture business from the 90% of consumers who love it.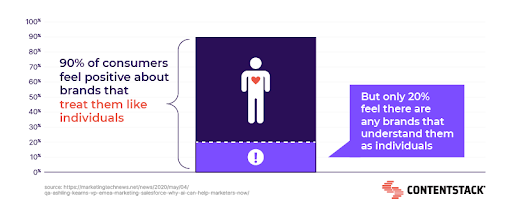 How Do I Go Omnichannel? Headless CMS Puts Your Business Ahead of the Curve
Now that you know why omnichannel is taking over the marketing world and why you should strive to keep up, let's cover exactly how you can do that.
It all starts with the right foundation: Headless CMS.
Headless CMS is a cutting-edge take on the content management systems of old.
Traditional CMSes such as Wordpress and Drupal have two main components: a back-end repository for content and a front-end programming interface that dictates how that content is displayed.
These two components are deeply interconnected.
Because of this, content in a traditional CMS needs to be manually reformatted and published every time you want to use it on a new channel or device.
This isn't just frustrating for marketers; it can become prohibitively expensive for businesses as they attempt to grow in a competitive market.
A headless CMS employs MACH architecture, which means it's made up of microservices, connected using application programming interfaces (APIs). It lives in the cloud and is built on headless architecture.
With this architecture, content can be stored independently of how it's presented. Instead of being constrained by a front-end design template with limited functionality, you can quickly find, optimize and deploy reusable content modules across multiple channels and devices.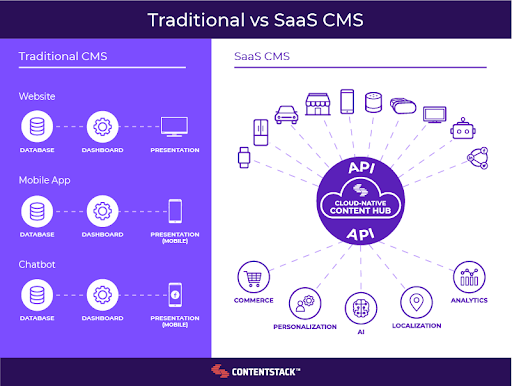 4 Benefits of Going Omnichannel with Headless CMS
Now that we've covered what a headless CMS is and where it excels, let's look more closely at how a headless CMS helps marketers create and deliver omnichannel experiences.
Empower Content Personalization
Personalization is everything in today's marketing environment.
A headless CMS enables integration with all the tools that make personalization possible.
For example, headless architecture supports integration with third-party applications such as your customer relationship management (CRM) platform. This allows you to pull in customer location, behavior, preferences and more so you can develop content specific to that shopper.
Enable Omnichannel Publishing
If you are publishing content across multiple channels, a headless CMS makes it easy to quickly repurpose content.
As the omnichannel universe continues to grow, a headless CMS allows you to easily customize content for the web and mobile as well as for IoT devices, chatbots, digital assistants, in-store displays or anywhere else your content could appear.
Easy Content Collaboration
With all of your content centralized in a modular headless CMS system, your content creation team can collaborate more easily.
Instead of scrambling to locate pieces of content you need to share, team members can simultaneously access the content repository, making it easy to work in parallel to create new digital assets or update legacy content.
Having a unified repository for your most-used apps also makes it easier for teams to leverage each others' data. This is a huge advantage when launching new campaigns, as well as for reacting quickly to emerging trends and staying ahead of the competition.
Improve Content Consistency with Reusability
A headless CMS supports consistency across your entire brand by allowing you to reuse content for multiple purposes.
Eliminating the need to cut and paste supports common messaging across channels and minimizes errors.
Need to update something? No problem. With headless CMS, editing content becomes much simpler because you only need to make the change once, and that change applies wherever that block of content is used. This allows creative teams to focus on high-value activities instead of mundane, repetitive tasks of tracking down and updating outdated information.
From 'Why Omnichannel?' to 'How to' With Contentstack Headless CMS
Now that you know the benefits, your question may have gone from "Why go omnichannel?" to "How do I go omnichannel?"
We can help you do that.
We're Contentstack — a headless, agile CMS that empowers business and technical users alike to collaborate on creating, optimizing, publishing, and even republishing content that delivers the omnichannel experiences consumers seek.
But you don't have to take our word for it. Just check out what any of our awesome customers have to say — or give Contentstack a test drive yourself with a personalized demo or free, two-week trial.