Back to Blogs
Omnichannel Retail: 6 Technologies to Transform Your Strategy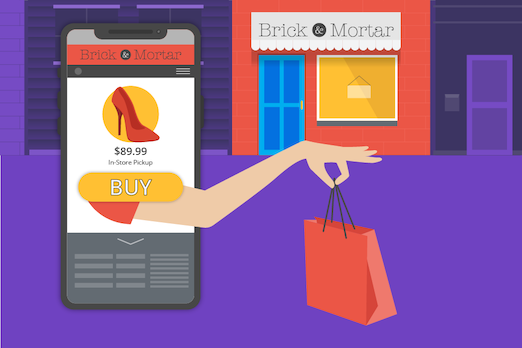 For anyone who's been paying attention, it's pretty clear that the future of retail and ecommerce (and pretty much every other industry) in the enterprise space lies in delivering seamless, relevant omnichannel consumer experiences.
That means that brands with offline retail and online ecommerce lines of business need to expand and converge their efforts to deliver the kind of modern shopping flow that consumers expect.
For many business leaders and their (often) already-overworked marketing teams, just considering this shift is enough to make them yearn for simpler times.
But don't worry, you don't have to do it all today—and you don't have to do it all alone.
The following explains why you should care about omnichannel retail, why now is a great time to start taking action, and the emerging technology that smart omnichannel retailers are implementing to build a seamless online-to-in-store shopping experience for current and future consumers.
What Omnichannel Retail Means and Why Now Is the Perfect Time to Dive In
As opposed to multichannel retail, in which consumers have more than one channel that they can use to shop with a brand, omnichannel retail uses technology to tie all of these channels together to " …create a unified shopping experience across every single device and channel that a consumer uses to interact with their business."
The main goal of omnichannel retail is to provide the consumer with a seamless and continuous flow at every touchpoint with which they interact when they're researching or making a purchase from your business. And, it's important to note that omnichannel retail includes both online (think smart devices and social media channels) and offline channels (think brick-and-mortar stores).
A quick example of a retailer who's blurring the lines between the in-store and ecommerce experiences with their omnichannel strategy is Target. When a shopper logs into the Target mobile app and confirms their location, they see in-store inventory in real-time at their closest store. Then, the consumer can order their items via app to be picked up in-store later the same day. This experience makes the purchasing process modern and quick (which makes the customer happy!). It cuts out much of the friction and personpower that was previously required to make a sale (which makes the retailer happy!).
Sounds impressive, right? We hoped you'd think so*—because omnichannel retail is practically a requirement for brands that want to keep up these days.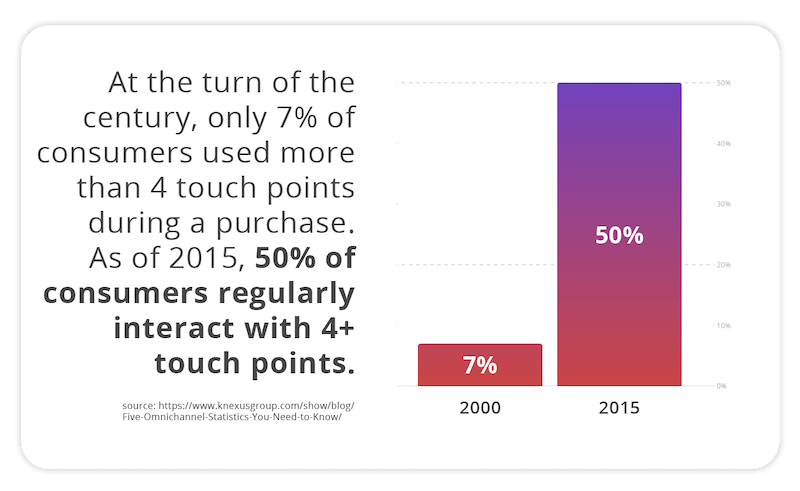 Today, the average digital consumer already has five profiles across various online channels. And, 90 percent of these consumers expect consistent interactions across every channel on which they interact with businesses.
Don't think channel-switching happens often enough for retailers to worry about? Tell that to the 86 percent of digital consumers who switch between at least two different channels in the course of a purchase!
These omnichannel shoppers spend an average of 4 percent more on every in-store shopping trip and 10 percent more online! When compared to single-channel shoppers, omnichannel shoppers visit their favorite retailers' shops 23 percent more often, have a 30 percent higher lifetime value and are more likely to recommend a retailer to friends and family.
Despite all this, a report by Salesforce tells us that 55 percent of shoppers still find their retail experience disjointed when they switch to new channels. It certainly doesn't help that only 22 percent of North American retailers consider omnichannel retail strategy a priority.
There is a significant disconnect between today's shoppers and the businesses from which they shop—which can work in your favor. Keep reading to learn about the tech and tools you need to know about to blur the lines between in-store and ecommerce and provide the omnichannel retail experience consumers crave.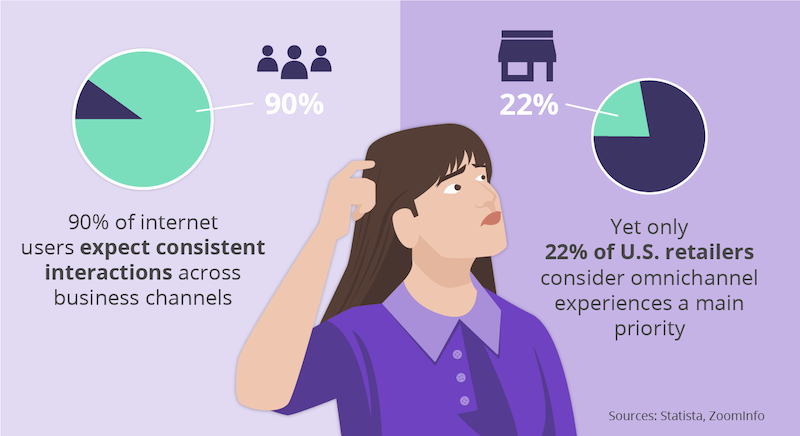 Emerging Technology That's Powering Omnichannel Retail
These are some of the most groundbreaking technologies on the market in 2019, how they're shaping retail and ecommerce, and how you can shape them to deliver your ideal omnichannel retail experience.
IoT-Connected Devices Empower Omnichannel Shopping
Household smart devices, smartwatches, phones, and wearables—the number of IoT-connected devices (the internet of things is the web of smart devices that connect to the internet and each other) consumers can use to interact with ecommerce channels only continues to grow. Some sources estimate that the average person will own and use at least 15 connected devices by the year 2030!
And thanks to some of the other technological advancements that we're about to discuss—chatbots, augmented reality, and more—the variety of internet-enabled devices may never stop multiplying and evolving.
It is crucial to stay competitive and relevant; businesses need to have an omnichannel strategy that enables them to present personalized marketing and product content on established, new, and emerging IoT devices and platforms. Lucky for you, we'll delve into the tools you need to build and implement that kind of strategy just a little later in this article.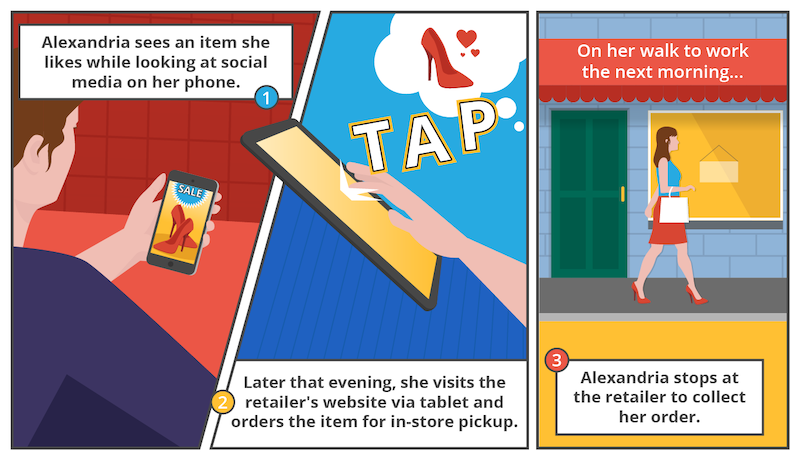 Roboticized Customer Service
There is no danger here, Will Robinson!
Whereas robots were once a figment of creative imaginations, it's thought that as soon as 2020, robots—specifically chatbots—may handle 85 percent of customer interactions and require almost no input from a human agent.
For brands with ecommerce outlets, chatbots are a vital omnichannel tool for delivering personalized, on-demand customer service that's available 24/7. Oracle found that 80 percent of entrepreneurs are already using or planning to install a customer service chatbot on their website.
Will you?
Augmented Reality Unites Physical and Digital Shopping
Augmented reality (AR) technology enables a shopper to use the camera on their smart device to superimpose digital elements onto their physical surroundings.
Popular retailers who are taking advantage of IoT as well as AR to blur the line between physical and digital shopping experiences are IKEA and Converse.
IKEA empowers consumers to visualize how their products fit into their lives by enabling shoppers to use their smartphones to virtually place furniture in their homes. Then there's Converse, whose smartphone app helps shoppers virtually try on shoes—and even share those AR-enhanced images on social media!
AR is a big business in the retail space—and there are plenty of tools out there (IKEA uses ARKit, for example) for any brand that wants to get in on the action.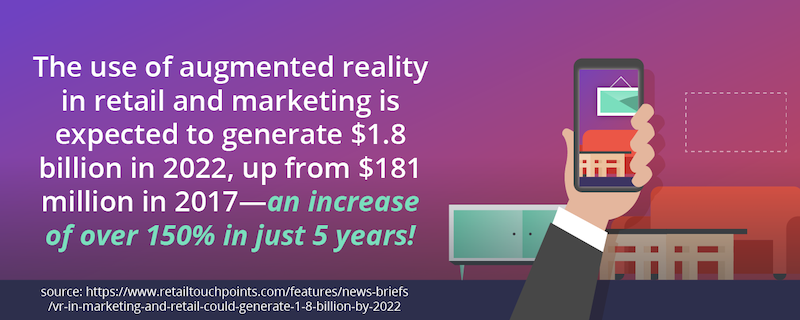 In-Store, Digital Payment Options
Offering digital payment options in physical locations is one of the most persuasive examples of how omnichannel retailers can blur the lines between in-store and ecommerce experiences.
Plus, with all the options on the market, it's pretty easy to get started!
From Google Pay to Apple Pay to Samsung Pay—it seems like pretty much every large technology manufacturer is equipping their smart devices with cardless, contactless payment options.
By 2021, these "proximity mobile payments" are expected to generate $190 billion in transaction value in the U.S. And, according to professionals in the industry, this type of payment is going to lead the pack of digital payment options.
Recommendation Engines Personalize the Shopping Experience
It's no secret that one of today's most prominent ecommerce outlets, you guessed it—Amazon!, grew to its size thanks in part to its ability to keep consumers coming back for more.
How do they do it? By using recommendation engines.
Recommendation engines use algorithms, A/B testing, and sometimes artificial intelligence-powered machine learning to predict and recommend products a shopper may like based on what they've purchased in the past or what a similar shopper has purchased. And, really smart businesses may even up the ante by plugging in data like what consumers looked at and purchased in-store.
Recommendation engines are what suggest related items to you on ecommerce websites like Amazon, Best Buy, and thousands of others as well keep viewers engaged for video after video on YouTube.
Recommendation engines help businesses provide one-to-one, or personalized, marketing on a large scale. This type of personalization is a must-have in an era when 78 percent of shoppers are more likely to make a purchase when the brand provides relevant content. Impressively, 50 percent would pay more for a product if they experienced personalization while they were shopping, and 64 percent would recommend a brand that delivered relevant content.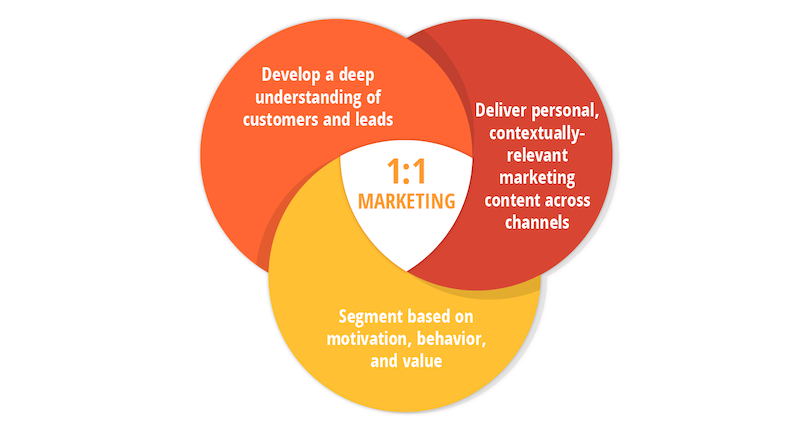 Headless Content Management Enables Omnichannel Retail Marketing at Scale
The last-but-not-least piece of omnichannel retail technology on our list is the headless content management system (CMS).
If you aren't familiar, headless CMS is the latest development in a long and rich history of content management. Its core functionality is to allow businesses to integrate content as well as pretty much every content management tool imaginable via an application programming interface (API). This revolutionary separation of content creation from how it's designed, stored, optimized, and eventually displayed means content can be quickly rearranged and reused on any device, any channel, and at any time.
Headless CMS empowers marketers to take charge of content management while developers get the flexibility they need to use any technology to craft any user experience based on the consumer channel.
In our opinion, headless is a natural and groundbreaking innovation on the traditional, monolithic CMS whose core purpose is to deliver content to a single, static, highly-styled website.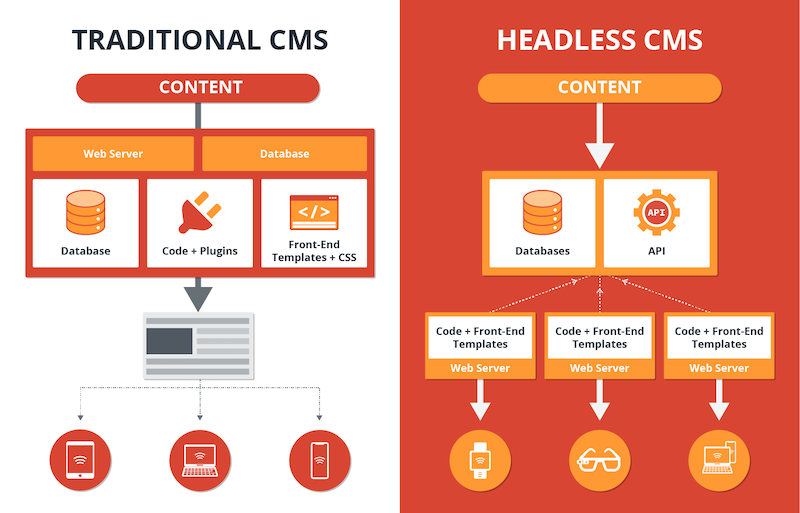 From a retail and ecommerce marketing perspective, one of the best things about headless CMS is how easy it makes achieving actual omnichannel content creation, optimization, and distribution at scale from a single, reliable platform.
And there's one headless CMS on the market that doesn't just have industry-leading content collaboration and editing tools but also provides a unique interface that allows users to take advantage of best-in-class integrations.
Contentstack has been called "…the industry's most powerful integrations framework to create unprecedented digital experiences" thanks to its ability to seamlessly integrate customer relationship management (CRM) platforms, translation services, AI tools, A/B testing applications, analytics parsing, personalization engines, and almost anything else that the future of enterprise content requires.
Whether your omnichannel retail marketing efforts include websites, smartphones, software platforms, automobile interfaces, VR headsets, voice-activated devices, Jumbotrons, or anything else—Contentstack's specific capabilities make it an important technology that businesses can adopt if they want to blur the line between online, in-app, and in-store experiences.
To find out why Aragon Research named Contentstack one of the hottest vendors in experience management, read their report here for free. To see it in action for yourself, take Contentstack for a test drive today.