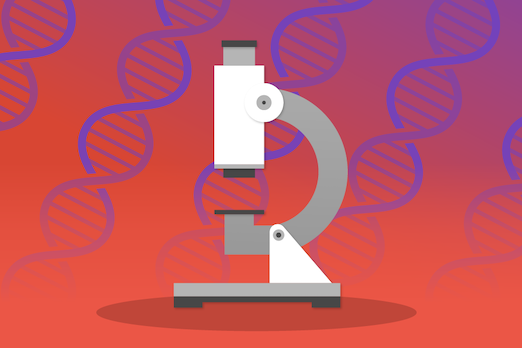 In the 1920s, radio technology enabled businesses to mass market their products and services to a broader audience than ever before.
Now, almost a century later, an even more significant marketing shift requires brands to either pivot or die.
The future of enterprise content marketing lies in personalization, omnichannel delivery, and the technology that can make those things happen effectively and efficiently.
The Future of Enterprise Content is Omnichannel
Internet users have an average of five profiles across various social media channels—and 90 percent of them expect consistent interactions across these and every other channel on which they interact with businesses.
When it comes time to make a purchase, 86 percent of these digital consumers switch between at least two different channels. Moreover, 65 percent of B2B technology buyers in particular report consuming up to five pieces of enterprise content across channels before completing a purchase.
Household smart devices, countless mobile apps, wearables, social media platforms that become the hot new thing overnight—the number and types of channels on which people are consuming brand content feels endless.
Thanks to technological advancements, they very well may never stop multiplying and evolving. The enterprise content landscape continues to fluctuate rapidly as virtual reality, augmented reality, and artificial intelligence get smarter and smarter.
To stay competitive, businesses need to be present on established, new, and emerging technologies and platforms, and it doesn't stop there.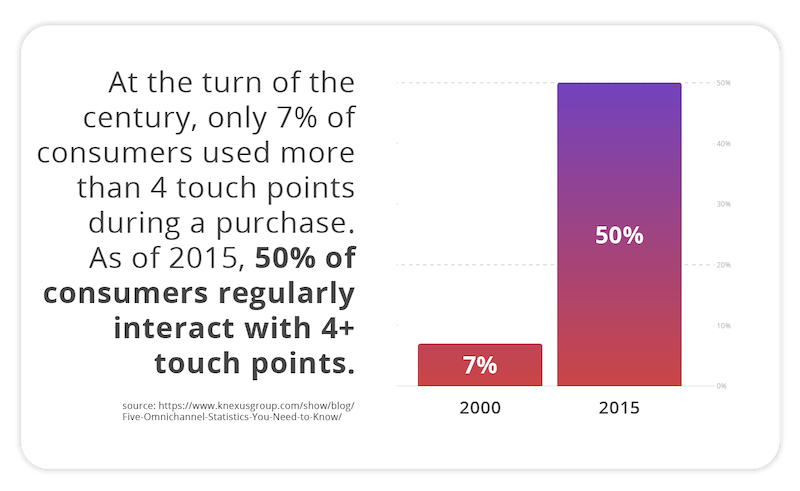 … And Personalized
In addition to being practically omnipresent, the enterprise content that succeeds in the future will also be personalized.
Consumers receiving personalized content marketing are more likely to convert into customers, often spend more than initially intended, and are 44 percent more probable to come back for repeat purchases.
Serving relevant content, at the right time, and on the right channels is the single most effective way to differentiate yourself from your competition, engage your ideal audience, and convert customers.
So what can brands do to provide content that speaks to every consumer's challenges and offers valuable solutions?
To put it bluntly, they really can't do much without the help of modern personalization optimization tools that help automate the process. So they'll be able to do even less if they can't plug that kind of technology into their content repository.
With a traditional content management system (CMS), the work required to personalize and distribute high-value content across the appropriate channels would be outrageous—possibly even impossible.
It's time to embrace a modern content management system that's ready for the future of enterprise content.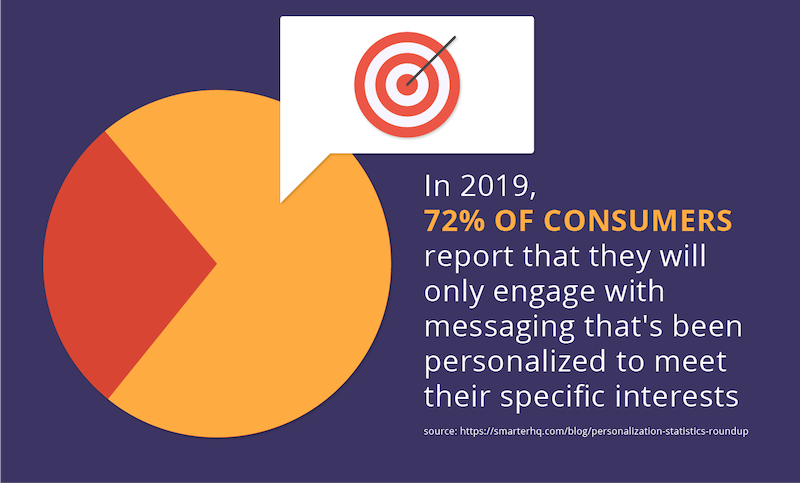 Here's How to Go Headless to Future-Proof Your Content
Whether you're thinking about the future of your enterprise content as a whole or just gauging which CMS solution is best for your next big marketing push, you need to consider the headless option.
Why? Because headless CMS makes content future-proof.
Headless CMS integrates content management tools via Application Programming Interface (API)—so content always exists separately from how it is displayed to consumers.
Because headless content is modular and decoupled from functionality and design, any piece of content can be personalized and optimized for distribution across various channels at any time—without breaking or changing other content modules around it.
Not only does this mean IT and marketing teams can both work on the same content delivery project at the same time, but it also future-proofs content and empowers it to scale infinitely.
Instead of a monolithic, traditional CMS that tethers content to functionality and forces businesses to build a "Frankenstein" system with precarious workarounds, a headless CMS is flexible—so it can be integrated with and built on top of nearly any stack for use with any device, channel, or technology.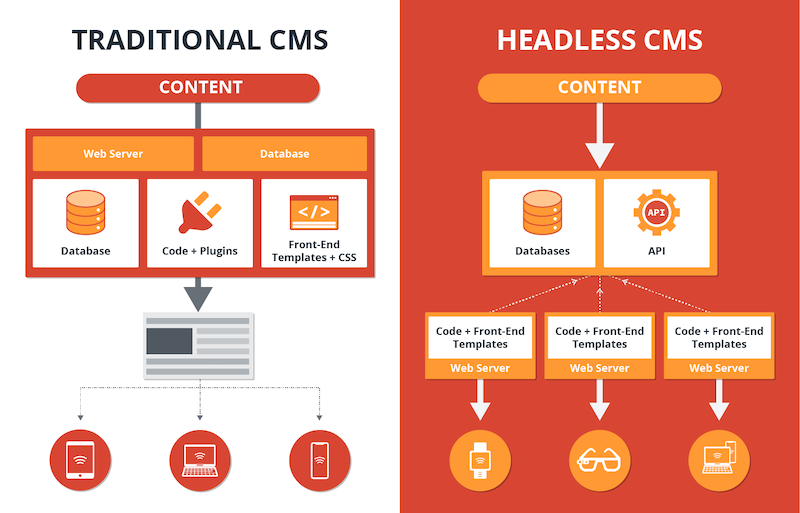 Behind the Curtain: What Future-Proof Enterprise Content Looks Like
Here's what the future may hold for your enterprise content and CMS if you choose to invest in API-first, headless CMS.
Autonomy for Content Producers
That modular, decoupled content we talked about earlier empowers marketing teams to act autonomously by untangling content management from technology and design.
This is a major improvement over outdated, traditional content management systems where technology and content are so tightly intertwined that content producers have to submit a ticket to their engineering team to change so much as a typo on a landing page.
The separation that headless allows enables content producers to create, edit, optimize, and share content across various channels and devices—independently and efficiently.
Freedom for Developers
The benefits of headless enterprise content management continue when it comes to the development team.
By delivering content via API, front-end developers are free to create the absolute best visual interface, using the best-fit programming language, for various delivery channels without having to worry about breaking or disrupting any content marketing campaigns.
Cutting-Edge Design
Similar to front-end development, the decoupled nature of headless CMS means that websites, apps, and other experiences can still receive modern, customized design treatment without concern over how to integrate and update content down the road.
Truly Personalized, Omnichannel Content Marketing
As a single "source of truth," a headless CMS with a user-friendly front end enables marketing teams——be they efficient two-person units or larger and a bit more siloed—to achieve true omnichannel content creation, optimization, and distribution from one reliable platform.
The Contentstack headless CMS was built "by developers for developers," and it's no slouch when it comes to enabling omnichannel enterprise content marketing.
Aside from industry-leading collaboration and editing tools, Contentstack has a unique interface built for integrating best-in-class personalization tools, such as customer relationship management (CRM) platforms, translation services, AI tools, A/B testing applications, analytics parsing, and almost anything else that the future of enterprise content requires.
Additionally, the API-first architecture closes the loop on omnichannel distribution by enabling content creators to "create once and distribute anywhere"—whether that's to a website, mobile device, software platform, automobile, VR headset, a voice-activated device, Jumbotron, or wherever else tomorrow's technology dictates!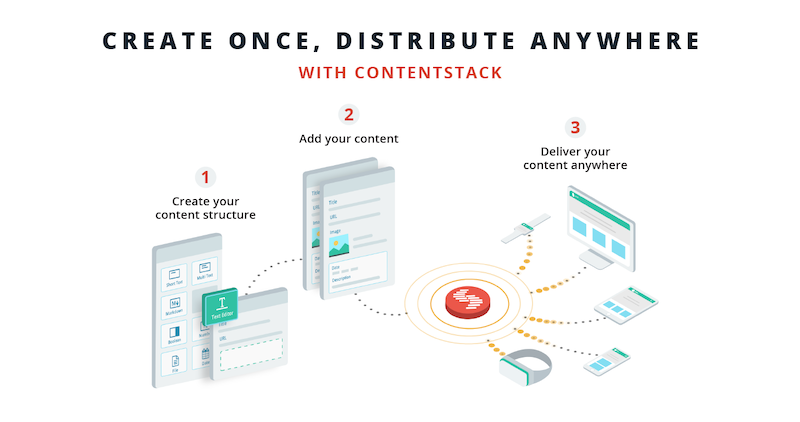 Future-Proof Your Content and Your Enterprise with Contentstack
If you can future-proof your content marketing program, you can future-proof your enterprise.
Thankfully, with Contentstack, it doesn't have to cost you your sanity or all your profit. Use our ROI calculator to see how many thousands of dollars you can save with Contentstack or contact us to set up a free test drive and build out your proof of concept today!