Omnichannel Marketing: The Ultimate Guide
The basics of omnichannel marketing, why your organization should care, and the key strategies and tools for building an omnichannel marketing program.

Fewer than 10% of today's brands provide the omnichannel experience that most consumers say they want. And considering that you're here, starting this article, chances are your company is in the vast majority of organizations that can do better when providing omnichannel marketing.
The difference is that you realize something is wrong — and you're ready to do something about it. That's the kind of cognizance that, when combined with the knowledge you'll learn here today, will keep your business relevant and competitive in the years to come.
What Is Omnichannel Marketing?
When explaining "omnichannel marketing," it's essential to define what a marketing channel is in the first place. A marketing channel is any source that a business uses to deliver marketing messaging to its audience.
Marketing channels can include everything from word of mouth to end cap kiosks, emails, blogs, social media profiles, and beyond. As more and more consumers became active across these channels — and even started seeking out their favorite brands on their preferred channels, such as specific social media sites — the term "multichannel" evolved.
Multichannel and omnichannel marketing are different things. Multichannel marketing means reaching consumers on multiple channels, whether they're connected or not. Countless organizations today are already employing multichannel marketing.
Omnichannel marketing takes this concept further by focusing on the consumer first to make sure they have a seamless, personalized experience across all of the channels they interact with your marketing.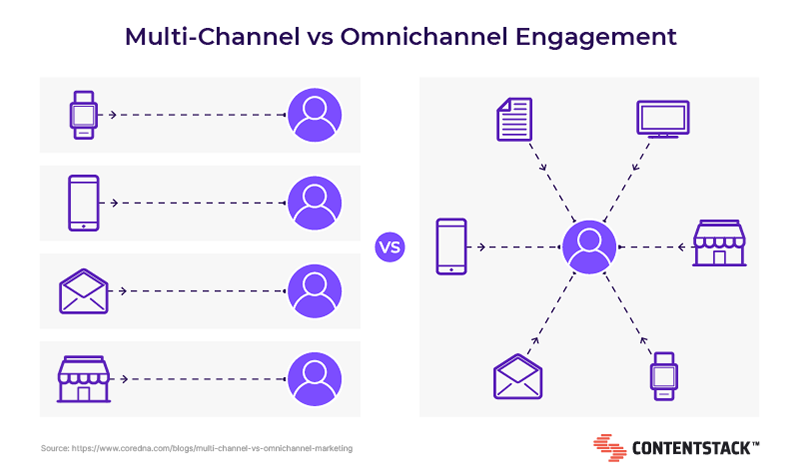 Why Should You Care About Omnichannel Marketing? Because Your Customers DoRetail management consulting firm BRP Consulting found that while most consumers expect a seamless, omnichannel shopping experience — a disheartening
7% of retailers provide an actual omnichannel experience
. With so few businesses making the effort, it pays to be a brand that delivers seamless experiences across these channels.
Today's youngest generations with buying power —
Millennials and Gen Z — have distinct omnichannel shopping habits
. The majority of U.S.-based Gen Z and Millennials browse online before making an in-store purchase (83%) and make purchases online after seeing products in store (81%). These
omnichannel shoppers spend 4% more in the store
and 10% more online than single-channel shoppers.
Additionally, brands with a successful
omnichannel marketing strategy have an 89% retention rate
and see average revenue growth of 9.5% YoY. Despite all this, there is still a distinct disconnect between what consumers want and what most businesses provide for omnichannel delivery.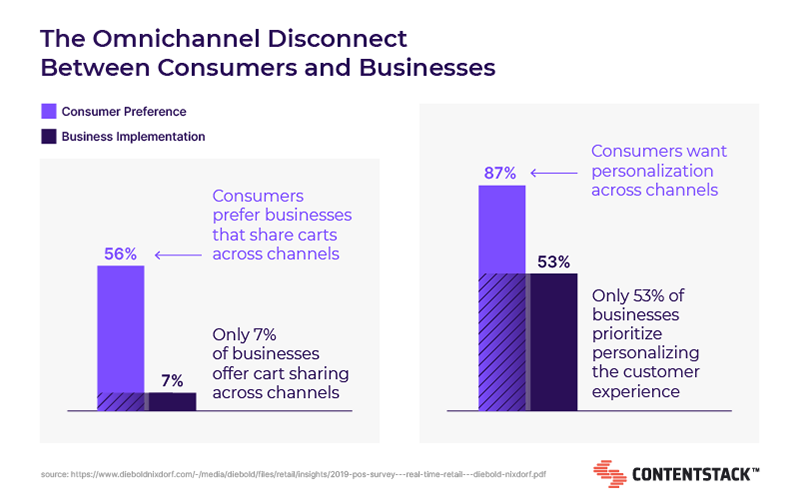 However, there's a bright side to this story. There's ample opportunity for you to get ahead of your competition.
Next up, how to do just that by building your omnichannel marketing program.

How to Build an Omnichannel Marketing Program
Omnichannel marketing requires bringing together the right tools and the right strategies to create a program that's perfect for your business. Take these tips and make them your own to optimize the omnichannel marketing experience you provide and the consumer engagement and revenue boost it delivers.
Cultivate Cultural Alignment
This first tip may be short and sweet, but it's one of the most essential parts of the process if you want to start your new omnichannel marketing program on the right foot. Consider that you may need to make a fundamental cultural shift in the way your organization delivers marketing.
Is your team using different tools to manage various channels? Are you creating messaging for channels in silos? Are you shooting these messages at consumers randomly instead of delivering the information they need when and where they need it so that it can move them forward in the buying or retention process?
If your answer to any of these questions is "yes," then you should sit down with your marketing team to make sure you're all on the same page. You need to develop a new mentality that puts the consumer first in your mission to provide consistent marketing messaging across channels.
Evaluate Your Customers and Their Experiences Across Channels
Next up is getting to know your customers — as well as their behavior across your marketing channels — so you can deliver personalized and contextualized marketing messaging.
If you already have well-defined buyer personas, you have an excellent place to start when it comes to understanding the people who are receiving your marketing. However, if you haven't been working from personas or aren't sure whether the ones you've developed accurately represent the people you're reaching, now is an ideal time to go back to the drawing board.
Start by compiling your first-party data to find customer patterns. First-party data is information your organization has collected via transactions, subscriptions, customer service interactions, and fields and forms that customers have submitted (contact forms, user profiles, etc.).
Another great resource here is Google Analytics or similar tools. While GA is technically a third-party resource, it's ultimately collecting data from your visitors and your digital experiences (websites, apps, etc.) instead of selling you compiled and cleaned third-party data from various sources across the web.
Google Analytics (or whatever similar resource you choose) can be a great help. It ties people to specific behaviors — such as the links they follow to get to your website and what they do while they're there — so that you can create more robust profiles and deliver more accurate omnichannel marketing.
And, finally, you can try one of the best (yet most overlooked) methods for getting to know your consumers better — talking to them! Use on-site or email-based surveys or even reach out for interviews to truly get to know your consumers. While many people will be inclined to help with no incentive, small rewards such as a coupon or entry into a giveaway can go a long way.
Once you feel you know your consumer groups well, it's time to revisit their interactions with your brand to experience the customer journey through their eyes. You'll want to evaluate all of your consumer groups' touchpoints that are likely to interact with as they go from first discovering your brand to making a purchase, interacting with customer service, and eventually using your product or service in their everyday lives.
This process aims to identify areas where you can improve or inject more personalized marketing to provide a consistent experience no matter the channel. In addition to you and key members of your marketing team thinking and walking through the customer journey, you may also use tools like Google Analytics, distribute surveys, and reach out to individual consumers to tell you their stories first-hand. Another option is to try a service or software that does usability testing on your behalf.
Put Together Your Omnichannel Marketing Tools, Starting with Headless CMS
At this point, you should know your consumers, understand how they're interacting with your marketing messaging, and gain insight into how you can improve your program.
Now it's time to implement smart marketing tools to help you achieve these improvements using cutting-edge technology ranging from automation to artificial intelligence. The marketing technology (martech) market grew from about 150 tools in 2011 to 8,000+ in 2020. So we understand if you're a little overwhelmed with choosing the just-right solutions for your marketing "stack" (which is just a collection of tech tools that work together).
While you'll want to shop around to find the individual pieces of software that work best for your marketing team, these are the core types of tools that will power a successful omnichannel marketing program:
Content management system
Customer data platform
Customer relationship management system
Marketing automation tools
Search engine optimization tools
Social media management tools
Translation and localization tools
Analytics tools

To help you get started, we recommend choosing and implementing your content management system (CMS) first. Why? Because with the right one, you can more easily select and integrate the rest of the tools for optimizing your omnichannel marketing.
A headless content management system is the answer to making omnichannel marketing possible.
A headless CMS has no built-in front-end system that governs where or how content is displayed. That means marketing professionals can optimize and serve seamless marketing experiences across all the channels where your brand is present.
And the same application programming interface (API) technology that makes omnichannel marketing delivery a breeze also enables your CMS to integrate with the other key tools that make up an effective marketing stack.
As long as your customer data platform (like
Evergage
), customer relationship management tool (such as
HubSpot
), analytics platform (think
IBM Watson
), translation and localization software (Contentstack is a
headless CMS with built-in localization features
), and other martech tools are built on an API-powered infrastructure; you can easily integrate them into your headless CMS to build a custom workflow for efficiently creating highly-customized marketing experiences for every consumer and channel.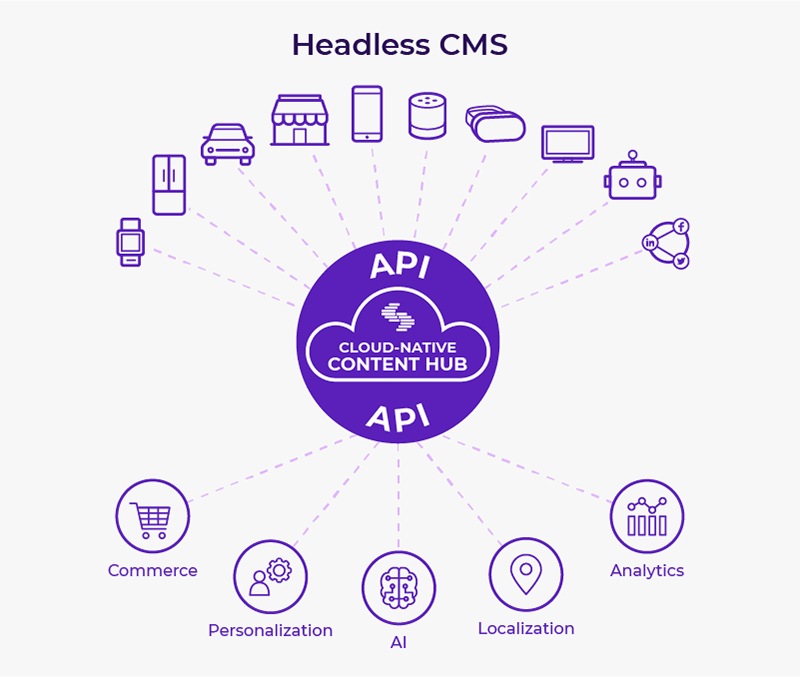 Define Your Success Metrics, Track on an Ongoing Basis
Not only does building a modern martech stack help you create cutting-edge omnichannel marketing experiences, but it also positions you to generate tons of data and insights about your campaigns, your consumers, and their favorite channels.
That's why the last step of creating an omnichannel marketing program is putting this data to use to define a successful campaign. From there, you will have a reliable benchmark against which your team can measure all future marketing efforts to ensure they'll always resonate with your core consumers across their preferred channels.
Start Your Journey Toward Omnichannel Marketing Today
Whatever is keeping you from having a successful omnichannel marketing program — whether it's a lack of buy-in, not having the right tools, or any other barriers to omnichannel marketing — knowing the tools and strategies involved will help you start the conversation for building an omnichannel marketing program that generates returns.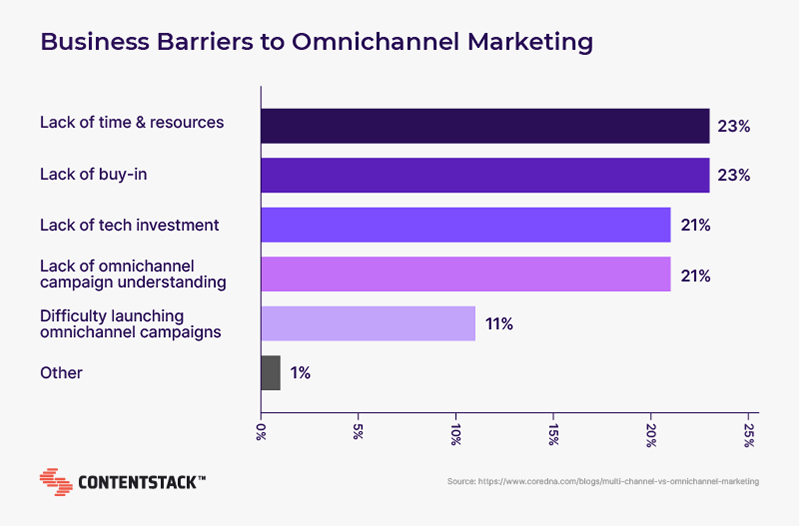 And if you have to start by getting buy-in for just one piece of technology, make it a headless CMS. With the right headless CMS, you will have all the features you need to build robust marketing campaigns right now and all the interoperability you need to make them omnichannel in the future.
It all starts today when you take a peek inside a real headless CMS with a free test drive or a free demo.
To keep learning about omnichannel marketing and martech, here are some resources you and your stakeholders can dive into at any time:

Taking Advantage of the Omnichannel Opportunity
Winning Your Customers Over With Omnichannel Content Marketing
The Omnichannel Technology You Need to Navigate a Fragmented Retail Market

---
Related Articles
Here are other CMS articles we think you'll find useful.