How to build an enterprise content management strategy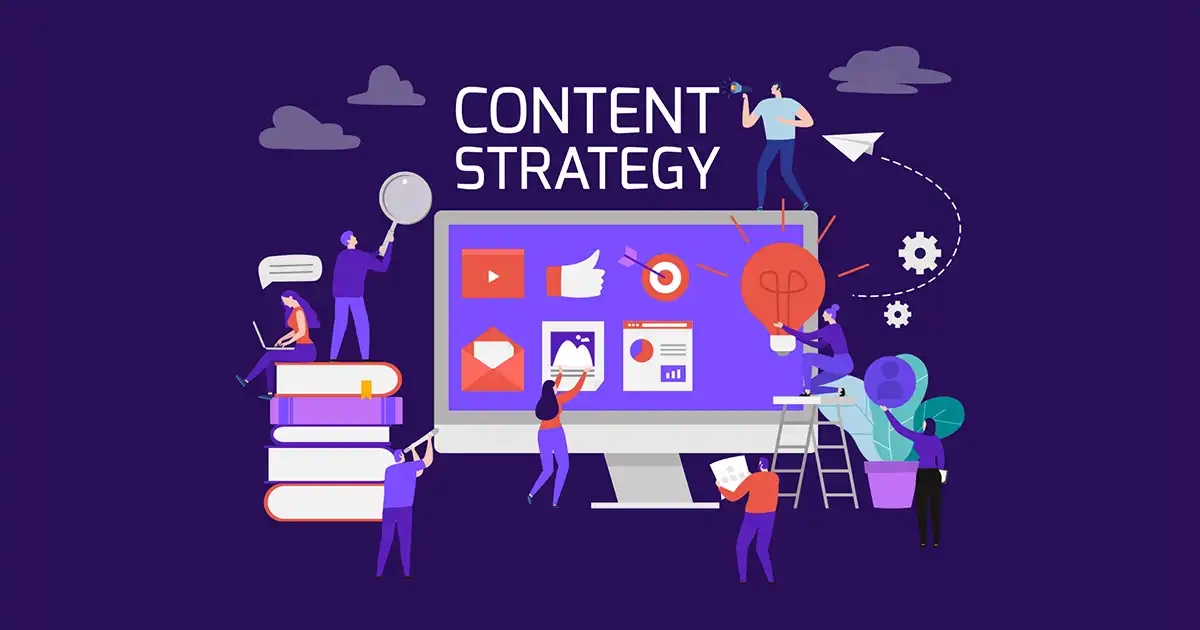 Learn why you need an enterprise content management strategy and how to create one for your business in this guide.
Successful marketing needs to have solid foundations. We can't just throw a CMS into the mix and assume it will print money.
First, your business needs a marketing strategy. Who are you trying to talk to? What are they saying and are you listening? Are you giving your target audience something to talk about and does your plan encourage them to spread the word?
What is enterprise content management (ECM)?
Let's assume your business already has a well-oiled enterprise marketing strategy. Next, we can move on to thinking about ECM Strategy; but what is Enterprise Content Management (ECM)?
In brief, it's a system for managing an organization's content, including documents, images, videos, emails, social media posts, web content and more.
It can handle both unstructured and structured content. Structured content is data that is contained and defined, e.g. databases and code repositories. Unstructured content is information that doesn't have a predefined format, and can include content such as Office documents, PDFs, images, video, audio and emails.
ECM systems are designed to streamline the process of storing, organizing, and retrieving information. Many ECM systems also offer features for collaboration and document sharing, which are fundamental to successful project management.


Enterprise content management systems can be deployed on-premises or in the cloud. Cloud-based ECM systems are often more scalable and easier to implement than on-premises systems. However, on-premises systems may offer more control over data security and privacy. Enterprise content management is a key component of many digital transformation initiatives.

By allowing organizations to better manage their content, ECM Systems can help improve efficiency and optimize business processes.
What can ECM do?
In essence, these are the three top-level purposes of Enterprise Content Management:
Capturing information
Storing information
Delivering information
But it isn't enough just to capture, manage and store information — the key is to manage it usefully so that large quantities of content can be easily accessed and used to achieve business goals and objectives.

In greater detail, ECM can manage the following tasks in its role as an information system solution:

Keep track of audits and compliance
Keep track of all actions taken by users or automated systems
Track and keep records of document versions
Integrate with all core business apps
Speed up business productivity and processes
Reduce paper usage and physical storage
Enable viewing, editing and collaboration offline
Why is enterprise content management important?
ECM can be a beautiful thing. Done well, it's the difference between finding the contract you need with a couple of clicks versus spending hours digging through boxes in a dusty storage room. When it's done right, ECM can make your organization more efficient, agile and compliant. But before you can reap the benefits of ECM, you need to develop a strategy.
An ECM strategy should take into account your organization's business goals, content types and organizational structure. It should also consider the different stages of the content lifecycle, from creation and capture to storage and disposition. By taking all of these factors into account, you can develop a customized plan that will help your organization get the most out of its ECM system.
In short, an ECM strategy is essential and without one, you risk wasting time and money on a system that doesn't meet your needs. So if you're thinking about implementing ECM in your organization, make sure you take the time to develop a comprehensive strategy first.
How can you develop an ECM strategy?

To develop an ECM strategy, you need modern technology to fit the purpose. What today's ECM strategy needs first and foremost is a agile content experience platform, one that has limitless scope and can promise the following benefits:
| | |
| --- | --- |
| Agile CXP Benefits | Explanation |
| | One central content hub with a unified user experience across the technology stack |
| | This allows you to shape your tech and tools to your unique brand, team and customer experience needs. |
| | MACH is a term for modern technology constructed using microservices (M), connected via application programming interfaces (A), native to the cloud (C), and headless (H). |
| | Unparalleled customer support advice and cross-vendor expertise |
With an agile headless content experience platform as the engine at the heart of the business, an ECM strategy should look like this:
Start from the top: Agree on executive leadership and resource allocations.
Involve the key stakeholders and define the business objectives.
Agree guidelines for content governance and security.
Agree a timeframe.
Define the key touchpoints and the customer journey.
Audit and fuse the tools that will link via API to the agile headless CMS — no lengthy data tagging required.
Analyze the results and time saved.
What you can expect from your ECM strategy

Savings on resources: A more efficient system requires fewer team members to manage content.
Savings on time: Content can be linked via API to the central repository.
Lengthy metadata tagging projects will no longer be necessary.
All your assets and content are contained within one repository.
With any new system there will always be challenges.Your strategy needs to have sight of these and prevent them from derailing the project. Here are some of the most common mistakes and oversights to avoid when developing an ECM strategy:
Lack of internal communication. Communication is key to the success of the strategy and having agreed protocols and objectives from the start is an absolute must.
Underestimating the importance of security. Compliance and privacy must be respected, not only because of GDPR rulings but because a compromise could have huge consequences. Ensure your ECM system includes access controls, audit trails and reporting, archiving and purging, digital signature and most importantly, backups for disaster recovery purposes.
Assuming your new technology is flawless. Although your agile headless CMS is omnichannel, you must allow time for the integration, setup and ongoing maintenance.
Miscalculating the cost vs. benefit. In the long term, having a well-planned ECM strategy will repay the investment, but no one in the business will thank you for underestimating the initial cost. Regular, ongoing cost-benefit analysis can help content managers understand whether each project has been cost effective.
Poor training and support. For the strategy to be successful, key personnel must be properly trained and any CXP or CRM must offer good support both during and after integration.
Next Steps With Your ECM Strategy
Digital transformation can be daunting. The fear is it involves tearing down established ways of doing business and replacing it with new, unproven technology that may or may not work.
Business process transformation is a continuous, never-ending process. For some organizations it may be enough to tweak their existing processes, while others will need complete overhauls to move forward with innovation.
If done gradually in well-defined stages, any company can identify its pain points and build a road map to digitize, streamline, automate and transform the business with managed content.
We have easy-to-integrate agile CMS technology that can form the foundation of your content management strategy. Speak to us at Contentstack about how using an agile headless CMS can help your organization — book a demo today.


Related Articles
Here are other CMS articles we think you'll find useful.