Future-Proof Your Brand With Digital Experience Design
This article will help guide your efforts with a refresher on the ins and outs of digital experience design, the basics of building a flawless experience, tips for making sure your newly created digital experience design is a success, and more.

Creating or updating your company's digital experience design is an important undertaking.
Defining Digital Experience Design
In the business world, digital experience design is an effort to create pleasant interactions for consumers at every step of their journey with your company.
Typically, digital experience design stretches across various departments to ensure consumers enjoy a seamless and positive interaction, helping move the needle and encourage retention for you.
An effective digital experience design takes into account more than the consumer desire for a pleasant interaction. Anyone building out a digital experience design must also only plan interactions within their company's technological wheelhouse and generate enough ROI to make building them out worth it.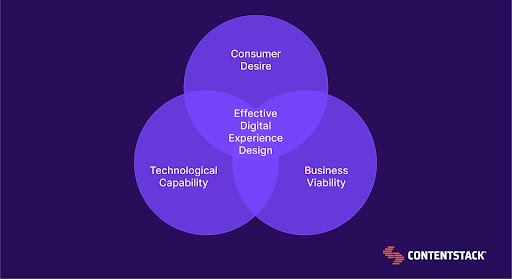 Digital experience design is a far-reaching business element that includes everything from digital interface functionality to conversations with customer support agents. Anyone looking to improve their digital experience design should be familiar with several specific design- and experience-related areas of expertise.
User Interface Design
User interface (UI) design controls the look and feel of the digital interfaces with which your customers interact. UI shapes the first impression consumers will make about your brand and should focus on attractiveness and ease of use.
User Experience Design
User experience (UX) design focuses on the functionality of the interfaces with which your customers interact. UX design is all about making sure a consumer can complete the task at hand, so it's important to think about accessibility, responsiveness, and, again, ease of use.
Customer Experience
Of course, the way your business handles customer experience (CX) is key to how effective your digital experience design is. As Steve Jobs famously said: "... you've got to start with the customer experience and work backwards [sic] to the technology."
CX is all about building lasting relationships with customers to increase retention and create opportunities for powerful word-of-mouth marketing. When you're thinking about the customer experience elements of your digital experience design, keep in mind the overall quality of the experience your customer enjoys during their lifetime with your brand.
Thoughtful Digital Experience Design in High Demand
Digital experience design is important today because flawless brand experiences are in higher demand than ever.
A 2020 report found that 80% of consumers say the experience a brand creates is as important as the products or services it sells.
Additionally, 88% of consumers think companies should accelerate their digital initiatives in light of COVID-19. Consumers want companies to invest in digital experience design that delivers the experience they got from in-person interactions, especially now that they're stuck at home more, living through record supply-chain shortages, and maybe even working with a limited budget as a result of the pandemic.
With a thoughtfully crafted digital experience design, you can show your customers and leads that your business cares about them — a factor that's become more important to consumers since the start of the pandemic.

How to Get Started With Digital Experience Design
Digital experience design involves managing several moving parts. And, as we'll expand upon later, they never actually stop moving, and trends and technology continue to change. You'll need to develop a unique system when it comes to creating and managing the perfect digital experience design for your business and user base. These steps will put you in a favorable position as you build your digital experience design.
1. Understand How Consumers Interact With the Current Digital Experience
You shouldn't need to reinvent the wheel when it comes to your customer journey. Instead, a refreshed digital experience design can build upon and improve underperforming existing areas. That means your first task should be to know everything about how consumers are already interacting with your brand and products.
The best way to do this is to walk through the customer journey, starting at the entry points where consumers might begin interacting with your brand — through a search engine results page, via a marketing email, after clicking on a social media ad, etc.
As you experience the journey for yourself, keep track of the touchpoints — reading blogs to learn about the company and products, contacting customer support, making a purchase, signing up for a demo, etc. — and whether they were easy, satisfying, and moved you further on your journey.
User testing can be hired out if you're worried you won't be able to be subjective or spend enough time on this process.
2. Integrate a DXP for Handling the Digital Experience Across Each Touchpoint
The platforms and channels where consumers have experiences with your brand might include any combination of the following:
Review sites like G2
Online forums like Reddit
Social media channels like LinkedIn
Your own customer support or relationship channels like online chat, email marketing, loyalty programs, etc.
Your own content channels such as your blog or your knowledge base.
In order to create a seamless digital experience that is enticing to your target consumer groups, you have to collate data about each group, create content that delivers on their expectations and serve that content on the channels and platforms where they interact the most.
For large businesses, this is where it becomes important to implement a single source of truth. Your business verticals can work together to enact a digital experience design that wins and keeps high-value customers.
That single source of truth is called a digital experience platform (DXP). A DXP is a foundational platform where modular services work together to create cohesive yet scalable consumer journeys. While a DXP can be a monolithic piece of software, more modern solutions are a combination of platforms that share a flexible foundation.
In the content and marketing sphere, this foundation is often a headless CMS, as it's not only positioned to manage a key element of the experience — the content itself — but it's also modular in structure so experience-enhancing tools can be layered into the content management process.
On top of a headless CMS, you can integrate tools like customer relationship management (CRM), product information management (PIM), recommendation engines, on-site analytics, and more. These tools make the creation of scalable, cohesive, relevant consumer interactions possible for digital experience design teams.
3. Set Up Processes to Maintain and Optimize Your New System
Maintenance and optimization are central themes to building a digital experience design. Create a system that periodically reminds you to check your DXP's functionality and the relevance of the experiences you're creating to ensure they're always on the cutting edge.
Continuous A/B testing and staying on schedule with technology upgrades are good ways to keep your design top of the line. The methods outlined in the upcoming section will help you determine how people feel about the interactions you're creating.
4 Methods for Measuring the Effectiveness of Your Digital Experience Design
How can you make sure the digital experience design you've so carefully crafted is successful? These methods will help.
1. Clearly Define Digital Experience Design Goals
Ever-shifting goalposts make it difficult to quantify the success of large-scale business experience projects.
Have well-defined success methods before you attempt to measure the effectiveness of your digital experience design efforts.
Develop these metrics by setting detailed goals that are SMART — specific, measurable, achievable, relevant and time-bound.
2. Measure Customer Satisfaction and Effort
Now that you're ready to collect metrics to compare against your goals, measure some of the most important performance indicators: customer satisfaction and customer effort.
A customer satisfaction (CSAT) score measures how happy customers are with their experience at different parts of their buying journey. You can gather this information with automatic pop ups or email surveys.
A customer effort score (CES) measures the effort a customer expends to accomplish a task. This score should be measured at various interaction points so you can figure out where to simplify the flow to increase conversions and customer happiness.
3. Track Your Net Promoter Score
Net promoter score (NPS) is a metric that measures loyalty. It consists of some variation of these two questions:
"How likely are you to recommend [your product or company] to a friend or colleague?" This question should allow consumers to choose a number from 0 to 10.
"Why did you choose that score?" This question should be followed by a text box where consumers can type their answers.
You want to get your NPS average as close to 10 as possible, as this indicates that a large percent of your consumers are promoters, loyal to and enthusiastic about your brand.
4. Employ Behavior Tracking
Your digital experience design's performance can be measured without directly asking for consumer input. Try heat-mapping software to monitor how consumers use your website or app in real time. This will provide valuable insights into the most and least effective steps of the buyer journey.
4 Strategies for Future-Proofing Your Digital User Experience
Once your digital experience design is in full swing and you've put measures in place to monitor its effectiveness, implement these strategies so it remains a success into the future.
1. Keep Tabs on Modern Digital Experience Design Best Practices
One important thing to remember about digital experience design is that, in order to be successful, it has to keep up with modern consumer demands and trends. Stay in the loop on cutting-edge design and experience developments. Subscribe to email newsletters, follow experience and design leaders on social media or self-publishing websites (like Medium) and attend industry events.
2. Use Data to Understand What Your Consumers Want Today
Data is the difference between guessing and knowing what kind of digital experiences are going to please consumers and create a handsome ROI.
This is where measuring the success of your digital experience design is going to pull double duty. By combining demographic data with behavioral and preference data you've collected through surveys, heat mapping, etc., you will be able to create a clear picture of the brand interactions and products your main consumer groups desire.
3. Create a Feedback Management System
You won't always have to rely on data to determine what your customers want; sometimes, they'll tell you what they want. The same is true for fellow employees in marketing, customer support, and other business verticals crucial to the success of your digital experience design.
Make it easy for these people to provide feedback with on-site chat, a simple form on your contact page or a link in your site navigation.
If you're going to bother collecting feedback, create a workflow for yourself or another person on your digital experience design team to manage that feedback. Feedback should be read, the appropriate team should be notified and the person who left the feedback should be thanked and told how their input is being managed.
4. Plan for Consistent Change
Digital experience design is all about keeping up with change. Technology changes, trends change, and your digital experience design must adapt with them to keep your functionality and buyer journeys up to snuff.
A truly future-proof digital experience design must be flexible, recognizing change as one of the few constants. This flexibility should start in the mindset of the leadership team and apply to everything from detailed documentation to future hiring decisions, choices about technological investments and implementing ongoing improvements rather than huge, one-time projects.
Learn More About Digital Experience Design
Digital experience design accounts for not just the changing desires of consumers but also the many different business verticals with which they interact and the technology powering these interactions. It's a big job, but with the right tactics, tools, success metrics and future-proofing measures, digital experience design can be attainable and powerful in differentiating your brand.
If you're ready to graduate from digital experience design 101 and keep learning about various aspects of the digital experience, check out these other resources we've created:
---
Related Articles
Here are other CMS articles we think you'll find useful.