Back to Blogs
The 4-Step Roadmap to Achieving Hyper-Personalization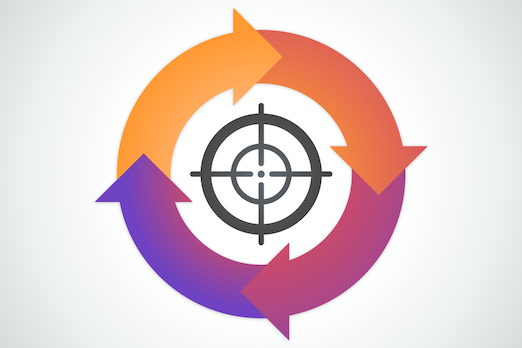 The business case for hyper-personalization has been proven time and time again.
Now, all that's left to do is start down the road to a personalized business and marketing strategy.
Use this map to find all the tools you need as you wind your way from gathering consumer data to creating personalized content to developing a singular platform that unites your entire strategy.
What is Hyper-Personalization and Why Does It Matter?
Hyper-personalization leverages consumer data, artificial intelligence (AI), and other modern technologies to help businesses deliver content, marketing, and offerings that are super-relevant to individual consumers.
For a simple example of a hyper-personalized shopping experience, let's look at the IT manager who is conducting online research on a software platform they're considering purchasing. Throughout the week, they receive ads for that same tool—and related offerings from the same company—on various websites. And, the next time they visit the seller's website, they even get a personalized discount to entice them to complete their purchase.
By 2020, half of consumers will expect a hyper-personalized experience like this one.
Shoppers expect brands to predict their needs and reach out with relevant offerings—before they make contact with the business!
So it's no surprise that 75 percent of consumers are frustrated by irrelevant on-site marketing content, and shoppers who click on recommended items are 70 percent more likely to make a purchase.
Close to 90 percent of U.S. marketers have observed measurable improvements after implementing some hyper-personalization efforts. Yet, only 9 percent of marketing professionals have implemented a full hyper-personalization strategy!
The majority of businesses are either talking about hyper-personalization or are still ignoring it altogether.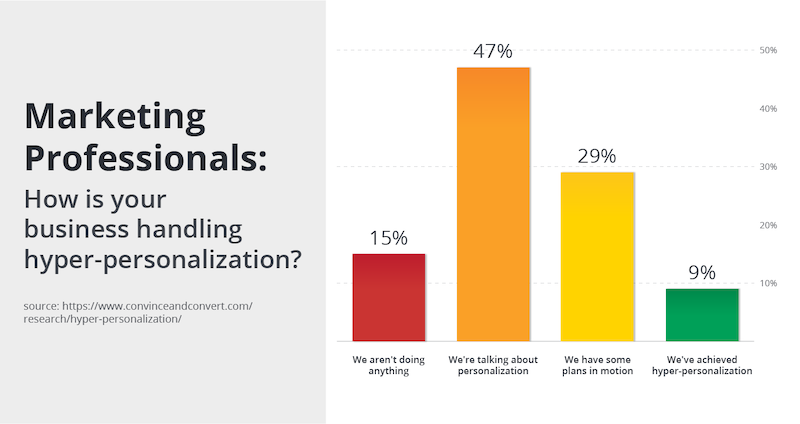 What does this all mean?
It means that consumers crave hyper-personalization and, if you get started on your strategy right now, chances are you'll beat your competitors to the punch.
The following strategies and tools help you do just that.
4 Steps to Achieving Hyper-Personalization
From tools for gathering your all-important consumer data to systems for creating personalized content to the one platform that holds it all together—the road to building a hyper-personalization marketing strategy is a winding one. Here's the only map you'll need.
Step 1: Gather and Utilize All-Important Consumer Data
It's going to be hard to personalize content and offerings for specific consumers if you don't know any specifics about them.
That's why the critical first step in achieving hyper-personalization is collecting, organizing, and utilizing as much data as you can about your consumers.
What kind of data are you looking for? In addition to standard profiles that include personal consumer information like name, age, location, layer in information such as the following:
How frequently do they interact with your brand
Which offerings or messaging do they respond to best?
When do they interact? For example, do they show up when each quarterly budget is approved? Do they only respond to discounts?
Include any other information that helps you understand their consumption patterns.
This kind of data gives you insight into behavior patterns and helps you create an ideal customer profile. It also empowers you to create hyper-personalized messaging, products, and services to attract and retain your ideal audience.
The power of your hyper-personalization marketing strategy hinges on how well you know your consumers—so you may want to try combinations and even alternatives of the tools we're about to mention until you've got the perfect system for collecting and utilizing important consumer data.
Data Collection and Activation Tools
Step 2: Create Hyper-Personalized Content
Armed with the powerful data and insights that you just assembled in the previous step, you're ready to create content.
As we explored earlier in this piece (and in-depth on the Contentstack blog), it's a proven fact that consumers crave personalized content and reward businesses that provide it.
So, in this step, the task at hand is creating hyper-personalized content that inspires engagement, action, and loyalty among your existing customers and your ideal new leads.
How? Through contextualization and experimentation.
A hyper-personalized experience goes beyond just knowing whom a consumer is to recognizing and responding to, where they are physically, and where they're most active digitally.
Once you can dial in your content to the right context, it's time to move on to the enjoyable part: Experimenting!
At its core, most successful business and marketing strategies—hyper-personalization included—are all about creating a thing, observing how your audience engages with that thing, and then using what you've learned to iterate and create an even better version of the thing.
Try these tools to help you do just that when it comes to creating hyper-personalized content.
Content Creation and Hyper-Personalization Tools
Step 3: Distribute Across Touchpoints
Step 3 is when you bring together the content you've created and the data you've gathered about your audience to generate conversations across appropriate channels and devices.
Or, as Pitney Bowes' global VP of Solution Consulting puts it, you're "…allowing the right person to get the right communication, at the right time, in the right place, through the most effective delivery channel."
The consumer data you collected in step 1 clues you into the "right" or the preferred channels, devices, time of day, types of communication for your consumers—and your hyper-personalized content does the rest of the work to engage them!
Use the following tools to share hyper-personalized content that makes sense in the context of the platform and consumers' needs, keep your brand relevant and top-of-mind, and create a positive experience.
Content Distribution Tools
A content management system (CMS), this time, is useful in distributing the content that you've created and stored there: a headless CMS like Contentstack can integrate with automated distribution tools
Engagement analytics bring your efforts full circle to measure engagement and opportunities for improvement: Google Analytics and Optimizely for web, Mixpanel and Countly for apps
Step 4: Unite Your Hyper-Personalization Suite
Finally, it's time to bring it all together.
From the tools you use to gather consumer data to the platform where you create content to the final distribution step, managing all this technology, your business, and your ever-changing marketing strategy all at the same time can be understandably overwhelming.
That's why we recommend a single, laser-focused tool that unites all your other tools to make your journey through the marketing lifecycle seamless.
One Tool to Unite The Rest
A digital experience platform (DXP) aligns strategies, teams, processes, and technologies so that companies can create, deliver, and optimize consistent consumer experiences.
Typically, DXP implementation begins with adopting a headless CMS that empowers hyper-personalization through API-first architecture that integrates with CRM, AI, analytics, AR/VR, mobile apps, and any other personalization tools a business may need.
Learn more about how headless CMS is paving the way for personalization and DXP to get a Return on Experience (ROX), download "Going Beyond ROI with Return on Experience (ROX)" ebook.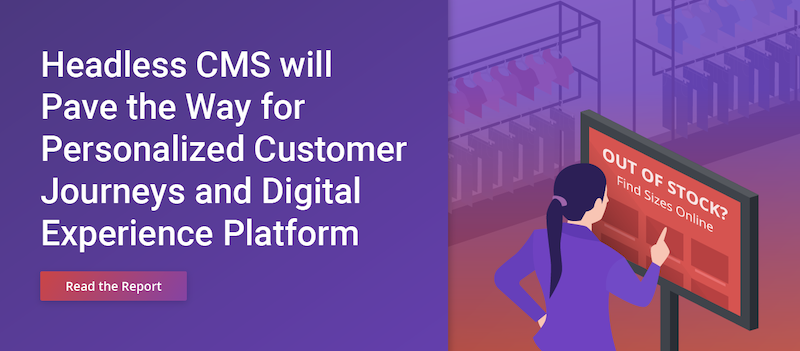 When you've got your headless CMS implemented and are ready to build out your DXP platform, check out OutSystems, Liferay, and Salesforce.
Will You Follow This Roadmap to Achieve Hyper-Personalization in Your Business?
The vast majority of marketing professionals say that AI-powered hyper-personalization strategies are having a positive impact on their campaigns.
Additionally, nearly all U.S. marketers have reported seeing measurable improvements thanks to personalization. They have found it may cut acquisition costs by half and increase the effectiveness of marketing spend by as much as 30 percent!
The business case for building out your hyper-personalization marketing strategy is there—all you have to do is start down the road.
We hope that following this roadmap empowers you to create a hyper-personalization strategy that engages your current customers and enables you to attract your ideal audience in the ever-changing years to come.