Over 70% of all media companies are currently changing their business models to keep up with digital transformation. In 2020 alone, 85% of media businesses will shake up their existing products and services, and 80% will offer new ones altogether.
Everyone in the publishing world knows things are shifting rapidly. Publishers must develop strategies for attracting and engaging new readers, competing in an era of free content, and overcoming other challenges that have cropped up in the digital age.
Let's address some of the more significant publishing challenges and the solutions that most media businesses need to implement if they want to succeed in 2020 and beyond.
Three Major Publishing Challenges — And Solutions — That Are Rocking the Media Industry
Media companies are facing a whole new set of challenges in the digital age. Here's what yours can expect to come up against — and how you can beat it — in 2020 and beyond.
Challenge 1: Attracting and Engaging New Readers
Today, one of the most common challenges for most businesses — in digital publishing and beyond — can be summed up in a few words: Getting more customers. Or, in the case of publishers, getting more readers.
This overarching challenge is the result of a multitude of other, more specific challenges, some of which we'll explore in more detail later. With the low barrier to entry (All an independent publisher needs today is an internet connection!), the subsequent free or cheap content, and the fracturing of the market into a million little niches comes ever-increasing competition for readership.
According to the Journalism, Media, and Technology Trends and Predictions 2019 report by the Reuters Institute for the Study of Journalism and the University of Oxford, the vast majority, nearly 90%, of media companies rate Google's platform as "very" or "extremely" important to their industry.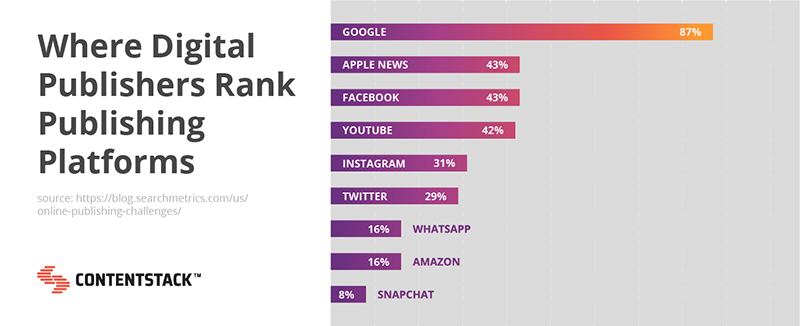 It's telling that Google's catch-all search platform ranks over actual publishing platforms like Apple News and Facebook in order of importance. This focus on Google drives home the fact that today, digital publishing brands are prioritizing attracting new readers and shifting their focus to platforms where they know they can get in front of the most eyeballs.
The following tactics will help digital publishers make the most of this shift toward audience growth.
Solution: Hone Your Mobile and Voice Techniques to Get Your Content Discovered
Because continuously attracting new readers is one of the leading goals for digital publishers, we're going to dive deep and explore two modern solutions that will help you optimize your content and platform for discovery by new readers.
Part 1: How to Optimize Your Website for Mobile Traffic
Today, more than 90% of all websites report that more unique visitors come from mobile devices than from desktop. Additionally, Google itself says that "Mobile-friendly sites show up higher in search results."
Despite this, an alarming number of publishing companies still shrink their desktop-first sites to mobile size and hope that readers have the patience to wait for slow load times and wade through screens cluttered with pop-ups and tiny navigation. News flash: They don't! If your website is not optimized for mobile visitors, they are five times more likely to leave it.
According to Google, the top factors that make a mobile website effective are fast loading (three seconds or less), easy navigation, and a frictionless path to action.
The best way to achieve all of these things is to build a website and optimize it for mobile from the very beginning. According to Moz, Google prefers responsive websites that serve the same content to both mobile and desktop users by utilizing a flexible design that automatically adapts to the device.
If you're able to take on a website redesign project, there are many tricks to optimize it for mobile devices, including:
Use Schema.org to improve how Google (and other search engines) reads and portrays your website in search results
Simplify, or "minify," your code as much as possible
Implement browser caching so your entire site doesn't have to reload every time the same person visits it
Ignore old-school best practices to block CSS, JavaScript, and images — today Google uses these to categorize content and understand if your site is responsive or not
Don't use Flash! Go with HTML5 instead of Flash for fancy effects
Design with the "fat fingers" in mind and keep clickable elements out of the scroll path
If you aren't in a position to start from scratch right now, there are a few things you can do design- and content-wise to optimize for mobile:
Just say no to pop-ups — the difficulty of filling out or exiting out of pop-ups on mobile contributes to high bounce rates
Take advantage of any tagging functionality your content management platform provides to give Google more context about your content
Simplify navigation to funnel readers to where you want them the most
Keep forms simple to fill out
Limit the necessity for scrolling, zooming, and other tricks to read content
If your organization has a local component, optimize content for local searchers (A massive 88% of mobile searches for local businesses result in a call or visit within 24 hours!)
Focus your SEO efforts on high-value content like titles, URLs, and meta descriptions
Remember that traffic from Google will likely have a specific intent (they did conduct a search, after all) and write to that intent
If a lot of these tips are Greek to you, Moz's "The SEO's Guide to Building a Great Mobile Site" is a great resource where non-technical media professionals can learn more about mobile-friendly websites and get tips on selling the benefits to decision-makers in your organization.
Part 2: How to Create Voice-Friendly Content
If optimizing your content and platform for mobile discovery is the new norm, then taking it one step further into the realm of voice search is the next frontier.
Smart speakers and voice search are rapidly growing in popularity. In 2020, the number of voice assistants is expected to reach 4 billion globally. By just 2023, that number is expected to double to a jaw-dropping 8 billion.
How can digital publishers optimize their content for voice search? The best way to answer this question is to start at the end with understanding voice search results. Backlinko's Google Home Results study found that Google prioritizes concise answers for voice search queries. The typical voice search result only has 29 words. That means your goal is to create succinct (and accurate, of course) questions and answers within your content that will appeal to Google when it's looking for a voice search result.
However, that doesn't mean you should start creating short and choppy content. We know that Google still prioritizes long-form content. "Human-friendly" language should always be the goal for digital publications. Content with a natural, conversational cadence provides plenty of opportunities for Google to find answers to verbal queries.
That said, there are still some tricks you can employ — short sentences, lots of line breaks, regular headers, bullet points, etc. — to break your content into shorter chunks that make it more attractive to Google. Q&A-style blog content and FAQ sections are a great way to take advantage of snappy, keyword-heavy content that doesn't feel unnatural.
Speaking of keywords, here are a few categories to focus on fleshing out your voice search optimization strategy fully:
Long-tail keywords: When people converse with smart speakers, they tend to ask questions in full sentences instead of just keywords. For example, where one might type the query "write engaging content," they would speak the query "Hey Google, how do I write engaging content?" This means content creators should focus on long-tail keywords that help create complete sentences when optimizing for voice.


Question-based keywords: Voice search queries typically center on a question, so focus on "question-based" words, such as how, what, when, why, where, etc.


Filler words: Don't forget the I's, the's, to's, for's, and other "filler" language that makes a keyword phrase more conversational.
And finally, we come full circle back to mobile optimization. We already mentioned that Google prioritizes mobile-first content platforms when showing results on its SERPs — which leads us to believe it shows the same preference when crawling for verbal search results. That means a critical part of your voice search optimization strategy should include implementing the tips for mobile optimization that we detailed in part one.
Challenge 2: A Sea of Free Content
In its 2019 Digital News Report, Reuters Institute for the Study of Journalism found that most people aren't willing to pay for online news and haven't been for the better part of the last decade. Even among the few who are willing to pay for digital content, there's a sense of "subscription fatigue" for people who are simply tired of being asked to pay for so many different, little things.
Why aren't people interested in paying for digital content? The primary reason is we're practically drowning in a sea of free digital content (You're reading some right now!). Additionally, because most people don't think it's worth the cost, they find it too expensive or are wary about subscribing.


Readers are so used to free content that converting passive consumers to paying customers requires some creative solutions.
Solution: Experiment With New Revenue Models
No one reading this will be shocked to learn that 90% of media companies believe advertising and sales revenue is no longer enough to finance their organizations. For years, paid subscriptions have been falling, largely thanks to the sea of free content described above.
Modern digital publishers need to experiment with different revenue-generation models, such as the following to overcome the challenges of free content:

Freemium: A freemium model empowers digital publishers to provide select pieces of content for free in hopes that it entices readers to subscribe or otherwise pay for what they've dubbed "premium" content. The separation between free and paid content is often called a "paywall." The New York Times has used this model to grow to nearly 4 million subscribers.


Metered Paywall: A "metered" paywall enables readers to choose what goes into their paid subscriptions. This model empowers readers to align their subscriptions with their interests and may help boost their satisfaction — and, hopefully, willingness to pay more or more regularly.


Contribution, donation, etc.: In 2018, The Guardian got their accounts in the black for the first time since 1998 with a contribution model, which simply asks readers for a one-time or ongoing donation.
Challenge 3: Content Consumption Has Gone Omnichannel
In 1999, the term "the Internet of Things" was coined to describe a web of what are now known as "smart devices" (smartphones, wearables, smart speakers, etc.) that can be powered on and connected to the internet.
By 2020, over 30 billion IoT devices will be online. And by 2030, the average person is expected to own at least 15 different connected devices.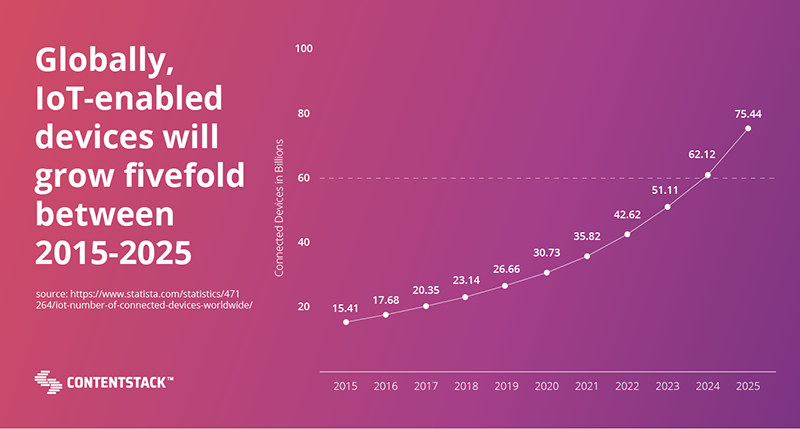 Thus, the internet has become the primary source of content for many readers — and they are accessing it on a staggering and forever-growing variety of technology-enabled devices, digital channels, and digital platforms.
The challenge here is an easy one to spot for the seasoned media professional: How does a digital publisher develop the appropriate content in all the necessary formats to keep consumers engaged and delighted across every digital channel?


Solution: Provide a Thoughtful Experience Across Channels with a Headless CMS
With a headless content management system (CMS), you don't have to sacrifice quality or quantity when it comes to creating content that informs thoughtful experiences across every conceivable channel. A headless CMS is a modern alternative to the traditional, monolithic CMS.
With a traditional CMS, content and presentation formatting exist together. This coupling of content and format means that content must be custom-made and then manually re-made each time you want to publish it to a new channel or device. In a world where omnichannel content rules and budgets for staff are slimmer than ever, this coupled process simply won't cut it for the modern publisher.
With a headless CMS, the content and presentation can still work together, but they are decoupled, so they are managed and stored separately. This separation is critical for empowering content creators to focus on content. At the same time, it lets your designers and developers generate the best presentation for that content, whether it's for your company website, mobile application, email marketing campaign, or anywhere else.
The modularity of a headless CMS combined with the application programming interface (API) technology that connects these modules means that content can be created a single time and simply optimized and re-used across devices, channels, and platforms for a pure "create once, distribute anywhere" experience.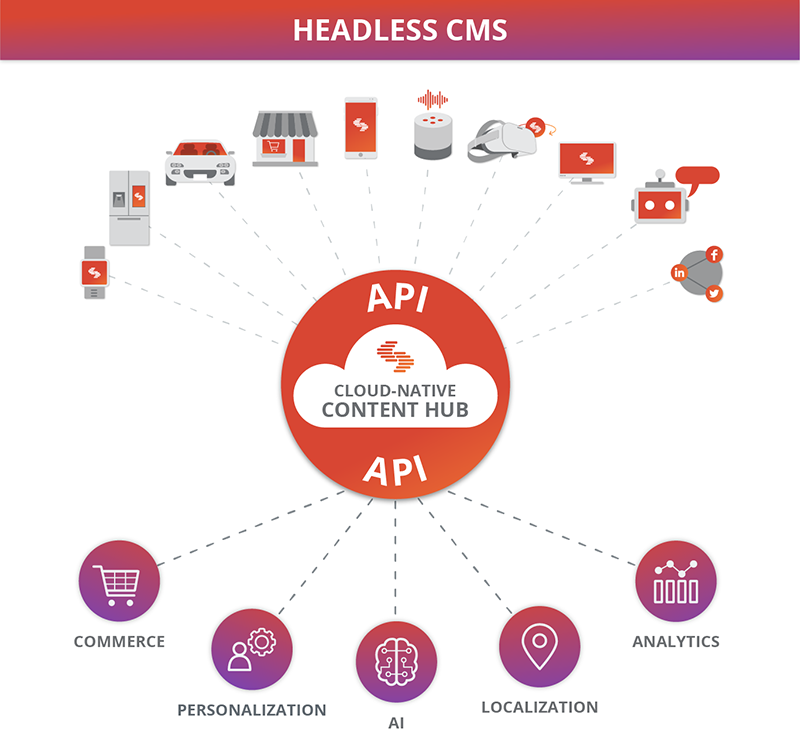 Despite all of its challenges, 94% of digital publishing companies still think digital transformation presents an excellent opportunity for organizations and the industry. When you go into battle against these significant publishing challenges armed with the solutions we've given you today, we know you'll rise to the top.