Back to Blogs
Summer platform recap: What's new and what's coming for Contentstack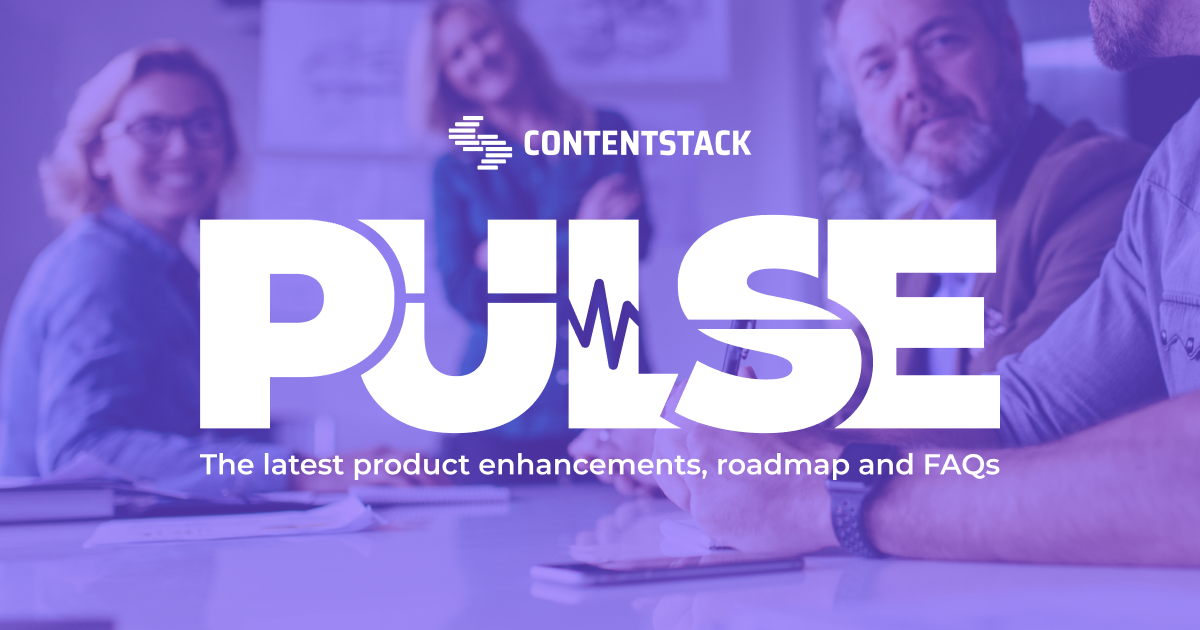 Time certainly does fly and it's exciting to share our summer updates! First off, have you heard the news? Contentstack's Headless CMS has been recognized as a leader for 2023 by IDC MarketScape. This recognition is based on a rigorous evaluation of product and service offerings from various headless CMS vendors.
This achievement highlights our commitment to providing top-notch solutions and gives our users and potential clients assurance that they're using a product that's considered a leader in its field.
Now, let's dive into those Q2 accomplishments:
Contentstack Headless CMS
New ChatGPT features
You can now instantly transform your content creation experience with these new ChatGPT features. We've broadened the capabilities of our AI Assistant to offer an even more tailored content creation experience for your unique needs like:
Configure custom actions: Create custom commands for your organization to increase team productivity and enable content editors to complete more stuff. Streamlining and personalize your content creation process with a tailored voice and tone that adheres to your brand guidelines.

Starter actions and icons: To help you get started, we've included starter actions and icons you can import. Upload the SVG icons to your assets and import the sample action pack to use the starter actions. Then, add the icons of your choice and save. Next, upload the JSON configuration file using the "Import" button.

Export/Import functionality: We've added the ability to export and import sets of custom actions. This feature is handy for users supporting multiple stacks as it allows for the easy transfer of actions from one stack to another.
Effortless navigation with Pagination
And also, experience effortless navigation with our new Pagination feature for our core CMS platform. This feature allows users to efficiently manage large content lists by organizing them into easily navigable pages. Instead of scrolling through extensive lists, you can now conveniently navigate through a specific number of rows per page. Pagination significantly enhances tasks like managing a vast library of articles or products.
Contentstack Marketplace
Direct integrations
We're thrilled to share some exciting updates from our Marketplace too! We now offer direct integrations with distinguished partners like Akeneo, Brightcove and Trados.
Akeneo's integration is a game-changer, allowing content managers to seamlessly push their product catalog to their eCommerce platform. This offers a major boost in managing and optimizing digital assets.

Our Brightcove integration allows customers to efficiently organize and measure their video assets and add them directly to their stack.

The new Trados app allows you to translate your Release content and provide localized versions in multiple languages.
Productivity enhancements
Additionally, we've taken productivity to new heights by introducing our Content Calendar and Workflow Kanban app, now available in our Marketplace.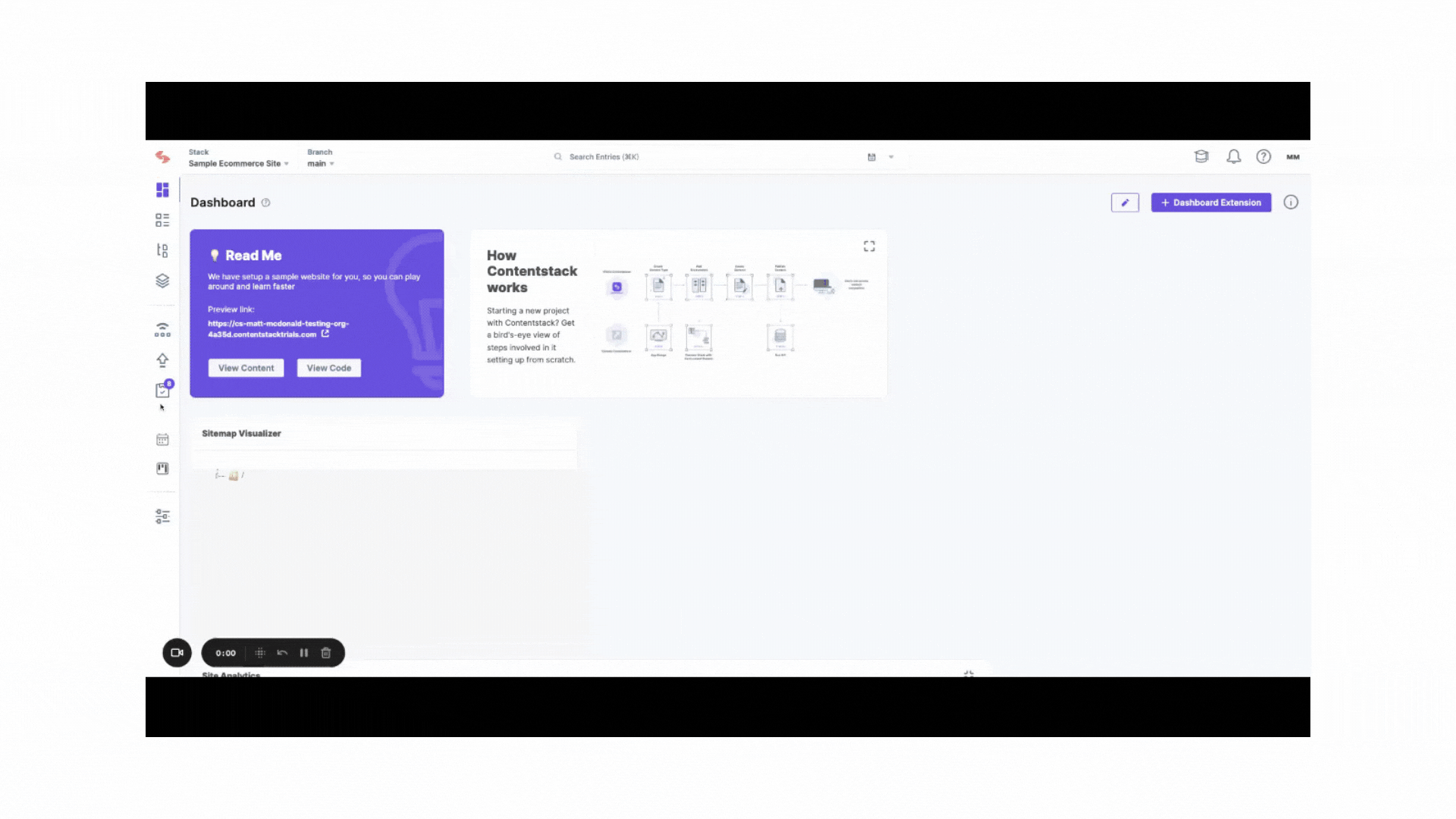 Contentstack Automation Hub
Refine Automations
What about the latest enhancements to Automation Hub? Now, you can refine your automation workflows with Contentstack's Action and Trigger events, which now include support for branches and releases.
You can specify the branch and release to be used as part of a trigger or action, offering more precise control and flexibility in your automation processes. This is especially useful when managing extensive development workflows with multiple branches or coordinating the deployment of a set of entries and assets with Contentstack's releases.
So, are you as excited about these advancements in our Automation Hub as we are? We can't wait to see how they will streamline your content operations!
Contentstack Launch
Expand globally and efficiently
And last and of course not least - Contentstack Launch. Get ready to expand your business globally. Contentstack's availability on Microsoft Azure EU infrastructure means organizations now have the opportunity to leverage powerful content management capabilities directly within the European Union. Contentstack Launch also has updated environments lists and environments settings screens for easy and efficient administration.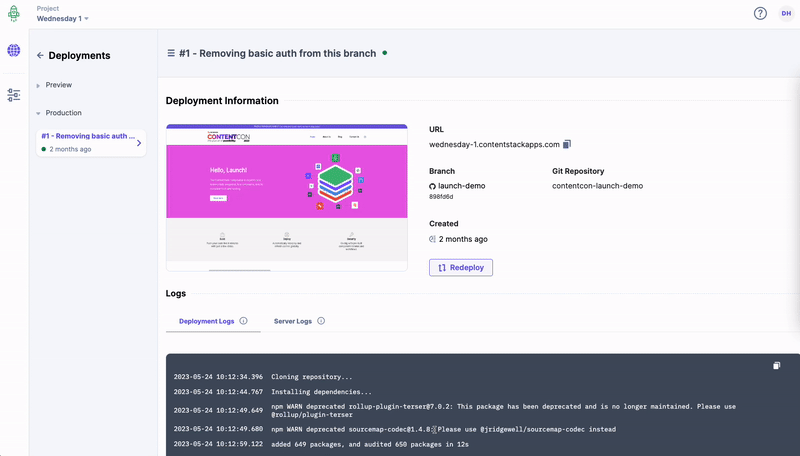 Phew, that was a lot and we're not done! Let's look ahead.
In the Fall, be on the lookout for:
Teams & Taxonomy
Users can effortlessly build streamlined content using powerful tools designed for grouping and categorizing content, enabling efficient organization and easy access to relevant information.
Refreshed Help Center
Looking for documentation in a hurry? Our AI-integrated Help Center delivers how-to guides directly within the platform, eliminating the need to search externally and allowing you to focus on the task at hand.
Basic Auth Password Protection
Experience enhanced security with Basic Auth password protection for your Environments on Contentstack Launch, and enjoy the convenience of On-Demand Revalidation (ODR) for your NextJS sites.
Composable digital experience platform (DXP)
Contentstack's composable digital experience platform (DXP) offers a powerful, streamlined solution to achieve your digital goals. We look forward each month to highlighting our latest enhancements designed to help you get the most out of our platform and the digital experiences you are building.
If you're an existing Contentstack user wanting to learn more about these new releases, please contact your Care Without Compromise™ team.
Contact our team here if you're curious about how Contentstack can help your brand streamline content to deliver better digital experiences everywhere.
Chalo!