At Contentstack, we strive to provide content management tools that enable you to make informed business decisions.
Our latest release—featuring all-new Analytics dashboard—does exactly that. It gives an overview of your organizations' usage of Contentstack. It shows how the users of your organization are using Contentstack as well as how your organization APIs are being consumed.
This analytics data provides valuable insights that allow the organization owner and admins to analyze usage and manage network load.
Let's look at the various sections of the new Analytics dashboard.
View Usage of Contenstack Entities
The Usage Overview section gives a quick overview of the usage of the different entities within your organization, such as stacks, content types, entries, assets, and users. It also displays the maximum allowed usage limit for the entities, if applicable.

The Usage by Stacks section offers a granular view of the usage at the stack level. It helps you identify stacks that are being used heavily and stacks that have light usage.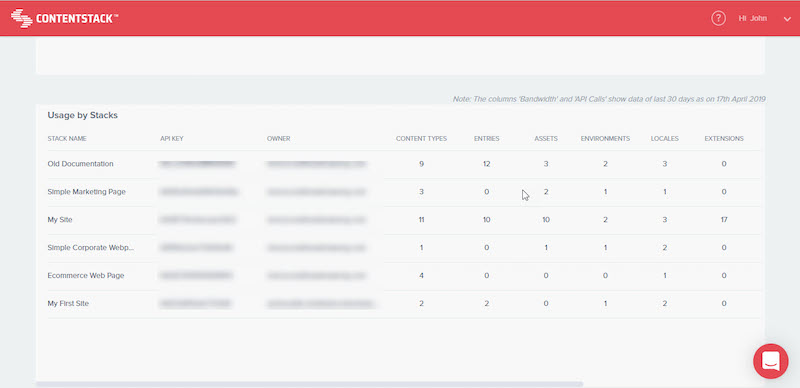 Check API Usage and Analytics
The API Usage by Type table shows the usage of and the bandwidth consumed by the four types of APIs that Contenstack currently offers – CDN, Images, Assets, and Content Management.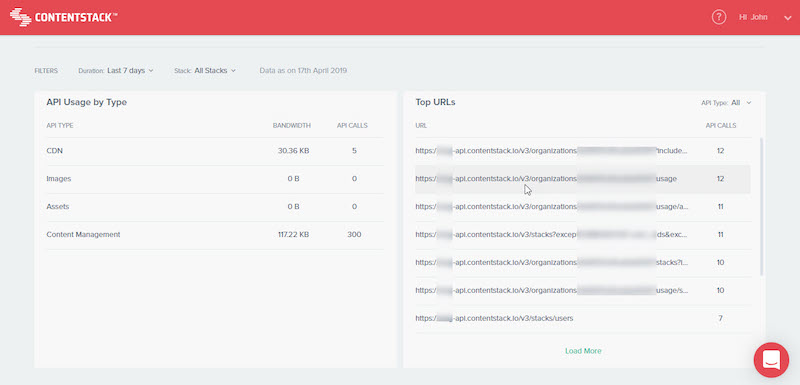 Lastly, the Top URLs section shows the list of most-used URLs of your organization. You can refine the list by filtering it by API types.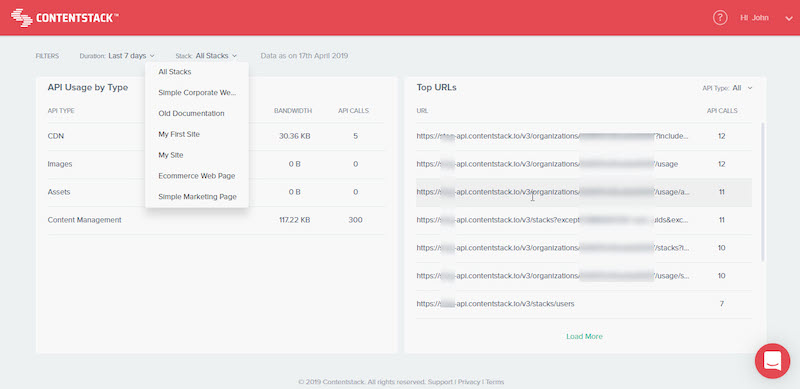 Use Quick Filters
You can view API usage data of the last 30 days or a custom date range within the last 30 days by using the 'Duration' filter. You can also apply stack-based filters to view API usage data of a specific stack.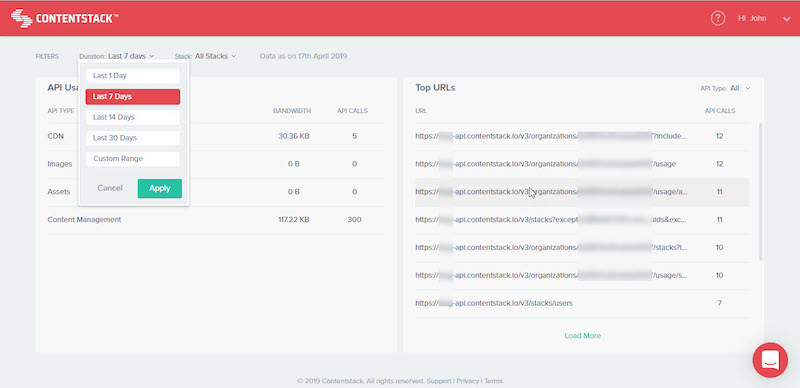 Getting Started
It's easy to access the new Analytics dashboard. If you are the owner or admin of an organization, follow the steps below to access your Analytics Page/Dashboard/Hub:
Step 1. Open the list of organizations.
Step 2. Go to organization settings.
Step 3. Click the 'Analytics' tab in the header.
This displays the usage analytics of your organization.
Read more about the Analytics dashboard on our documentation site.