Back to Blogs
How to create a roadmap for digital marketing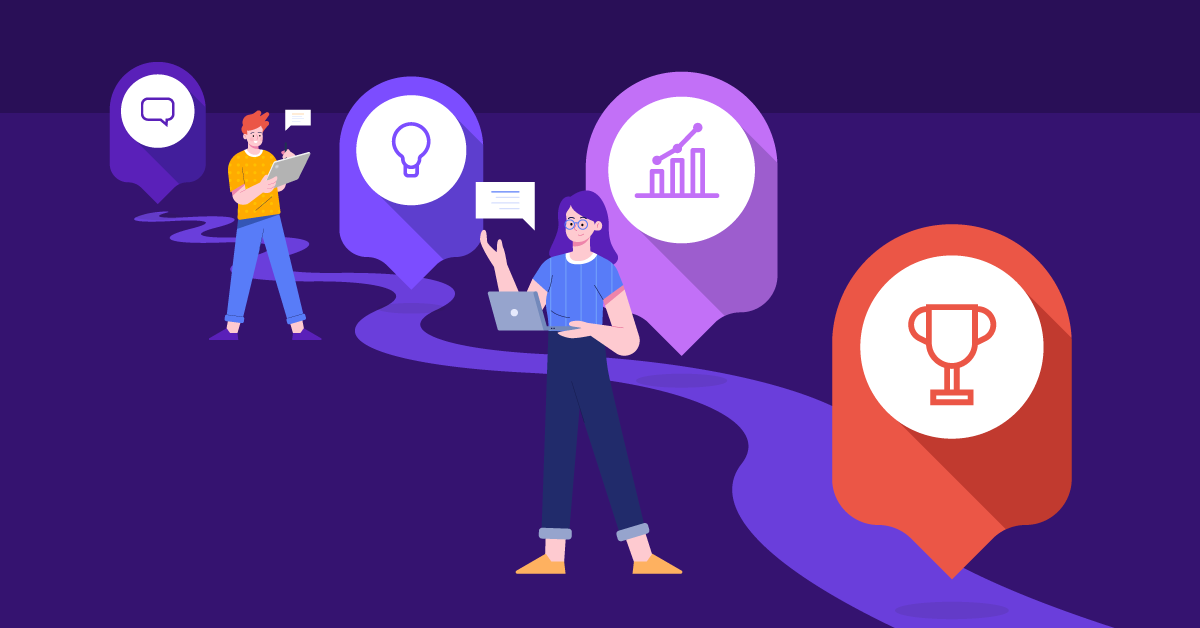 Having a digital-first marketing strategy is a must for companies today. Customers expect an excellent experience every time they interact with you online. If your digital experience isn't up to par, your customers might go to a provider who's got their digital marketing game on point.
If you want to excel in digital marketing, it's crucial to have a clear marketing strategy. In this blog post, we'll discuss:
How to plan for using digital-first marketing technology

How to determine what your customers want and match your technology to meet their needs

How to set up your tech tools using a digital experience platform (DXP)
Define your marketing technology strategy
Defining a winning digital marketing strategy is more complex than just picking cool tech stuff. It's about purposefully building around tech tools that can help you better connect with your audience or customers, not just now but in the future. Remember, what works best might be different for everyone. Your strategy should be tailor-made, fitting perfectly to your unique business situation. This may take more time and effort, but it's ultimately worth it.
To define your marketing technology strategy, begin by analyzing your customer's needs and assessing your ability to meet those needs.
Analyze customer needs
Determine what the ideal customer experience looks like for your audience. Customer trends are constantly changing, as is the technology available to marketing teams. It's essential to look at consumer behavior and determine which digital marketing channels your customers rely on the most and how they prefer to be engaged. For instance, do they respond better to your marketing messages via text, social media posts, or email marketing?
Honing in on which technology they leverage at each step of the buyer journey and where you lose them can reveal gaps you need to fill.
Assess current capabilities
Think about what technology you already have in place for marketing automation, web analytics, search engine optimization, content creation and management and other services. Then determine what technology you need to add now and potentially later. Evaluate your people to decide whether or not they have the right mindset and skill sets for any new technology you are considering. If not, what training will they require to get up to speed? Or will you need to hire new staff with expertise in the technology? Be sure to consider your leadership and organizational structure. Will leadership grasp the necessity of transitioning to the new digital-first marketing approach? If not, you must prove to them the investment will pay off.
Understanding the needs of your stakeholders
When planning to use digital-first marketing technology, you need to think about what everyone involved needs. This includes the people who work in your business, the tech folks who make everything run smoothly, and your customers.
Internal business users
Your internal business users are often the people who interact directly with your digital marketing tools. They could be in your marketing department, sales team or customer service. You need to find out what problems they're having and what tools they need to do their jobs better. Try having regular chats, sending out surveys or running workshops to find out. This can help you spot what's missing in your current tech tools and what you need to add or change.
Developers
Your developers are the ones who implement and maintain your digital marketing technology. Hence, it's crucial to consider their needs and feedback. Finding out what they need and listening to their ideas is essential. They need tools that work well, are flexible and they can integrate easily. Talking to them can give you valuable insights about which technology to pick and how to keep everything running smoothly.
End-user customers
Finally, your end-user customers are the most critical stakeholder. After all, your digital marketing strategy's whole point is to improve their experience. You need to understand what they like and don't like and how they behave. You can do this by looking at data, listening to their feedback, sending surveys and testing how they use your service. Maybe they love easy-to-use websites, personalized content, or quick customer service. Once you know, you can ensure your marketing technology delivers what they value most.
Creating a successful digital-first marketing roadmap is an inclusive process. It involves considering the needs of all stakeholders, ensuring they're equipped with the right tools, and fostering an environment that embraces continuous improvement and adaptation. Focusing on these critical aspects ensures your digital marketing strategy is robust, versatile and customer-centric.
Align technology capabilities
Once you better understand your current technology capabilities and customer needs, it's time to identify any gaps between the two. For instance, if your buyers are young and make most of their online purchases after seeing a Facebook ad, it may not make sense to inundate them with marketing emails. Instead, devote more technology and resources to delivering relevant social media content and ads.
The overarching goal is to deliver quality customer experiences that pay off in the end, whether that means a potential buyer converts by making a purchase or an existing customer renews their subscription to your service.
One of the biggest challenges of creating an effective digital marketing strategy is ensuring that it's future-proof. No one knows what the future holds, and technology changes rapidly. That's why composable DXPs are at the forefront of most successful digital marketing strategies today.
Matching your tech to your strategy
It's important to ensure your marketing tech tools match your digital marketing plan. They need to be able to support the excellent online experience you want to give your customers.
Imagine your tech tools are like building blocks. Each block needs to fit together perfectly to build the thing you want. In the same way, your tech tools need to work together to create your digital marketing strategy. This is where composable architecture comes in.
Composable architecture is like a set of Lego blocks. You can mix and match different pieces as you need, adding or removing blocks to fit your unique situation. This flexibility makes creating the perfect tech stack for your business easier. It allows you to pick and choose the tools that best fit your strategy and change things as your needs change.
So, whether it's email marketing, social media, customer relationship management, or data analysis, make sure your tech tools are up to the task. Remember, the goal is to make the digital experience awesome for your customers. The right tech tools, put together in the right way, can help you do just that.
Making your digital plan happen
So, you've made your digital marketing plan. Now it's time to put it into action. Start by breaking your plan into smaller tasks. Then, set a timeline to decide when each task needs to be done. Be realistic — you want to get things done, but not so fast that you make mistakes. Next, decide who will do each task. Make sure everyone knows their jobs and deadlines. This will help everything go smoothly and ensure you remember everything. By planning your tasks, time, and teamwork, you'll turn your digital marketing plan from a dream into reality.
Learn more
Get expert insights on digital marketing strategy from Contentstack CMO Susan Beermann in this episode of "Contentstack LIVE."
Schedule a free demo to see how Contentstack's composable digital experience platform and headless CMS can help make your digital marketing plan a winner.