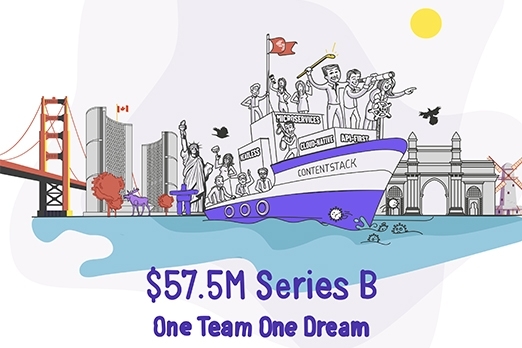 Today marks another milestone at Contentstack! We announced our $57.5 million series B financing, bringing our total capital raised to $89 million!
Putting The Capital To Work
In the 21 months since we raised our series A financing, we have seen unprecedented demand for a better way to manage content. Helping customers realize their visions during the pandemic has brought the Contentstack tribe a great deal of joy in an otherwise tumultuous time.
We anticipate a few key areas of added investment, including:
International expansion - The EMEA market is the clear leader for international growth for this space, and Contentstack will continue to invest in growing its team and customer base in Europe and the UK. Increased market adoption in LATAM and APAC calls for new investments in these regions to meet this growing demand.
Catalyst Ecosystem - Contentstack's partnership program (the Catalysts) has grown into a thriving ecosystem of technology, digital agencies, and system integration partners worldwide. Continuing to invest in those relationships and related joint go-to-market activity will support mutual growth.
Innovation & R&D - With over 200 feature releases and enhancements delivered last year, our innovation engine is already firing on all cylinders. The additional firepower (both capital and technology) Georgian brings to the table allows us to supercharge and accelerate a number of exciting projects that have been incubating in the Contentstack Labs. More on that soon...
Who's On The Boat?
I often liken my entrepreneurial journey to a sailboat voyage. Who you have on the boat is extremely important as they are the players that help you weather a storm, navigate rough waters, and have your back along the way. And when it's smooth sailing, everyone gets to have a little fun together! In addition to the Contentstack tribe, investors play an important role on this journey, and I'm super proud of who's on the boat with us!
Insight Partners - Lead investor Insight Partners has been much more than an investor. They've become a true member of the Contentstack tribe with Teddie Wardi serving as an invaluable sounding board and thought partner as we weathered the storm together through 2020. Insight has directly supported our growth by leveraging its network and programs. Additionally, Insight showed how to move beyond lip service and into action to demonstrate our combined commitment to values. As an example, with Insight's support, select portfolio CEOs united to deliver the "Insight ScaleUp Pledge," delivering commitments to move the needle on Diversity, Equity & Inclusion in our companies. We are thrilled to continue working with Insight into our next phase of growth.
Georgian Partners - We are excited to welcome Georgian and Emily Walsh to the Contentstack tribe. Georgian brings unique A.I. product expertise to the table, which will help accelerate A.I. as a superpower for Contentstack's enterprise customers. Georgian's social impact commitment was icing on the cake. Their Higher Purpose report includes several examples of how the firm gives back to the community and plays a role in moving the needle in STEM education.
Participation from all Existing Investors - Rounding it out, existing investors Cindy Padnos from Illuminate Ventures and Linnea Roberts from GingerBread Capital participated in the series B to recommit to our next stage of growth.
Moving the Needle - In a world in which less than 3% of all VC capital goes to female-led startups and less than 5% of all investors are women, I'm proud to have the conviction and support of three female investors in Contentstack.
What's Different from Series A?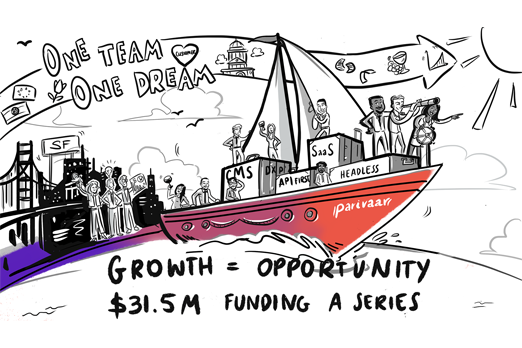 When we raised our series A, the market for an API-first content management solution was still emerging. Since then, there have been new entrants, a significant growth in market adoption, and an incredible amount of momentum to signify that "headless" or "API-first" content management is the future. As a category, we have turned the corner from less educating to much more order taking.
Growth - Since the series A, we saw over 150% growth of our customer base and more than doubled the number of Fortune 1000 companies using Contentstack.
The Forrester Wave™ - We have seen the shift of digital content beyond the web for years. In February 2021, Contentstack was named a Strong Performer in the Forrester Wave for Agile CMS as a brand new entrant. Further, Contentstack excelled with the strongest channel support in this evaluation.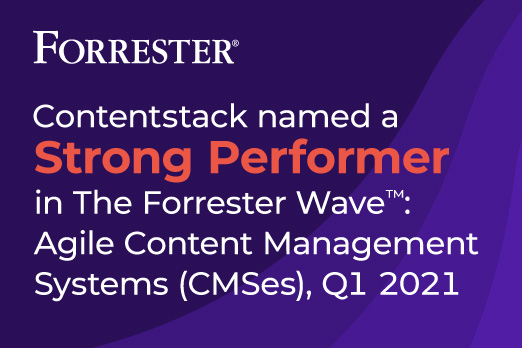 MACH Alliance - As one of the four founding companies of the MACH Alliance, Contentstack is leading one of the largest technology shifts in decades. This new MACH (Microservices, APIs, Cloud, Headless) architecture provides companies a better alternative to the decades-old software suites. Even our fiercest competitors are joining (or wanting to join) the MACH Alliance because we all believe that the time for monolithic suites has passed.
Digital Acceleration and Enterprise Scale
What no one could have anticipated in the last 18 months is the impact of a pandemic on the business. COVID-19 was the digital accelerant of the decade, according to a
recent study from Twilio
, as it expedited companies' digital communications strategy by an average of six years. We are now amidst a $30B market opportunity over the next four years, which nearly tripled since 2019. Trends in e-commerce growth and the breadth of digital omnichannel use cases are key drivers.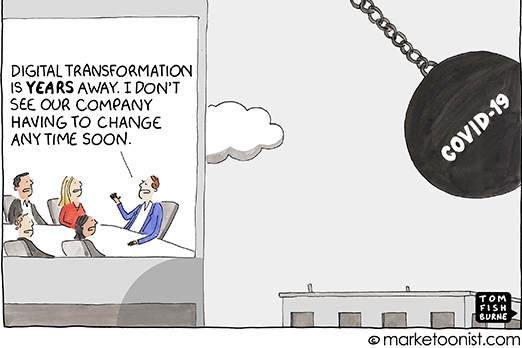 60X Scale - Contentstack is used as the core content hub for most customers. As a result, the amount of digital content powered by Contentstack grew a staggering 60X over the same time period before the series A. Individual customers now serve billions of API calls a day and petabytes of content to their audiences every month. In contrast, other headless CMS players serve SMB sites with much less traffic and platform scale. Contentstack delivers in a single day what most others do in a month.
Growth Drivers - Although retail had a tough year in 2020, every national market saw double-digit ecommerce growth. This — coupled with the focus on more personalized digital experiences — is driving brands to consider new MACH-based solutions ranging from A.I. and personalization tools to more modern e-commerce and content management platforms.
Project Venus - At Contentstack we believe that when business users and developers work together effectively, they achieve superior results for their organization. That's why we give both the same attention, and it's also why we completely reimagined the CMS experience for both – ensuring that Contentstack is appealing and intuitive for technical and non-technical content collaborators alike. We really do believe no one should have to read a manual to bring content experiences to life.

We couldn't have done it without you.
Certainly this is a huge milestone for the company and for me as a founder and entrepreneur. I am filled with a sense of joy for how far we've come and with a greater sense of responsibility for where we are going next. I'm so excited for the next stage of this journey, and I have so much appreciation for all of the players that helped us get here.
The Contentstack Tribe - At Contentstack, we are more than just colleagues; we are a tribe. The dedication across the entire organization is what keeps me going. This tribe encompasses a #OneTeamOneDream spirit like no other. Thank you for your hard work and for inspiring me to do better every day.
Customers - Support pours in from customers like Chico's, HP, Icelandair, Mattel, McDonald's, Riot Games, and SAP. Customers who are changing the digital game push us to innovate and scale as their strategic partners. Thank you for your trust.
Catalysts - Together, this ecosystem of partners is changing the digital game for good. Thank you to our catalyst community for challenging us to deliver the best solution in this space while sharing our Care without Compromise™ approach to supporting customers.
With series B fundraising complete, I am excited for what lies ahead. As we like to say at Contentstack…Chalo, let's go!!