Back to Blogs
Why Your Business Needs a Digital Experience Platform (DXP)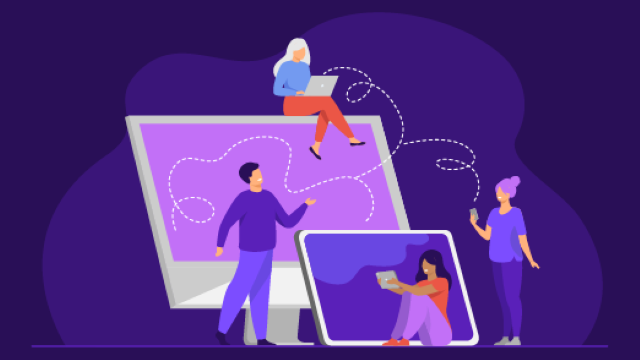 Gartner defines a digital experience platform as a "well-integrated and cohesive set of technologies designed to enable the composition, management, delivery and optimization of contextualized digital experiences across multi-experience customer journeys."
In simpler terms, a DXP is the solution to every aspect of your digital needs including content management, personalization, e-commerce, customer relationship management and analytics.
Whether or not you need a DXP depends on your goals. If you're looking to create a fully connected journey for your customers, complete with many touchpoints and a personalized experience, the answer is likely yes.
Read on to learn the benefits of digital experience platforms and what to consider when choosing a DXP for your business.
Understanding the Digital Experience Platform
A full-featured DXP integrates tools and services across the digital ecosystem and helps maintain consistency across the entire customer journey.
The software can be a single product or a suite of products working together to achieve the same goals. Either way, a digital experience platform consists of the same fundamental components:
Content Management: No matter what business you're in, the one constant is content. So, it's no surprise that content management is at the core of any solid DXP. As your company's digital repository, your DXP will allow you to present your content across various channels, creating the seamless experience your customers expect.
Customer Relationship Management: Getting customers in the door or on the website is crucial, but it's also important to keep them coming back. A DXP can track your customer's data to help you build long-term relationships through personalization.
Personalization: If you're operating a business, you know how vital personalization has become to the digital experience. Using customer relationship management (CRM) data, you can analyze trends and preferences to create journeys for each customer.
Analytics and Insights: Data analysis and content intelligence tools give you real-time insights into what's working and what isn't, allowing you to make more informed decisions to optimize your customer journeys.

Five Ways a DXP Can Address Customer Needs
If you're still not sure whether you need a digital experience platform, let's look at how a DXP can help propel your customer experience forward.
Content flexibility: Moving to a platform that features headless architecture disconnects your content from the channels where you're building it, allowing you to deliver it wherever you want. That means wherever your customers are — browsers, apps, tablets, IoT devices, kiosks, smartwatches, voice assistants — you're there, too.
More customer insights: With a digital experience platform, you're connected to all the digital channels we mentioned. But you're also connected in-store, on billboards, through customer portals, e-commerce and more. Wherever your customers are, a DXP's reporting and analysis tools collect customer data to help you make personalization decisions that will increase sales and promote brand loyalty.
Better personalization: Speaking of personalization, these days it's not just a perk; your customers expect a personalized experience. A DXP platform can help you bring in data from all avenues to get a well-rounded view of every customer. And with the ability to process that data, you can gain deeper insights that you might have missed.
Affordable scalability: A DXP uses microservices to create cloud-based digital experiences. With this approach, you'll enjoy more reliable uptime and performance from your tech stack, and can easily scale up (or down) as consumer demands and business plans shift.
Future-proofing: Because a headless architecture allows various API integrations, you can incorporate new technologies as they develop. This structure will let you stay ahead of the needs of your customers, so you can adapt and connect with audiences how and when they want.
What to Consider When Choosing a DXP
If you've decided to move forward with a digital experience platform for your business, here are some tips and strategies to consider:
Be Agile: If you're moving to a DXP platform, getting your content to market quickly is probably at the top of your wish list. Market demands change rapidly. Being too slow to market is a surefire way to lose your customers, so you need to have a platform that allows you to instantly adapt.
Consider the User Journey: Consider your customer's needs before your own. Understanding what they're looking for, what devices they're using and how they interact across channels will help you choose tools you need to keep them engaged. Create a user journey map of what you can do now and your goals for your customer experience. Then you can choose a DXP that fills the gaps.
Going MACH: Legacy CMS platforms may try to deliver omnichannel experiences, but they can struggle to keep up with the changing needs of today's consumers. If you're aiming for a seamless digital experience, you'll need a cloud-based content management system that will allow you to scale easily and has a wealth of APIs, allowing you to integrate applications that fit your business needs. A headless CMS can grow with you and help you achieve your desired DXP capabilities.
The future of the omnichannel digital experience lies in MACH:
Microservices - Lightweight, single-purpose applications that can be added, rearranged and removed to create infinite customized tools for your business.
API connectivity: Application programming interface technology connects services in a composable ecosystem.
Cloud nativity: Cloud-native software is delivered as a service by an outside vendor, allowing endless, affordable scalability.
Headless infrastructure: Headless architecture decouples front-end and back-end functions so content can be created and managed without interfering with design and development.
How a DXP works with Artificial Intelligence
We'd be remiss to talk about digital experience platforms without talking about how artificial intelligence can be a powerful tool in your DXP.
From doing the grunt work that takes away time from your content creators to analyzing the data your platform is pulling in, incorporating AI into your processes allows you to not only save time but discover trends and patterns you may otherwise miss.
We often choose metrics by guessing which areas we should track. Having AI at the heart of your platform takes much of the guesswork out of analysis. AI can sort your data and identify patterns that reflect areas you should focus on for improvement.
Learn More About Digital Experience Platforms
For more information about digital experience platforms, check out these articles:
Are you ready to take the next step toward future-proofing your business with a DXP? Enjoy a free, no-obligation trial or demo of Contentstack today to see how easy you can achieve your omnichannel goals with our MACH-based content management platform.