In the enterprise business world, 2020 and 2021 brought more than just hardships—these pivotal years also provided lessons. And one of the biggest lessons of all wasn't a new one but an old standard that keeps getting reinforced time and time again: The only constant is change.
According to Subrah Iyar, a leader and legend in the enterprise software space, the biggest change of which today's businesses need to be aware is the growing importance of digital experiences.
"Consumers' expectations have gone digital, and there's no turning back," Iyar said. "Businesses need to adopt digital solutions to keep customers satisfied and continue growing their businesses. This implies shifting customer engagement experiences to a 'Pull' model from a 'Push' model for doing business where customers are able to pull services on-demand rather than having businesses push their services onto a customer."
Luckily, most enterprises already have the key resource that enables consumers to interact with them digitally and on demand: content. But unluckily, most enterprises don't have what it takes to manage this key resource.
That's where modern CMS architecture comes in.
What is Modern CMS Architecture?
It all began with the traditional content management system (CMS), which is a software platform that combines content creation and management with control of the entire website experience.
And these monolithic CMSs worked swimmingly… for a while.
Today, the world is full of exciting new content distribution channels that legacy CMS platforms simply can't accommodate (without disappointing and un-secure workarounds, that is). In other words, the traditional CMS and the organizations that use them are in dire need of transforming to modern CMS architecture: An agile, headless CMS built on MACH principles.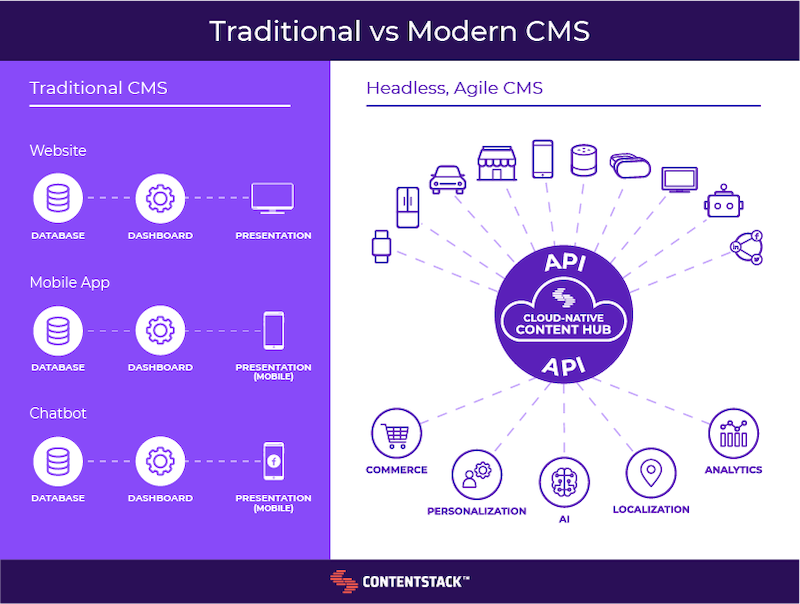 MACH technology is based on microservices, connected via application programming interface (API) technology, stored and delivered via the cloud, and built on headless architecture.
Then there's headless CMS, which is called that because it removes the "head" or the presentation layer from the traditional CMS structure. This allows developers to build any experience they like with whatever language is best, and make whatever technical changes necessary without ever disrupting the presentation layer where consumers are interacting with the content. And at the same time, this modular structure empowers marketing users to easily create and publish content.
In addition, the integrability of headless CMS means almost any content optimization tool, consumer data platform, etc. can be plugged in. That means content can be quickly and accurately reoptimized and republished to serve every channel, audience, and experience.
It's these principles and structure that make MACH, headless CMS platforms the key foundational element of modern CMS architecture.
7 Reasons Why Modern Enterprises Need Modern CMS Architecture
If you need a little more convincing before diving into headless CMS, here are several reasons it's vital that your enterprise drops outdated content solutions and adopts modern, headless CMS architecture.
1. Efficiently Create and Manage the Content at the Core of the Digital Experiences
Content is what powers all of your marketing efforts, from social media messaging to articles, localized websites, smartwatch application notifications, personalized emails, and beyond.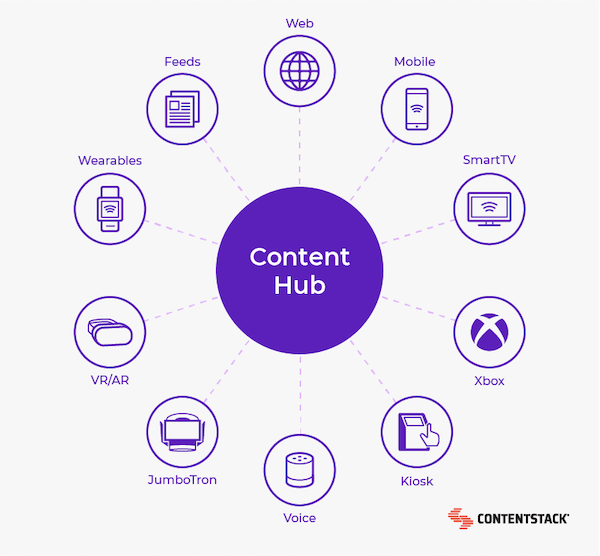 That means it's your content that provides the consistent, contextual, and effortless experiences with which consumers interact wherever and whenever they seek information or goods from your enterprise. This is what makes content the heart of the digital experience and therefore makes the CMS architecture you use to manage it integral to your success.
2. Enjoy Infinite Opportunities to Update the Customer Experience
An inherent advantage of decoupling the front- and back-end with headless CMS architecture is that each can be changed without negatively affecting the other.
This feature enables businesses to completely transform the content presentation—and therefore the customer's experience—without limitations. At the same time, IT professionals are empowered to transform the underlying technology at any time, adopting the latest languages and distribution channels to keep consumers engaged.
3. Transform Your Business with Modern Content Architecture
Content architecture is the process of naming all the little pieces that build great content — the text, the graphics, the links, and more. For enterprise businesses, it's important to have a modern and effective content architecture process so that each carefully crafted content element can be tracked down and used to its fullest potential. Headless CMS architecture lends itself to building a great process because of its modular architecture that enables individual pieces of content to be stored, labeled, searched, and used over and over again.
4. Excel in the Marketplaces of Today and Tomorrow
Developers who are restricted to maintaining traditional, legacy CMS software do just that: maintain. They aren't empowered to explore and implement cutting-edge technology. This keeps enterprise companies from innovating and causes them to fall behind competitors in the marketplace.
With decoupled CMS architecture, however, businesses are prepared not just for today's marketplace but for whatever new consumer experiences and expectations tomorrow may bring. Headless CMS architecture helps organizations future-proof their tech stacks by connecting carefully planned decoupled components via API so that they can be moved or changed as needed.
With your content tucked away in API-ready modules, you're always ready to refresh your design, technology, and experience without having to re-implement your entire CMS. Need to spin up a new smartwatch app, plug in a different database, or update the underlying code base? Programmers that work within headless CMS architecture can do this and more without damaging the customer-facing experience.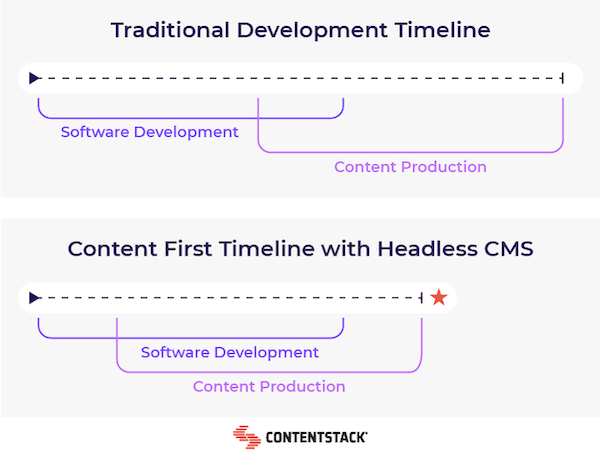 5. Make Your Team More Productive
As much as it's hard to admit, those who work with content spend an obscene amount of time on completely non-productive work like tracking down the latest draft, reworking copy for each channel, and worst of all, toggling back and forth between various publishing platforms.
No more.
Headless CMS architecture presents content in a single, centralized, and often responsive platform. From here, all optimization, personalization, publishing, and other tasks can take place. And with many of today's leading headless CMSs providing content management features like approval workflows, versioning, access controls, and more; content teams can become more productive through collaboration without the fear of over-writing or wasting time accidentally re-making vital marketing assets.
6. Make Iteration and Improvement Stress-Free for Marketing and IT
With headless CMS architecture, development teams can iterate and improve upon existing technology without worrying they may take down the entire content experience at any time. Likewise, headless CMS enables marketing teams to launch messaging improvements and even try out new channels without laying a finger on existing campaigns that are working well.
These features empower organizations to move much more swiftly to take advantage of new opportunities and keep up with changing consumer desires.
7. Answer Consumer Calls for Consistency and Personalization
Today's connected consumers want two things above all else: consistency and personalization. In fact, the majority of customers expect consistent levels of service across brand experiences, and 71% express frustration when their experience feels impersonal.

Headless CMS meets these demands by allowing brands to optimize and distribute consistent messaging across channels and allowing marketers to plug in cutting-edge content personalization tools. Brands that create this flawless, personalized omnichannel experience for consumers can expect increased loyalty and advocacy in return.
Are There Any Reasons My Enterprise Wouldn't Need Cutting-Edge CMS Architecture?
At this point, you can probably tell we're major believers that adopting headless CMS architecture should be a pretty big priority for the modern enterprise. But we also realize that context is everything. These are a few circumstances in which going headless may be more trouble than it's worth.
You Aren't Publishing to Multiple Platforms Anytime Soon
It's no secret that replatforming content is a pretty big undertaking. So, if you aren't ever—and we mean ever—planning to publish beyond the singular, traditional website/publishing platform you're already using; yours might be a case in which a headless CMS is overkill.
Luckily, many traditional CMS platforms do allow the integration of APIs for simple "add ons." You may find that these are enough if you're truly focusing on a singular publishing channel. Just keep in mind that if you choose to stick with your traditional CMS, you will create "content debt" that will have to be paid if you ever do decide to adopt an omnichannel marketing strategy.
You Don't Have Access to Programming Talent
The original headless CMS platforms typically didn't come with presentation functionality. So if you were to work with one of these, you would have to find someone with front-end development chops to implement additional technology to display your content.
Many headless CMS providers, however, are moving away from this "tradition" and offering a presentation layer that is still decoupled from the content layer but available if you want to use it. As pioneers in headless CMS architecture ourselves here at Contentstack, we're loving and even taking part in this development. Check out how Contentstack perfectly conjoins the ease of use for which traditional CMS gained popularity with the flexibility for which headless CMS has become necessary.
Modernize Your CMS Architecture (And Your Enterprise) Today
With content at the center of the all-powerful digital experience, it just makes sense that the platform on which you manage it should be cutting-edge. Headless CMS has the ability to continuously transform the customer experience, centralize content management, future-proof businesses against the competition, meet the demand for consistency and personalization, and more. That's why we believe headless CMS architecture is the perfect tool to manage content and top off any digital marketing initiative.
For help shopping for the best headless CMS architecture for your organization, check out our guide "How to Choose an Enterprise CMS That's Right for Your Firm."
And once you've learned all there is to know, the next step is to try it out for yourself! Go ahead and sign up for a free Contentstack trial or demo and start building out your own proof of concept today — no obligation required.