Back to Blogs
How to Build a Modern Financial Services Marketing Strategy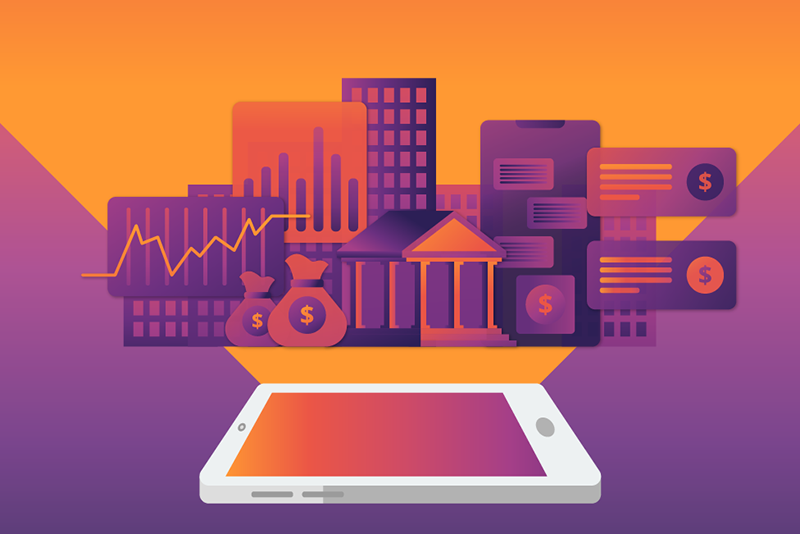 Many marketing professionals in the financial services industry have seen the shift: The "old guard" of traditional banks and other financial services providers is being overrun by FinTech (financial technology) firms that offer modern, software-based solutions.
And, just like their modern financial offerings, these FinTech firms also have modern marketing strategies for reaching today's omnichannel consumers. To keep up, traditional financial services marketing pros need to reassess their strategies, from the messaging to the underlying technological structure that makes spreading that messaging possible.
The following tactics will help you build toward a modern financial services marketing strategy that enables your institution to remain competitive and up-to-date even as your firm grows and changes.
Four Tactics for Modernizing your Financial Services Marketing Strategy
From gaining a deep understanding of who your customers and prospects are to serving up smart, personalized experiences on all their favorite digital channels — these four tactics will help you build a modern financial services marketing strategy that grows along with your business goals and resources.
Create Marketing Messaging That Resonates With Your Audience
It's often the most baseline marketing tactics that get overlooked in favor of more advanced, exciting strategies. Let's start from the beginning to make sure you take one essential first step in modernizing your financial services marketing strategy: Developing marketing messaging that your audience wants to receive.
There are several ways to identify what it is that resonates with customers and prospects. This strategy doesn't require any high-tech tools or a big chunk of your budget. First, take a look at what you're already doing and how that's working. Use your website, application, and social media analytics platforms to see what types of content and subject matter are garnering the kind of engagement you want. Google Analytics, Adobe Analytics, FullStory, HotJar, and Optimizely are all great website analysis tools; Mixpanel and Countly do the same for mobile apps, and social media management platforms like Hootsuite and Buffer also come equipped with analytical abilities.
And to see what else your audience may be interested in learning about your institution, see what kind of marketing similar institutions are creating and any results they've shared on the topic.
Additionally, you may try conducting keyword research on various search engines. Don't forget the large social ones like Facebook! Keyword research lets you see precisely which financial services topics people are trying to access.
In a world that's overwhelming customers with advertising, content marketing that provides actual value stands out — it's as simple as that.

Build Personalization Into Your Financial Services Marketing Content
Eighty percent of consumers report that they're more likely to do business with companies that personalize their experiences — and 40% of banking customers, in particular, would readily switch financial institutions to receive more personalized service.
Today, consumers want their financial institutions to provide the same kind of highly relevant experiences they've become accustomed to elsewhere in their lives.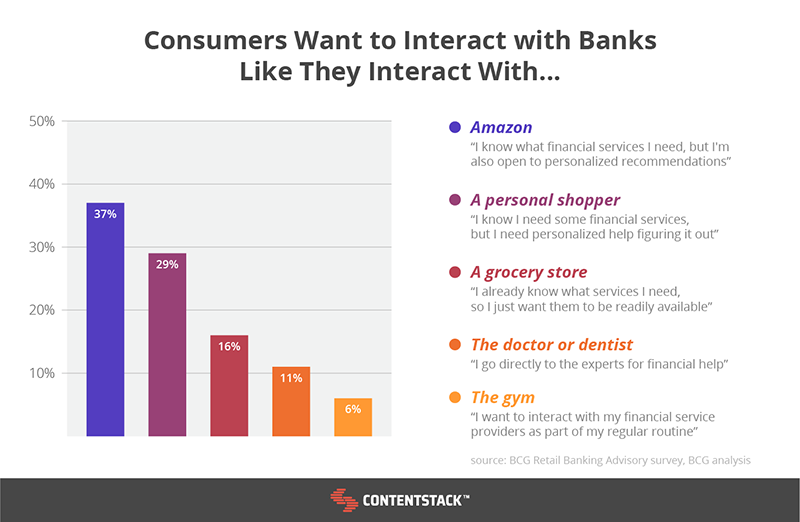 As important as personalization is, many organizations have trouble figuring out where to start. However, building a personalization engine can be done in five relatively simple steps.
But first — what is a personalization engine, exactly? According to Gartner, a personalization engine is a collection of tools that empowers organizations to create a "relevant, individualized interaction between two parties" by automatically gathering and applying context to deliver personalized marketing messaging to individual consumers.
If you're worried about getting too invasive when pursuing large-scale personalized marketing messaging, don't be. Three-quarters of consumers say they've never thought a personalized experience was "too invasive," and over 80% are happy to share their personal data as long as the consumer can maintain control over it and the organization is transparent about how it's using the data.
Now for the main event — the five steps to putting together a personalization engine that will empower your team to create and deliver individualized marketing messaging effectively and efficiently:

1. In what may be the most intensive part of this entire process, first you'll want to round up the content, data, and marketing management platforms that will power your personalization engine.
Start by choosing a content management system (CMS) like Contentstack for content creation and distribution. Ideally, it'll be capable of integrating with the other personalization tools you'll identify in this step.
If you're already using a customer relationship management (CRM) platform, that will help you develop behavioral insight about current customers and leads. If you aren't already using a CRM, good options include Salesforce, HubSpot CRM, Zendesk, Intercom, and Insightly. You may choose to use a customer data platform (CDP) like Evergage or Exponea in addition to building a complete profile of your customers and leads.
A data management platform (DMP) such as LiveRamp or Clearbit will power up your personalization efforts by enabling you to gather, segment, and integrate data from your digital domains, partner domains, and aggregators.
2. Whether you choose to monitor consumer behavior manually, use a website analytics platform, or implement specialized software, it's essential to perform behavior tracking to learn where each of your key customer types interacts with your marketing on their journey to make a purchase.
3. Next up comes creating metadata — which is information that describes the content of a digital item. Metadata describing an image may consist of its name, its size, its creation date, etc. A good CMS should come with metadata fields, as it gives digital items identifiers that personalization tools can use to source the right item for a specific user type.
4. Personalization engines need rules, which are basically "if, then" statements to determine which marketing messaging is appropriate in a particular instance.
For example, a rule could be: "If the customer has read several blogs but has not signed up for financial services, then display marketing messaging about the benefits of signing up."
5. Finally, you'll use your CMS to create marketing messaging that targets each customer type and situation. You'll attach metadata to this content so that your personalization engine can find and distribute the right message, at the right time, to the right audience.
To get even more detail on building your personalization engine, read our guide, "How to Build a Personalization Engine Into Your Marketing Plan."

Scale Personalized Customer Interactions with AI-Enabled Technology
Banks consider FinTech software equipped with artificial intelligence (AI) to be their most worrisome competition. AI is an umbrella term that includes several different technologies that give machines the ability to mimic human cognitive activities. AI introduces a whole new level of personalization to marketing programs by enabling technology to "understand" and deliver on individual consumer requests with speed, accuracy, and scale that no all-human team could reasonably achieve.
Chatbots are a popular application of conversational AI. With chatbots, organizations can automate a large percentage of marketing messaging and customer support via natural-feeling, chat-based conversations.
When a customer engages in conversation with a chatbot, it uses AI to analyze data about the customer and the request to deliver personalized and accurate answers and related marketing messages, product recommendations, and more. As machines, chatbots do all this around the clock and at record speed, so your marketing proficiency never suffers no matter how your financial firm grows or changes.
As the conversational AI behind chatbots gets smarter over time and thousands of chat instances, bots will be able to handle more and more of the repetitive, manual tasks that often eat up a marketer's day. That doesn't just generate annual revenue growth of 10% for financial organizations; it's also expected to reduce the cost of doing business by billions every year.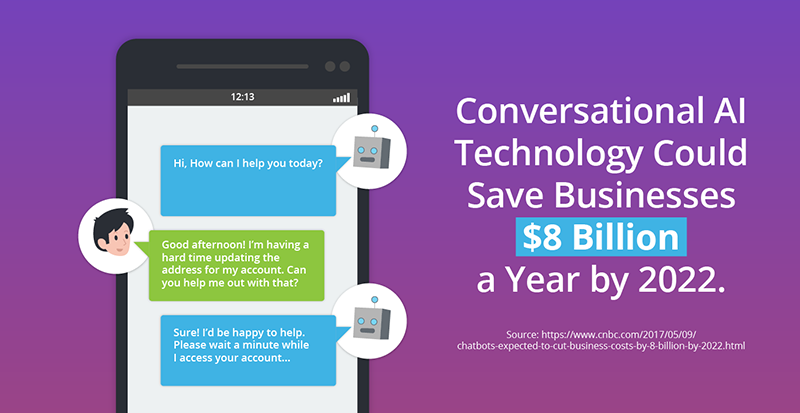 Don't just take our word for it — check out several banks that are already using chatbots in a variety of interesting ways!

Deliver Modern Financial Services Marketing Messaging Across Channels, Seamlessly
The 2019 Financial Marketing Trends report by Digital Banking Report and Salesforce saw the focus on new customer acquisition grow from 30% in 2018 to 44%. It also showed increased attention on marketing via new digital channels — which rose from 32% in 2018 to 35% in 2019.
Just personalizing your financial services marketing messaging isn't enough if your organization wants to compete at the highest level. You need to deliver personalized marketing on the channels (and devices, platforms, and so on) where your customers and prospects are.
Today, reaching omnichannel consumers is more critical than ever. Over 70% of consumers shop on multiple digital and in-person channels. And omnichannel consumers are undoubtedly more valuable to retailers than their single-channel counterparts. In retail banking, 60% of customers use multiple online and mobile digital channels. At the same time, 75% of actual bank sales take place via telephone and in-branch.

Financial services consumers come from all walks of life — and each of them expects to access the products, services, content, and help they need on their preferred channel at their preferred time. Financial institutions that can deliver on this desire are the ones that will succeed — no matter if they're FinTech or "old guard." That fact brings us to our paramount strategy for executing a modern financial services marketing program: Seamless, omnichannel marketing delivery using headless CMS.
A headless CMS is a modern answer to traditional, monolithic CMSs like WordPress. Monolithic CMSs combine the content and the presentation layer in one single publishing flow. This "coupled" approach means the content must be manually recreated and reformatted each time it's shared with a new customer type or via a new channel. That makes it a costly commitment that isn't right for organizations that need to scale personalized marketing.
With a headless CMS, the content and the presentation layer work together while being managed and stored independently. That means marketing folks can create, optimize, and distribute content collateral. Simultaneously, designers and developers can build the best display for that marketing content, whether delivering it to a website, a mobile application, a chatbot, a smart billboard, a social media campaign, or anywhere else you can imagine.
The application programming interface (API) technology that makes this "decoupled," modular architecture possible also makes it easy for some headless CMS platforms to integrate the technologies we mentioned above — CRMs, DMPs, CDPs, and others, including ecommerce platforms, translation, and localization tools, etc. — and complete, well-rounded personalization.
Ellie Mae, the leading cloud platform for the mortgage finance industry, is just one example of a financial services firm making the most of a headless CMS. They have used it to give their marketing professionals publishing independence and empower their developers to focus on innovation.
Since adopting Contenstack's headless CMS, Ellie Mae has been able to devote 40% more of their time to revenue-driving initiatives, getting users engaged on their digital properties, and adding more leads to their sales pipeline.


"Contentstack isn't just a CMS of today. It's a CMS of the future." — Auden Hinton, senior manager of Web Services at Ellie Mae

Where Will You Start Your Modern Financial Services Marketing Strategy?
No matter where your financial services marketing strategy starts or needs to go, every step is achievable with some time, research, and the integration of a few powerful technological tools to achieve the accuracy and scale you need to succeed.