Back to Blogs
Digital Experience Strategy: People, Technology & Process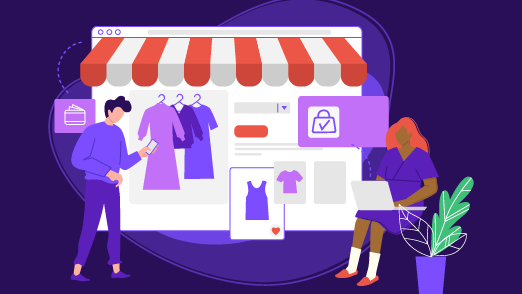 There's a phrase you may have heard before: "The experience is the brand." These days that saying is more true than ever.
A recent survey found that 80 percent of consumers said that the experience a brand created was just as important as the product they sell. It also found that consumers want companies to invest in a digital experience strategy that delivers the same experience they got from in-person interactions, especially now as we continue to work through the global shifts that came with the COVID-19 pandemic.
With the digital experience being that important to modern consumers, brands have been forced to think differently about how they engage with their customers.
What is Digital Experience Strategy?
When we talk about the digital experience (DX), we're referring to every online interaction your customer has with your brand. When we talk about digital experience strategy, we're talking about the overarching plan that includes every element of that experience.
From your shopping cart to how a customer can contact you, every element plays a part in the shopper's experience. No interaction is too small. No interaction is unimportant. And making them all work together is key.
When creating a strategy to work from, the most important question to ask is what the story is that you want to tell? How do you wish to be seen as a brand?
Once you understand the answer to that question, it will inform every aspect of your digital experience strategy and how your DX fits into your overall customer experience.
Why You Need a Digital Customer Experience Strategy
Customer journeys are complex creatures with online and offline segments and marketing and e-commerce elements. But the customer on that journey isn't concerned about the technology behind the experience. They're on their own quest and they expect it to go seamlessly.
With that in mind, making sure you have a strategy in place that comes from a customer mindset is fundamental to developing your omnichannel experience.
A study by the Harvard Business Review found that customers who engage across multiple channels spend an average of 4 percent more in-store and 10 percent more online. It also showed that brands with the strongest omnichannel customer engagement strategies retain an average of 89 percent of their customers, in comparison to 33 percent of companies with weaker strategies.
But what does it mean to have a good DX strategy?
How Do You Build a Good DX Strategy?
There are plenty of things to consider when plotting a digital experience strategy, but at the root of all of them is one thing: content.
From marketing campaigns and social media to product descriptions and confirmation emails, your content is the foundation that your customer experience is built upon. It's important to make sure your content has a consistent voice across channels. What other elements should you consider?.
The customer experience firm KPMG says there are six core pillars that will allow a business to excel at the customer experience. These pillars can be used to comprise any solid DX strategy:
Personalization
Customers want to feel that you understand their specific needs and circumstances and will adapt their experience accordingly.
Integrity
For your customers, integrity means the degree to which you deliver on your promises. If you tell them your product or service does something, they want to have faith that it always will.
Expectations
Customers have expectations about how their needs will be met, and they want you to understand, deliver and, if possible, exceed those expectations.
Resolution
Sometimes the process breaks down despite your best efforts. A great company should not only put the customer back in the position they should have been in as rapidly as possible, but also make them feel good about the unfortunate incident.
Time and Effort
Everyone these days seems to be in a hurry and that makes their shopping time even more limited. Removing obstacles, impediments and bureaucracy to enable the customer to achieve their objectives quickly is an easy way to increase loyalty.
Empathy
Letting your customers know that you can understand what it is like to be in their shoes is essential to connecting with them.
Once you understand these pillars, you can apply those concepts to your strategy and design.
How Do You Know It's Working?
Incorporating a new digital experience strategy is a seismic undertaking. The investments you're making and the culture you're changing won't bear fruit overnight. But that doesn't mean you can't be sure what you're doing is working.
Here are a few ways to track your results:
Define Your Goals
When you create your strategy, you have an idea of what success will look like. Changing those ideas along the way makes it hard to quantify if you're on the way to achieving those goals. Having a well-defined view of success before trying to measure your effectiveness will help you to better develop your metrics.
Once you know what metrics you wish to focus on, set goals that are SMART: specific, measurable, achievable, relevant and time-bound.
Employ Behavior Tracking
Your digital experience design performance can be measured without consumer input. Add heat-mapping software to monitor how consumers are using your channels in real time. This can give you a valuable insight into what is and isn't working along the customer journey.
Measure the Measurables
When you're ready to develop and collect metrics, it's a good idea to focus on important indicators like customer satisfaction and effort.
A customer satisfaction (CSAT) score measures customers' satisfaction about their experience with a product, service or company.
A customer effort (CES) score measures how much of an effort a customer had to expend to achieve their goal. Getting this score at various spots along the way can help determine where the experience needs to be tweaked.
Best Practices for Creating Great Customer DX
No matter what your strategy looks like, there are three tactics you should apply at the heart of it:
Get Personal
Personalization will continue to grow in importance when it comes to digital experience, and it has to occur across all of your channels because your customers don't distinguish between them. They want to feel just as important on your mobile app or kiosk as they do on your website.
Omnichannel or Bust
If you haven't branched out to an omnichannel approach, you're already starting at a disadvantage. Your customers are looking for you where they are, not where you are. Forcing consumers to find you on your turf instead of where they are already makes them begin at a place they aren't comfortable or don't often use. Give them a choice.
Never Be Happy with Good Enough
No matter the touchpoint your customers engage with you through, the experience should be just as solid. Enhancing your brand means aiming to level the playing field across every possible touchpoint. Is your social media stellar but your kiosks fall short? Knowing your weaknesses helps you to see where to invest your attention next.
Does that sound like a project that never ends? It is, but it should be. Your aim is to build a framework that allows you to continually improve, adapt and excel.
Related Resources
For more on crafting a digital experience strategy:
Future-Proof Your Brand With Digital Experience Design
What You Need to Know About Digital Experience Management
How to Get Started with Digital Experience Management