Is your content management system helping you create great content?
Or, is it yet another piece of laggy, legacy enterprise tech that only creates discontent?
Hopefully it's the former, because great content is the core of effective digital business strategies.
But if it is the latter, here's what you need to know about generating great content with great speed. We'll cover why creating content faster is so important today and how to next your CMS to create modern content experiences.
Why Creating Content Faster Matters
While many businesses were already in the process of digital transformation, 2020's COVID-19 pandemic drastically accelerated that transformation. In fact, 70% of retailers that relied on local business introduced new digital channels or boosted existing ones in the wake of the pandemic.
And there's no going back to the old way now.
We live in a digital environment in which consumers connect the most with the brands that can provide an instant and seamless content-powered experience — no matter the time of day or the device. What's more, content is essential to just about every part of your customer's experience, from the marketing funnel to customer support messaging to interactions with your software or physical products.
The need for content has never been greater, and your team has to create, optimize, and distribute it all. But trying to create this much content at the speed customers demand is almost impossible when your team is dragged down by slow, siloed content management solutions.
You can do it all the old way and risk your workers becoming overworked and burned out and your business becoming irrelevant and outpaced by competitors.
Or, you can adopt the best technology for enabling your business to keep up with your grand content vision.
How Modern, Headless CMS Puts Content in the Fast Lane
A headless content management system (CMS) makes content creation fast and keeps content from being tied to any one specific channel or consumer — so it's ready to be customized and re-used at any time.
Headless CMS is called "headless" because it's built on modular architecture that separates the backend (the "body") of the CMS where content is created and stored from the content presentation layer (the "head"), where content is designed for delivery. Application programming interface (API) technology enables the frontend and backend to work together.
Thanks to this modularity, the content within a headless CMS only needs to be created once. From there, it can be quickly re-optimized and re-published over and over again on any device or channel.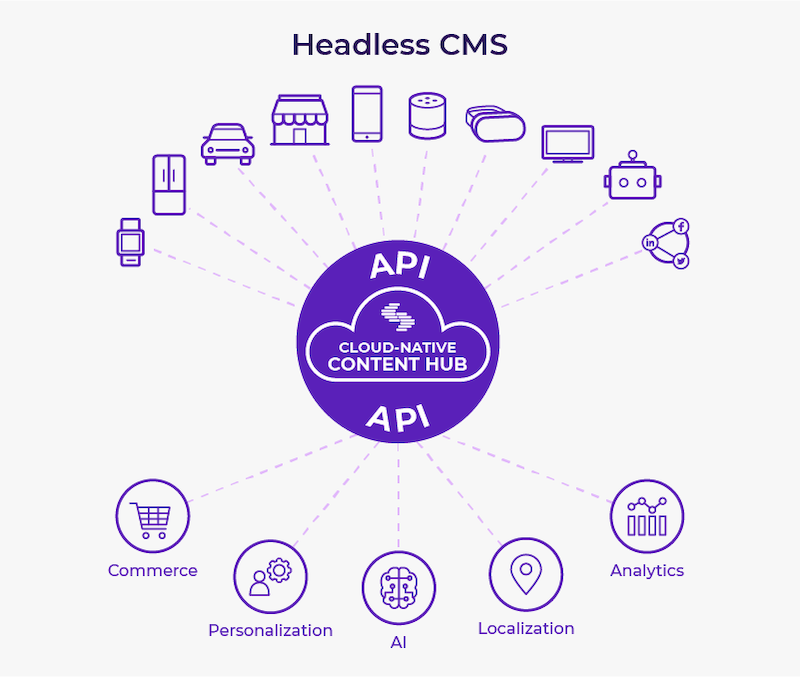 Headless CMS is flexible yet powerful because it's built on MACH principles.
MACH is an acronym that describes technology that is constructed of lean Microservices, employs API connectivity, lives in the Cloud, and whose features are decoupled and Headless.
MACH solutions like headless CMS enable businesses to quickly take advantage of the latest technologies, shift content operations to keep up with new trends, and scale rapidly without undertaking an expensive and time-consuming replatforming project.
Marketers Create Better Content More Quickly
Headless CMS empowers marketing teams to create and store content in flexible, reusable modules. This means content only has to be created once and can then be quickly repurposed and published — no developer ticket required! Finally, content can move at the speed of business.
In addition, the right headless CMS will prioritize content creation features like multiple content environments, instant and accurate page previews, easy-to-use page editors, customizable page templates, detailed permissions settings, and smart publishing workflows. This means marketers can enjoy freedom, flexibility, and fearlessness when it comes to executing content quickly, no matter the scale.
Developers Focus on Building Great Experiences
Because the functionality within a headless CMS is decoupled, developers can actually work within the CMS at the same time that marketers are creating and publishing content.
When developers can use their language of choice to build the best front-end experience for content without waiting for that content to be finalized, you can launch content much faster. This enables you to serve consumers the right content at the right time and get in on trends before your competitors.
On top of that, the API-powered connectivity and microservices-based architecture within a headless CMS make it easy to integrate seamlessly with other modern tools and services. These tools help developers deliver increased functionality without wasting time dealing with outdated widgets and plug-ins that always seem to be buggy or broken in one way or another.
Never Settle: Next Your CMS with Contentstack
Do you have a singular platform that enables you to easily and quickly manage content throughout its entire lifecycle? Or are you settling when it comes to your CMS?
Today, businesses don't have to settle or sacrifice speed. MACH-based headless CMS solutions like Contentstack are the faster, more affordable, more flexible, and longer-lasting option when it comes to marketing content technology.
Never settle. Next your CMS.
Learn more about choosing the best headless CMS
for your organization or
dive right in with a free two-week trial or personalized demo of Contentstack today
.