Back to Blogs
Conversational Marketing is the Future (and the Future is Now)
Making marketing feel more like a one-on-one sales conversation (rather than a generic broadcast) has long been the "holy grail" for marketers. If each marketing interaction, message, and call to action could be precisely tailored to the prospect's needs, informed by their past actions, and served up in the right context; then it should all add up to more effective marketing. And in fact, the data points in this direction.
Studies on the effects of personalization show clear benefits:
91% of consumers are more likely to shop with brands that provide offers specific and relevant to them
80% of customers are more likely to purchase products or services from brands that provide personalized experiences
79% of consumers are only likely to engage with a brand's offer if that offer has been personalized to reflect previous interactions that the consumer has had with the brand
The quest to provide personalization has driven many of the biggest shifts in marketing over the last several years. It has led to the emergence of a new type of marketing strategy focused on building personal relationships that act more as dialogue than as broadcast.
Welcome to the era of conversational marketing.

A Brief History of Conversational Marketing
Not too long ago, websites were simple HTML and CSS. Before the age of interactive websites and advanced JavaScript frameworks, browsing the web was more like flipping through a catalog than being treated to a great shopping experience. But websites now offer interactive, immersive experiences. And, in many cases, there is someone or something to guide you to the content or information that you need with just a single click.
Website chat, in particular, has become a nearly ubiquitous part of the marketing stack. Companies like Intercom and Drift pioneered the live-chat-on-every-website trend, offering a real-time opportunity for website visitors to connect with a person or bot on any page.
This trend has been further accelerated by the growing sophistication of chatbots that are able to instantly ingest, analyze, and act on troves of customer data. This makes it possible for firms to deploy always-on conversational marketing powered by bots rather than humans. All in all, the U.S. chatbot market is expected to grow by roughly 3x between 2020 and 2025.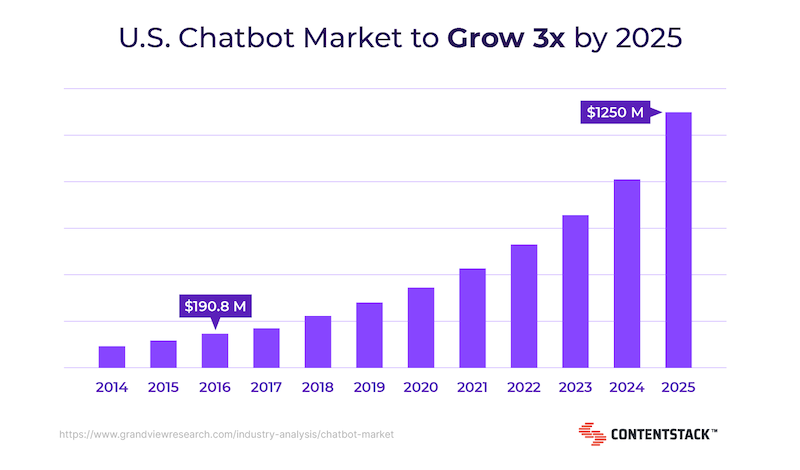 Interestingly, many B2B companies have lagged behind on chatbot trends. A 2018 study from Boomtown found that fewer than 1% of B2B companies implemented chatbots on their website. This trend will likely shift in the coming years as chatbots come to replace traditional, human-powered chat options.
One way that this will come to fruition is the increasing sophistication of said chatbots. Most notably, deep integrations between chatbots and customer data, structured content, and AI/machine learning are giving rise to a new breed of chatbots that can far outperform human agents, even in the art of conversation.

Getting Smarter: Modern Conversational Marketing
Since the advent of live chat functionality, the technology has grown smarter and more versatile. And this evolution has given way to modern chat software, available on many of your favorite websites. These always-on chat widgets—often paired with AI-powered chatbots—have ushered in a new paradigm.
While this technology functions similarly to earlier chat options, having an always-on chat option introduced a significant and important dimension that has transformed more generic live chat into something greater. That new dimension is context.
By making chat functionality ever-present, companies gain insight into the context in which a website visitor is initiating conversation. Combine that with the ability to track and incorporate historical browsing behavior, past purchases, and even personal customer histories and you have the ingredients for a transformational customer experience with conversational marketing.
Having evolved from the most basic building blocks of live chat and website tracking, conversational marketing allows marketers to deliver deeply personalized experiences that teeter on true one-to-one marketing.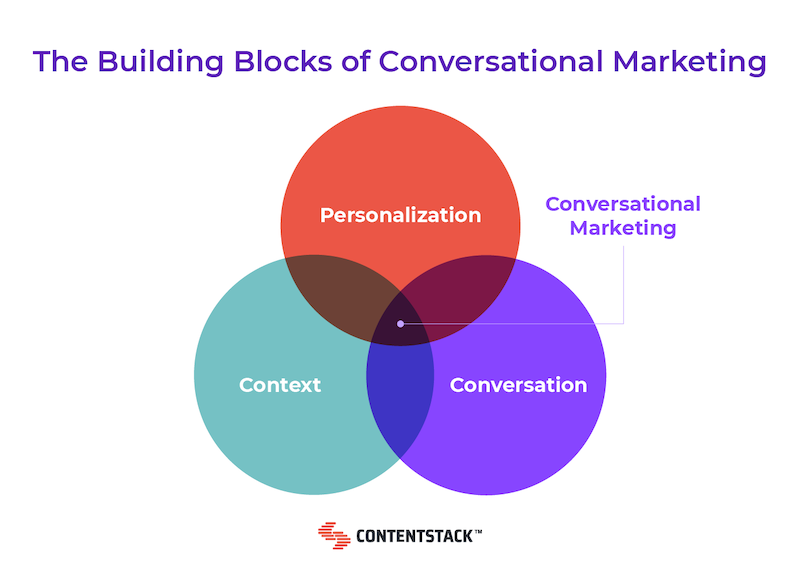 As live chat has evolved into the use of chatbots, the marriage between AI and data has furthered the advancement of conversational marketing. But many firms are likely to hit roadblocks in the pursuit of sophisticated personalization. Not the least of which is the legacy CMS, which often doesn't integrate well with modern tools and frameworks to serve up the personalized content needed to fuel conversation.
Here, too, a new generation of tools has enabled innovation. The headless CMS has presented a new, API-first approach to content and the emergence of the content as a service (CaaS) technology framework. Not only is this a boon to content strategy and marketing teams, but it unlocks content across all contexts, channels, and interactions.
Headless CMS: The Conversational Marketing Command Center
The core of your conversational marketing strategy is content.
Without content, your chatbot (or human agents, for that matter) have no material from which to draw answers, form responses, or deliver personalized experiences.
A headless CMS serves as the central content hub that links together various inputs and technology layers to first understand the context of a customer conversation, and then to select and deliver the correct content.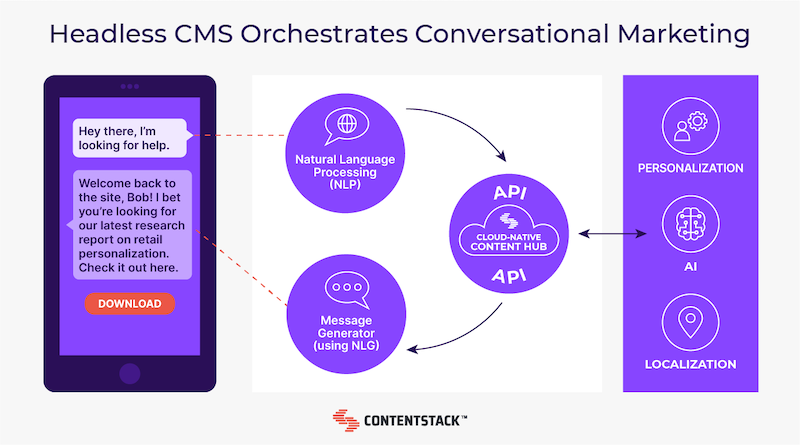 The new breed of headless CMS goes way beyond the capabilities of legacy software. No longer is the CMS built to just churn out templatized pages for dynamic websites. Now, the CMS is a truly universal tool for creating, managing, and deploying content in an omnichannel world.
Where legacy systems have added an API to "extend" what is, essentially, a blogging platform, a truly API-first solution is built from the ground up to power innovative marketing strategies. At the core of the headless CMS is a modular content architecture, which allows teams to create and deploy content that's context and channel agnostic. This creates a nearly infinite array of content personalization options, which can be connected to AI integrations like IBM's Watson, Salesforce Einstein, or MonkeyLearn to combine individual customer data and deliver personalized experiences on the fly.
This modern content infrastructure allows teams to orchestrate automated one-to-one marketing personalization that would have seemed like science fiction just a few short years ago.

A Roadmap to Conversational Marketing and Personalized Customer Journeys
Ready to kickstart your conversational marketing strategy? Download a free copy of Gartner's report, Elevate Your Horizontal Portal to a Digital Experience Platform.
Inside, you'll learn how the modern digital experience platform is built on a new type of technology stack where headless, API-first, and cloud-native tools unlock a microservices architecture that will usher in a new era of personalized marketing and 1-to-1 conversations at scale.
And if you want to learn more about how you can build evolution and agility into your organization's mindset, watch "
The Keys to Moving Faster in a Digital Economy: Adopting a Product Mindset for You and Your Technology Partners
." This fireside chat with 3Pillar provides insights on leadership, product development, and innovation.