Customer care. Client relations. Support guru (please, make it stop).
There are many different terms used to describe the way businesses interact with their customers—but the only one you really need to understand inside and out? Customer experience.
Customer experience encompasses both customer service and customer satisfaction. It addresses how the end user feels about a business' efforts to support and care about them and impacts how they perceive the organization itself.
When a customer has an enjoyable experience, they're likely to make repeat purchases, recommend your brand, and save you a ton on marketing expenses.
McKinsey & Company found that a great customer experience can increase customer satisfaction by as much as 20 percent, which lifts revenue by 15 percent and even lowers customer care spending by 20 percent. And 73 percent of consumers say customer experience is an important factor in a purchase while 65 percent find it more influential than advertising.
Already, nearly 90 percent of companies compete first and foremost on customer experience. That's a 150 percent increase over the last decade! Unfortunately, while 80 percent of companies believe they're nailing the customer experience, only 8 percent of customers agree.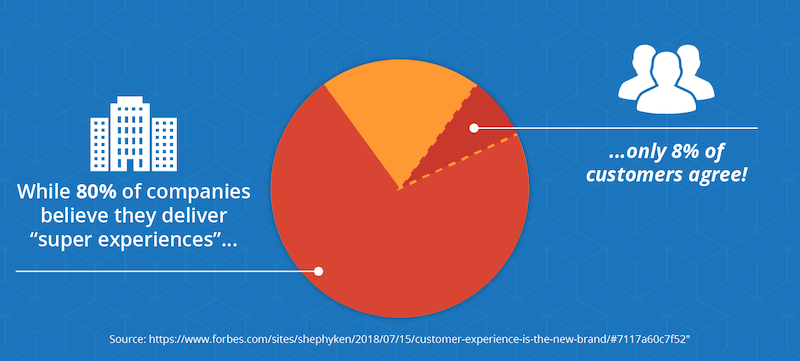 Add to that to a leading customer experience consulting firm's findings that, by 2020, customer experience will be more of a differentiator than price and even product (or service) and it becomes clear: Customer experience management is the new enterprise marketing.
Let's explore a few key reasons why customer experience management is the most important investment brands should be making in this day and age.
6 Reasons Customer Experience Management Should Take Precedence in Your Enterprise Marketing Strategy
As products and services become commodities, organizations will seek new ways to differentiate themselves. The smart ones are doing so by focusing on customer experience management.
Need a little convincing yourself or a rock-solid argument to present to your higher-ups? Here are six reasons it's time to prioritize customer experience management when it comes to your enterprise marketing efforts.
1. Win Customers Based on Experience, Not on Price
American Express found that U.S. consumers are willing to spend 17 percent more if it means they can work with a company that prioritizes the customer experience. Millennials, the largest generation in history, are willing to spend the most—reporting that they'd shell out as much as 21 percent extra for a great experience.
On the flip side, more than half of respondents said they'd abandoned a transaction due to a poor experience, and 33 percent have considered switching companies altogether for the same reason.
With customer experience on the scene, price becomes much less critical when it comes to deciding between providers. This is a relief for businesses looking to set themselves apart in their industries without cutting corners, shaving already tight margins, and otherwise perpetuating the unhealthy race to the lowest price where, ultimately, no one wins.
2. Great Consumer Experiences Generate Retention, Referrals, and Revenue
It can be as much as seven times cheaper to retain a customer than to acquire a new one. With stats that suggest that half of consumers return following a positive experience, it's hard not to see the ROI of customer experience management.
In addition to generating more revenue at low or no marketing cost, loyal customers also spread the word about your offerings and customer experience. While this word-of-mouth marketing doesn't cost you anything extra, referral-based sales close as much as 70 percent of the time—a significant improvement over the 30 percent close rates generated by other sources.
Every time a company retains 10 percent of their customers, their value increases by 30 percent. Customer experience management that boosts referrals and builds retention is undeniably a revenue-revving move.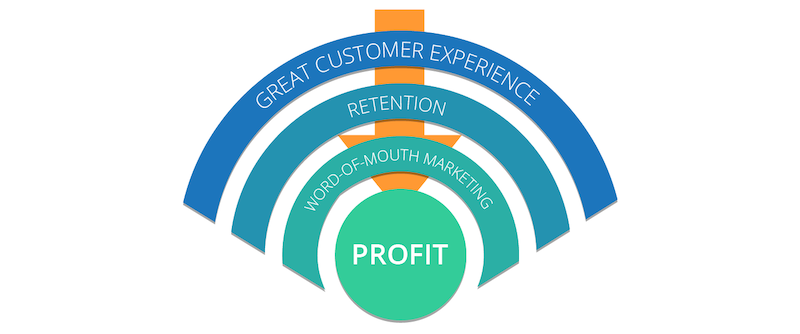 3. The Customer's Journey Inspires Ongoing Innovation
Focusing on the customer's experience pays off in another, not-so-obvious way—it inspires innovation.
Asking for, listening to, and implementing customer recommendations gives businesses a much larger pool of creative ideas from which to choose. And who better to get innovative ideas from than those who pay your bills with their purchases?
Make impactful innovations and better serve your customers' ever-changing expectations all at once with a commitment to always-on customer experience management.
4. A Great Experience Adds Another Layer of Value for Consumers
In a connected world, consumers value an experience where they encounter personalization, consistency, and speed.
Case in point: 71 percent of consumers feel frustrated by impersonal shopping experiences, over half have come to expect a frictionless flow between channels, and 80 percent say they are more loyal to brands that respond to them immediately.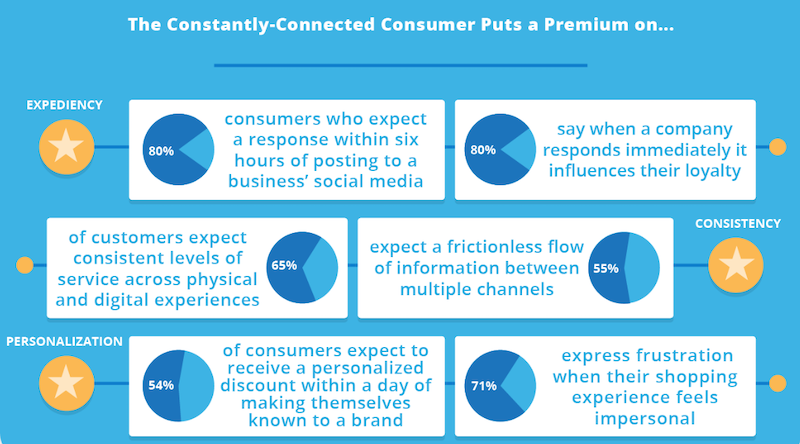 Did you notice price or product anywhere on that list? No. Today's savvy shoppers can get their hands on almost anything they want at any level of quality or cost, so those factors are no longer critical differentiators. Instead, digital consumers engage with brands based on the value they can add to their lives. Provide that value by putting together a personalized, consistent, and responsive customer experience and consumers will invest in you—now and in the future.
5. Positive Sentiment Strengthens Your Brand
Positive consumer sentiment is a powerful promoter of your brand.
One survey found that nearly 60 percent of consumers visit a company's website after reading positive reviews, and over 70 percent trust a business more after seeing such reviews. Interestingly, over 90 percent of 18-34-year-olds trust online reviews as much as they trust personal recommendations.
Luckily, it's not hard to harness this positive sentiment—all you have to do is ask. BrightLocal found that when nearly 75 percent of customers were asked to leave feedback, a whopping 68 percent did so.
Provide a great experience that inspires positive sentiment and turn your customers into mini (and free!) marketing teams that spread the word and drive traffic to your business.
6. Customer Experience Management Makes Powerful Enterprise Marketing Affordable and Attainable
Creating a great customer experience doesn't necessarily mean a hefty investment in expensive systems or a brand-new marketing staff. What it does mean is adopting a modern content management system (CMS) that allows you to create, manage, and deliver personalized content experiences. Because content is the "connective tissue," the central hub, the heart of the customer experience.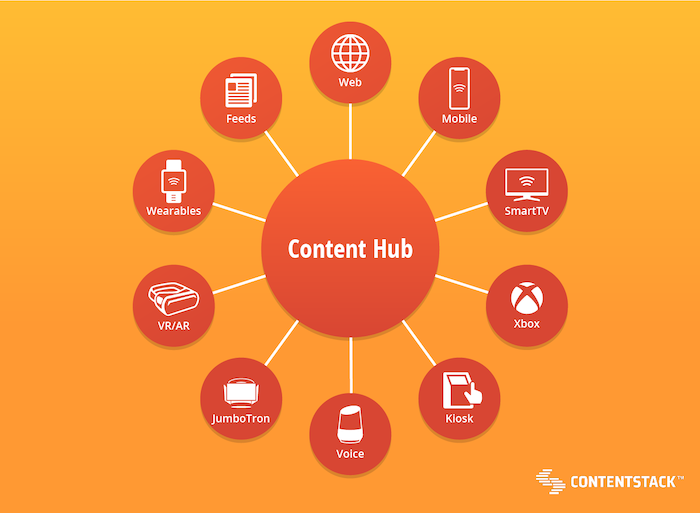 Any enterprise marketing team—no matter the size—call pull off powerful marketing affordably and attainably with a cutting-edge CMS that allows them to customize experiences on every channel where customers engage with their brand.
Make Your Best Enterprise Marketing Investment Yet—Customer Experience Management
Now that two-thirds of consumers say customer experience is an important purchasing factor, and nearly 90 percent of companies are already prioritizing experience over price and product—the writing's on the wall: Customer experience management is the best marketing investment an enterprise can make.
Make your first installment today by learning about the six pillars at the core of the customer experience. After that, you'll be ready to start delivering the experiences consumers crave by building content-driven experiences right into your omnichannel marketing strategy.