Omnichannel content management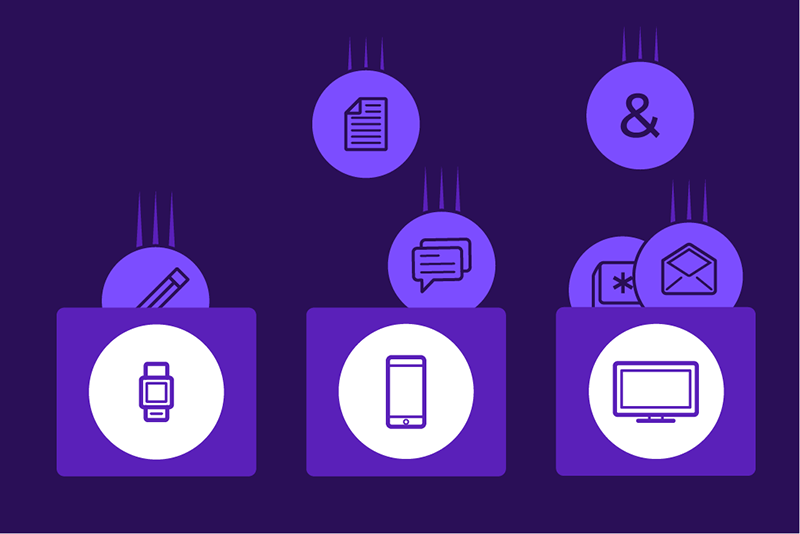 Think of how you consumed content from brands before the rise of the internet — linearly, page-by-page, for example, in a newspaper or a magazine.
But now that you have a small computer in your pocket that can access a vast amount of information from around the world in just a few clicks. You can consume brand content in any order and even interact with businesses across various platforms and social media channels.
While this is excellent news for consumers who want to become more informed about the brands they buy, it requires businesses to rethink the strategies they've relied on since content marketing became a thing.
Here's what that new way of thinking looks like, key reasons it should matter to your brand more than ever, and how to build your custom platform for delivering modern content marketing.
A modern way to think about content marketing: Omnichannel content management
Omnichannel content management is a new way of thinking about content marketing. With an omnichannel content management strategy and the right platform for delivering it — which we'll discuss in-depth later — businesses can build content-driven experiences that are personalized and consistent for each consumer across each channel upon which they interact with your brand.
Omnichannel content management may be just the solution you're looking for to beat out your competition and win over a new tech-savvy audience.
Why is omnichannel content management paramount for brands?
Developing omnichannel content management is indispensable for modern businesses for two big reasons. And it all starts with content.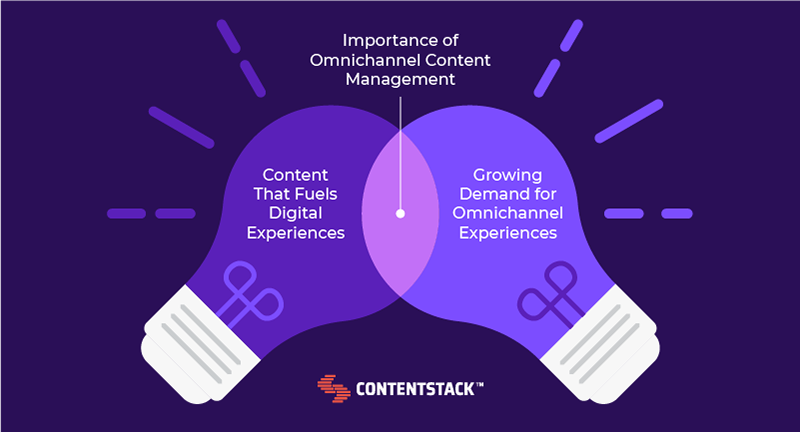 Content is the core of the digital experience
Content is what exists at the core of your consumer communications. Content powers your social media and marketing email messaging, your blog and other SEO efforts, your landing pages and product descriptions, the knowledge base from which your chatbots and customer service agents pull information to answer consumer queries, and more.
Ultimately, content enables you to put your best foot forward and meet consumers, no matter where they are, with a cohesive experience that's centered on their wants and needs. And today, it's more important than ever before to serve cohesive experiences in an omnichannel environment. Why? Because the consumer desire for great omnichannel experiences is on the rise.
Modern consumers demand omnichannel experiences now more than ever
Omnichannel content consumption is certainly already in-demand — brands with omnichannel strategies report an average retention rate of around 89%, and 69% of consumers expect a consistent omnichannel experience. Furthermore, the impact of COVID-19 proved how consumers are continuing the omnichannel trend. In the summer of 2020, ecommerce sales reached 55% year-over-year growth at their peak. By the same time, shoppers had spent an additional $107 billion online. As of August 2020, BOPIS (Buy Online Pay in Store) increased 259% year over year.
And it's not just retail shopping that's on the rise. Businesses that have had to shift to new and rapidly-changing models of working need modern services, technologies, and other tools to help them and their workers keep up.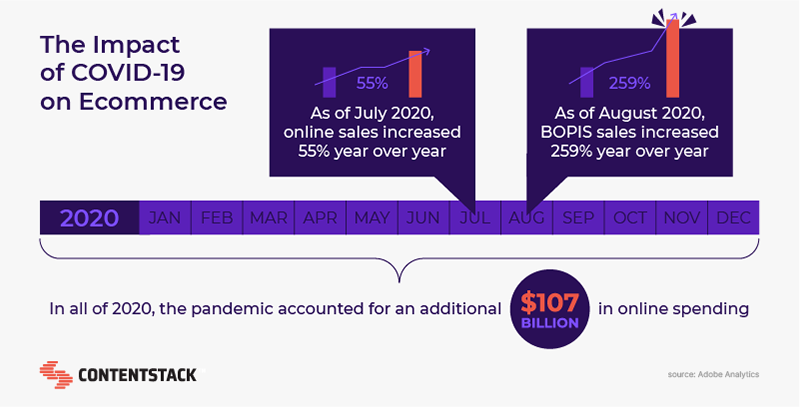 It's safe to say that brands that capture shopper attention on all the outlets where they're spending more time than ever will make the most of a strange new reality.
Omnichannel content management: How brands deliver content effectively
As we discussed above, it's clear that content is the nucleus of a cohesive consumer-brand experience. And it's also clear that consumers seek out that cohesive kind of experience more often and across more digital channels than ever before. Together, these two factors add up to prove one thing: Omnichannel content management is paramount for delivering marketing that moves the needle.
Here's how to build a platform to help you deliver omnichannel content that works.
Key technology to build your omnichannel content management platform
Every marketing department has a different mix of professionals and uses various tools to get the job done. But, at the same time, most of them need a "single source of truth" where business-wide content assets can be centralized and standardized, so they're always easy to find and ready to use no matter the campaign.
This single source is known as the omnichannel content management platform. When it comes to the build-versus-buy debate of whether to go with tools built into a CMS as an all-in-one solution, we're solidly in the "build" camp camp on this one. This approach ensures you create an agile, updatable platform with microservices and state-of-the-art tools.
That said, here's how to combine today's top tools to create your omnichannel content management platform that provides the structure your team needs to do everything from content creation to consumer-level personalization to cross-channel distribution.
Learning what content your customer wants: Smart analytics
The first step in creating effective omnichannel content is getting to know the people who will consume it. Luckily, technological advancements make this much easier than ever before to do at scale.
Your customers and leads alike leave data "footprints" every time they interact with your digital properties. When combined with behaviors, this is data that can go a long way in developing personalized marketing content and strategies. Of course, that's if you're able to collect, organize, and analyze it effectively.
This analysis is where artificial intelligence (AI) comes in — in the form of smart analytics. Augmented analytical tools employ AI to boost what humans can do when preparing data, recognizing patterns, and generating insights. Predictive analytical platforms use AI to determine how likely specific outcomes are based on the data they've been fed.
These two types of AI empower you to learn everything you need to know about leads and customers to help develop the personalized omnichannel content and campaigns they want — more on that next.
Customizing content to maximize engagement: Personalization platforms
Personalization is the practice of customizing the content that a consumer or lead is served based on their preferences and behaviors.
Personalization has shown to grow revenue by up to 15%. And in 2018, over 90% of consumers told Accenture they'd be more likely to shop with brands who recognize them and provide relevant offers and recommendations based on their personal preferences.
We don't need to tell you personalization is a must-have — especially in an increasingly digital world. A platform that enables personalization often uses AI — with a little help from humans — to basically "label" pieces of content. Then, using what it knows about the person visiting your digital property (with the help of the smart analytics platform you've already installed), it's able to serve the content with the labels that match that person's preferences.
Now it's time to put all of that carefully-personalized content into action across all your digital brand channels.
Delivering content across channels effectively and efficiently: Headless content management
One of your omnichannel content management platform's key goals is to keep your content from being "tied to" specific channels and consumer types so that it's always at the ready no matter the situation. Headless content management systems (CMSs) were built for this exact purpose.
Headless CMS separates content creation from content design and distribution. The system uses application programming interface (API) technology that enables the frontend (the "head") where the content is displayed to communicate with the backend (the "body") where the content is created and stored.
With this modular infrastructure, content only needs to be created and "labeled" by the personalization engine one time before it can be re-optimized and re-published over and over again on any device or channel — from websites to social media platforms, chatbots, digital billboards, smartwatches, and beyond.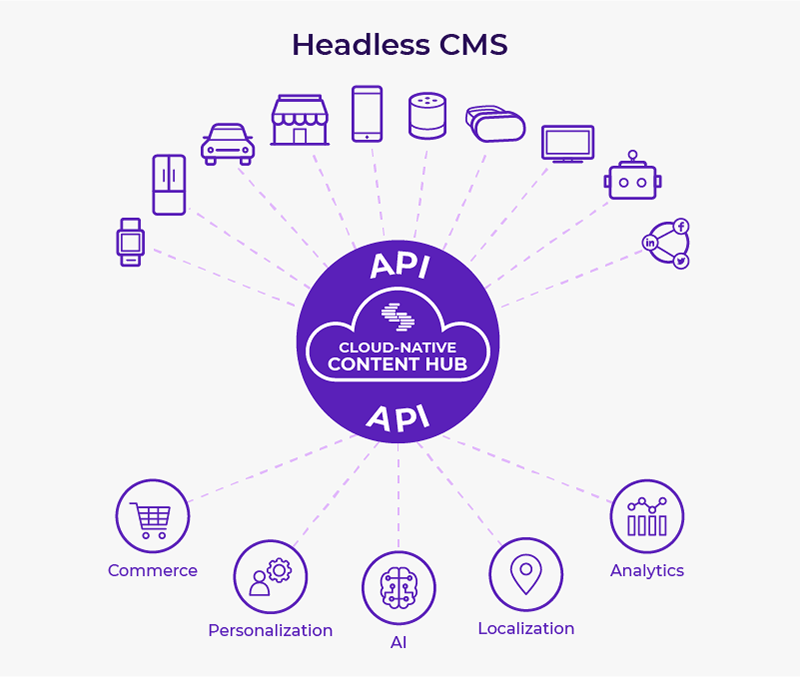 When you build your omnichannel content management platform on a headless CMS, you'll also be able to integrate whatever best-of-breed solutions you need — such as your smart analytics and personalization tools — without development time and cost.
Headless CMS can help you unite your marketing team, campaigns, and assets in a single source of truth from which you can deliver personalized, omnichannel content experiences.
Keep learning about omnichannel content management
When was the last time you consumed content from a brand in a completely linear fashion, like turning through the pages of a magazine?
If you're like most consumers who are hopping from digital channel to digital channel while shopping today, it's probably been a long time.
So if your business is still serving content that only works for one type of consumer on one type of channel in one specific order, it's time to use this guide to start upgrading your omnichannel content management efforts today.
And to learn more about what headless CMS can do for marketing agility and effectiveness,
check out our recording of a recent webinar with Contentstack clients Freeletics and Kin + Carta
, where they discuss how they're getting to market 80% faster, reducing engineering costs by 60%, and more.
Related Articles
Here are other CMS articles we think you'll find useful.