Digital experience design 101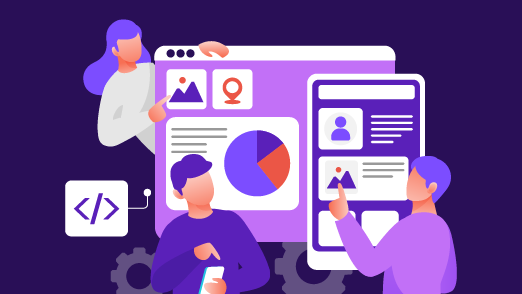 Offering your customers a dynamic and seamless digital experience is essential in business today. With so much competition, you can't afford to lose customers because of dated technology.
Consumers already interact digitally at every stage of the buying journey, from researching solutions to learning more about specific brands, acquiring and consuming a product or service, and seeking out support for their purchase after the fact.
Is your experience meeting consumers on their preferred digital channels?
In a 2021 FullStory survey, 64% of customers reported having problems with an online experience or transaction in the last six months. And 60% of respondents said they were not likely to return to a site where they encountered problems.
And a seamless digital experience begins with top-notch design. In this guide, we will discuss the elements of digital experience design as well as offer examples, steps and tips on building your DX strategy.
What is digital experience design?
The digital experience encompasses interactions consumers have with your brand using various devices and can include:
● Website
● Email
● Online advertising
● Social media
● Chatbots
● In-store kiosks
Businesses can use many different tools in tandem to deliver cohesive and relevant digital experiences to the consumer throughout their buying journey. Some of these include digital asset management (DAM) software, a customer relationship management (CRM) tool, an analytics platform, a digital experience platform (DXP), and beyond.
Digital experience (DX) design is the use of this technology to deliver exactly what your customers need from your business. Allowing the customer to feel in control, easily accomplishing what they came to you for in the first place, is the hallmark of good DX design. This means your online presence is seamless and intuitive and any interaction is easy and fast for every client.
The key to digital experience design is knowing your customer. User research will reveal what customers expect and think about your business and allow you to cater your online experience directly to them.
Is digital design the same as user experience?
Digital design is the framework that affects the user experience. Sometimes you'll see DX design and user experience (UX) design used interchangeably. Digital design involves the technology and architecture of your business' digital presence. User experience comes from the perspective of the customer and how they interact – for better or worse – with that technology and architecture. In the end, DX design and UX design target the same ideals: a digital experience with your business that is seamless, easy to complete and something the customer feels good about.
Elements of digital experience design
Digital customer experience design begins and ends with the customer's needs, but we can break down the elements into three main ideas: user interface, user experience design, and customer experience.
User Interface (UI): The user interface (UI) is the face of the technology the user first sees and uses to interact with your business. The homepage, login screen, or opening screen on your app are all examples of the front-end user interface your customers see first. It is essential that the user interface is intuitive and easy to understand.
User Experience Design (UXD): User experience design (UXD) can measure how successful your business is at offering a quality and seamless user experience. UXD uses user research to predict how customers will engage with your business, incorporating the customer needs into its design. This process focuses on and calls for the highest levels of usability, accessibility, responsiveness and intuitiveness. Some key steps to effective digital user experience design include:
· Stakeholder interviews
· User research
· UX audit
· Build information architecture
· Visual design
· Prototyping
· Testing
Customer Experience (CX): Building a strong relationship with your customer is the ultimate goal of business. The customer experience (CX) is every step of the customer's journey with your brand that builds that relationship. The customer experience includes their research into your services all the way through the buying phase, receiving news and updates from your brand and the ongoing support you offer the customer.
Digital experience design in action
Let's take a real-world look at the digital experience design in use. A customer wants to watch a season of their favorite show on Hulu. She subscribes to Hulu, uses the search feature to look for the series name and then watches the show.
A good user experience design allows the customer to:
Quickly select a plan that fits her needs and subscribe.
Easily find her desired show once its title is entered in the search bar.
Begin watching the show immediately by pressing "Play."
Providing this experience means that Hulu did three things well:
Information architecture: Content was neatly organized, labeled and easy to find.
Visual design: The look of the interface was attractive and easy to understand.
Usable interface: Features the customer needed were available and easy to find.
From a business perspective, a successful digital experience delivers a customer who will continue subscribing. To achieve this, the user experience ensures the customer:
Enjoys a personalized experience through Hulu's show recommendations.
Receives prompt responses from the Hulu team if she raises a query.
Feels no friction across any touchpoints or actions on the platform (mobile, tablet or desktop).
Digital experience design strategy
Providing your customers with an experience that is both relevant and useful helps ensure a strong relationship for years to come. A quality digital experience includes these four ideas:
Customer journey mapping
Research the different kinds of customers you have and how each type uses your digital platform. Each of these "personas" can be grouped and tracked to see how different types of users have different needs, wants, preferences and uses for your brand. This will help you map out the journey your customers take across all touchpoints of your digital space. It will also help you identify any gaps or problem areas for improvement.
Identify touchpoints and channels
With your persona groups' journeys documented, the map can help analyze customer behavior. The journey map is essential in tracking customer behavior across channels. It also helps reveal customer interaction along the touchpoints and channels.
Offer an omnichannel customer experience
An omnichannel customer experience offers a consistent and connected customer experience. For example, if a customer leaves the "Movies" section on Hulu, a quality omnichannel experience means they can resume from the same point in very few interactions (swipes, taps) with the user interface. An omnichannel experience incorporates different touchpoints that work together seamlessly in the design experience. These include:
Open web sources
Social media channels
Customer service or relationship management (online chat, support, loyalty programs, and push notifications)
Video (how-to videos, brand intros, interviews, etc.)
Optimization
Optimization is an ever-evolving important aspect to a good digital experience design. It includes data analytics, research into customer journeys as well as frequent testing to ensure your digital experience is always the most user friendly and up to date.
Digital experience design framework
A digital experience design framework is the foundation of your online brand. Every touchpoint between your organization and your customer is part of the digital experience.
Here are the 4E's of digital experience design:
Explore: Utilize user research to understand your customers' needs and expectations.
Evaluate: Usability testing is key to perfect the user experience.
Experiment: What's missing in your customer service experience? Brainstorm and implement new ideas that will help fill these gaps.
Engage: Continuously innovate your digital experience design based on observation and feedback.
Getting started with better digital experiences
Before you can begin the process of designing digital experiences that delight your customers, you need a platform that can support an integrated DX strategy. The ideal solution is a content management system with MACH technology (microservices, API technology, cloud-native software and headless architecture).
MACH technology allows you to integrate the tools you need for your unique business and gives you the ability to quickly adapt to market changes and scale as needed. To learn more about headless CMS technology and how it can help your digital experience design strategy, check out our Headless CMS Buyer's Guide.
Here are more articles that you may find useful:
● Understanding Engaging and Personalized Digital Experiences (DXP)
● Digital Experience Platforms (DXP) vs. CMS
● What Is a DXP? Understanding Digital Experience Platforms
Related Articles
Here are other CMS articles we think you'll find useful.