As a decision-maker in your retail organization, it often falls on you to determine which omnichannel trends are worth pursuing. Unfortunately, that job is just getting harder and harder as technology continues to advance at break-neck speeds and the market gets more saturated with competitors.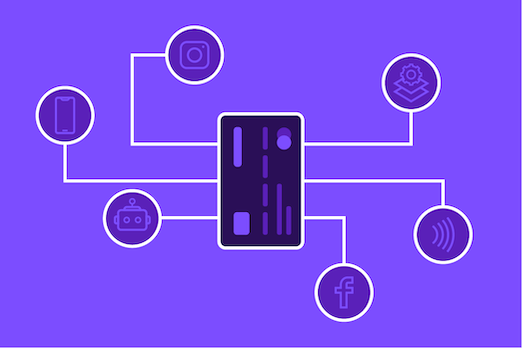 In this primer, we'll uncover the trends that today's leading omnichannel retailers are going all-in on and the technology you can adopt today to make the most of these trends and stay at the top of your retail game.
What Does Omnichannel Retail Look Like Today?
There's no doubt that retail has undergone a transformation.
Mark Patchett, founder of The Ecom Academy, said it best:
" … The customer journey is now far from linear; it's not only multi-device, but multiplatform. Your prospects will bounce from Facebook, Instagram, and Snapchat to email, FB Messenger, back to SMS...and so on. 2020 will be all about achieving multi-channel efficiency and crafting platform-specific messages to be at the right place, at the right time, with the right action driving hook."
And he's right. In 2020, in 2021, and into the future, omnichannel is absolutely the name of the game when it comes to delivering on retail customers' expectations. But what does omnichannel retail mean exactly?
Omnichannel retail creates an experience in which each consumer has a cohesive cross-channel purchasing journey that feels like it was personalized just for them. In the following graphic, you can see what a (well-done) real-life omnichannel retail experience might look like as an imaginary consumer, "Chen," shops for a product: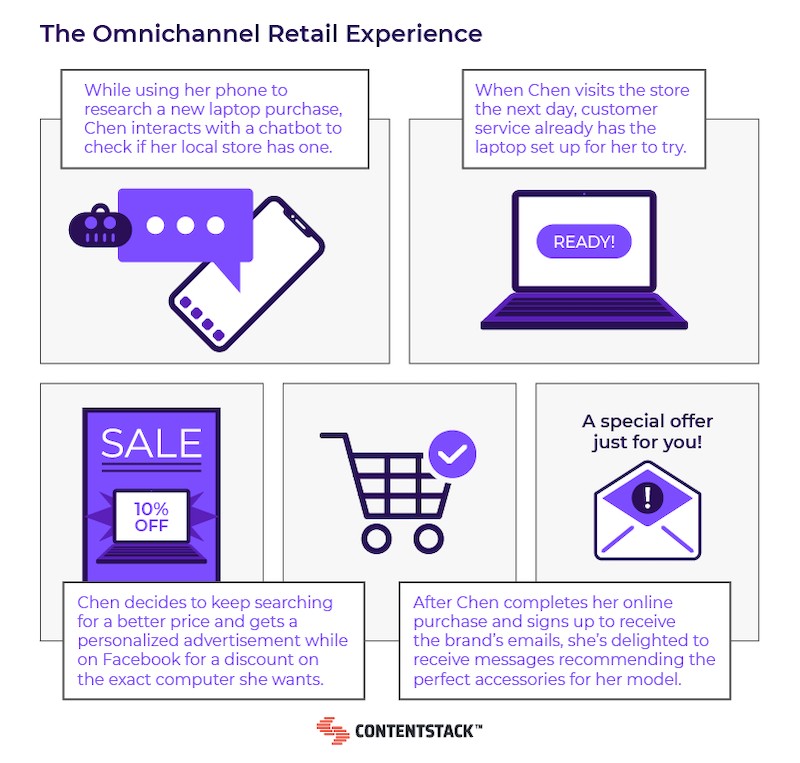 The upside of creating omnichannel retail experiences is that they can make a consumer feel like your most important customer and create bonds that generate high lifetime value, lead to powerful word-of-mouth marketing on your behalf, and more.
Of course there is also a downside to omnichannel retail: the effort involved for retailers to create and deploy these high-touch experiences. But there are a few strategies omnichannel retailers can use to mitigate the outpouring of time and effort that omnichannel experiences can require:
1. Focus in on the specific channel or trend that works for you instead of trying to be everywhere, all the time (learn from what some leading retailers have done in the next section).
2. Adopt technology that takes the leg work out of omnichannel retail—which we'll discuss in much more depth later.
Let's talk more about the first strategy.
5 Cutting-Edge Trends and the Omnichannel Retailers Leading the Way
In an era when the state of shopping is changing quickly, it's more important than ever to understand the retail trends that are enabling new types of interactions between brands and buyers. Let's cut through the noise and get right to the heart of the leading trends today's biggest omnichannel retailers are pursuing.
1. Walmart Delivers on Shoppers' Desire for Contactless Shopping in a Post-Pandemic World
It's not too surprising to learn that, in response to COVID-19, a pretty massive 87% of shoppers say they prefer either touchless or "robust" self-checkout processes. That's why omnichannel retailer Walmart rolled out no-contact payment across all stores using their mobile app in the spring of 2020.
Because Walmart already had the infrastructure in place—in the form of an app as well as in-store self-checkouts—it was relatively simple for them to add this new payment channel to their existing omnichannel strategy.
2. Lemonade Outpaces Traditional Insurance Providers by Jumping on Chatbot Trend
Drift's 2020 State of Conversational Marketing report found a 92% jump in brands using chatbots between 2019 and 2020. And in 2020 alone, they determined that almost 25% of consumers used those bots to chat with brands.
Chatbots have been on-trend in retail for several years now, but these days they're really taking off. And modern insurance provider Lemonade isn't one to be left out. Lemonade uses not one but three different chatbots to provide a vigorous omnichannel retail experience for customers.
Their policy-focused chatbot, Maya, is equipped to onboard new customers in a minuscule 1.5 minutes. And another chatbot, the claims-focused one named "Jim," is able to understand and settle claims in just seconds. Compared to the days and sometimes even months this process can take when working with traditional insurance retailers, it's easy to see what makes Lemonade a standout among omnichannel retailers, especially those interrupting more stale service spaces such as insurance.
3. Target Takes Advantage of In-Store Mobile Usage
Foresee Results found that nearly three-quarters of shoppers pull out their smartphones while shopping in a physical retail store. Sixty percent of the time, these shoppers are looking for information on a product they've seen in store. But even more often—62% of the time to be exact—these shoppers are actually using the store's mobile app!
The decidedly omnichannel retailer, Target, cashes in on this shopping trend by not only making their mobile app easy to use but by rewarding in-store shoppers for using it. By using the app to join Target Circle (Target's loyalty program) and scan barcodes in-store, Target shoppers can access exclusive discounts and rewards.
This omnichannel trend is working for Target, whose Circle program was the country's fastest-growing loyalty program when it launched in 2019. Over 25 million customers signed up in the first two weeks alone!

4. Madewell Sees Success With a New Sales Channel: Social
Social commerce is exactly what it sounds like: the marriage of social media and shopping. Even though it's still a relatively new outlet for even savvy omnichannel retailers, a report by eMarketer and Insider Intelligence predicts that social commerce will grow nearly 35% in 2021 to reach a value of $36 billion, accounting for over 4% of retail ecommerce sales as a whole.
Among the social channels where consumers are shopping, Instagram leads the pack. The social media giant reports that 90% of people on Instagram follow at least one business and 70% of "shopping enthusiasts" use the platform to discover new brands and products. The primarily clothing-focused retailer Madewell is one of those brands that Instagram users might discover while scrolling through the app.
Madewell's envy-inducing lifestyle-focused photography translates perfectly to the image-focused app. Featuring a mix of stills, videos, and even some user-generated content (all perfectly curated and on-brand, of course), Madewell's Instagram feed creates a shoppable digital storefront that closely mimics the in-store shopping experience. In fact, this particular omnichannel retail experience was even recognized by the Webby Awards when the brand was nominated for "Overall Best Brand Presence."
5. The Spectator Adopts MACH to Deliver Content Across an Ever-Increasing Number of Consumer Channels
MACH is a modern term for describing technology that is microservices-based, connected using application programming interface (API) technology, cloud-native, and built from the ground up using headless architecture. Microservices + APIs + cloud + headless = MACH.
MACH technology is fast and affordable, but perhaps most importantly, it empowers the organizations that use it to keep up with even the fastest-emerging trends. In other words, it's a perfect fit for a retail sector that's been rocked by omnichannel developments: publishing.
The Spectator, a weekly British magazine, was the first UK publisher to adopt MACH technology when they onboarded Contentstack's agile, headless content management system (CMS). By moving away from their slow, expensive, and hard-to-update traditional CMS; The Spectator has been able to take advantage of composable architecture to innovate the reader experience without sacrificing their budget or site uptime.
In fact, just five weeks after going MACH, the publication had already brought together best-in-breed software solutions to rebuild its subscription checkout experience and boost its conversion rates.

The last of these trend-setting omnichannel retailers leads us right into the technology you need to get on their level.
Keep up With Leading Omnichannel Retailers by Upgrading Your Tech Stack
You know that MACH-based, agile, headless CMS we mentioned earlier? That's the key to your new tech stack and your future as an omnichannel retailer. Headless CMS is the modern answer to traditional, monolithic CMS (such as WordPress).
Headless CMS software relies on APIs to create a revolutionary platform upon which content creation occurs separately from content design, storage, optimization, and distribution. This enables marketers to take charge of content management while design and development teams enjoy the flexibility to craft the perfect omnichannel experiences for websites, mobile apps, smartwatches, in-store kiosks, digital billboards, and beyond.
In addition, the modular, composable architecture empowers retailers to integrate with best-in-class tools (think CRM and CDP platforms, ecommerce systems, AI tools, analytics parsing tech, and more) that enable the kind of modern experiences consumers demand.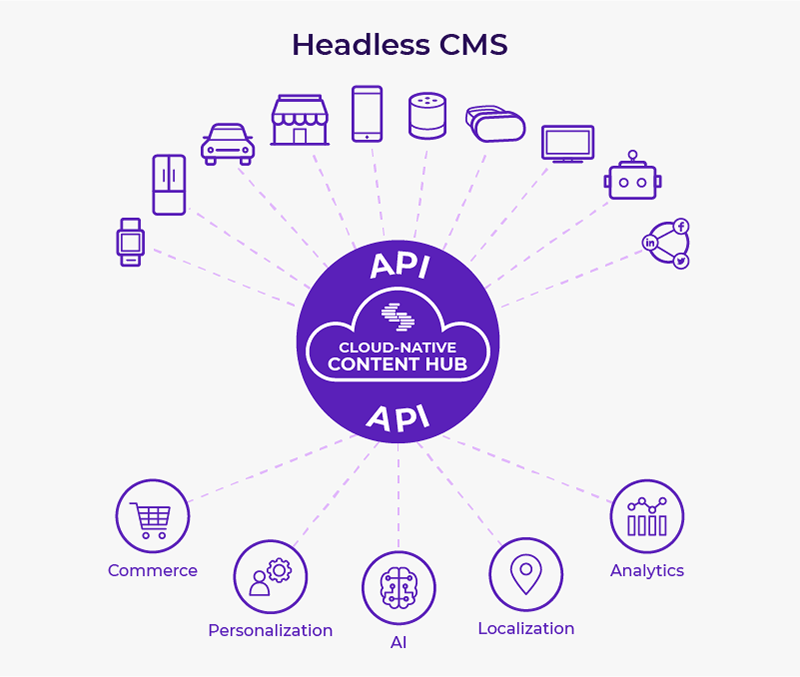 Join Today's Cutting-Edge Omnichannel Retailers
When you really dive into them, the trends and omnichannel retailers that are changing the face of commerce really aren't all that different from you, they just have the CMS platform and the integrations to create cutting-edge experiences.
To see how MACH-based, agile, headless CMS software can propel you ahead of your competition and into the omnichannel future, go ahead and take one for a free test drive or sign up for a free demo today.