An Introduction to CaaS: The Content as a Service Framework
The phrase "content is king" goes back as far as digital marketing itself. Most marketers and business executives understand the power of content by now, but that doesn't mean they're always aware of the future of content. Voice, video, artificial intelligence (AI), machine learning, and the increase in "smart" devices in the internet of things (IoT) are all creating new content search and consumption habits.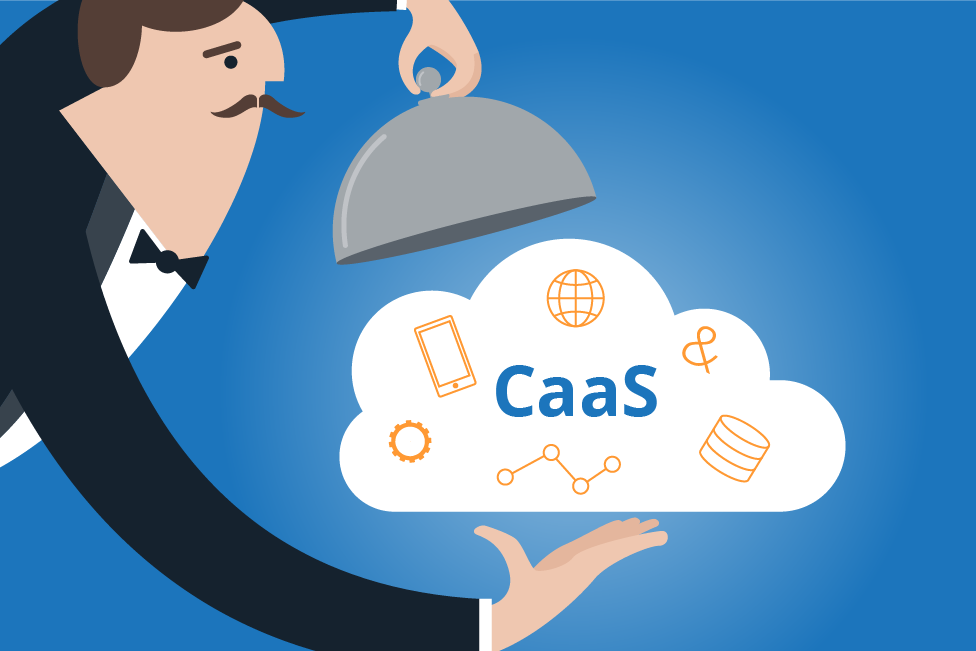 Over 70 percent of consumers already shop in various physical and digital channels. Today, content is not just blog posts and white papers; it is Siri giving you movie times, a smartwatch giving you the latest news, and a fridge giving you a five-day weather forecast. Widespread connectivity has made a consumer out of everyone. In this environment, the ability to transform an offering into a service enables higher adoption.
This primer includes everything you need to know about the meaning of Content as a Service, how it impacts enterprise marketing and IT departments, and gives recommendations on how to get started with CaaS in your organization.
What is Content as a Service?
A traditional CMS such as WordPress stores all content elements together — video, text, even design — so that it can be served as a single unit to the endpoint for which it was created. While these all-in-one formatting features can make content management simpler for marketing users, it dramatically limits where and how content can be used. For example, if you're serving similar content to both a website and a smartwatch app, you'll have to create two unique versions of that content. Content as a service changes that.
Content as a service (CaaS) or, as it is occasionally called, Managed Content-as-a-Service (MCaaS) is a method of storing content in its raw form so that systems such as websites, apps, and devices can call and serve each piece as needed using an application programming interface (API).
Content as a service is not a new concept, but it has increased in popularity in recent years. This rise in CaaS is partially a result of the growing IoT and AI markets, which are drastically changing the way we use the internet.
Characteristics of a Content as a Service platform include:
Separating content from formatting and programming
Providing content via a REST or GraphQL-based API
Usage of both local and cloud storage, with a focus on cloud
Ability to measure content consumption across the digital landscape
Consider Spotify for Artists, which functions much like CaaS. One side of the popular music platform lets artists upload their music, then Spotify takes care of the formatting and delivery. Listeners can listen to the same song in their car, on their iPhone, or via Google Home.
The shift to thinking of content as a service instead of as a static unit is a result of the omnichannel revolution — where relevant content needs to be available around the clock on a wide variety of devices and channels. When content exists as an individual and malleable asset, it can be personalized and optimized to meet the best practices of anything from a mobile app to a marketing email, digital sign, smartwatch, voice assistant, and beyond.
For CaaS to work, the content has to "live" in a repository that is decoupled from any display channels. This decoupling, or separation, allows other services to call the content via API and display it flawlessly on their custom front ends.
A headless CMS is a content management system without a built-in frontend that determines how or where content is displayed. By separating the front-end presentation layer (the head) from the back-end storage and programming (the body) allows marketing teams to create and manage their content in its raw form. This empowers developers to build the best front-end interface and use an API to call up the content the same way they would any other service.
A true headless CMS is also called an API-first CMS, which means that it was built from the ground up with APIs and revolves around delivering content to omnichannel devices and client applications. A headless CMS usually lives in a cloud environment. It works as a unified content hub that is the perfect solution for businesses that need flexible content that they can quickly deploy to a variety of channels, including chatbots and mobile devices, to deliver relevant content experiences that extend far beyond a single website.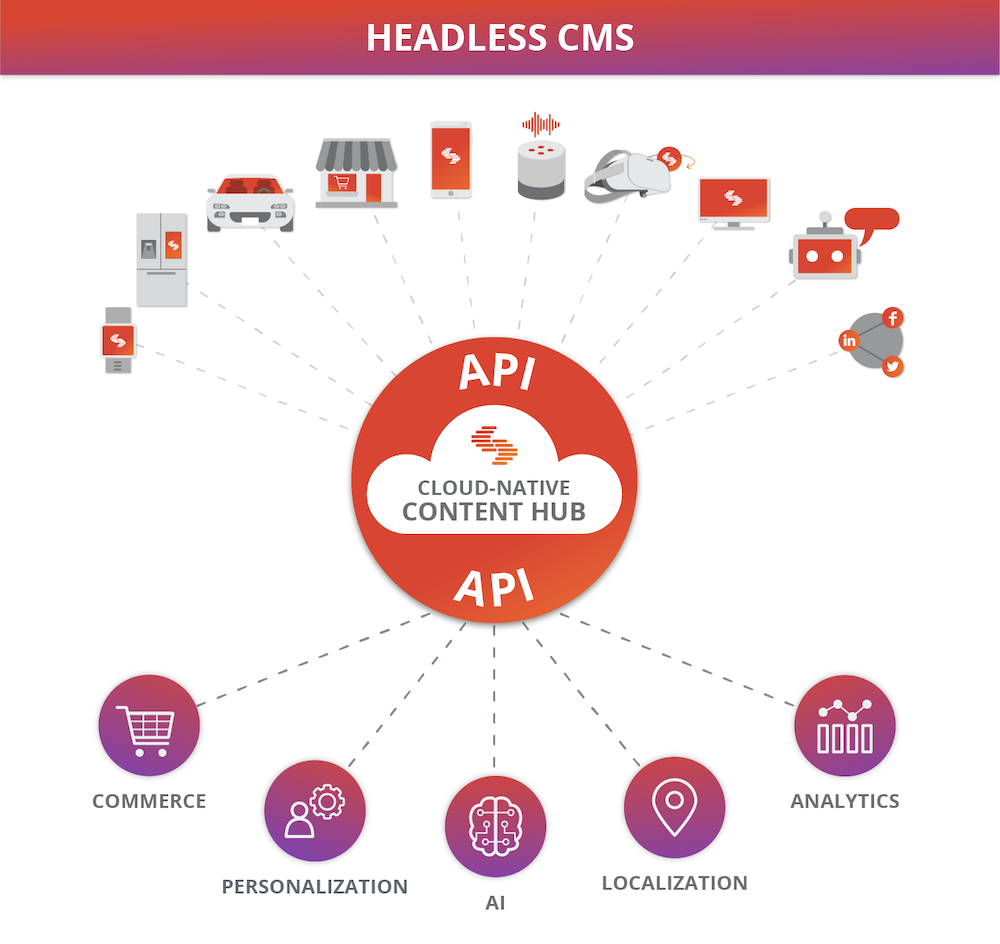 A good headless CMS also supports metadata that makes it easy for apps, bots, devices, and sites to understand what to do with your content components. The channel-agnostic content is called to various channels by APIs and is assembled and delivered according to each channel's presentation rules.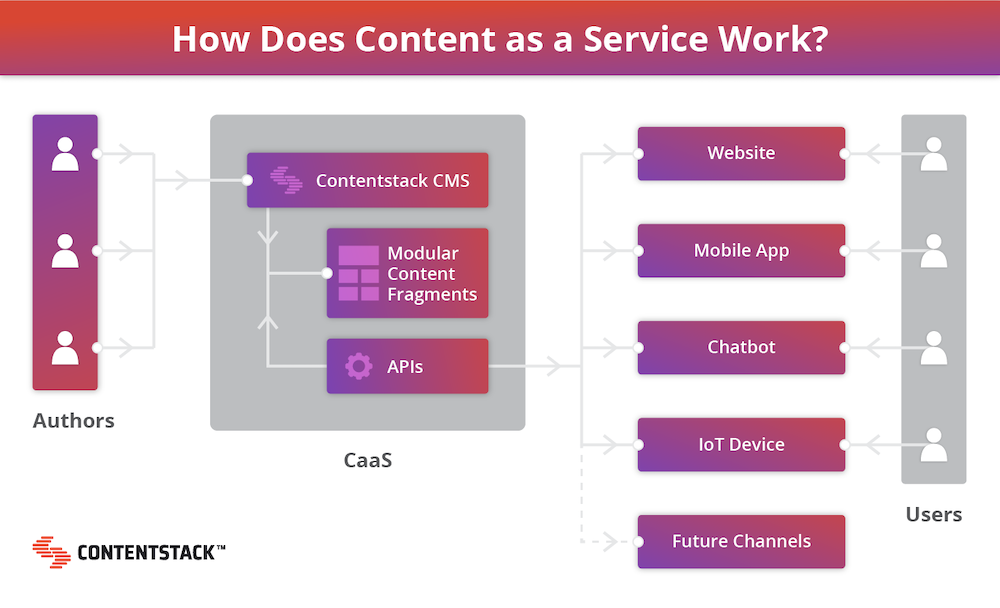 The Benefits of Content as a Service
CaaS can deliver solutions to some of the biggest problems companies are facing in the ever-changing digital world. As we have pointed out, the major draw of Content as a Service is its ability to separate content from presentation, which empowers fast-moving businesses to create once and publish everywhere. This level of speed and flexibility in publishing has become a must-have for enterprise organizations. By 2030, it's estimated that 125 billion smart devices will be connected to the internet — putting about 15 connected devices into the hands of every consumer.
In addition to keeping up with channel proliferation, there are several other reasons delivering Content as a Service with a headless CMS can benefit both enterprise marketing and IT teams.
Content Control with Flexibility
Brands create new content every day. Blogs get published, support teams answer questions, and chatbots share resources on your website. What happens to that content? What if you could find a way to reuse that content? CaaS can help your company do just that.

By separating the formatting from the content, brands gain control over content so they can use it in a variety of ways. For example, a snippet of content from a white paper can be used by your chatbot to answer a customer's questions, without anyone needing to redesign it or move it manually. Using a structured query, consumers and devices can easily find the information they need, making content easier to reuse.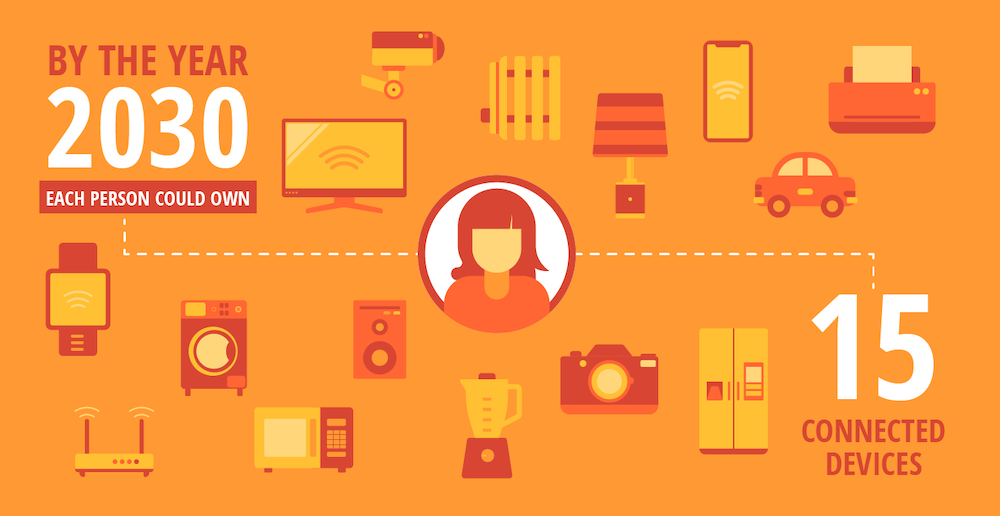 It's safe to assume that the organizations that can grow their capabilities instead of their overhead will be the ones who come out on top in the omnichannel revolution.
Better Content Oversight and Content Insights
Content marketers have long struggled with how to track and prove ROI for content. Using a business-focused headless CMS to deliver CaaS, this complex task becomes much more manageable. In the CaaS model, content is stored in one location and pushed out via an API to different channels upon request. By tracking these API activities, brands can easily see where and how content is consumed and even compare how the same piece of content is performing across multiple channels. For example, one could see how the same content performs on an app versus a website. Having greater oversight and insight into which content is most successful allows you to adapt your strategy in response.
Content Personalization at Scale
Three-quarters of all consumers report feeling fed up with irrelevant marketing content. And over 70 percent of consumers express frustration when their shopping experience seems impersonal, and 63 percent are willing to give up personal data in exchange for relevant perks and offers.
According to one study, 8 in 10 consumers say that personally relevant content increases their purchase intent. Today, consumers expect personalized content, and the CaaS model makes this easier than ever before.

Understanding an audience's demographics, interests, and behaviors allows brands to provide targeted, personalized content and deliver it at the right moment. This targeting is valuable since personalization boosts loyalty, conversions, and even revenue. And although marketers must keep in mind consumer concerns about privacy, younger generations are starting to have a favorable view of targeted advertising.
Being able to customize content at scale is vital for enterprise marketers. CaaS empowers businesses to assemble content dynamically so that personalization can take place at the modular level. And a headless CMS with turn-key integrations that take the manual process out of personalizing content makes even the largest personalization projects faster and more flexible.
By pairing CaaS with personalization technologies, such as Optimizely, Monetate, One Spot, Evergage, Salesforce Commerce Cloud, and Adobe Target to track and take action on visitor behavior, geographic location, profile, and more in your content management system, you'll be able to provide each consumer with the unique experience they desire.
Contentstack's headless CMS empowers marketers to integrate their favorite customer analytics applications to create practically endless personalization configurations. One example is Contentstack's partnership with the Miami HEAT, whom we helped expand their CaaS capabilities and unlock a compelling mobile content experience.
Using Contentstack, the HEAT transformed their mobile application into a 24/7 engagement tool with advanced personalization integrations. This new solution gave the HEAT visibility into individual fans' preferences and the means to deliver customized VIP treatment.

"This project is not just something that's exciting to our IT organization," said Matthew Jafarian, VP of Digital Strategy and Innovation at the Miami HEAT. "This is what our president, Eric Woolworth, is exulting about in front of his peers. What we're powering with Contentstack today represents one of the most important initiatives for the Miami HEAT."
Future-Proof Omnichannel Content
We are living in an omnichannel world where 45 percent of consumers watch television while they browse social media, switch between their phone and laptop while shopping online, or visit a brick and mortar store while using a smartphone to price check against an online retailer. In response, 75 percent of executives say omnichannel delivery is essential to their business strategy.
Cisco predicts that by 2021, 82 percent of all consumer web traffic will be video. Additionally, rising technologies, such as chatbots and AI, are adding new ways to consume content. Your audience may soon be less likely to read a long blog post in favor of interacting with an on-site chatbot or watching a YouTube video. Brands need to consider where this unique content is going to come from and how to deliver it across channels.
Gartner expects that by the end of the year, a total of 5.81 billion IoT devices will be in use, an increase of 1.85 billion devices in the last two years. These devices include everything from smart lighting to security and voice-activated home assistants like Alexa, Siri, and Google Home. The businesses that can serve their content across these devices are going to win consumer attention.
Content that only works on one channel, such as a web blog, creates a bottleneck and makes it harder for consumers to access useful content across platforms. As the number of devices, platforms, and channels increases, brands are going to face significant content challenges. Delivering content to all these channels is cumbersome, slow, and requires an incredible amount of manual input — without CaaS, that is.
Content created for a single channel has a short lifespan. The flexible nature of CaaS allows content managers to create content once and publish it as often as it's needed, wherever it's needed, including on channels and future devices.
Consolidated and Streamlined Content Workflows
In the beginning, CMSs let businesses update content and websites easily. The fact that marketing no longer had to bring in a developer to add a new blog post was life-changing. However, we're living in a post-website world. Now, a CMS needs to empower marketing users not only to add content without development support but also to personalize and distribute it across channels. Content as a service helps streamline the content workflow process by doing just that — creating and publishing content on multiple platforms seamlessly.
Knock Down Silos to Boost Efficiency
Another significant advantage of CaaS is that it allows you to remove silos between various parts of your content teams, improving collaboration and consistency across your brand collateral. Managing the content for all your channels in one place is also considerably easier and more affordable than attempting to keep your finger on the pulse of multiple different content streams, each of which previously required its own siloed CMS.
CaaS via a headless CMS enables you to employ a single editorial team and software stack for all your content needs while freeing up your developers to focus on harnessing the full potential of each channel you use.
Reduced IT Maintenance Costs and Time
Almost all of the usual maintenance involved in using a CMS disappears when you use a cloud-based enterprise-ready headless CMS to deliver CaaS. Forget about backups, server maintenance, plugin management, and security updates. Additionally a headless CMS, like Contentstack, delivers on availability, scalability, security, and performance.
CaaS also relieves some of the pressure on IT by empowering marketers to manage, optimize, and publish content to multiple digital channels autonomously without the help of a developer — no app updates or lengthy release cycles required.
Content as a Service Use Cases
Switching to a CaaS content strategy can significantly streamline the way you create and manage content. Here are some real-life examples of how CaaS can improve your business' content operations:
Ensure unified, consistent messaging and brand identity across multiple channels
Implement chatbots, which need the structured, searchable content that a CaaS strategy provides
Track and improve content performance across multiple channels
Create content that's compatible with the 20.4 billion consumer and business IoT devices
Deploy relevant content across your organization's various languages and locales
Control access, versions, publishing, and quality when it comes to branded content, no matter how large and distributed your organization is
Efficiently run your content through best-in-class customer relationship management (CRM) platforms, translation services, AI tools, A/B testing applications, analytics parsing, and whatever other platforms you need to optimize your content
Where To Put CaaS in Action
Wondering what CaaS looks like out in the real world? Here are some applications where the flexibility, scalability, and personalization that CaaS offers have a significant impact on the user experience.
Mobile Application Content Management
With traditional content management, content and formatting are all in the same system. If there is a change to the content, then everything has to be updated. For mobile apps, that means a lot of time spent submitting updates and approval processes. However, with dynamic CaaS delivery, businesses can update content independently of the app itself. That means marketers have free reign to change content, release campaigns, and perfect personalization without bogging down IT with constant requests.
Omnichannel Publishing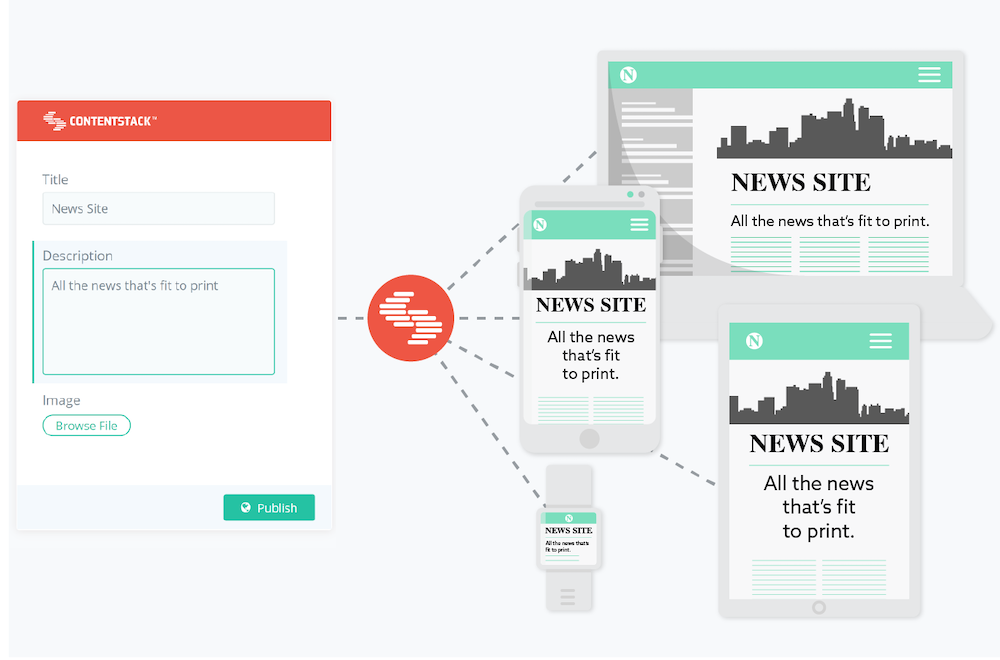 Do you have several web domains? How about landing pages? Social media channels? Pretty much every enterprise today has multiple platforms to which they need to publish content. Considering the speed of modern marketing, by the time you get done manually rewriting, reformatting, and republishing content to every single one of those instances, it'll be time to start over again!
With CaaS, a content hub enables you to deploy the same content to multiple platforms instead of maintaining separate content systems for each. And when you integrate the right headless CMS, you can automatically optimize content for each device without ever leaving your editing dashboard.
Chatbots
By 2021, chatbots will handle 85 percent of customer interactions. Chatbots and using CaaS to organize content into tech-agnostic modules are a match made in robot heaven. While machine learning is still developing, structured content that can be called via an API enables chatbots to provide much more accurate and relevant results than if they were to rely on scraping or natural language processing.
How to Get started with Content as a Service
Decoupling content is important, but it's only the first step in using CaaS. You still need an effective way to manage and deliver that content. While some traditional CMSs are trying to keep up with the times by attempting to implement CaaS through add-ons and plugins, they're ultimately still webpage-centric platforms built to control content presentation.
For enterprise marketing and IT teams that are serious about capitalizing on CaaS, it's imperative to invest in a headless, API-first CMS built around the idea of decoupling content and maximizing its use in a variety of contexts.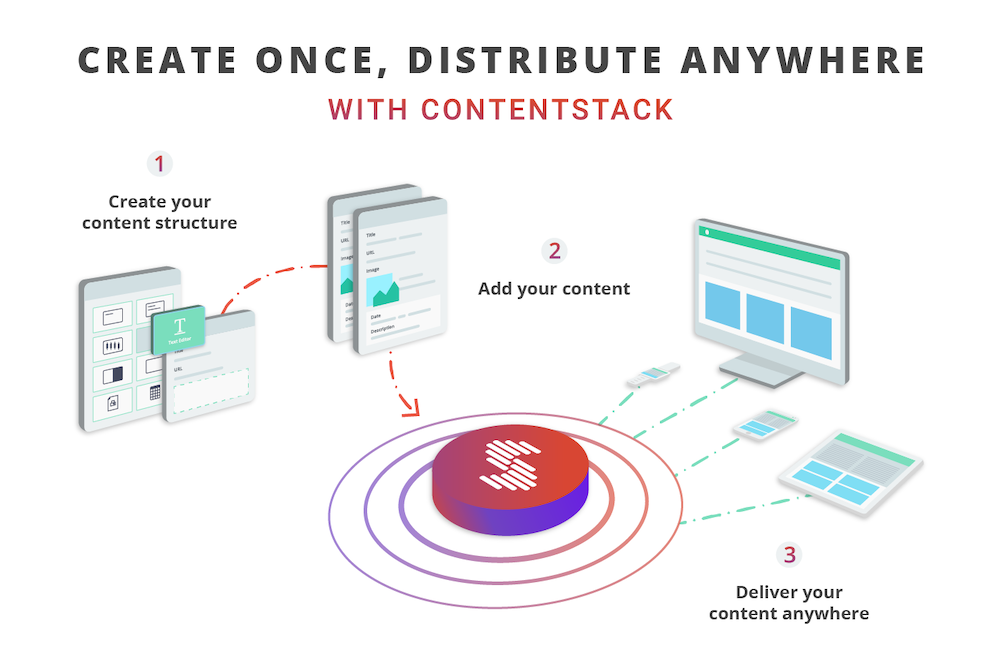 Contentstack's headless CMS is a great option for the marketer who needs to optimize, personalize, and deliver content that converts no matter what channel or device consumers are accessing it from. It's also great for that marketer's IT team that wants to enable marketing autonomy but doesn't have time to build enterprise-level security, scalability, and tools from scratch.
At Contentstack, we stand behind our promise to deliver easy to use content management tools and out-of-the-box enterprise IT technology. All you have to do is schedule a demo or create a proof of concept today for free.
---
Related Articles
Here are other CMS articles we think you'll find useful.