Building a Unified Content Hub for Marketing, Sales, Product, and More
Where do all the content and marketing assets that your organization has developed live? If the answer is "kind of everywhere," you're not alone in that. When content lives everywhere, it might as well live nowhere. It's probably easier to recreate it than to track down the correct version, go through the processes of getting it published, and then keep up with it to make sure it's continually optimized to reach its fullest potential. There has to be a better way, right? There is!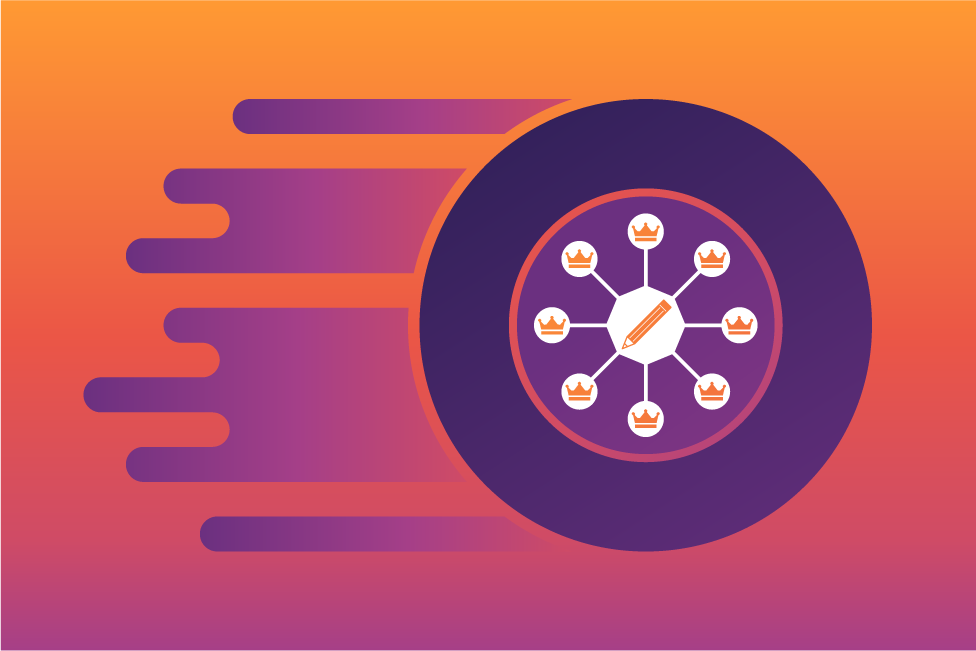 With a unified content hub, marketing organizations of all sizes can create a "one-stop-shop" that stores your content, so it is easily accessible by various teams across the enterprise, and, most importantly, well managed throughout its entire lifecycle.
Let's learn more about what a content hub entails, how to tell if you need one, the benefits of implementing a content hub in your organization, and the technology that'll help you build your own and finally achieve a streamlined content management strategy that works.
What Is a Content Hub, and Why Should I Care?
A digital content hub is a collection of technological tools that form a single platform from which organizations can create, organize, search, share, and manage the lifecycle of all the digital assets (such as documents, blog posts, images, and more) that power their marketing efforts.
With a content hub, marketing teams can add context to each digital asset, easily collaborate with other departments throughout their organizations, and unify all the tools they need to do their jobs efficiently and effectively.
Empowered by the 360-degree view provided by a unified content hub, businesses can beat their competition by delivering content assets more quickly. In fact, they do it five times faster than those without a centralized content hub!
When it comes to speed, content hubs make the content approval process faster with workflow tools. Workflows keep important conversations attached to the right assets, provide a bird's eye view of the status of different assets, and allow you to customize your settings to ensure the right person publishes the right thing at the right time.
Additionally, those same settings can help organizations control the security of each marketing asset, which is especially important when working with sensitive content and independent contractors.
Content hubs shine when it comes to keeping track of the history of each asset; such as who created it, when it was published, when it was last reviewed and updated, where it exists in the archives, and more. With this kind of oversight, marketing organizations can feel safe trusting individual team members with increased ownership. In turn, ownership breeds pride and autonomy, which all translates to happier and more proactive workers!
There are a lot of business-wide benefits to using a content hub to manage marketing assets. But if you're still not convinced the effort will be worth the reward, let's see how you fare in the next section.
You Might Need a Content Hub If…
Do you feel like countless dollars are going toward manual content creation and upkeep?
Are organizational silos breaking down your culture and productivity?
How about your content marketing traction, does it sometimes feel like you're just throwing money into the void?
If any of the above situations sound the least bit like your organization, read on to find out how a unified content hub may help you rectify each of these issues.
Content Silos Are Damaging Your Organization
Workplace silos can form for all kinds of reasons — distance, managerial differences, inadequate collaboration tools or processes, outdated technology that doesn't encourage cross-departmental access, security concerns over communication or connected systems, etc.
When these silos form, they cause different departments and teams in the same organization to lose the ability to communicate well with each other. This leads to a loss of quality in work, revisions that eat up what could have been productive hours, and even causes breakdowns in the company culture.
Despite the level of technological advancement that many businesses have reached today, silos that result in poor collaboration are still all too common.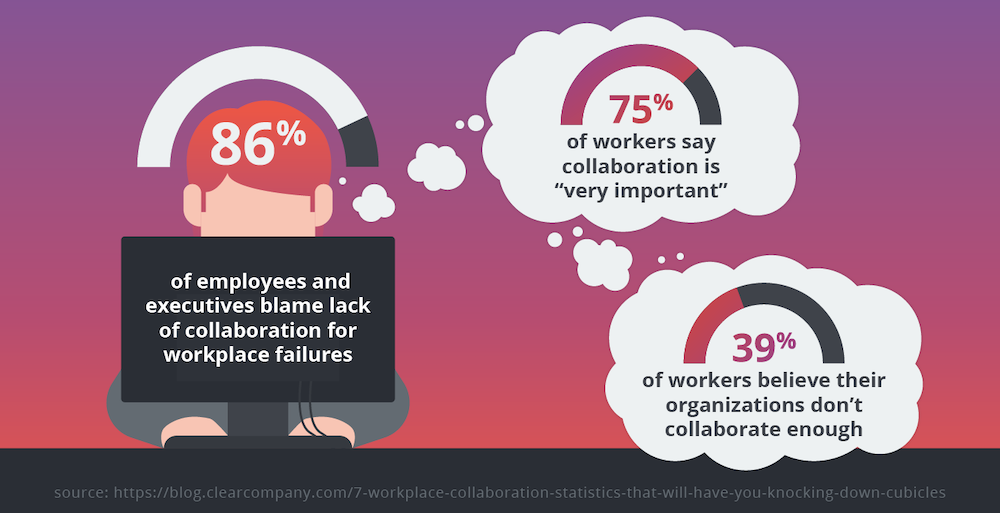 If you've ever had a situation where perhaps your sales team spent hours working on sales enablement content that the marketing team had already developed months earlier, you've experienced what silos can do to productivity and morale.
Beyond improving interdepartmental relations, collaboration, and productivity, there is real money to be made by eliminating silos. Sales and marketing teams that knockdown silos and reach well-oiled alignment are 67% better at closing deals.
This alignment is why one of the biggest draws of a unified content hub is the "unified" element. Not only can a content hub unite all your content-based assets in a single place, but it can also unite all conversations about those assets and make those assets easy to find and use. So everyone has the access and the context they need to be successful, no matter their department.
You're Wasting Time and Money Manually Managing Content
Nearly 90% of B2B marketers participate in content marketing and make use of over ten different distribution channels and content types. If you're one of these marketers, chances are you've experienced the pain of wasting time emailing numerous people to find the latest version of an asset, sending multiple reminders to the manager to sign off on an article, and even manually reworking content to be published on different devices or in different markets.
Considering the technology that exists today, there is no reason anyone should be wasting that kind of time (and salary dollars!) on easily-automated tasks. Not only does a unified content hub enable users to keep track of the latest version of assets as well as the context and feedback around them, it's also a great way to organize the publishing workflow and integrate with optimization and translation tools that make omnichannel publishing a breeze.
You Aren't Maximizing Your SEO Opportunities
Search engine optimization (SEO) is an affordable way for businesses to rise above their competitors and engage consumers. Still, it's nothing without two key elements — good content and the right system for managing it.

Without the modern content management system (CMS) element of a unified content hub, you're going to have a hard time manually creating and publishing enough SEO-friendly content or optimizing its findability with things consumers can't see like URL structure, metadata, etc.
Metadata labels or "tags" enable organizations to attach additional information to their digital assets to describe it in more detail. This tagging makes it easier for search engines to find, identify, and display these assets when a consumer is searching for a related topic. Metadata even goes beyond discoverability for consumers to also help internal content hub users on your team quickly find assets.
Wherever a person performs a search, the better a content hub's CMS element, the better the experience, and the better the results will be.

Tools to Build Your Unified Content Hub
A content hub replaces all the traditional, siloed and monolithic tools you've been using with a single, unified platform that makes marketing and marketers more successful. The key to building the best content hub for your business is picking technology that easily integrates and scales. In most cases, that means tools that take advantage of an application program interface (API) technology that makes it easy for them to "play nice" with each other.
APIs enable each element of your unified content hub to be updated, changed, or even removed without breaking the whole system. Plus, different subject matter experts throughout your entire organization will be able to interact with assets without being held up by protocols or silos.
If we were going to build the best starter-content hub that any organization could adopt and adapt to fit their needs, here's what we'd include.
Marketing Resource Management
A marketing resource management (MRM) system helps marketing leaders manage the operations, people, and processes that it takes to pull off successful marketing campaigns. Their comprehensive capabilities can include everything from marketing calendars to content reviews, approval process management, performance dashboards, and then some.
Content Marketing Platform
While many organizations will be able to get away without this piece, larger marketing departments or those with really complex campaigns may be interested in adding a content marketing platform (CMP) to the mix.
A CMP helps you identify gaps in your marketing assets so you can plan what pieces need to be created, assign responsibility for each, and collaborate to get them ready for publishing. CMPs are useful in orchestrating the development and delivery of content marketing assets to a content management system, which leads us to the power of a headless content management system.
Headless Content Management System
A content management system (CMS) is an application that typically provides version management and authoring workflows so multiple users can create, edit, publish, and manage digital content and other marketing assets without involving any development help.
Traditional CMSs (think WordPress, Squarespace, etc.) consist of an all-in-one program with a single codebase that manages everything from content creation to development for a static website. While they leave less room for error, they also leave less room for creativity, updates, or integrations.
A headless CMS, on the other hand, is cutting-edge software that empowers modern organizations to create content in modules, organize and store it in a semantically-rich way (there's that metadata again!), and deliver it to any device or channel — all thanks to the power of APIs.
Additionally, a headless CMS separates content from formatting. This separation means that content teams can create content once and distribute it anywhere at the same time design and tech teams can build the best frontend presentation without either stepping on the other's toes. All of which makes a headless CMS one of the most vital elements in any organization's de-siloed, unified content hub.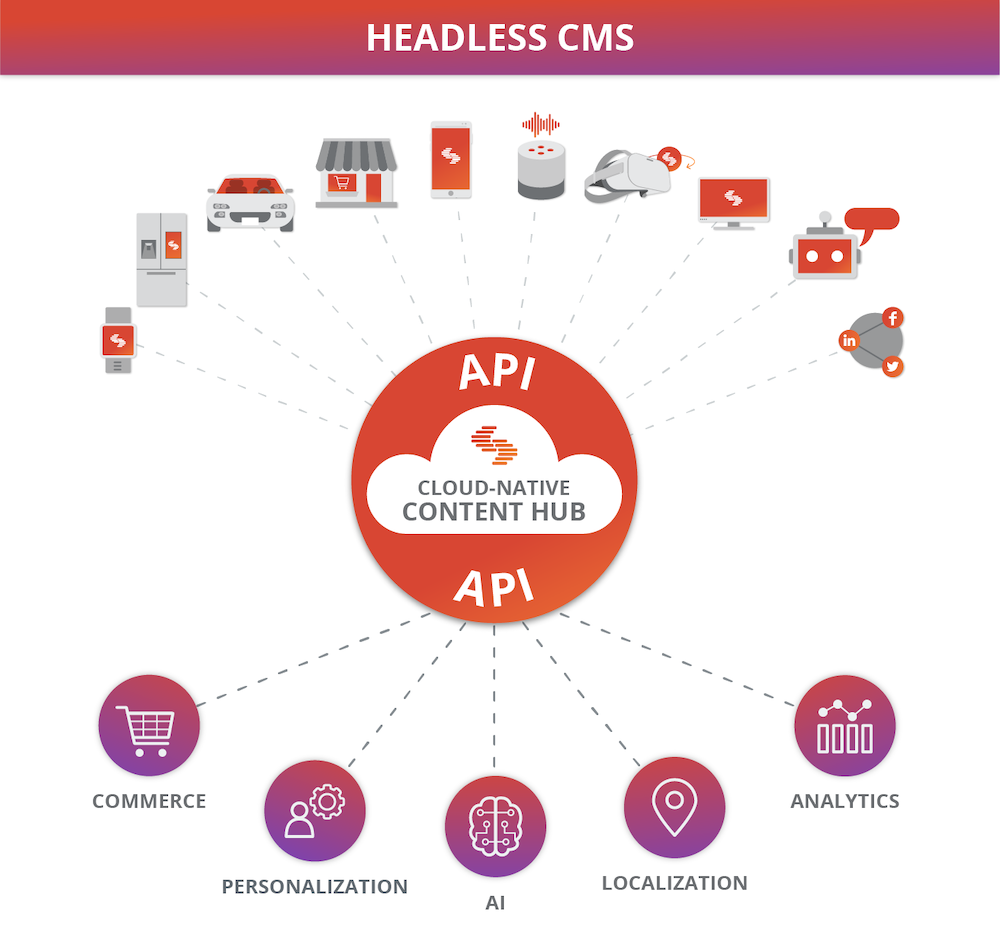 Digital Asset Management
Digital asset management (DAM) is another key element to add to your content hub because of the way it complements the functionality of a headless CMS. Where a headless CMS gives users the ability to arrange media and publish it in the form of consumable content, a DAM platform organizes content such as documents, photos, videos, and more in a media file format.
Because a DAM platform is built to manage content while a CMS is built to generate it, the two make a useful pair when integrated into the same content hub.
How Will You Create a Unified Content Hub for Your Organization?
A unified content hub empowers businesses large and small to create a "home base" from which all marketing, sales, product, and other content and assets can be created, used, and managed by everyone.
Does your organization need a modern, streamlined content management strategy? If so, get started building a platform that ties together marketing resource management, a content marketing platform, a headless content management system, and digital asset management to create your very own unified content hub.
For more reading on the importance of content management in business, read this guide on How Smarter Content Architecture Drives Business Transformation. And for even more insight into the most critical ingredient of an effective content hub, check out this ultimate guide to Headless CMS.
---
Related Articles
Here are other CMS articles we think you'll find useful.