Agile CMS: Your key to a future-proof marketing strategy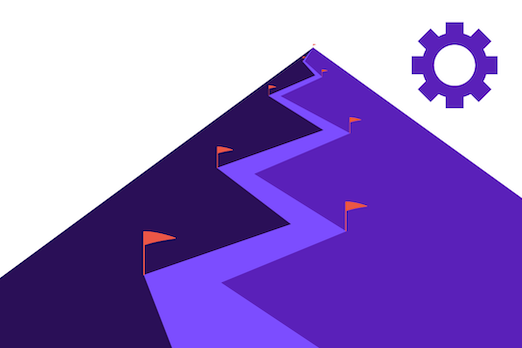 "Agile." It's a term thrown around more and more often at startups and enterprises alike. But for such a popular concept, there seems to be a lack of understanding around what "agile" means when it comes to marketing — and how agile technology can future-proof the marketing content and strategies you're working so hard to develop right now.
So with that knowledge gap in mind, we set out to create this ultimate guide, to help you learn everything you need to know to embrace agility in your marketing department.
What does Agile mean in the marketing world?
Agile marketing is based on the popular agile development framework in the software world. What started as a strategy to help technology teams operate with speed and flexibility as they moved from idea to execution to revision has found its way into the marketing world to do the same thing for content teams.
Traditional marketing projects flow from planning to writing, design, legal, etc., in a workflow known as "waterfall." Unfortunately, if any single team or step in the process gets held up, it can halt work for everyone down the "stream" in the process.
A waterfall approach is too unreliable and slow to provide the kind of impact modern marketers are striving to achieve.
That's where agile marketing comes in.
With an agile marketing workflow, multi-talented teams of writers, designers, SEO experts, PR pros, and more collaborate on viable projects that take place over a designated time called a "sprint." The beauty of an agile process is that, over time, your team will learn how much can be done during a sprint and tweak projects and plans accordingly.
At the end of each sprint, the aim is for your marketing team to launch something that achieves a specific goal and can be optimized over time — not a static project that will probably be out of date by the time it goes live anyway.
In real life, an agile marketing process may look a little something like this:
A marketing lead gathers data and customer requirements, often in the form of user stories (e.g., "I'm a B2B buyer and I want to compare X solution to Y solution")
The data and user stories are prioritized by the marketing team, broken down into actionable tasks, and assigned a value based on the estimated level of effort
The team organizes tasks into however many sprints (which usually range from 1 to 6 weeks long) they think it will take to get them done
A cross-functional team works in tandem to execute their work during the sprint
At the end of each sprint, the work and the sprint planning process are both reviewed for possible improvements
The next sprint to implement improvements and new tasks begins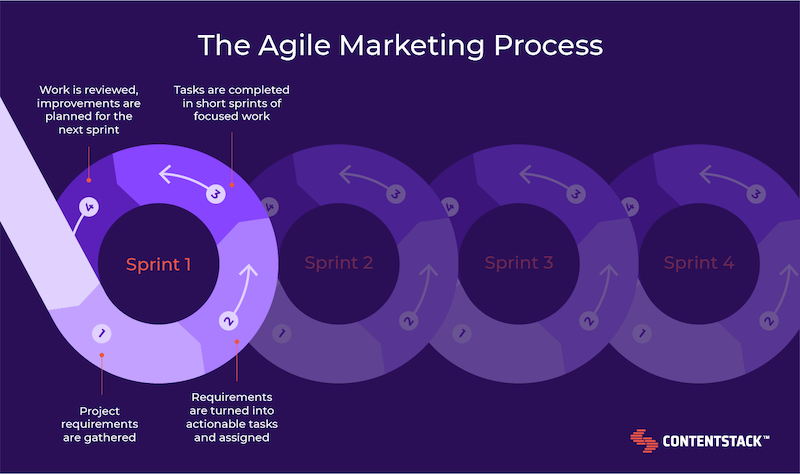 One of the essential features of an agile marketing process is that marketing campaigns are defined by work done, not by the time taken. Not only does this provide marketing teams with a structure that allows them to prioritize production, but it also creates finite borders to help keep projects from being derailed. Additionally, an agile workflow means no long-term marketing roadmaps set in stone, so your marketing department can move just as fast as today's consumer trends.
Information + Iteration: What makes Agile marketing future-proof
In an agile marketing program, the tasks that get done are chosen based on data and completed over manageable intervals. And the cross-functional teams that execute the work are prepared to develop the quickest version of the solution first before learning more and perfecting their approach over future sprints.
This intersection of information and iteration is what makes agile marketing programs future-proof.
It isn't just checking boxes on a year-long schedule for content creators but instead working with others in their marketing departments to analyze data, define customer needs, and address the moment's pressing needs by creating and deploying critical content assets.
Because the decisions content creators make are based on what's needed at the moment, they can rest assured their campaigns connect with consumers and land a step ahead of competitors who are rigidly sticking to calendars that were built months or even up to a year ago.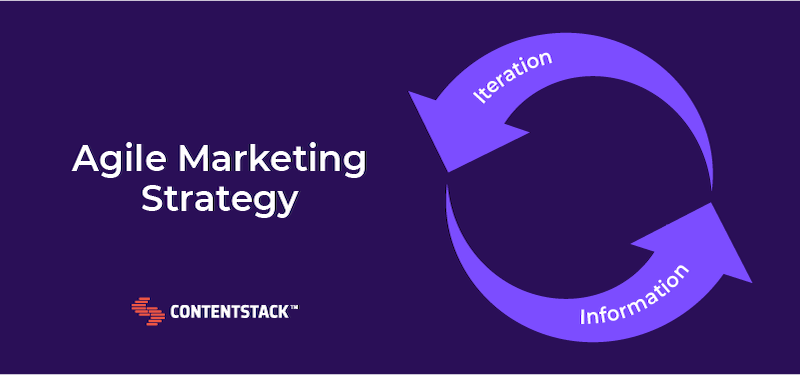 Maximize marketing longevity by adopting Agile CMS
With the definition and importance of agile marketing behind us and the process for developing your agile strategy ahead of us, it's time to talk about a critical piece of technology for enabling agile content marketing.
A modern headless content management system (CMS) should be the center of the tech stack for any successful agile marketing team.
Why? Because modern headless CMS platforms are built to be agile from the inside out thanks to a unique blend of characteristics known as MACH.
MACH is a term for modern technology constructed using microservices (M), connected via application programming interfaces (A), native to the cloud (C), and inherently headless (H).
This combination of technological features makes an agile CMS modular, integrable, scalable, and easy to keep up to date. Paired with cutting-edge content management features that enable marketers to create, manage, and deploy content across the entire customer journey. The right agile CMS is ready to power any fast-moving marketing campaigns.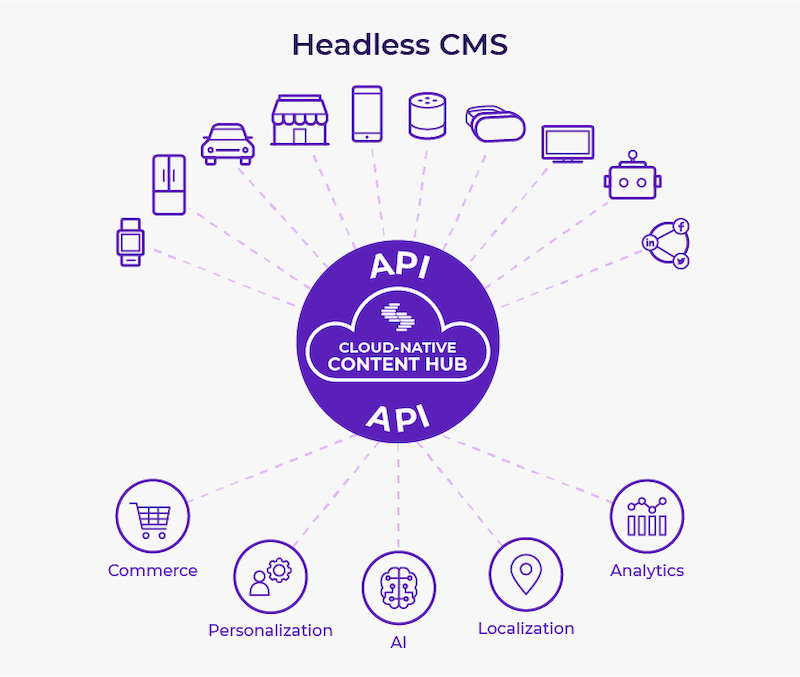 How to create an enduring Agile marketing strategy
We want to pause right here and point out that there are elements of your marketing plan that should look farther into the future than your next sprint. You should undoubtedly have longer-term goals and a direction that generally informs the tasks you choose to work on. However, the strategy you use to tackle each of these tasks should be an agile one.
So with that said and with the right technology in place — that's your agile CMS — it's time to build a strategy for keeping your marketing agile and ready for whatever the future brings.
Assemble your first cross-functional team
The road to agile marketing is strewn with organizational silos created by business divisions that don't have the technological or cultural capabilities to work together or share information. To truly shift toward an agile approach, you need to knock down these silos to develop the cross-functional teams to conceptualize, plan, execute, and deploy successful and future-proof marketing content.
You can't just blow up your corporate hierarchy and configure it into your dream team every month. A reasonable first step is to form a small team of passionate people about piloting agile marketing within your organization.
Collect, prioritize, and scope content priorities
With a team identified, you can move forward to curating content priorities. Chances are, several departments within your business already have a collection of "jobs to be done" based on their interactions with leads and customers. For example, customer service agents hear complaints and suggestions from consumers all day long. And your optimization experts have probably identified plenty of areas where your updating public-facing content could improve engagement and conversions.
Once you have many possible content projects laid out in front of you, it's time to prioritize them, including defining the scope, level of effort, and ideal outcome of each project. You'll organize this list into — borrowing another development term — a "backlog" of to-dos. A single backlogged task might include:

The user story
The estimated effort and time for completion
Indicator of completion
The measurable expected outcome(s)
Here's what a real task might look like in your backlog:
As a user, upon signing up for a gated content resource, I should receive a product sheet that helps me decide if product X is right for me
The estimated total effort is 20 hours
This will be complete after creating the guide and inserting it into a live Marketo automation
The expected outcome is a lift in conversions directly from this particular product sheet

Outline your sprints
Now it's time to define what a single sprint looks like. Time-wise, as we mentioned earlier, these can range from 1 to 6 weeks. Scope-wise, there are various factors about your team (size, speed, capabilities, etc.) that will impact how much effort you can expend and how many tasks you can get done in a certain amount of time.
The beauty of the agile marketing process is that you will get better at creating effective sprints as you learn your team's sweet spot over time. Plus, sprints can always be changed up as needed for special projects.
Execute, measure, and do it all over again
Time to get to work! After choosing the content project and planning out the sprint, it's time to dole out specific assignments and let your team execute their tasks.
After the completion of the sprint, you'll want to answer a few key questions:
Was the scope of work completed within the sprint?
Did the work time/effort estimate align with the actual time/effort?
Did the outcome align with your expectations?
What's next?
The answers to these questions will determine what adjustments to the workflow, estimates, and expectations to make the next sprint even better. Remember to put aside time in the next sprint to make these iterations in addition to whatever actual tasks are at hand.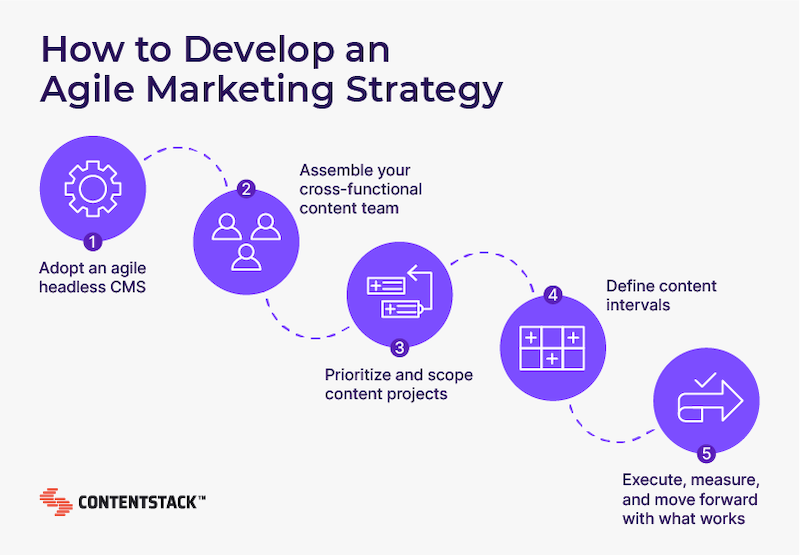 Start making your move to Agile CMS today
While disciples of the "true" agile process call for (ironically) a rigid adherence to agile practices and principles to avoid the waterfall approach's pitfalls, we call for something a little different: Reality. The reality is that many of us don't have the resources to reconfigure our entire marketing organizations to go agile. But what do we have?
We have easy-to-integrate agile CMS technology that can quickly bridge the growing gap between traditional and modern marketing management.
Make a significant move toward implementing a flexible and future-ready strategy today by watching a detailed agile CMS demonstration or by spending a little time learning more about agile CMS and agile marketing:
Related Articles
Here are other CMS articles we think you'll find useful.