Back to Blogs
5 best practices for improving customer satisfaction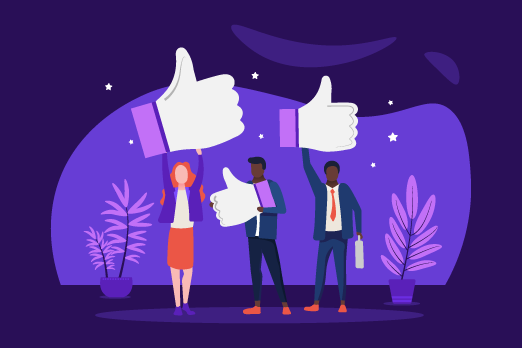 Customer satisfaction, a measure of how much a company's products or services meet or exceed its customer's expectations, continues to dominate the business world. Customer satisfaction directly correlates with and translates to customer happiness, which is reflected in your business ratings. It is an important metric that helps measure how well a business is meeting the needs and expectations of its customers. Therefore, understanding and enhancing customer satisfaction is critical to ensuring long-term success for your business.
Why customer satisfaction matters
With more than 96% of customers claiming that customer service is essential to brand loyalty, it's no secret that customer satisfaction is vital for your business's growth. It is the key to keeping your current customers and retaining new ones. Customer satisfaction directly affects customer loyalty, and it affects how customers may intend to associate with your brand in the future.
Therefore, it's crucial to ensure that your customers are happy with your products and services. Customer satisfaction provides insight into things that need improvement or ways to improve your services or product to serve your customers better. A high level of customer satisfaction shows that a business is providing quality products or services, meeting customer expectations and delivering an overall positive experience.
In today's digital world, understanding the market from the end user's perspective is the need of the hour. For example, in a product-based SaaS organization, recognizing customer requirements, curating the product according to their needs, and understanding best practices for improving customer satisfaction can help you get an edge over your competitors.
Top 5 best practices for improving customer satisfaction
So, what factors affect customer satisfaction? How do you improve it?
Understanding what drives customer satisfaction is a must to improve it. Here are the top five best practices for improving customer satisfaction in your SaaS business:
Provide convenience with in-app chat features
Convenience lets customers use your products or services without hassle. There's comfort in knowing that everything will be taken care of, no matter what.
A virtual assistant or chatbot is one way to provide convenient customer service. The in-app product chat feature provides the easiest way for customers to connect with your support team or agent.
Customers always look for an easy way to connect quickly with the support team in case they need help while using the product or if they have any feedback about a feature. However, there should not be limitations to reaching out to the support team or agent only via chat support; an email or contact number should be available to expedite the process.
Deliver the human touch with personalization
Delivering a personalized customer experience helps establish a strong emotional bond with your customers. Research suggests that 80% of customers are more likely to buy products or services from a brand offering them personalized experiences.
Providing a human touch or lively experience is essential, which is not the case when implementing a chatbot for answering queries. Customers expect to get the most relevant answers to their queries with little back and forth. Most of the time, organizations implement a chatbot by designing it to provide the most appropriate answers to the questions asked by the customers. However, after a certain point, bots are not self-sufficient to answer these accurately.
In such instances, a live customer support agent can interact with the client to gather the required information by probing for correct questions. This gives additional assurance to the client that the team is looking into their query and that they will get a resolution soon.
Track response and turnaround times (FRT and TAT)
The quicker the response to a customer's complaint, the better it is for the customer and the business. First Response Time (FRT) and Turn Around Time (TAT) are the most critical factors in engaging customers.
First response time (FRT) is a metric used to measure the time it takes for a business to respond to a customer's initial inquiry or request for assistance. For example, this could be a customer support email, phone call, or message on social media.
FRT is crucial because it directly impacts customer satisfaction. Customers generally expect a quick response to their inquiries, and delays in response time can lead to frustration and a negative experience. A prompt first response time can help establish trust and build a positive relationship between the customer and the business.
When customers reach out to the support team, they expect an initial reply or acknowledgement of their query. A prompt reply or acknowledgement assures customers that the organization is dedicated to understanding their problems and helps win customer trust and improve satisfaction.
In customer service, turnaround time (TAT) is often used to measure the time it takes to resolve customer inquiries or complaints. This includes the time it takes to provide a first response (FRT) plus the time it takes to resolve the issue entirely. A low TAT generally indicates that a business can quickly and efficiently resolve customer issues, leading to higher customer satisfaction and loyalty.
Organizations should serve customer requests 24/7, across all time zones. It is important to share regular updates on specific cases, so use a unique reference number that can be shared with the client so that they can reach out for updates.
Resolving customer-reported bugs in a timely manner helps unblock users and positively affects the organization. Once a bug is resolved and/or an enhancement is implemented, updating customers with a unique reference number is a key factor in improving customer satisfaction.
Obtain customer feedback
Obtaining customer feedback is essential for enhancing customer satisfaction as it helps businesses gain insight into their customers' needs, preferences and pain points. By acting on this feedback, businesses can make necessary changes to meet customer needs and expectations better, leading to increased satisfaction and loyalty.
Feedback helps identify the gaps between customers and businesses. Understanding customer needs via feedback is very important so details can be discussed with the product team to implement them within the current functionality. A transparent approach to customer feedback collection ensures customers are heard, improving their overall experience.
Ensure customer success with proper onboarding
Earlier in the onboarding process, determining the customer's end goal for using your solution and defining milestones to achieve that goal improves your customer's experience and assures them that they are in the right hands moving forward.
Connecting with customers is important. Schedule regular meetings to understand their workflow and hand-holding (when necessary) until they are fully live. This is usually done with dedicated customer success managers and solutions architects assigned to specific customers. It helps them achieve their use case, clear any roadblocks with the product and get technical guidance when needed. CSMs also help clients to expedite resolving the important features or bugs they may experience.
A wonderful onboarding experience engages the customers better, making them less likely to churn and more likely to make repeat purchases. Also, a solid onboarding experience makes customers feel valued while increasing their product adoption.
Final thoughts
The right strategies and best practices can help improve customer satisfaction, propelling your SaaS product's trajectory toward reduced churn and increased business revenues.
Investing in contemporary customer satisfaction strategies (artificial intelligence, visual tools and an omnichannel approach) enhances your ability to offer personalized experiences. Most importantly, increased customer satisfaction keeps your customers returning and is directly linked to growing your business' topline revenue.