Back to Blogs
How Augmented and Predictive Analytics Make the Most of Your Data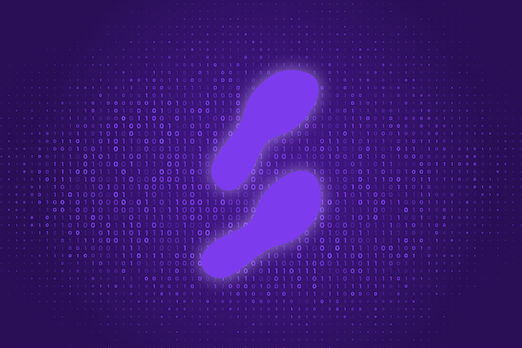 In this era of data, the biggest challenge is simply knowing what to do with all of it. As our data footprints grow, it is challenging for brands to collect and analyze it all. Every time we visit a website, click on an ad, or make a digital financial transaction, we're leaving a little more data behind that can generate incredible business intelligence for anyone who's able to harness it.
Getting accurate and actionable insights takes a lot of work and a lot of expertise. Yesterday's business intelligence tools are already struggling under the weight of constantly growing data. The challenges that come with cleaning, organizing, and analyzing data can be enough to make digital managers decide that advanced data analytics is just too complicated and is better left to large enterprises with deep pockets.
This article shows you that there is a light at the end of the data tunnel — predictive and augmented analytics that use artificial intelligence to automate insights that you can take action on.
The Evolution of Data Analytics
Analytics have been part of the business world since the Industrial Revolution, when inventors and factory owners realized the importance of optimizing for efficiency. Data analysis all started with statistical models, but the process was manual and tedious. In 1880, it took the U.S. Census Bureau more than seven years to analyze and report on the collected information. While ongoing developments thankfully increased the speed of analysis, the introduction of relational and non-relational databases and data warehouses made analytics the domain of computer scientists and IT specialists. Evolutions like log file analysis, hit counters, Javascript tags, etc., continued to leave business teams reliant on technical support for critical business insights.
But around 2006, tools like Google Analytics started giving web page owners effortless access to information about their visitor activities, including quantitative and qualitative behavioral data. These capabilities expanded further by 2012 with advanced tools that tracked user behavior across multiple devices. And today, a digital manager can even access real-time data that can be incredibly valuable — if you know what to do with it.
The volume of data collected in our omnichannel environment is so vast that even savvy business analysts cannot keep up with all the intelligence buried in data that we don't have the time or tools to access.
According to research gathered by Nodegraph, every minute online, there are 4.2 million search queries, 4.7 million videos viewed, and 400 new Facebook users. Research shows that the advanced analytics industry will likely grow at a compound annual growth rate (CAGR) of 15% and reach a value of over $22 billion by 2023.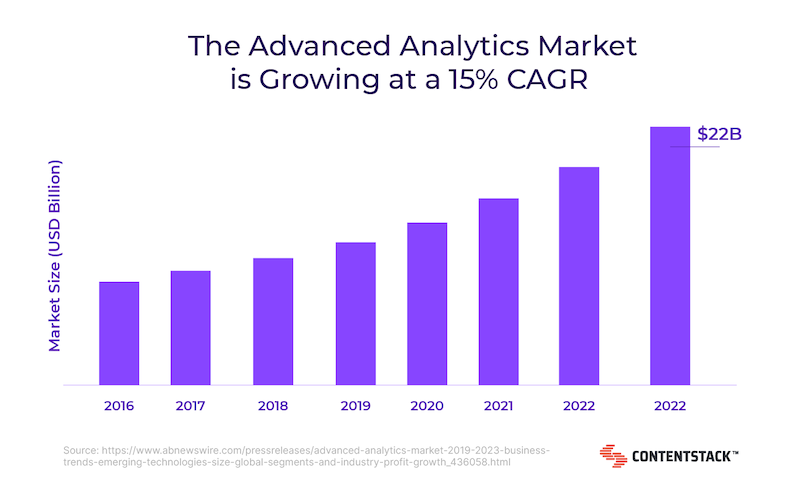 That's a massive amount of untapped intelligence about customer behavior. And this is precisely where many digital managers find themselves stuck.
While the burgeoning field of data science has grown into a high-demand specialty that takes years of training, that doesn't mean sophisticated analytics are beyond your reach. Research by Gartner predicts that artificial intelligence (AI) will become ubiquitous within new software products over the next three years. Advances in technology have already integrated AI-based tools to give us augmented and predictive analytics — without needing an army of data scientists to do all the heavy lifting.
How AI Helps Digital Managers Maximize the Power of Data
Augmented and predictive analytics rely on machine learning, which automates building analytical models that can make decisions with minimal human intervention. Together with natural language processing, which helps the models understand human speech, they quickly deliver actionable insights, which can help you take your brand to the next level.
Augmented analytics explicitly applies machine learning and natural language processes to identify patterns that humans might miss in your data. It "learns" as it analyzes, making it faster and more powerful, leaving humans to validate and correct it along the way. Predictive analytics works the same way but focusing on machine learning techniques that predict future outcomes based on historical data.
According to research analysts at Gartner, augmented analytics "marks the next wave of disruption in the data and analytics market." Why is it such a big deal? Because it can automate analysis and provide more precise information with a level of efficiency that mere mortals can't manage. What used to take months now takes micro-seconds, which gives information insights to marketing and sales teams, who can immediately act on the data.
For digital managers in modern organizations, this has profound implications for everything from how your team spends its time to how you create, manage, and deliver content-powered experiences.
Augmented Analytics Helps Digital Managers Discover What You Don't Know
Now that we've covered the broad strokes of what augmented and predictive analytics can do, let's take a closer look at the specific benefits these tools can deliver for you.
Better Accuracy
One of the most challenging elements of working with big data sets is ensuring that the data is clean. So-called "dirty" data generates unreliable results, which means that it is essential to prepare the data and weed out elements that could taint the analysis.
According to Forbes, data scientists spend about 60% of their time cleaning and organizing data — time they could be using to analyze results. Using augmented analysis to support this task is a massive time-saver that can generate enormous ROI for your digital team.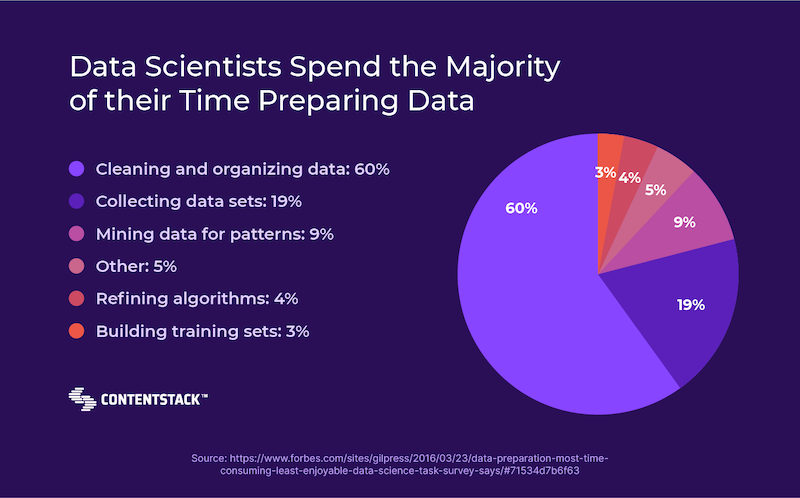 Increased Speed
Even with high-quality data, the person-hours needed to review the volume of data that digital managers can access now is overwhelming for today's data scientists. Even more problematic? Much of the work data scientists do is still manual, and their expertise is in increasingly short supply.
However, Gartner estimates that, through to the end of 2022, "data management manual tasks will be reduced by 45% through the addition of ML [machine learning] and automated service-level management."
Using augmented analytics puts routine tasks primarily in technology's hands, getting them done faster while leaving the experts to work on higher-value jobs. This is great news for organizations that don't have the budget to support a larger data science team.
Improved Customer Experience
One of the most significant opportunities for digital managers is how augmented analytics can support personalization — one of the most critical components of an omnichannel marketing strategy in today's market. With real-time information from the web and social media analytics, brands can get to know their audience better and faster, allowing them to excel at delivering personalized content.
What does this look like in practice? Augmented analytics can "read" and assess everything published on a particular topic during a specific time — something a person or group of people would find impossible — and provide a summary of essential information that can be used by a human to inform next steps. Curious as to how your customers feel about your new product launch? There are AI tools to help you assess that. Need to decide how to respond to an emerging trend? AI can look ahead to help guide your decision.
When used together with predictive analytics, your brand can power a marketing machine that will outshine your biggest competitors.
Predictive Analytics Helps Digital Managers Identify Trends
A close cousin of augmented analytics, predictive analytics can automate the years-old practice of assessing customer behavior to determine what they're likely to do or want next. Honing this skill can give organizations a competitive edge in an increasingly crowded market.
Predictive analytics can help marketers and sales leaders assess how customers respond to different outputs and spot opportunities to deliver customized messages at precisely the right time. This is a powerful way to help brands identify, retain, and nurture the most profitable customers while minimizing time wasted on unlikely prospects. As with augmented analytics, predictive tools can spot patterns that people-powered analysis might miss.
How Augmented and Predictive Analytics Are Changing Content Management
Augmented and predictive analytics can influence critical elements of your brand's marketing and sales strategy. These, of course,are primarily powered by your content creation and management capabilities.
With the right content management system (CMS), you can integrate augmented and predictive analytics right into the process of creating, optimizing, publishing, and even — get this — reusing valuable content assets.
Headless CMS is a modern breed built upon application programming interface (API) technology. It enables content creation and the process of content publishing to happen separately. This separation means the content team can freely develop top-notch content and optimize it for every channel and audience using top-of-the-line analytics tools, all easily integrated into the CMS workflow thanks to the flexible architecture created by APIs.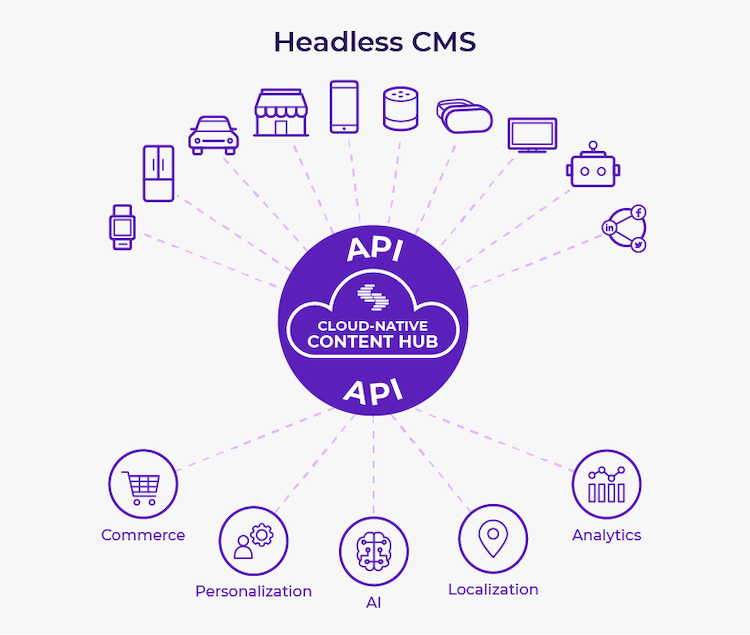 Taking an API-first approach to content management is one of the best ways to integrate AI's analytical abilities into the content creation process. Take, for example, how IBM Watson — a supercomputer powered by AI and analytical software — can be quickly integrated into a headless CMS to help automate and power-up tasks ranging from sentiment analysis to keyword extraction, content characterization, and beyond.

To keep learning about how your organization can use AI to make effective lead generation, conversion, and personalization a reality and keep you ahead of the competition — enjoy free access to Gartner's report: Applying AI to WCM and DXP — Key Use Cases.