Many traditional banks are scrambling to match the wide range of services now offered by emerging fintech startups. These innovative services provide a modern customer experience that threatens to scoop up the next generation of financial services consumers. This rush to transform banking is because technology in the financial industry is evolving faster than anyone would have thought possible just a few years ago.
Whether you're a legacy brand or looking to enter this exceptionally competitive landscape, here's what you need to know about where technology is taking the financial services sector and how you should be shaping your operations in response to emerging companies, products, and platforms.
A Great Banking Customer Experience is the New Norm
"I see 2020 as the year of the consumer experience for digital banking. … For those who are in the traditional banking industry, I believe the focus will remain on integrating new technologies and enhancing digital offerings, but the emphasis will be more around providing a more valuable, more personalized experiences for our clients. Consumers aren't necessarily making their banking choices based on whether you offer the latest new technology or not, but rather they want simplicity, ease of use, and customized experiences — and we need to deliver that to them." — Pierre Habis, head of consumer banking at Union Bank
We couldn't have said it better ourselves. In 2020 and beyond, banking — like pretty much every industry — will continue to be rocked by technological developments. However, it's not the technology itself that we should be looking at. It's how we can use that technology to improve the banking customer experience that matters most.
After all, in 2020, the customer experience is expected to become the main differentiator between brands. Not products. Not even price. The customer experience. 89% of businesses are already competing in the field of customer experience. Yet, there is still quite a gap between expectations and reality when it comes to experiences that win and keep new business.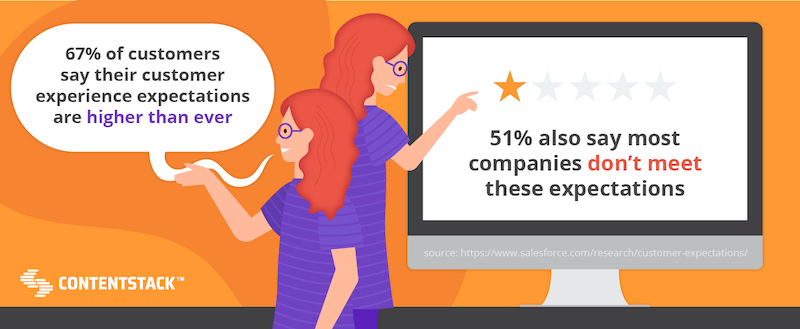 What can you do to make sure your customers are the ones who report "great" banking experiences? Invest in the transformative technology that will help you reimagine and reinvent the banking customer experience at your organization.
How Technology Can Help Transform the Banking Customer Experience
In a study of 100 financial services institutions across the U.S. and U.K., Unisys Corporation found that the vast majority of retail banks reported that they struggled to keep up with digital transformation as it related to the banking customer experience across channels — mobile, desktop, ATM, in-branch, etc.
Only 17% reported "optimal" digital transformation strategies; 32% said they were transforming their customer experience tech, and 19% were just getting started. If you wouldn't count your financial institution among those that have optimized their banking customer experience, keep reading about technologies that you can start adopting today to get ahead of the curve.
Automated, Online Banking Advice and Support Via Chatbot
Close to 80% of North Americans are open to getting their investment advice from a computer, and 74% are happy to take computer-generated input on which type of account to choose when opening a new account.
The future is now. The majority of consumers don't just want a convenient banking customer experience, they also want a modern one in which they have around-the-clock access to smart technology that can help inform their banking decisions.

In the not-so-distant past, a banking customer who needed advice would have to leave work, find their closest branch, and wait in line to speak to a consultant — who may or may not have been super familiar with their unique needs.
Today, that same interaction can take place anywhere, anytime, and with a laser focus on the individual consumer. How? With chatbots.
Chatbot software uses artificial intelligence to conduct human-like conversations via the internet. They enable financial institutions to provide customer service and guidance that's always personalized to the individual, automatically share just-in-time information on new products and services, and empower consumers to self-serve as they see fit. What's better is they do all of this around the clock and at any scale. So whether your organization has hundreds or hundreds of thousands of banking customers, they never have to waste their precious time waiting.
For more inspiration on what a chatbot can do for your organization, look at Wells Fargo, which was the first U.S. bank to pilot an AI-powered Facebook Messenger chatbot that helps customers check their balances and find ATMs. Additionally, ten other banks are using chatbot technology in a variety of ways.
Mobile Devices Help Banks Reinvent Their Service and Their Space
If you've ever been to an Apple store, you may have noticed that the sales associates come to you no matter where you are in the space or what type of help you need. Armed with mobile devices and card readers, the help staff is fully equipped to mix and mingle to provide the most comfortable and convenient experience possible.
Banks that have adopted "tablet-toting tellers" are similarly finding that it enables tellers to handle customer needs faster makes the entire interaction easier, and helps establish stronger bonds between bank customers and employees.
Implementing this "untethering" can be done in whatever way makes sense for the bank's space. Some keep their traditional layout and have tellers come out from behind the "line" when it's their turn on the floor. Others scatter pods throughout the bank where tellers can conduct more sensitive transactions. A compromise between the two approaches is "tech bars" like the ones at Numerica Credit Union branches in Washington, where customers can take care of digital banking tasks right inside the bank while they wait.
While this is perhaps one of the more simple technological upgrades financial institutions can make, untethering is also an impactful improvement on the banking customer experience for people who still visit their branches in-person.
Personalization Engines Create Unique Digital Financial Experiences
A whopping 80% of consumers say they're more likely to do business with companies that personalize their experiences. And 40% of banking customers specifically say they'd readily switch financial institutions if it meant more personalized service.
The good news is, the majority of banks are working hard to provide the digital, personalized financial guidance consumers demand. How can yours do the same? By building a personalization engine (and integrating it into your omnichannel content management system — which we'll get to soon).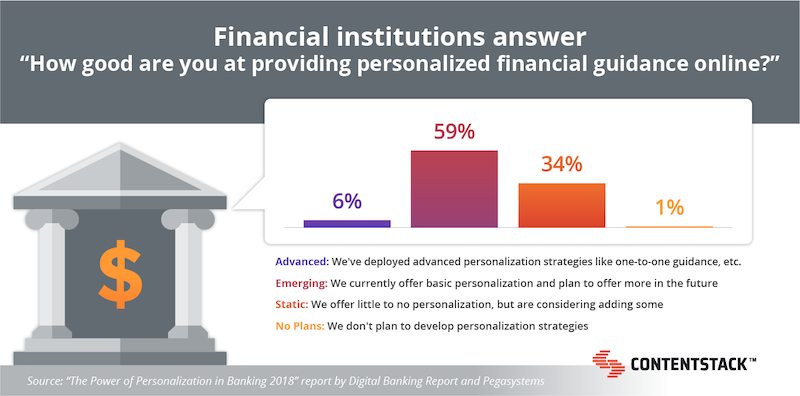 A personalization engine helps businesses create a "relevant, individualized interaction between two parties" at scale by automatically gathering and applying context about a consumer to deliver tailored content, suggestions, and other interactions.
If you're worried that sounds a little too invasive, you shouldn't be — as long as you keep your strategy truthful and transparent. Almost 75% of consumers say they've never found a personalized experience "too invasive" and 83% are willing to share their data if the business is transparent about its use and the consumer can maintain control over it.
To learn how to gather the tools you need, instigate behavior tracking, set up relevant metadata, write "if, then" rules, and create customizable content for your personalization engine, check out our guide "How to Build a Personalization Engine Into Your Marketing Plan."
Here, we must note that the most personalized information in the world won't do a consumer much good if it isn't available on the digital channel the customer is using at the moment. That's where the omnichannel content management system we mentioned earlier comes into play. Keep reading to learn what that is and why you need it to round out your banking customer experience upgrades.
Headless CMS Diversifies Banking Communication Channels
Over 70% of consumers shop on multiple digital and in-person channels — and are unequivocally more valuable to retailers because of it. When it comes to retail banking, 60% of customers use multiple online and mobile digital channels, yet 75% of bank sales still happen via telephone or in-person.
It's safe to say that consumers expect to be able to access the products, services, content, and help they need on whatever channel they prefer. Banks and other businesses that can deliver on this expectation are the ones that will succeed.

A headless content management system (CMS) can help financial institutions develop, optimize, and deliver content and other offerings that are just right for each consumer and each channel. For more background, a headless CMS is a more modern answer to the traditional, monolithic CMSs (think WordPress). With a monolithic CMS, content, and presentation are intertwined in one single system. This coupled approach means content has to be manually reformatted for each platform and each consumer type. A monolithic platform is a costly commitment that won't work for businesses that need to scale their banking customer experiences.
A headless CMS, on the other hand, is 2020's most modern content management technology. On its back end, marketing and content folks can create, consolidate, and optimize all of their content collateral in a single repository. On the front end, designers and developers can create the best display for that content when delivering it to a website, a mobile application, a chatbot, or any other Internet of Things (IoT) device. An application programming interface (API) connects the two systems, so that you can summon, package, and deliver custom content for each channel or device.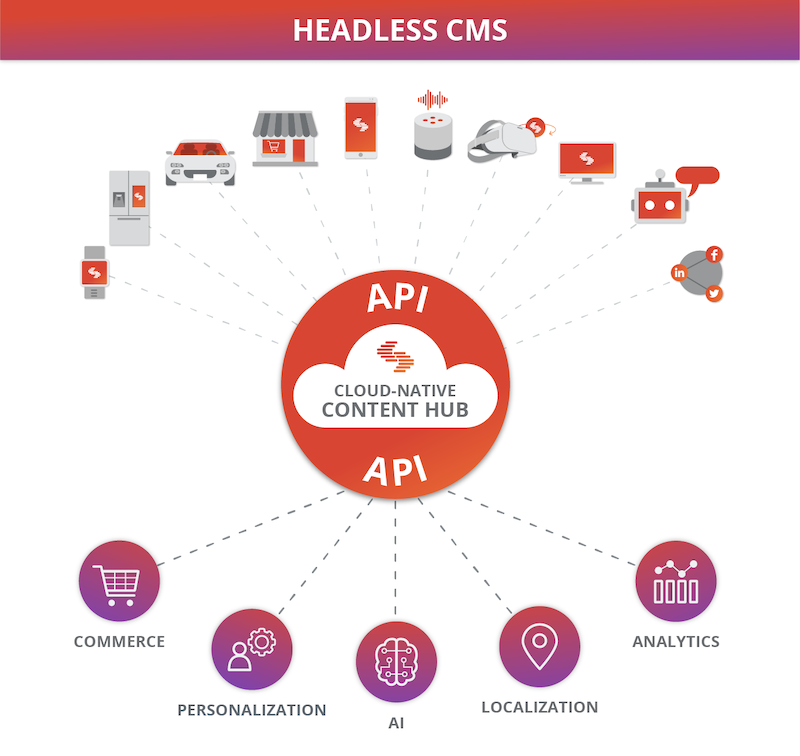 It's this modular creation, storage, and delivery of content that makes it easy for financial institutions to deliver personalized experiences across the diverse communication channels that consumers use.
Will You Reinvent Your Banking Customer Experience with Today's Transformative Technology?
Will your financial institution implement chatbots to deliver automated, around-the-clock banking advice and support? Or, maybe you're ready to try mobile devices to reinvent your physical spaces and the customer service that takes place inside them? How about building a personalization engine and adopting a headless CMS so you can develop unique financial experiences and deliver them exactly where your customers are?
Whichever you choose, any of these tactics will help you reinvent your operational strategy, compete with the newest players in fintech, and deliver the differentiating banking customer experience that consumers will continue to demand in 2020 and beyond.