Think about every time a customer interacts with your brand: speaking with an advisor over the phone, engaging with a chatbot online, or visiting a branch or office in-person. Every single one of these interactions is an opportunity to provide a customer experience (CX) that keeps them coming back for more — or one that sends them looking for a new provider and telling their friends and family about their negative experience all along the way.
As any marketing leader in the financial services space knows, it's satisfying customer experiences that form the foundation for building lasting relationships, cultivating high-quality referrals, and boosting overall business profitability.
Keep reading to learn about the modern financial services experience that your customers desire, how to deliver it, and why you don't have time to wait any longer. In addition to this article, be sure to check out "The Future of Financial Services Technology featuring Forrester" webinar, including Oliwia Berdak, VP Research Director for Forrester, and Sonja Kotrotsos, the Global Head of Product Marketing at Contentstack, for more information on customer experience and the future of financial services.
What Customers Want from Financial Services CX — And Why Now Is the Time to Deliver
Today, close to 80% of North Americans classify their relationship with their financial services providers as "transactional" instead of advice-based. Not only does this lack of a meaningful relationship cause customers to more readily jump ship and switch providers, but it also doesn't deliver on modern customer demands.
Today's consumers want personalized digital experiences. 40% of bank clients say they'd be more inclined to remain loyal to their bank if it upped its personalized service. Yet, the majority of banks are still just offering minimal personalization.
Unfortunately for these organizations, we live in a "switching economy" where a lack of brand loyalty costs businesses in the U.S. an estimated $1.6 trillion yearly. Over half of U.S. financial services customers say they've switched providers after a negative customer service experience in the past year alone.
In addition to the ease of switching and the lack of personalization that might convince them to stay, consumers also switch when a particular provider can't keep up with all the channels through which they want to access financial services. The traditionally slow, inconsistent, and outdated experience provided by many financial institutions is understandably leading consumers to seek out better-equipped providers to handle their fast-paced, highly-digital lifestyles.
In the digital age, where consumers can do their research, sign up for a new financial services provider, and have their accounts switched over in the span of a single afternoon, businesses must adopt the following strategies to compete in the arena of customer experience.
How to Modernize the Financial Services Customer Experience
Today, 80% of financial services providers think innovators in the industry threaten their business's success. One of the reasons they aren't able to keep up with disruptive new businesses is a lack of systems to support modern customer experiences.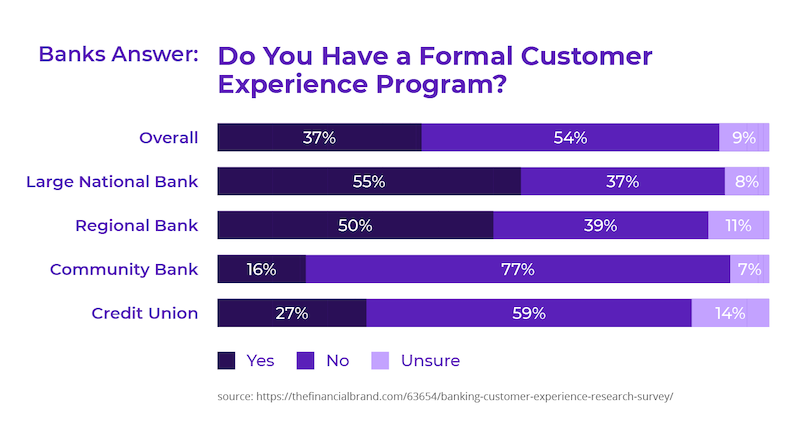 But by implementing the next five strategies, you'll be on your way to a well-oiled program for providing a modern experience that customers crave.
Prepare for the Device-Driven Future of Customer Experience
We've said it before: Connected devices are reshaping how consumers behave across the board — financial services included. The Internet of Things (IoT) — a web of internet-enabled smart devices ranging from phones to watches to smart speakers and beyond — consists of 27 billion devices. That number is expected to grow to 75 billion by 2025.
Internet-enabled devices are becoming more and more ubiquitous. People expect to be able to use them to order groceries, participate in a remote work meeting, and get advice about their retirement account all in one day.
If you aren't ready to go all-in to develop apps for all the various devices just yet, the next best thing is to optimize your website for mobile visitors. Remember, If your website is not optimized for mobile users, they're 5x more likely to bounce.
Digital, Self-Service Options Are All the Rage
Nearly 80% of North Americans say they're willing to take investment advice from a computer, and 46% of consumers are willing to bank using robo-advice.
Customer-facing chatbots equipped with artificial intelligence (AI) allow your clientele to interact with your brand and get answers 24/7. On the flip side, chatbots that support your human customer service agents help them quickly locate the best information to efficiently and effectively handle customer queries. A quickly-answered customer is a happy customer.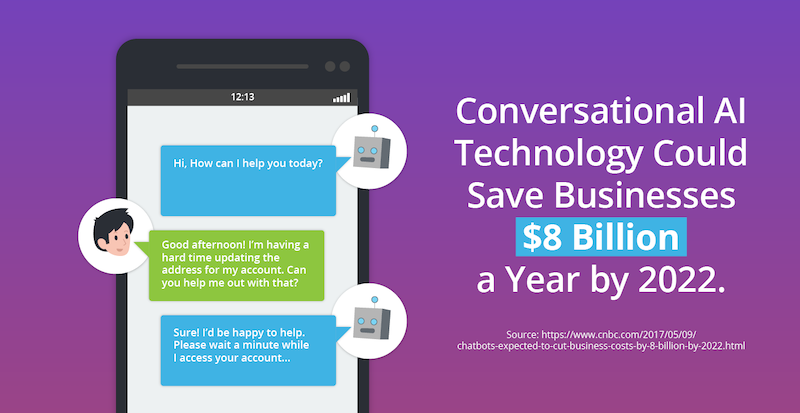 Not sure where to start? Here's how 11 different financial institutions are using chatbots to build great CX.
Great Content Boosts the Customer Experience in Numerous Ways
As a marketing professional, you probably aren't shocked to see that one of the best methods for improving CX for financial services — even in this modern age — is providing high-quality content.
Content that's written to provide value to consumers also makes a great pool of information for chatbots and other AI tools you might be using to automate customer support. And beyond automation, high-quality content is an excellent resource for customer service agents, advisors, tellers, and other staff who need access to information when working with customers daily.
Then, there's the final significant benefit of great content — getting in front of potential new customers. Sure, paid advertising is big for bringing in the eyeballs — but SEO is bigger. From mobile to desktop, SEO has proven to generate 20x more traffic than paid ads.
Just look at Credit Union of Texas, who showed up on the first page of their search engine of choice 23% more often only three months into revamping their content creation program. But what's even more impressive was the 503% increase in their keyword ranking.
The Personalization Customers Crave Leads to Profit and Growth
As we mentioned above and in previous articles, personalization is practically standard for any business that wants to compete in the digital sphere today. PWC's Financial services technology 2020 and beyond report says the ability to gather customer intelligence and implement it to deliver what they want is the leading predictor of revenue growth and financial institutions' profitability.
The value of personalization is lost on no one today. The hard part is implementing valuable personalization at a scale that makes a difference for customers. That's a mystery we'll unravel next.
Bring Your Strategies for Better Financial Services CX Together Under One Technological Roof
A headless content management system (CMS) is a great technology platform for financial businesses — and many other businesses — to create and deliver content-based experiences optimized for every channel and personalized to every consumer.
What is a headless CMS? It's the modern answer to traditional, monolithic CMSs like WordPress. With a monolithic CMS, content and its presentation layer are coupled together. This means content has to be manually reformatted for every channel and customer. But a headless CMS separates content from how it's displayed. This means marketing folks can manage their content from end to end. Simultaneously, designers and developers can create the best display for that content, whether delivering it to a website, a mobile application, a chatbot, or any other IoT device.
The best part is the application programming interface (API) technology that connects the whole system. These APIs enable best-of-breed applications and microservices to be integrated into the workflow to maximize everything from content translation to A/B testing, analyzing content, and of course, personalization.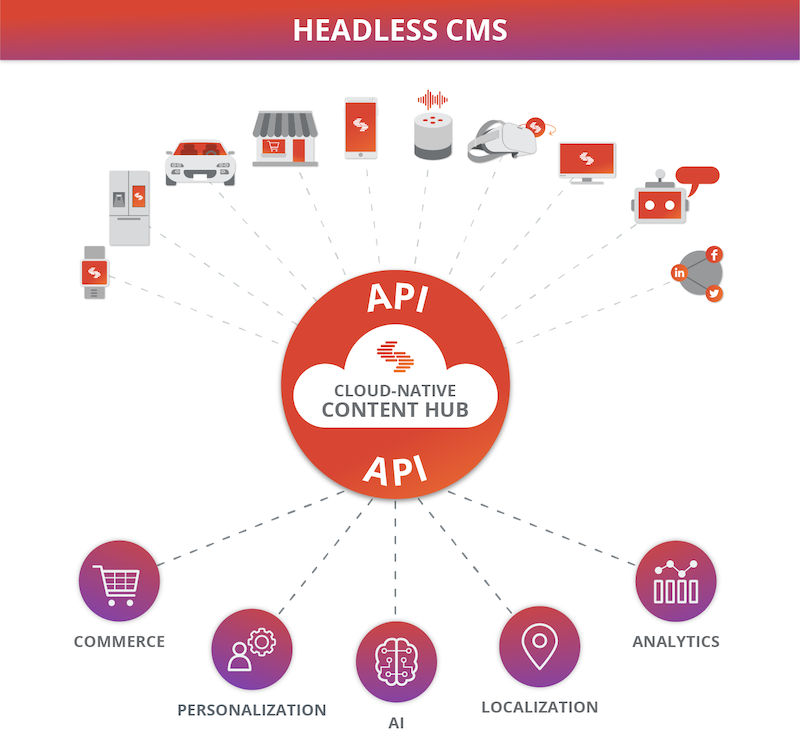 See CX for Financial Services in Action
Ellie Mae — a cloud platform for the mortgage industry — adopted Contentstack headless CMS to remove redundancies from their content delivery methods and bring overall costs down. With Contentstack, Ellie Mae's marketing team publishes content 98% faster, developers get their work done 40% quicker, and leadership can concentrate on sales pipelines and revenue.

Next Steps for Financial Firms to Shape Customer Experience in the Future
Over 90% of financial firms report that they see enhanced customer experience as a critical competitive advantage. As mentioned above, for more information on CX and financial services, be sure to watch "The Future of Financial Services Technology featuring Forrester" webinar with Oliwia Berdak, VP Research Director for Forrester, in which she covers topics such as the impact of COVID-19 and the digital acceleration of personalization technologies changing the future of financial services. Also, in this webinar, Sonja Kotrotsos, the Global Head of Product Marketing at Contentstack, explains the related technologies needed by financial firms to create a future-proof platform with real-world use cases.
Additionally, you can also download a complimentary copy of Going Beyond ROI with Return on Experience to learn how to measure return on experience (ROX) — a metric for the cutting-edge financial services providers that are finally ready to deliver the modern experiences their customers want.