Back to Blogs
The Omnichannel Technology You Need to Navigate a Fragmented Retail Market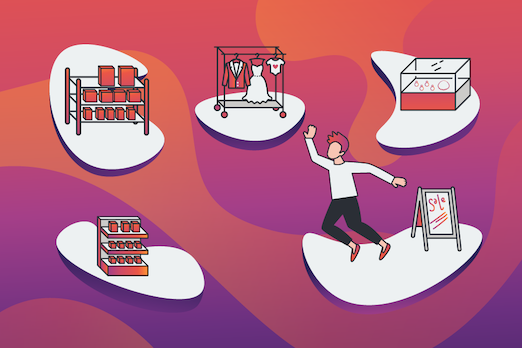 What do Barack Obama and Mark Zuckerberg have in common? Both successful individuals stick to a dress code when it comes time to get ready for the day ahead. Why? To help eliminate decision fatigue.
Decision fatigue is a depletion of energy and focus that results from making decisions, both large and small, throughout the day.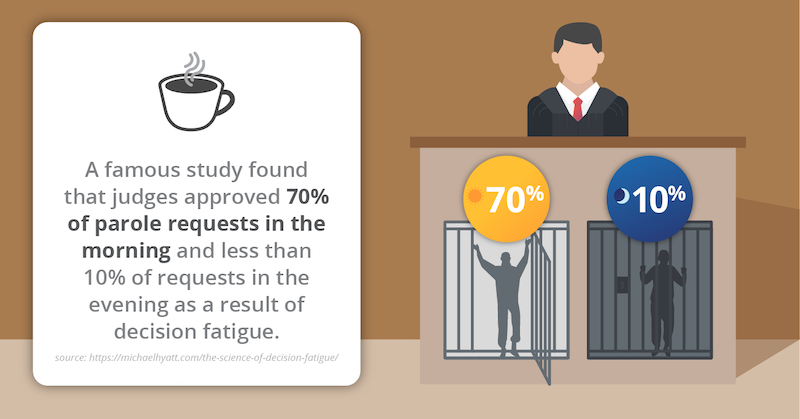 Over time, decision fatigue leads to poor decision making — and that is why you need to be worried about it. As a decision-maker in the retail space, you probably started experiencing decision fatigue long before you even knew it had a name. In today's market, the channel options grow more fragmented every day. The options seem nearly infinite as you flit between each. It feels like you never have enough time or budget to stay on one long enough to make it stick.
What if we told you the best way to handle numerous channels is to handle them all? Keep reading for a solution to help you navigate the fragmented retail market while remaining competitive, agile, and on budget.
The Challenge: Channel Variety Continues to Divide the Fragmented Retail Market
You already knew you had a lot of consumer touchpoints across channels, but did you know retail specifically has one of the most diverse channels mixes out of every industry?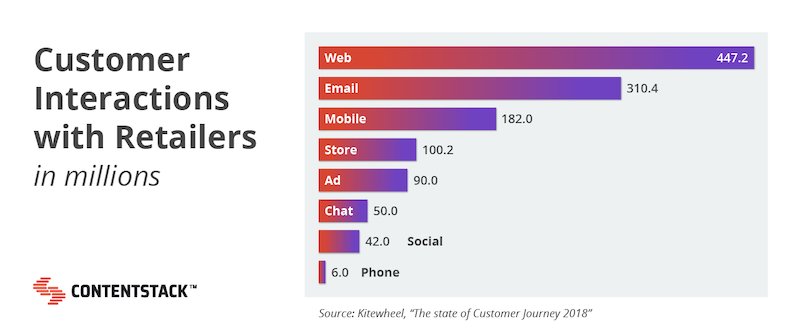 Additionally, the number of customer interactions among these channels keeps on growing. Customer analytics platform Kitewheel found that interactions within their tool tripled from 2014 to 2017 in every industry. In retail, interactions grew by 93%.
So, it's no surprise that one of the most prominent challenges marketers experience when building an integrated customer journey is the sheer number of customer touchpoints (for 46% of respondents) and inability to unite all the data that marketers collect at each of these touchpoints (for 43% of respondents).

As if keeping up with digital touchpoints isn't tricky enough, the in-store experiences also can't be left to fall by the wayside. While there's no doubt that ecommerce is growing at an astounding rate, the majority of retail sales in the U.S. (92%, in fact) still take place in person.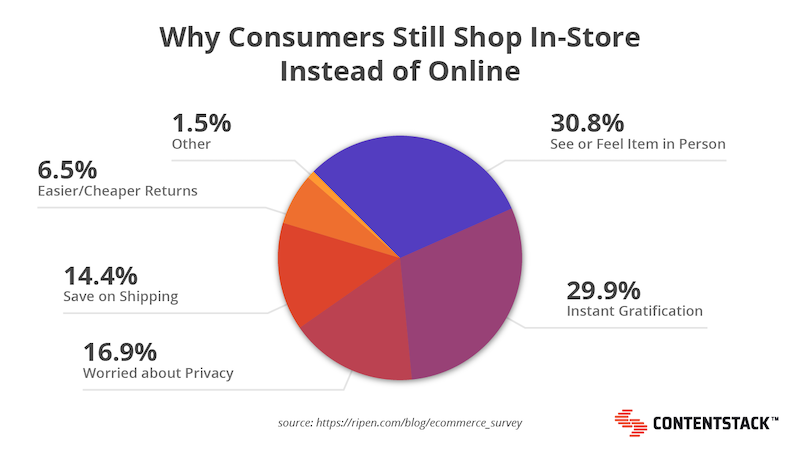 What's a business to do when it comes to competing and staying in the black in an increasingly fast-paced and fragmented retail market? Pursue critical pieces of omnichannel technology that allow them to streamline their strategy despite the fragmented retail market.
The Solution: Use Omnichannel Technology to Help Piece Together a Fragmented Retail Market
Try these cutting-edge omnichannel technologies to transform your business model and take advantage of emerging opportunities.
Chatbots Enable Infinite Customer Service
Chatbots are computer programs that use natural language processing (NLP) and artificial intelligence (AI) to respond to simple digital questions and requests posed by humans. They're gaining popularity in the retail space for a good reason. For brands with various ecommerce touchpoints, chatbots are a proven omnichannel tool for delivering personalized, on-demand customer service around the clock.
When considering the expectation that chatbots are going to handle 85% of customer interactions and require almost no input from a human agent by the end of 2020, what's stopping you from pursuing this omnichannel retail strategy?
Augmented Reality Deepens Consumer Engagement
Augmented reality (AR) empowers shoppers to use the cameras on their smart devices to overlay digital elements on the physical world around them.
Omnichannel retailers can look to the digital and brick-and-mortar brand IKEA for an example of how businesses can implement AR to engage consumers more deeply in their product offerings and digital experience. IKEA does this by enabling AR in their app, which shoppers can use to "place" products in their homes before making a purchase.
AR is making waves in ecommerce. There are plenty of tools on the market (IKEA uses ARKit) for brands that want to take advantage of the omnichannel business opportunity.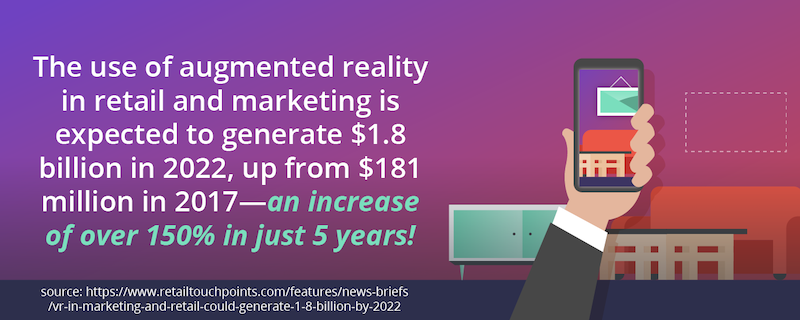 Proximity Marketing Uses Smartphone Technology to Encourage In-Store Interactions
Proximity marketing is the practice of utilizing location data to communicate with consumers via their smart devices. The first step in enabling proximity marketing is placing beacons and sensors around a physical store. Then, when potential shoppers are within range of these devices and can identify the person by their connection with the brand (this can happen via social media, by being logged into the brand's app, etc.), a personalized alert is sent to their smart device.
While this method of marketing can feel a little "creepy," rest assured that consumers have to consent to you gathering their data and tracking their device — meaning they're hoping you're able to nail this strategy and make their trip to the mall a little more worthwhile.
Headless Content Management Empowers Omnichannel Content and Product Distribution
Ecommerce is perhaps one of the industries where streamlined omnichannel distribution is the most necessary. Not only do you need to serve your content and products to the right consumers, on the right channels, and in the proper context—you also have to make sure all your information stays up to date as location, availability, and countless other variables change.
The problem is, most ecommerce businesses use traditional, monolithic content and product management platforms that each have separate databases and don't communicate well with one another. That means they end up with separate platforms for each different app, website, chatbot, and so on. Manually re-entering and optimizing data into each of these platforms every time it changes is a significant time-consuming activity for brands that need to scale to keep up with their competition.
But a headless content management system (CMS) consists of modern, decoupled architecture that delivers content from a central back-end repository using application programming interfaces (APIs). This decoupled architecture approach means you can create content and product information once and store the content and product information in blocks that are easy to search, run through optimization applications, and seamlessly distribute the content to multiple channels.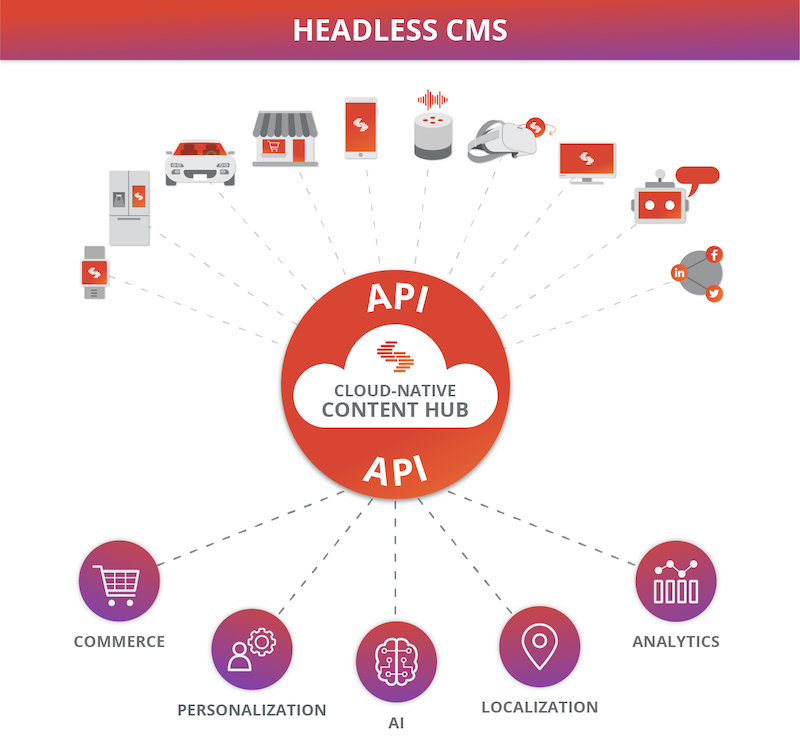 Need to populate content and products on a new mobile app, website, or smart speaker database? It's as simple as repurposing the content you've already got stored in your headless CMS!

Find Your Way in the Fragmented Retail Market
Channel variety may be fragmenting the retail market, but it doesn't have to fragment your team or your business success. Invest in omnichannel technology like chatbots, AR, and headless CMS to piece together a strategy to carry you through the fragmented retail market, enable you to keep up with consumer demands, and fuel your rise above your competition.