Back to Blogs
The State of the CMS Industry: 20 Key Content Management Statistics for 2020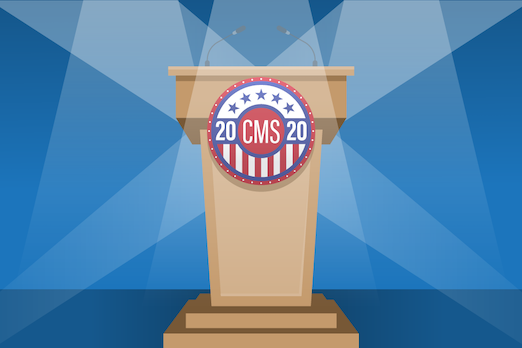 Content management is nearly as old as the internet itself. For most of its history, WordPress has dominated the choice of content management systems (CMS)—but is that poised to change in 2020?
Furthermore, how will the rise of technologies like AI, chatbots, and headless CMS impact the industry?
Moreover, will the increase of voice-activated search and smart devices impact the platforms we rely upon to manage content?
Read on to learn more about where the CMS industry is going in 2020 and to discover a few surprising statistics about trends you should watch closely.
The State of the CMS Market in 2020—And Beyond
WordPress may still loom large in the CMS market, but growth and shifts in the industry could leave openings for new, more-tech savvy players.
It is also essential to consider the global web content management (WCM) market, which includes related tools such as content analytics, digital asset management, and editing tools.
Key factors that impact the CMS industry's growth include an increase in demand for digital marketing solutions, a growing digital retail sector, and consumer demand for omnichannel experiences.
It is worth noting that the vast majority of the market is made up of content management systems that capture less than 1 percent of the total market—which means that there is plenty of room for growth of alternative solutions.
Content Management Fact Sheet: The Importance of CMS
At their core, a CMS is designed to allow multiple users to manage content and make it easier to display that digital content. As technology changes, CMS and related systems like digital asset managers (DAM) can improve security, make sites more user-friendly, and even save money.
As technology advances, digital publishers are looking to cut costs, and DAM systems could be the answer.
Security issues remain a struggle for content management systems, with WordPress getting the most flack. This is not to say other content management systems don't face security issues, but as the most popular CMS, WordPress does have the most concerning numbers.
Key CMS Trends You Need To Know
Looking ahead, what changes can you expect in the CMS industry? Headless CMS and AI are a few of the top content management trends to keep an eye on. Here is what you need to know about these and other CMS trends.

Use of AI in CMS is Rising
Drag and drop and WYSIWYG editors may be falling out of favor as AI takes over. Several content management systems, such as WIX, are already using AI to make it easier than ever for users to build, create animations, and even create copy for their websites.
According to CMSWire, AI could help CMS generate content, design sites, speed up testing, and even give feedback on content.
Increased Demand for Headless CMS
The core goal of a CMS has always been to make it easier to manage content without digging into coding. However, as we look to 2020, content-driven services and websites are consistently moving to headless CMS solutions to adjust to the rapidly diversifying content consumption landscape.

Better Assistance for Voice-Based Search Optimization
Voice search made its debut in 2007, but most content management systems have largely overlooked it.
Most systems offer SEO features for traditional (read: typed) searches. However, the voice search industry is fast growing and worth paying attention to.
Increased Need to Manage Chatbot Content
The rise of chatbots is another trend those paying attention to the CMS market should keep an eye on. The way a CMS manages content needs to adjust to serve the demands of automated chatbots better, as Gartner predicts:
Ready to Learn More About the Future of Content Management?
These are just a few of the CMS trends that are influencing the way brands and publishers use content management in the coming years.
As more internet users become publishers, many content management systems are changing to become more user-friendly and less code reliant. However, a CMS must also be able to adapt to new content types and technologies. The systems that do this well, such as headless CMS, may be poised to take over market share from WordPress.
Learn more about how headless CMS is changing the face of internet publishing in The Ultimate Guide to CMS, volume 1.