Back to Blogs
The New Normal: How to Translate the Luxury Retail Experience into Digital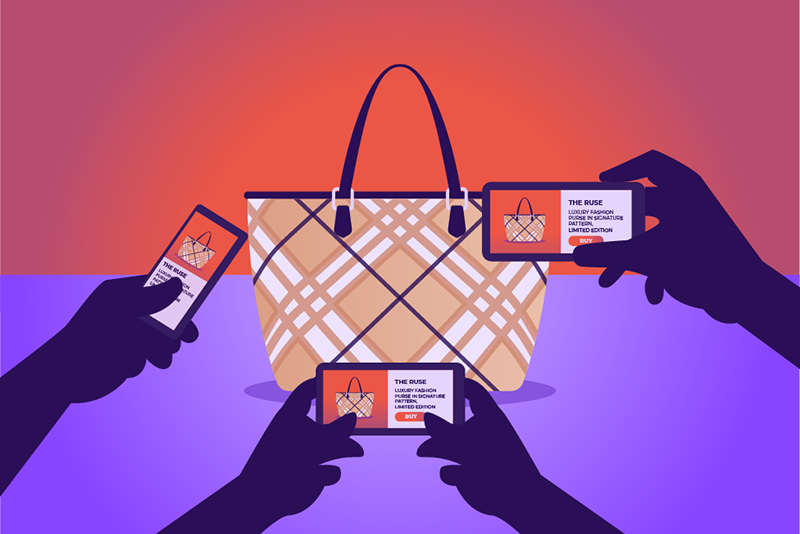 Not long ago, 24 "anti-laws" of marketing detailed principles — like "forget about positioning," "make it difficult for clients to buy," and "do not sell openly on the internet" — that counterintuitively helped luxury brands set themselves apart and command high prices.
Then, in June 2017, LVMH (a French conglomerate that owns luxury brands like Louis Vuitton, Moët & Chandon, Christian Dior, and more) launched their multi-brand ecommerce website. And that seemed to put the final nail in the coffin of the traditional marketing strategies that governed the luxury retail experience.
Technology has changed everything. Today, most retailers are living on the same plane — the digital plane. The plane where ecommerce giants like Amazon have taught consumers that they can get pretty much anything worth wanting quickly and for a competitive price. The plane where a great digital retail experience is the norm.
Here's how the times are changing for luxury retailers, and strategies that decision-makers in the luxury retail space can implement to translate their unique brand into a digital format.

Digital is the New Normal for Luxury Retail
The average age for a luxury consumer has fallen dramatically from 48 to 34, substantially impacting shopping practices.
Deloitte found that that 42% of luxury purchases made by Millennials are entirely digital. And a report from McKinsey found that today's typical luxury consumer takes an omnichannel approach to shopping. They may seek advice from peers offline or on social media, read reviews on various blogs, and finally complete their purchase in-store or directly from the retailer's website.

By 2019, consumers were already spending $37 billion online on personal luxury goods every year. By 2025, 25% of the luxury industry's value is going to come from online purchases.
Consumers are more than ready to spend money on a fully-digital luxury retail experience. Here's how managers in the luxury retail space can update their strategies to keep up with modern-day demands.

Strategies for Taking Your Luxury Retail Experience Online
Luxury retailers face a new generation of technology and shoppers that require them to go omnichannel, adopt personalization, and implement other digital strategies that we'll talk about today if they want to keep their position in the global market.

Take Advantage of the Online Purchasing Experience
One of the best ways retailers can provide a luxurious experience and retain customer loyalty in the digital age is by taking a direct-to-consumer (DTC) approach.
Selling direct to consumers is exactly what it sounds like — your brand selling your products directly to your customers, so you get to control the experience instead of any third parties or other intermediaries.
This approach empowers brands to continue to share their heritage, enforce their bonds with loyal customers, and provide value through the luxurious experience they've always excelled at in-person — just using a different digital platform.
The digital storefront on which you choose to host your online shopping experience should include modern touches that make the shopping experience feel luxurious, including flawless functionality across desktop and mobile devices, advanced search capabilities, real-time availability updates, a multi-media presentation that enables shoppers to experience products in various ways, and easy-to-use customization features for products that can be personalized.
Commercetools is an example of a cloud-based ecommerce platform built on a microservices architecture making it scalable and easy to integrate into the rest of your digital business systems — an important feature that we'll talk about later.

Create Intimate Digital Connections Through Personalization
Whether in-store or online, no luxury shopper wants to be anonymous to the brands they patronize. They have a name, unique preferences, brand experiences, and a purchase history that they expect you to utilize in your communications with them. Fostering a connection with your brand isn't just a nice "perk" — it's a significant factor in revenue and profit performance.
MBLM's "Brand Intimacy Study 2019" found that the same U.S. brands that had built strong intimate connections with consumers over the previous decade significantly outperformed the top brands in both the Fortune 500 and S&P indices when it came to revenue and profit. And the same study — which analyzed 6,200 consumer responses and 56,000 brand evaluations — ranked the luxury industry 14 out of the 15 industries when it comes to fostering a personal connection with consumers.
Ouch! The silver lining? There's room to improve. Enter personalization.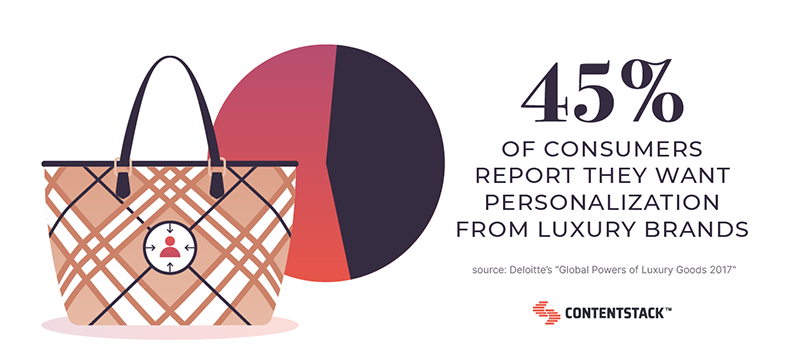 Deloitte's 2017 report "Global Powers of Luxury Goods" found that almost half of luxury retail shoppers desire personalization. What does that look like in practice? It could be making a product recommendation based on an occasion you know the consumer has coming up. This personalization triggers an offer email based on a consumer's behavior and preferences. And perhaps, the email displays dynamic call-to-action buttons tailored to use language to which the customer is likely to respond (like their name).
Now, how do you deliver this kind of personalization at scale? That's a trick only technology can deliver — technology that we'll detail later in this article.

Fashion Engaging Post-Purchase Communications
In the "UK E-Commerce Shipping Study 2020: Fashion Edition," parcelLab found that only one out of the ten leading British luxury fashion brands followed up with their customers right after completing a transaction — leaving post-purchase communication solely in the hands of the delivery company which, as many of us have experienced, can quickly lead to miscommunication and disappointment.
In the retail industry, the average email open rate is just under 14%, but the average open rate for post-purchase emails is a whopping 60%. Engaging consumers in post-purchase communication is a relatively straightforward strategy with a big payoff for managers looking to translate the luxury retail experience into the digital realm.

Conducting proactive outreach in the window right after a transaction allows sellers to continue the immersion in the luxury experience, strengthen brand loyalty, share tips on taking care of their new purchase, provide any shipping updates, answer questions, recommend complementary products, and, of course, set the tone for a long relationship full of future transactions.
Does the thought of adding an all-new online shopping platform, personalization, and post-sale communication to your to-do list have your head spinning? Then keep reading to learn about the technology that can help.

How Headless CMS Technology Can Help You Deliver on the New Luxury Retail Norms
According to the founder of the Customer Experience Group and luxury industry expert Christophe Caïs, shoppers in the luxury retail space often value the brand experience more than the actual products they purchase. And we already know that in 2020, customer experience has become a more critical brand differentiator than price and products themselves.
It's evident that luxury retail brands absolutely must prioritize bringing the above personalization, post-purchase communication, and online sales strategies to life. A headless content management system (CMS) platform can help automate content creation and synchronize all the tools you need to build a shopping journey that lives up to consumer expectations.
A headless CMS is an API-first content management platform, which means it's built from the ground up using application programming interface (API) technology that allows microservices, applications, and other systems to function together. This structure makes it easy for content teams to create, optimize, and distribute content to every consumer channel you serve.
It also enables retail managers to integrate ecommerce platforms, CRMs, CDPs, translation tools, localization platforms, and everything else they need to empower online shopping, personalization, post-sale communication, and any other strategies to help bring the luxury retail experience online.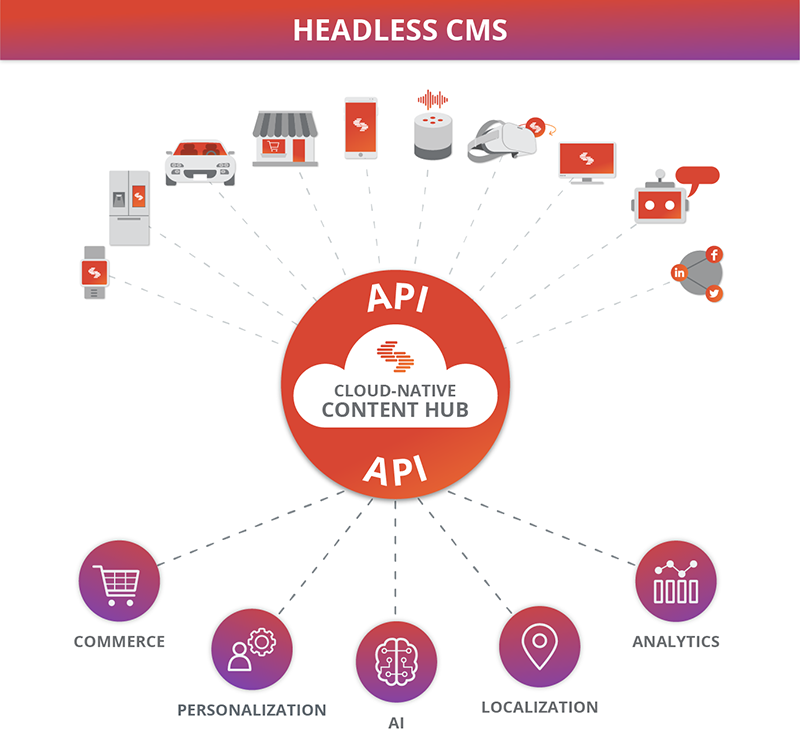 To learn more about using a headless CMS instance to build the system that you need to create luxurious digital customer journeys, download a free copy of Gartner's "Elevate Your Horizontal Portal to a Digital Experience Platform."
For more insight on the intersection of headless CMS and the retail space, read "The Omnichannel Technology You Need to Navigate a Fragmented Retail Market" and the very timely "The Digital Secrets of Retailers Who Are Thriving Right Now."
And to get a better feel for how headless CMS may work in your retail organization before you go all-in, get in touch with the Contentstack team today, and we'll set you up with your own full-access, no-obligation trial run.