Back to Blogs
How to transform your content creation with generative AI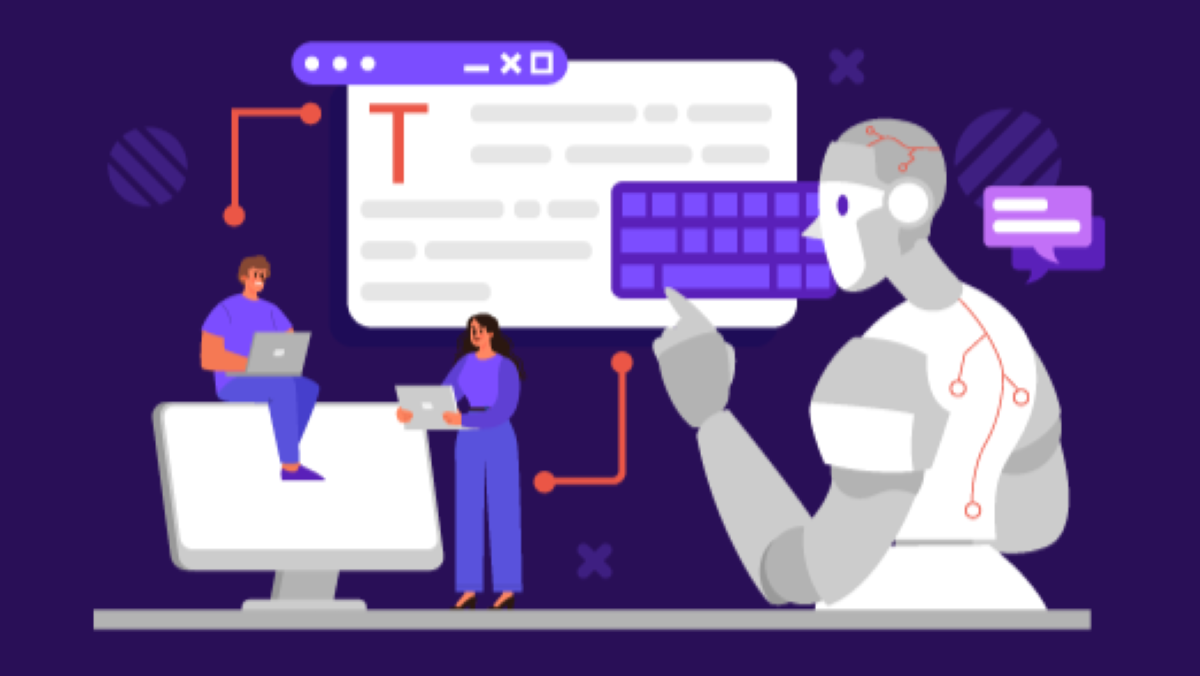 Content marketing is a key part of an effective marketing strategy. Unfortunately, content creation can be tedious, time-intensive and difficult to scale alongside your business. Generative artificial intelligence (AI) offers an alternative approach: Artificial intelligence tools like ChatGPT and other AI chatbots can create pieces of content based on patterns observed in existing data resources.
By leveraging the power of generative AI, businesses can produce high-quality, personalized content quickly and efficiently, without having to invest significant resources into its creation. In this blog post, we'll explore how generative AI works and the ways it can help transform your marketing initiatives.
Benefits of using generative AI for content creation
Generative AI has the potential to revolutionize content creation. Using natural language processing (NLP), generative AI can create large amounts of content quickly and accurately, allowing businesses to scale up their content creation faster than ever before. In addition to saving time and money, generative AI opens up new content marketing possibilities for brands. Content creators can use machine learning to develop a better understanding of their target audiences and how best to reach and connect with them, then hone their content to align with the audiences' needs.
Content also plays an essential role in the customer experience. Your content is your opportunity to demonstrate to customers that you are listening to what they want and what's most important to them. That means being able to react quickly to trends and news events, and with AI generated content, it's easier to incorporate new information and developments more quickly, accurately and effectively to maintain a positive customer experience.
Generative AI can also use its understanding of your customers to ensure the content is relevant to them. This kind of precisely targeted content would normally take content creators days or weeks to create; with generative AI tools, that process can be shortened to a few hours or less.
How to get started
Define your content strategy
Before you can begin using generative AI to create content, it's important to establish a content strategy, and that starts with defining your vision for your content. What do you hope to achieve with your content, and what types of content are best to achieve it? What topics do you want to cover? What tone and style of writing are you looking for?
The more information and guidance you can provide, the more efficient the generative AI can be in creating the content — and the more effective that content will be. Once you have a good understanding of your needs and a solid content strategy, you can start the search for the right tool to execute it.
Find the right tool for the job
There are a number of different AI tools on the market that can be used for content generation, and some tools are better suited for certain tasks than others. For example, Writesonic and Jasper are better suited to creating written content; Type Studio is more geared towards podcasts, streams, and interviews; for more design- or visually-focused content, Designs.ai may be a better solution. You'll need to do some research on generative AI tools to find the option that best suits your content marketing needs.
Train the AI tool
What makes ChatGPT such an effective AI chatbot? Training. Using reams of text from the open internet, ChatGPT's developers assigned the program a simple directive: Predict the next word in a text string, over and over. Over the course of trillions of predictions, the large language model (LLM) learned not just how to predict the next word but also learned to apply its training data to answer questions and complete tasks assigned to it. In other words, ChatGPT wasn't always as advanced as it is today — it had to be trained.
The same concept applies to other generative AI tools. You will need to train your AI tool on the finer points (such as your brand voice and the types of content you want it to generate) before it can start generating pieces of content that resonate with your customers. And the more data you can provide, the better the results will be.
Generate, edit and publish your content
Once you have trained your AI tool, you can begin using it to generate content. Depending on the tool you are using and your content needs, you may be able to generate large amounts of content very quickly.
It's important to remember that once you have generated your content, it will need to be edited and formatted before publishing. This is particularly important in the early stages of using generative AI tools: The editing process will help you determine if the AI needs more training on tone or your brand voice.
Improving the quality of your AI content
Use high-quality data
To ensure high-quality AI-generated content, you need to start with data that is complete, accurate and free of errors. If your data is of poor quality or contains errors, your AI-generated content will likely reflect that.
Choose the right algorithm
There are a variety of AI algorithms that can be used for content generation. Some are better suited for generating short pieces of content like social media posts and blurbs, while others are designed with longer pieces of content in mind, so it's vital that you choose the right algorithm for your specific needs.
Evaluate and improve your AI model
After you've trained your AI model, it's important to evaluate it to see how well it's performing. This can be done by having humans read and rate the AI generated content and suggest areas of improvement. Those refinements can then be fed back into the generative AI and used as additional training data, which helps the tool avoid similar missteps in future content.
Keep an eye on future developments
AI technology is constantly evolving and improving, and the AI landscape might look drastically different a year from now. It's important to keep an eye on where AI is going to ensure that you can capitalize on future developments and continue producing high-quality AI generated content.
Potential challenges of using generative AI solutions
Generative AI tools have the potential to revolutionize content creation, but there are still potential challenges you should be aware of.
Generative AI is still in its early stages of development, which means there are limited data sets available to train generative AI models — and as a result, these models are often biased toward the training data set. If your data doesn't align with the training data set, the generative AI tool might choose to ignore that data at first. It may take a few tries to get the model to accept your data and incorporate it into its learning.
Generative AI models can also be expensive to develop and train, both in terms of money and IT resources. And even though they are a great tool for quickly creating robust and effective content, there may be a ceiling on the quality of AI generated content. If high-quality — i.e., exceptionally well-written and thoroughly researched — articles and blog posts are a priority for your brand, generative AI may not be able to produce the kind of content that meets your standards. (At least, not yet.)
There is also the question of authenticity. As consumers become more exposed to AI generated content, will they develop an ability to tell the difference between content written by a human and content written using artificial intelligence? And if they do, will that affect how they view that content? It's unclear if that will be the case, but organizations that use AI-generated content should keep a close eye on how those pieces of content are received by their audience.
Generative AI is an ambitious and exciting technology that offers endless possibilities for content creation, from increasing efficiency to creating entirely new forms of visual and written content. But before you go all-in on generative AI, it's essential to understand the complexities of generative AI tools so you can overcome any potential challenges you may encounter during implementation. With the right tools and planning, generative AI can play an invaluable role in transforming your content marketing.
Learn more
Watch this episode of "Contentstack LIVE" with Contenstack VP of Product Conor Egan to learn more about the power of generative AI and how Contentstack leverages ChatGPT in our AI Assistant.
Schedule a free demo to learn how you can scale content creation and elevate your digital experience using AI Assistant and our composable DXP.